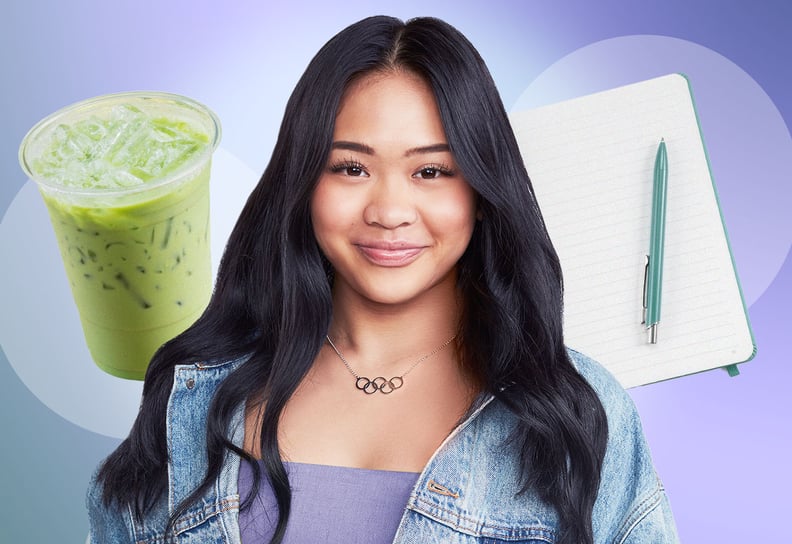 Celebrity Images: Getty | Maarten de Boer
Design Elements: Getty | puttapon; hallohuahua
Photo Illustration: Ava Cruz
Celebrity Images: Getty | Maarten de Boer
Design Elements: Getty | puttapon; hallohuahua
Photo Illustration: Ava Cruz
Three-time Olympic medalist Suni Lee isn't your average 20-year-old, but she is still a Gen Z-er, and as such, she loves her Starbucks — so much so, that hitting up the beloved coffee chain is part of her typical pre-competition routine.
In June, Lee talked with POPSUGAR about her return to elite gymnastics ahead of the Paris 2024 Olympics and her work with Lego's Team Unstoppable, a group of women athletes and changemakers (including, for example, soccer star Megan Rapinoe) committed to breaking down the barriers of play limitations. The gymnast made her comeback at the US Classic at the beginning of August, where she scored a 14.500 on balance beam and 13.500 on vault, qualifying her for the Xfinity US Gymnastics Championships from Aug. 24-27 in San Jose, CA.
This weekend, as she heads into that event (an important step in the path toward the Olympic Trials in June 2024), you can bet she's going to follow her pre-competition routine to a T, Starbies and all. But what else gets her amped up, and what's this special drink order, anyway? A full breakdown, ahead.
First Stop, Starbucks
"I get Starbucks in the morning and I always have to get my two drinks," Lee tells POPSUGAR. The first drink is usually either coffee or matcha, she says, but for the second drink, "I always have to get my strawberry lemonade refresher." And when Lee goes for matcha over coffee, her order sounds unreal: "Usually, I get a venti iced matcha latte with coconut milk and two pumps of vanilla," she says. "It's so good, I get it every single time."
Next, Journaling and a Nap
Once she's hydrated and caffeinated, she pulls out her journal. "I'll journal my goals and just write down how I'm feeling before the meet because I do get a lot of anxiety and stuff," Lee shares. "So it helps me a lot to just like kind of let it out there."
Lee has previously opened up about experiencing imposter syndrome and anxiety after becoming a star at the Tokyo Olympics. As a gold-medal winner, she felt mounting pressure to perform when competing for Auburn University, and journaling became a way she dealt with the stress. In a February 2022 journal entry before an Auburn meet, which she shared via social media, Lee wrote: "Be average Suni! Nothing more. Nothing less. You are good enough. Have faith. Be great."
After she journals, Lee says she will usually take a nap for about an hour; since her competitions are usually at night, she needs the extra rest.
Finally, Getting Ready For Competition
"I take 2 1/2 hours to get ready," Lee tells POPSUGAR. "And while I'm getting ready, I always listen to the same playlist over and over and just pick my favorite songs. Because I don't want to listen to a song that I don't know before I'm competing — I gotta get myself hyped up." On her playlist right now? Lots of SZA and Bryson Tiller, she says.
While jamming out, "I'll do my makeup, my hair, and then I'll get my leo on, take some pictures, and then I'm ready to go," she says.
Watch Lee at the US Gymnastics Championships this weekend via the event's live stream or tune in on CNBC Saturday at 4:30 p.m. ET and NBC Sunday at 7:00 p.m. ET.