2 Experts Share Their Top Tips For Gaining Weight in the Healthiest Way Possible
We're sure you've seen all the impressive photos on Instagram of women completely transforming their bodies while actually gaining weight. What gives? Is it just another sly photo with a flattering filter to fool everyone? Not a chance. These are real transformations about loving your body, making it strong, and not just focusing on how you look, but how you feel!
Gaining muscle is healthy and has been proven to help prevent osteoporosis, increase your metabolism, and of course, make you feel confident in any outfit. To guide you on the best path to weight gain, we've gotten expert tips from Youfit Health Clubs' national director of fitness, Raphael Konforti, CPT, MS, and culinary nutritionist Keisha Luke.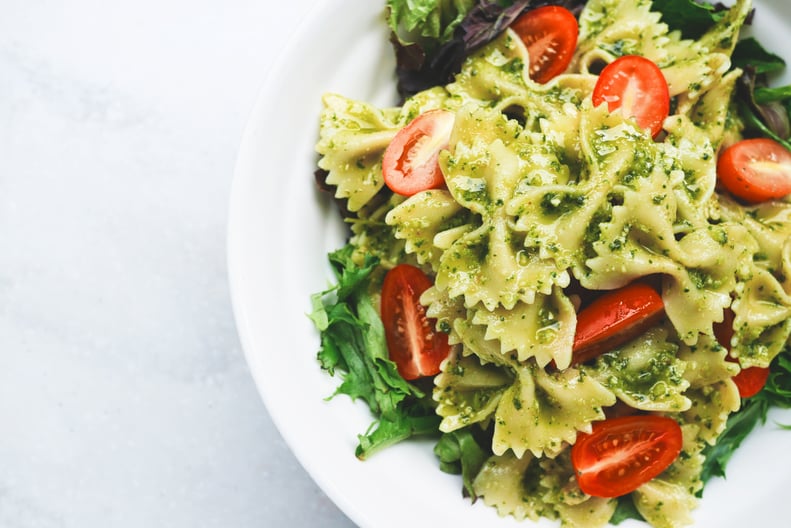 Eat More Than You Burn
Step number one to gaining weight is making sure you start eating more. Eat more? Oh, I think we can do that.
"It might sound obvious, but if your goal is gaining weight, you have to eat more calories than your body burns," Konforti told POPSUGAR. "Calories in vs. calories out is the biggest factor for weight change. There's no way around eating more, and what you might think is a lot of food may not be. Research has shown that without logging nutrition, we're pretty bad at guessing how much we eat. So chances are, if you think you're eating a lot but you're still not gaining weight, you need to track your calories for at least a week."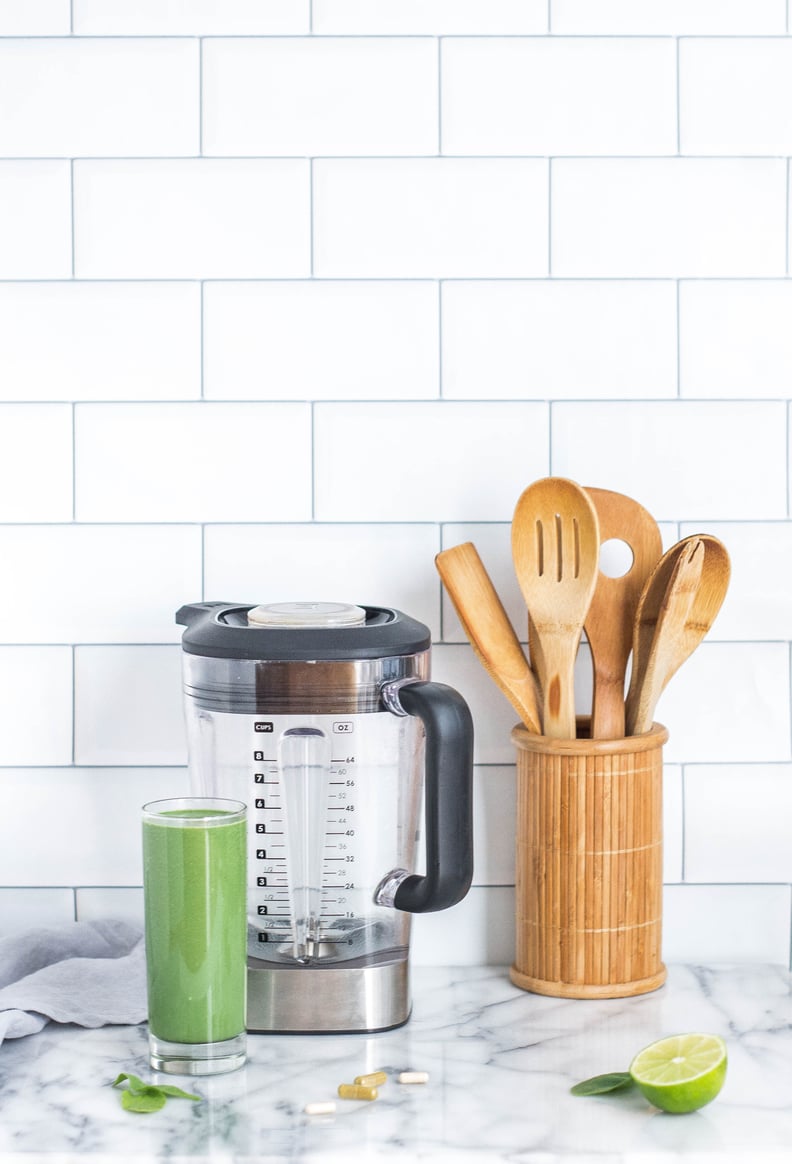 Protein Is Key
Eating more is important, but eating more of the right foods makes a big difference. You grew up hearing to eat all your veggies, and now it's time to eat all your protein.
"This is key to weight gain," said Luke. "Protein helps to build muscle mass, as well as the body's tissue. Make sure to consume protein with every meal, as well as pre- and post-workout."
Contrary to what many think, you don't need to be a meat eater to get that all important protein. "It's not all about the animal protein, as this is just one source," she said. "It's important to take in protein from various plant-based sources as well. For example, beans and legumes, hemp seeds, chia seeds, and dark leafy greens. A good greens smoothie goes a long way paired with a high plant-based-(vegan)-source meal. This will help to decrease acidity levels in the body while helping to alkalinize the body."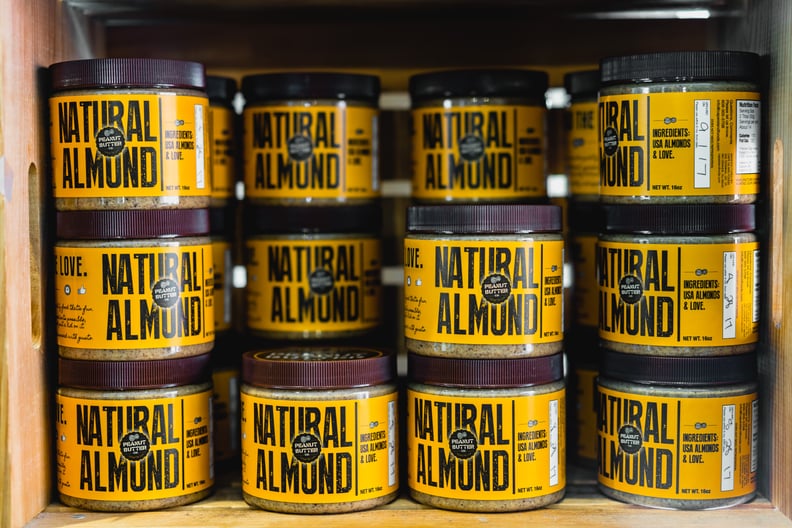 Eat Quality, Natural Foods
If the first thing that jumped to your mind when you read "eat protein" was protein shakes, you're going to want to take a minute to read this. Not all protein is created equally, and it's not all healthy, no matter how convincing the label is.
Luke cautioned, "Whether you are trying to gain weight or not, rule of thumb is to avoid the synthetics, additives, preservatives, and artificial flavors and colors, which may be found in many protein powders and energy drinks. They congest our internal organs, causing many symptoms of 'dis-eases' in the body while spiking our blood sugar levels."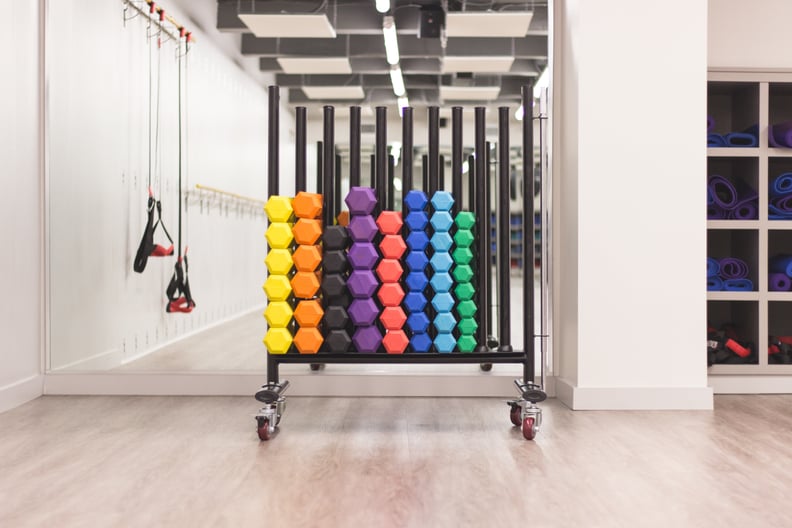 Focus on Getting Stronger
Building strength builds confidence and it also helps you gain healthy weight. Muscle is a good thing for your body on the inside, so let's embrace it.
"The best exercise to gain weight is resistance training," Konforti said. Using dumbbells, barbells, machines, or even your own bodyweight will build your strength, and if you're eating enough, you will also build lean muscle.
"There's no need to stress about getting a 'bulky' look," Konforti continued. "It's a huge misconception that lifting weights will make women look like bodybuilders, but it's not that simple. Men and women have very different hormonal profiles and responses to exercises." So just because you picked up a weight doesn't mean you'll end up with huge muscles.
"You will, however, feel better, improve your tone, and build your metabolism," Konforti told POPSUGAR. "Just be sure to track your workouts so you know your strength is improving week to week."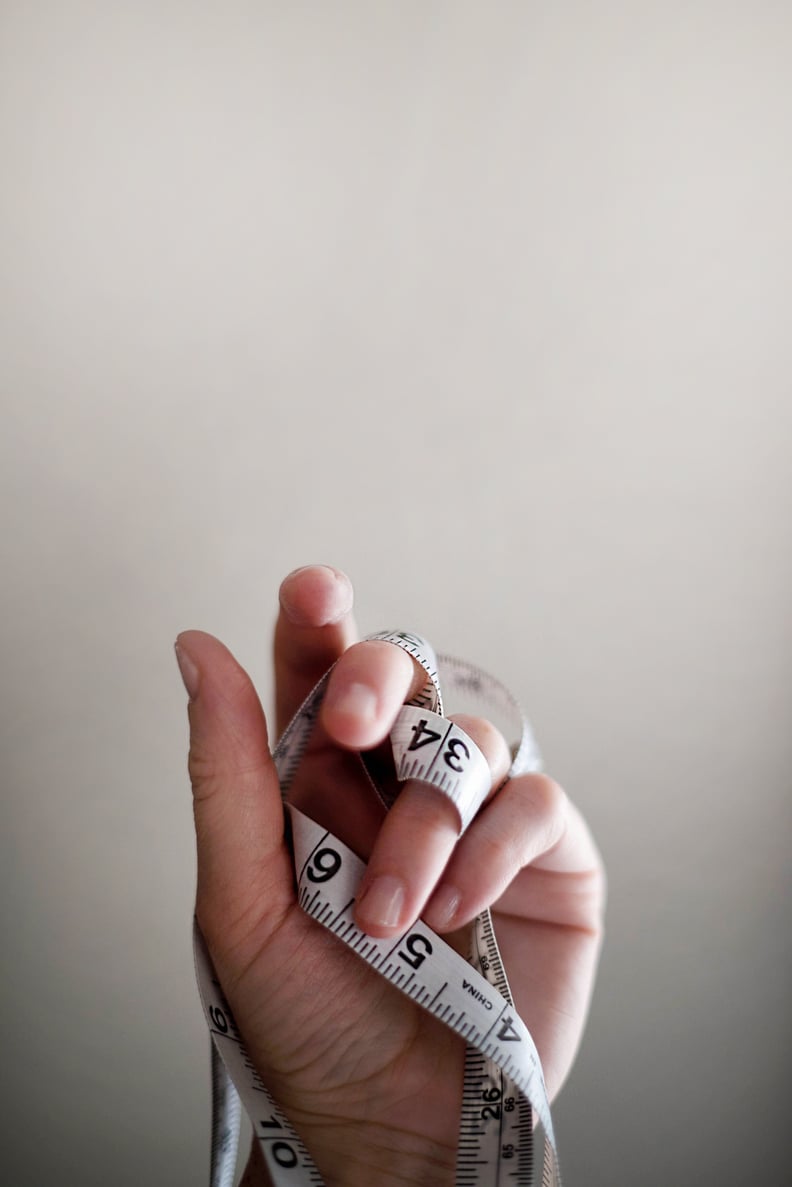 Forget the Numbers!
Tracking the weights you use for resistance training is an important step, but counting your calories might not be as important. Luke recommended that you don't get fixated on the number of calories or carbs or your bodyweight — instead, focus on you feel.
"Whether on a scale or counting your caloric intake, I am NOT an advocate of numbers," Luke told POPSUGAR. "The worst feeling is spending hours in the gym, buffing up those chicken arms and legs, and of course, the booty, all to be disappointed when you hop on that scale to see that there is absolutely no change in your weight. So, ladies, forget that vicious cycle of the scale and counting calories, but rather get stuck on how it is you want to feel and allow that to be your guide."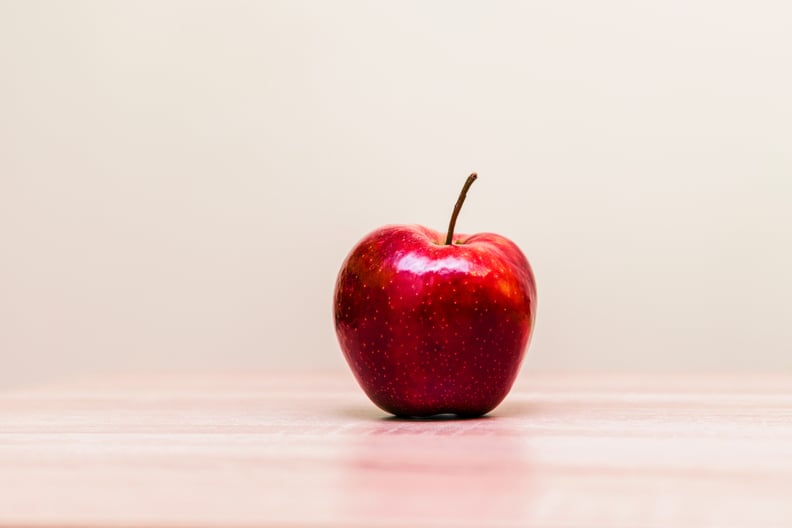 Aim For Whole-Food Nutrition
If you feel good about what you're eating, your body will feel good too. Gaining weight shouldn't mean a trip down the cookie or chip aisle (as delicious as that sounds). Instead, it's about eating more of the good stuff. Increasing your intake of healthy unprocessed foods will supply your body with the nutrients it needs to keep up with your new routine.
Luke broke it down for POPSUGAR: "There is definitely nothing wrong with wanting to increase your weight or maintaining a healthy weight management. However, I will always suggest doing it the most natural and healthy way. Whole-food nutrition is the way to go here. Good ol' whole grains, fruits, and vegetables assist in providing the body with the proper nutrients, vitamins, and minerals, not to mention maintaining a healthy digestive system."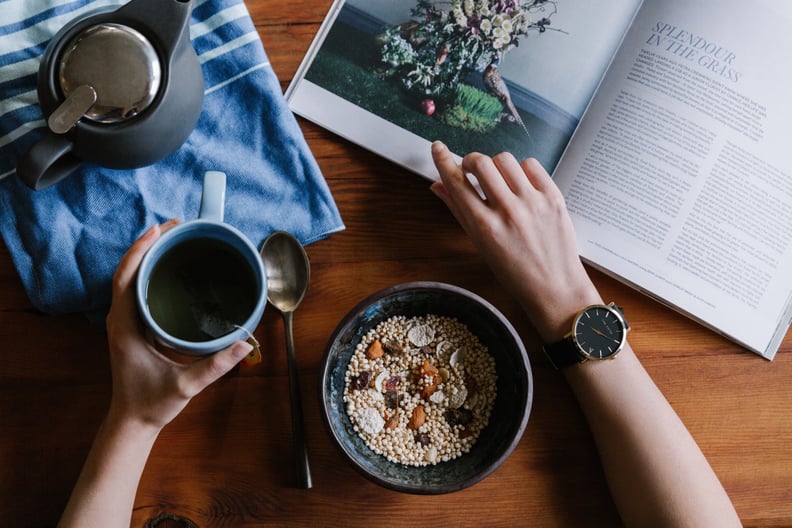 Eat For Your Blood Type
Every body is unique in how it looks and functions. Have you ever wondered how certain people can get away with eating foods you never could? Everyone responds differently to certain foods, sometimes for better or worse. Finding what foods you respond to best ensures your body is happy and healthy.
Luke said, "Eating for your blood type will assist your body to better metabolize foods, while helping to nourish and increase your energy levels, creating an environment conducive for healthy weight gain."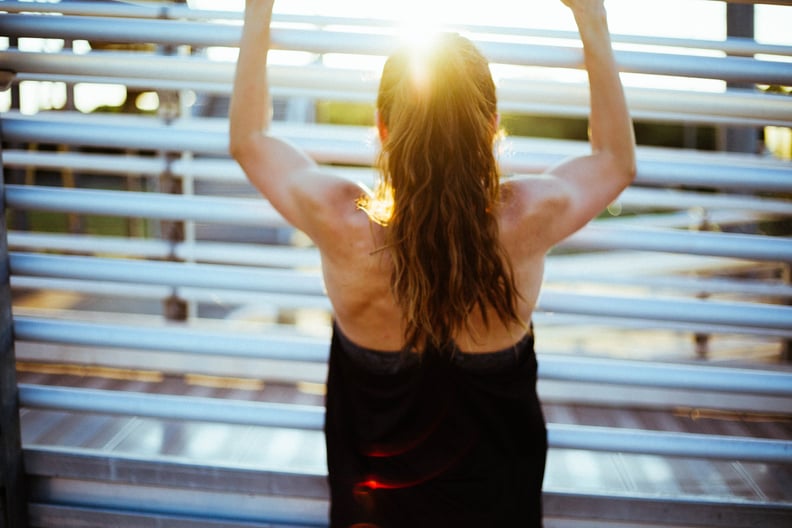 Use Short High-Intensity Workouts
Describing a workout as "short" has never been a bad thing in our book. And saying that short workout is actually better than the longer ones? Say no more, you've sold us already.
"To gain weight and build muscle, short high-intensity 30- to 45-minute workouts are ideal," Konforti explained. "These workouts should be based around compound free-weight exercises like squats, deadlifts, rows, and presses. These movements incorporate the major muscles to challenge the whole body. The result is a short but high-intensity workout that stimulates your muscles but also doesn't overdo it. After all, muscle is built during recovery, not exercise, so overtraining is definitely a no-go for gaining weight."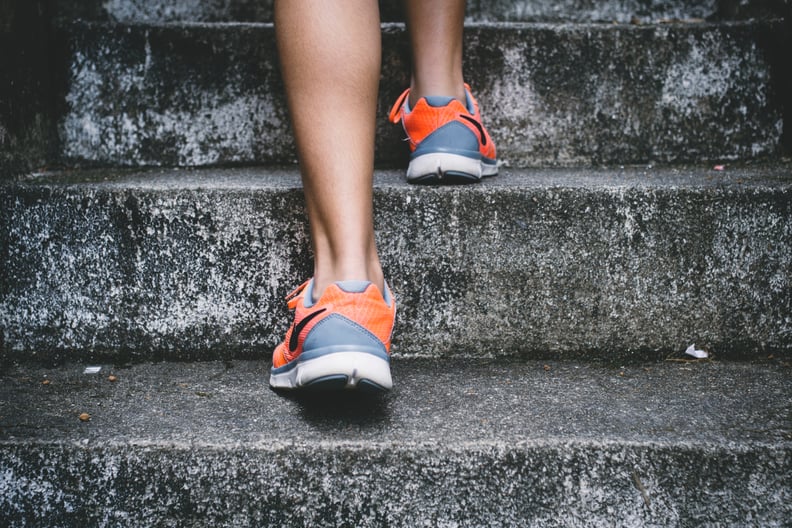 Avoid Long Cardio Workouts
As good as breaking a sweat from a cardio session feels, it's not a great partner for gaining weight. As Konforti explained, low-intensity cardio burns calories, which makes it harder to see any positive numbers on the scale.
"Cardio on the treadmill, bike, or elliptical is certainly heart healthy, but for many who struggle to gain weight, it shouldn't be a part of their program. Low-intensity cardio sessions that last from 20-60 minutes burn calories without eliciting a large physiological response from the body," Konforti told POPSUGAR. "The last thing someone needs who is trying to gain weight is to burn unnecessary calories. If you really enjoy the feeling of cardio or need to do for health reasons, be sure to compensate by increasing your calorie intake even more."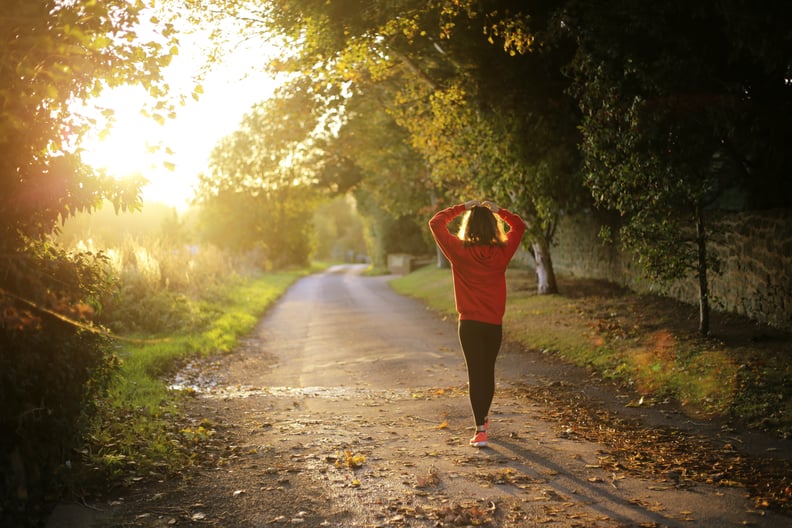 Take It Slow
Gaining healthy weight doesn't necessarily mean that how much you weigh is going to change. Your main goal should be to put on healthy weight, not just any weight.
"If you've ever struggled to gain weight, it's important to note that weight doesn't change linearly," said Konforti. "In other words, you shouldn't expect to gain half a pound or one pound every single week. Go by how you feel and try measuring your progress with body composition, which tells you how the ratio of fat to muscle is changing — this is a lot more telling than just weight."
"Many people will like the changes they see in the mirror but not the scale since they're burning fat and building muscle at the same time," Konforti concluded. "Remember that the number on the scale isn't what's most important; it's how you feel. As long as you're moving in the right direction, that's all that matters."