There isn't always time during the day to prepare a midday meal, and sometimes even making lunch the night before can seem like too much work. Preparing a nutritious and filling lunch doesn't have to mean spending hours in the kitchen. Here are ways to quickly whip up a healthy noontime meal.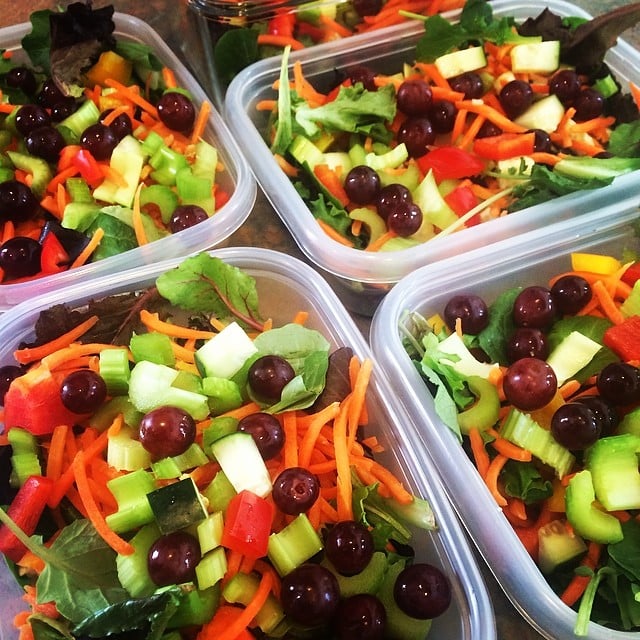 Double Up
When making dinner, always make extra. Grill up two pieces of salmon, cook up one cup of quinoa, and steam a bunch of broccoli. Eat half for dinner, and place the remaining food in a reusable container. Boom — tomorrow's lunch is ready.
Partly Premade
Who says a healthy lunch has to be completely homemade? If part of your lunch is premade, it'll save you lots of prep time. Place a frozen veggie burger patty in a container in the fridge with a whole-wheat bun, lettuce, and tomato, or buy precooked organic grilled chicken breast strips and add them to a whole-wheat pita with sliced cheese, spinach, avocado, and salsa. Take advantage of the fruits and veggies that are precut at the grocery store and look for single-size servings of hummus, nut butters, and precooked whole grains.
Five Is the Magic Number
If making your lunch every night seems like a chore, make all your lunches at once. Prep a huge salad and divide it up between five containers on Sunday night, or do the same with a big pot of soup, a veggie casserole, low-cal crockpot stew, a bean and pasta dish, or grill up a bunch of chicken and veggies. This is a great option if you don't mind eating the same thing for lunch every day. Source: Instagram user popsugarfitness