Tonal Home Gym Review
Tonal Is an All-in-One Home Gym With Up to 200 Pounds of Resistance, and I Got to Try It Out
As POPSUGAR editors, we independently select and write about stuff we love and think you'll like too. If you buy a product we have recommended, we may receive affiliate commission, which in turn supports our work.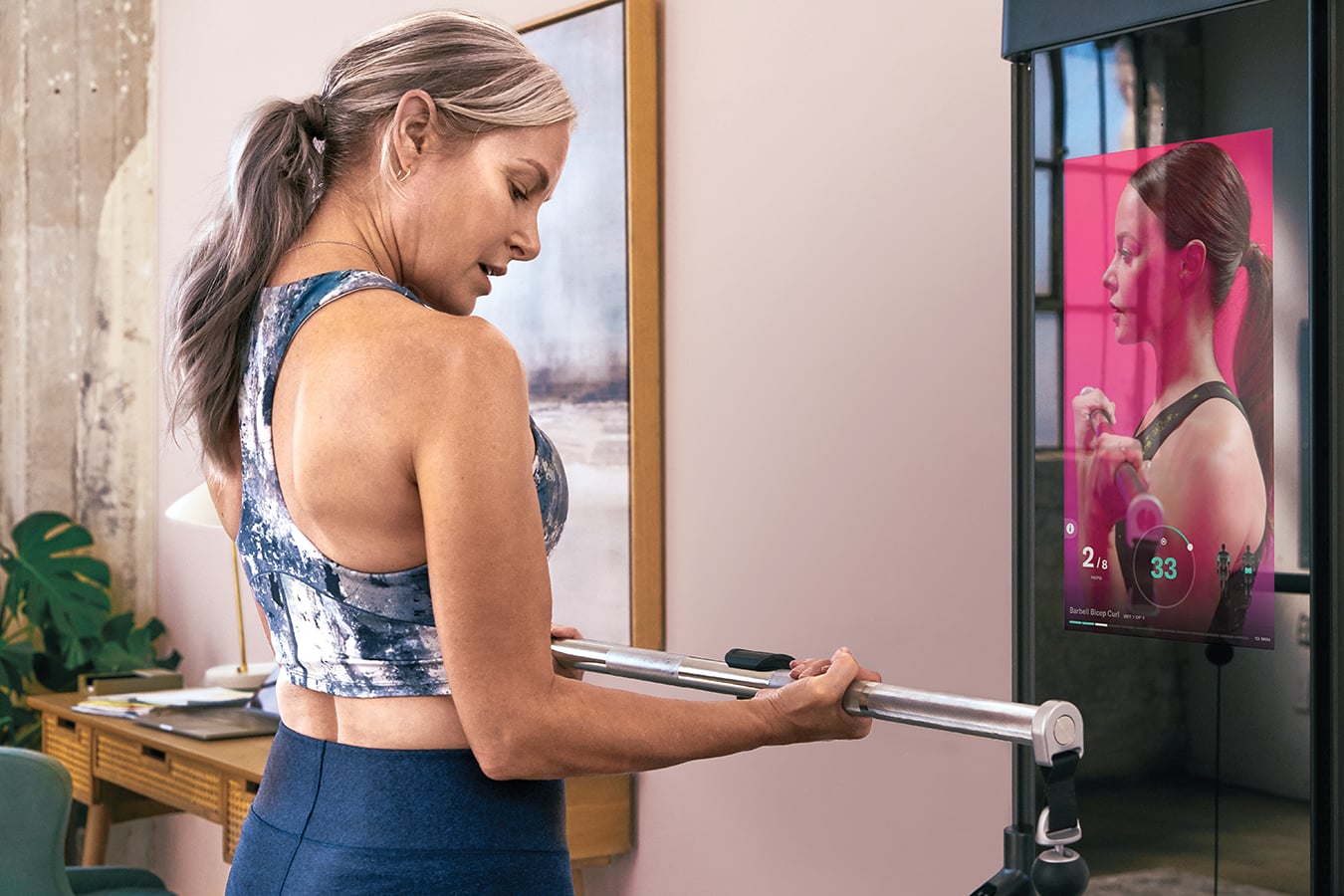 With the rise in home workouts, more and more people are quitting their gym memberships and focusing on getting in a good sweat sesh in the comfort of their own space. But while some have invested in home gym equipment such as dumbbells, resistance bands, or even a Peloton bike, it's hard to replicate the effectiveness of all the strength equipment you can find in a gym.
Luckily, Tonal has solved that problem by creating a sleek machine you mount to the wall that can create up to 200 pounds of resistance. Using resistance bands that customize how much weight you want to use, Tonal can replicate nearly every exercise you can perform on gym equipment, such as bicep curls, deadlifts, goblet squats, chest presses, and more. I got to try out a Tonal machine and do a Tonal Live workout in the New York City showroom — keep reading to find out my review and why you might want to invest in one for your home workouts.
Tonal Home Gym Review
At first glance, Tonal looks like your standard cable machine at the gym with a large screen to show you how to perform certain moves. Sure, I could do cable pull-downs and triceps push-downs, but what else could I do with this machine? A sales associate soon showed me how the arms on Tonal smoothly move and click into place in nearly a dozen different positions vertically: you can also adjust the arms horizontally to swing closer to the screen or further out for a wider range of motion.
The biggest draw is the large screen, which displays hi-res footage of real life trainers who show you how to perform specific moves. Tonal also lets you customize your own weight preferences after signing in and completing a fitness assessment. The fitness assessment includes performing a few exercises such as bicep curls and deadlifts starting at a certain weight, and adjusting more or less depending on your rep speed. From there, it suggests what weight you should use for several similar exercises: more for chest press, less for bicep curls, etc.
Turning the weight on the machine is also super easy: simply grab the handles, and click one of the buttons on the side of the handle. From there, the machine automatically adjusts to the best weight based on your fitness assessment that fits your fitness level. Although I only performed exercises with the smart handles, Tonal is also equipped to be used with a smart bar and rope for additional exercises.
Tonal already comes equipped with more than 1,000 strength workouts on the smart screen, which you can select based on your fitness goals, what muscle group(s) you want to focus on, length of time, and fitness level. However, on Oct. 20, Tonal released its new Tonal Live classes, which I also got to try out.
Tonal Live Class Review
I signed up for a full-body 30-minute Tonal Live class on Oct. 20 taught by instructor Trace, and more than 200 other people joined — not bad for the first day of live classes! The workout consisted of a quick dynamic warmup off the machine of jump squats, glute bridges, hopping in place, and other bodyweight moves. When we moved to the machine, we performed two blocks of work that consisted of three sets of three exercises each. The first block included goblet squats, overhead presses, and then bodyweight hip circles off the machine. In each set, the exercises went up in reps: we started with eight reps each, then nine, then up to 10.
I liked how the machine kept track of your reps and let you know if you weren't in the proper position to perform the moves: for example, during the first block when we performed overhead presses, Tonal informed me to step forward a little bit more to get the full range of motion for the exercise. The same thing happened in the second block when I performed standing chest flys: I was too close to the machine, but once I took a couple steps forward, I could really feel the resistance of the exercise.
I was also wondering if it would be complicated to maneuver the machine for the workout since there are so many different ways you can move the arms and change out the handles, but the workout was pretty simple: six total moves, only four of which were on the machine, repeated for a 30-minute workout. I only had to move the arms one time to do the second block of exercises, but still felt like I hit several different muscle groups and got in a good full-body workout. Having the live class was motivating: Trace shouted out different users during the class, and he kept us going with words of encouragement.
How Much Does Tonal Home Gym Cost?
Although I got to try out Tonal in the NYC showroom, buying one for yourself is an investment. Tonal costs $2,995 and comes with the smart handles. You can buy an additional bundle for $495 that includes the smart bar, rope, bench, roller, and workout mat. And you don't need to worry about trying to mount this heavy piece of equipment yourself; Tonal is installed with white glove service in all 50 states (only in certain zip codes in Alaska and Hawaii), and there is an additional $300 shipping fee to Alaska and Hawaii.
So yes, a Tonal is pricey. But with all the money you will save on gym memberships, fitness classes, and other bulky gym equipment, it might be worth it for your space.
Image Source: Tonal