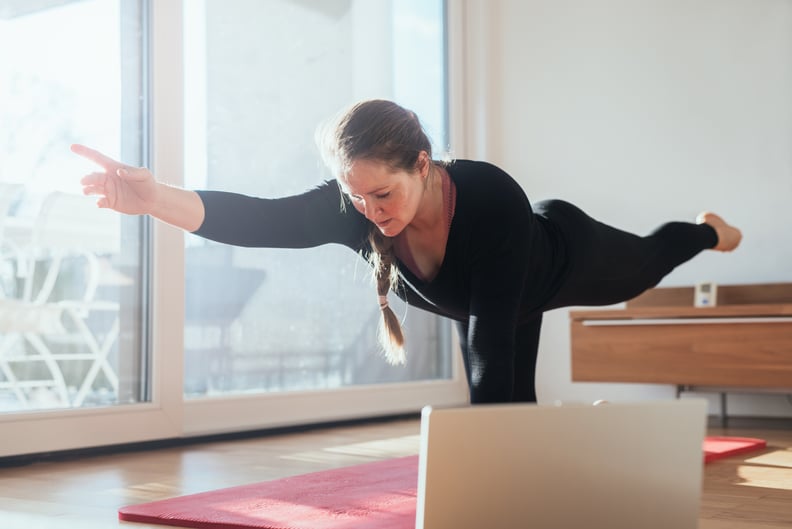 Getty | Guido Mieth
2020 was the year my tiny living room became my gym. As you can guess, it hasn't been an easy transition. Aside from having almost no space (aka one strip of floor just big enough for a yoga mat), the Great Dumbbell Shortage of 2020 also left me with almost no equipment to work with, at least for the first few months. I had to rely on the skills I picked up in college, when I worked out in my equally-minuscule dorm room using an '90s-era exercise mat I stole from my parents and all the free YouTube workouts I could find.
My new YouTube routine can't entirely fill the gym void (oh, how I miss the elliptical and the lap pool), but it did what I needed it to do: kept me busy, moving, and motivated. Along the way, I got to work out with a variety of trainers and try out lots of new training styles, from yoga to barre to HIIT, all for free and without leaving my apartment. Quick shout out to the incredible trainers who created these workouts and helped me get through the longest year ever. Check out my favorite routines ahead, and give them a try if you're looking for small-space-friendly, minimal-equipment workouts to get you moving and sweating.
01
45-Minute Bodyweight Cardio Workout With Jeanette Jenkins
Yeah, this is one of those workouts my downstairs neighbors probably hate me for. I blame Jeanette Jenkins! This video is my go-to when I just want to sweat and exhaust my whole body.
02
30-Minute Kettlebell HIIT Workout
I got my hands on a kettlebell a few months into the pandemic, but I had no idea what to do with it until I found this workout. I'd fit in this HIIT workout a couple mornings a week before work to focus on strength and get some cardio in.
03
Restorative Yoga With Briohny Smyth
With all the anxiety and stress of the past year, I've been doing more yoga than ever. Briohny Smyth is one of my favorite instructors, and this quick tension-releasing class will show you why. The moves are gentle and accessible but so effective, and by the end, I feel refreshed and relaxed, both mentally and physically.
04
"Booty Party" Barre Workout With Adrienne Kimberley
Adrienne Kimberley is one of my favorite instructors on the Alo Moves app (aka the one fitness app I'll pay for), and this butt workout never fails to get my glutes absolutely shaking. Moves like donkey kicks, fire hydrants, and straight-leg pulses get my muscles so warm, and I always feel my core working too.
05
30-Minute Tabata Workout With Raneir Pollard
My favorite Class FitSugar instructor, hands-down, is Raneir Pollard, who always manages to make me laugh while simultaneously reducing me to a puddle of sweat and tears. I love this Tabata workout because it requires zero equipment and is easily-modifiable to decrease the impact, because some days I feel bad about stomping all over my downstairs neighbors.
06
40-Minute Les Mills BodyJam Dance Workout
I have zero dance background, but this workout is so fun — and surprisingly challenging. Having to follow the choreography keeps me focused and motivated as I'm working up a sweat, and I always feel accomplished at the end when all the moves come together. Plus, you get to hang out with Nina Dobrev.
07
30-Minute Abs- and Butt-Toning Workout
When I'm not motivated enough for a full-body workout, I like to focus on my glutes and core. Besides the aesthetic benefits, both of these muscle groups are crucial for supporting your back and living pain-free on a daily basis. This 30-minute workout targets both and offers three levels depending on your experience.
08
10-Minute, No-Squat Booty Workout
You can do this workout without booty bands, but I love the extra challenge they gave me! I didn't have weights for several months, so this was my way of adding some resistance with minimal equipment.
09
12-Minute Ab Workout From Blogilates
When I have zero time in the morning, I roll out my mat and pull up this video. It's short but just so tough. One of these days, eagle arm crunches will be the death of me.