Trader Joe's High-Protein Light Ice Cream Has Us Wondering, "Who's Up For Dessert?"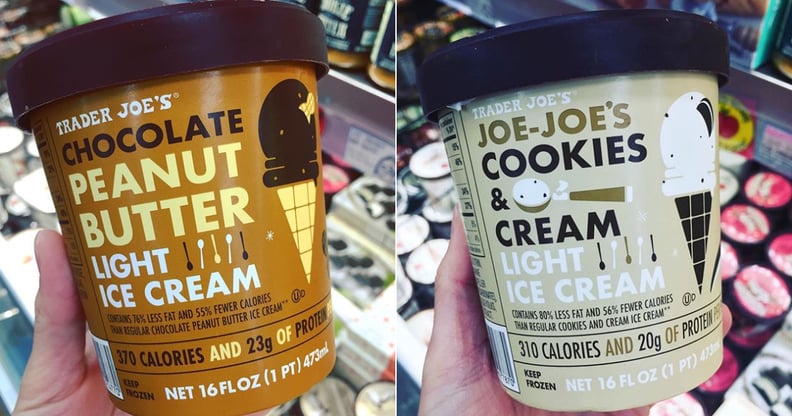 While we are always in awe of Trader Joe's new products, fresh produce, and seasonal finds, right now we can't seem to get over the brand's high-protein "light" ice cream. With two different reduced-calorie protein-packed flavors to choose from, it really doesn't get much better, does it? Think: indulging in a less fat, fewer calorie, and higher protein dessert all night long . . . Oops, sorry — were we drooling?
The two flavors are Joe-Joe's Cookies & Cream Light Ice Cream and Chocolate Peanut Butter Light Ice Cream, and they feature milk protein concentrate, according to the company's website. Per pint, Cookies & Cream has 20 grams of protein, 310 calories, and seven grams of fat, and you'll find 23 grams of protein, 370 calories, and 12 grams of fat in a pint of Chocolate Peanut Butter. They're sweetened with stevia, cane sugar, and monk fruit extract and contain zero sugar alcohols. Oh, and the best part? Each pint is superaffordable — we're talking less than $3. We'll see you at checkout!
Prices and products may vary by Trader Joe's location.
— Additional reporting by Lauren Harano
Trader Joe's Light Ice Cream
Trader Joe's Chocolate Peanut Butter Light Ice Cream
Trader Joe's Cookies and Cream Light Ice Cream