The USWNT Already Earned Their Biggest Win of the Year — Over Equal Pay, Not Soccer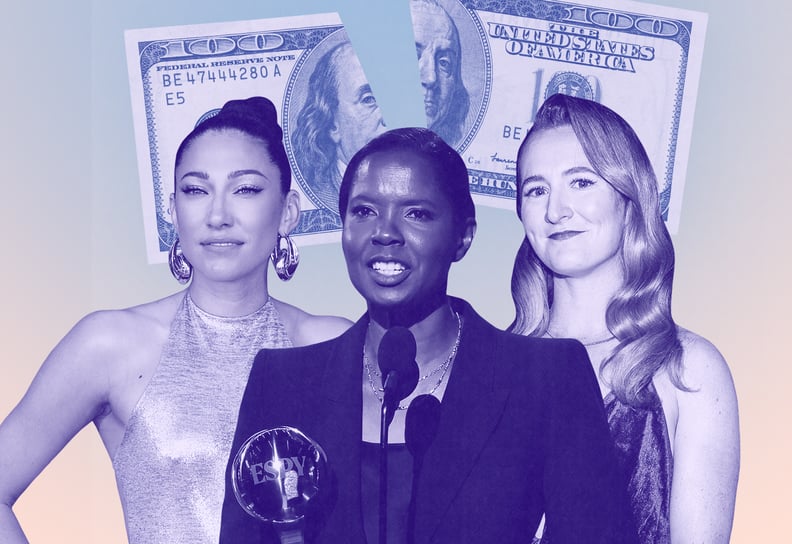 Image Source: Getty | ABC Frazer Harrison Roy Rochlin Westend61
Photo Illustration: Aly Lim
Image Source: Getty | ABC Frazer Harrison Roy Rochlin Westend61
Photo Illustration: Aly Lim
On July 12, just about a week before the US Women's National Team take the field at the 2023 FIFA Women's World Cup, they received an award for their work off the pitch. At the 2023 ESPY Awards, the USWNT were honored with the Arthur Ashe Award for Courage — not for their soccer prowess, but for their resilient fight for equal pay, which culminated in a history-making agreement with US Soccer in 2022.
"As everyone who has been there for us throughout this long journey toward equality knows, our fight is not over."
The Arthur Ashe Courage Award is typically given to a deserving member, or group, in sports who make a difference beyond the field of play, and the USWNT was chosen because their fight for equal pay "ultimately set a new global standard in sports and had a ripple effect outside of the sports world," per ESPN.
Comedian Tiffany Haddish, who introduced the award, said it all in her opening: "Tonight, we are gonna honor a group of very famous and very amazing women who decided it was time to fight for what they deserved. Because for decades they have been the best soccer team in the world…but despite all that, the United States National Team still had to find the courage to fight for the simplest, most essential thing they deserved." And that's equal pay.
In 2022, current and former members of the USWNT settled a class-action gender-discrimination lawsuit against the US Soccer Federation (USSF) for $24 million. This led to a landmark agreement in which the USSF guaranteed equal pay for the USWNT and US Men's National Team through 2028 — including an equal split of World Cup prize money — becoming the first federation in the world to do so.
Christen Press, Sam Mewis, and Briana Scurry — along with other teams members past and present — accepted the award for the team. Their speech came after a moving presentation which outlined the team's fight for equal pay, shining light on many of the inequalities that affected them during every practice and game.
In her section of the speech, Scurry recounted her experience going on strike over equal pay with her teammates at the 1996 Olympics — "risk[ing] our Olympic dream" — where men's players were promised bonuses for a gold, silver, or bronze medals, but the women's players were told they'd only get a bonus for gold. Then Mewis shared how in 1985, the first-ever women's national team, played in hand-me-down uniforms from the men, and were given cleats and $10 a day for food — nothing more. "Those are the kinds of stories that have always imbued the DNA of this team with a determination to fight on the field and off," Mewis said. Though the women's team has achieved so much since their inception, the players made it clear: there's still so much work to be done.
"As everyone who has been there for us throughout this long journey toward equality knows, our fight is not over," Press said in her part of the speech. "When you play for the United States Women's National Team, you are handed a torch and given the responsibility to carry the torch as far and as high as possible for the sake of women's equality. As a team and with the support and encouragement of countless others, we have been proud to carry it forward. Now, we are looking to build a world where we create thousands of torches, millions, and the equality we have achieved spreads throughout the world."
For starters, there's still a long way to go to close the gender pay gap in sports — in the US and around the world. The 2022 FIFA Men's World Cup prize money amounted to $440 million, for example, whereas the prize pool for the upcoming women's tournament in Australia and New Zealand is just $152 million — and that's three times the amount that was given out at the last Women's World Cup, per FIFA.
Still, during the USWNT's media day on June 27, team veteran Megan Rapinoe, who led the charge in the team's equal-pay lawsuit, told reporters that she feels a "paradigm shift" happening in women's sports, according to Reuters.
"The sort of acceptable cognitive dissonance and just denial of what we actually are and how incredible women's sports are . . . those days are, you know, pretty much long gone," she said. And to her, this World Cup seems like a turning point. "It feels like a real opportunity to kind of like blow the lid off, just in terms of fanfare and media and sponsorships, and the sort of larger business around this sport."
Hopefully, the USWNT's ESPY Award will only help further that goal. Previous recipients of the Arthur Ashe Courage Award include athletes and nonathletes who've had a huge impact outside of sports, including Muhammad Ali (1997), Billie Jean King (1999), former president of South Africa Nelson Mandela (2009), and Caitlyn Jenner (2015).
Watch the athletes' full award acceptance speech above, and tune in to see the USWNT play at the Women's World Cup starting July 21. See their full World Cup schedule here.