Vegan Coconut Lentil Curry With Tofu and Broccoli Recipe
High-Protein Tofu Lentil Coconut Curry Comes Together in 15 Minutes (Thank You, Trader Joe's!)
Full of warm, enveloping spices and creamy coconut milk, curries have intricate flavors that you probably enjoy out at restaurants or at other people's homes, but you can 100 percent re-create them yourself. With this supersimple and quick recipe, get ready to do the happy food dance at the dinner table, because this curry tastes so good, your dinner guests (you included) will be so impressed!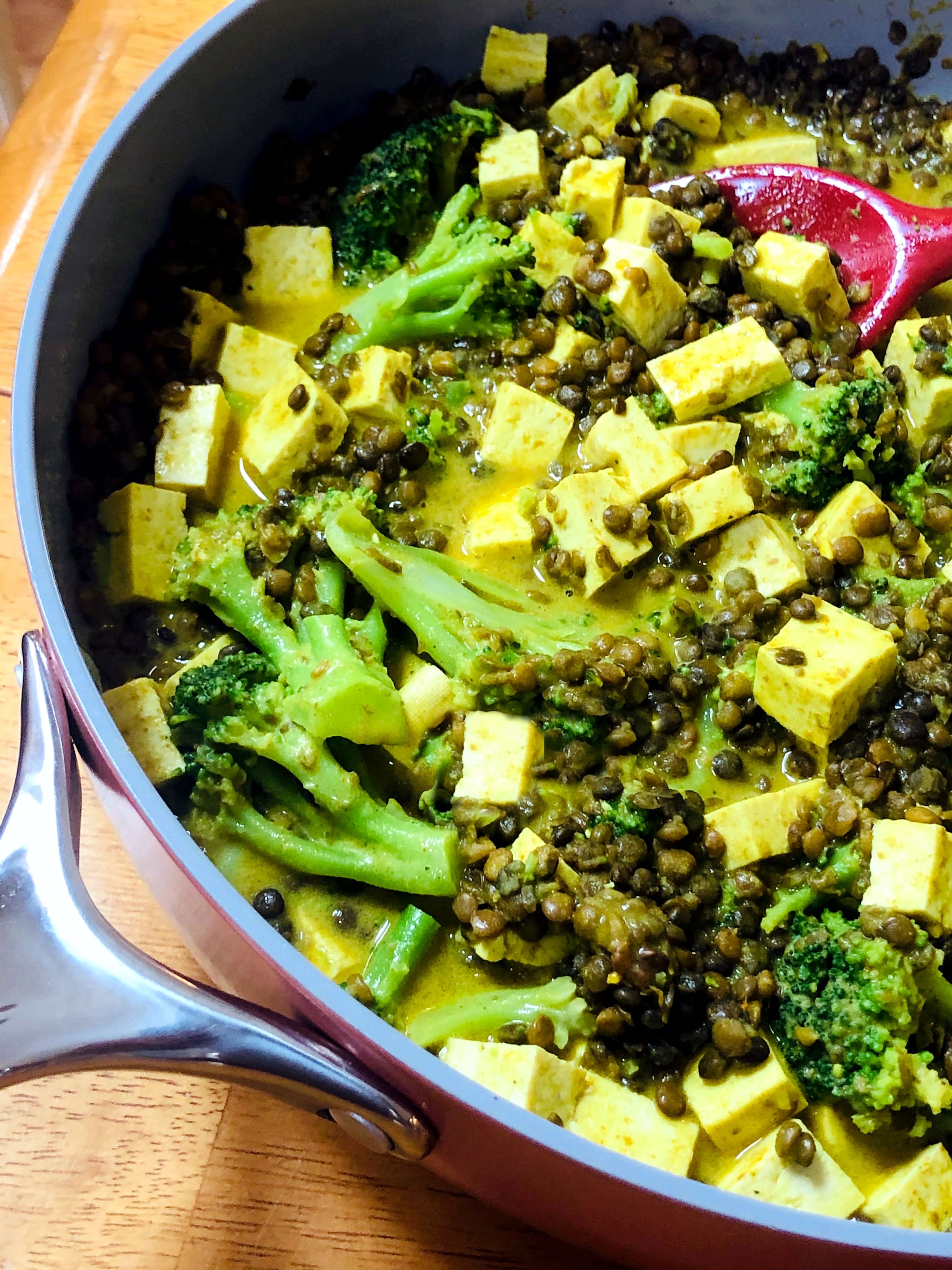 Aside from coming together in 15 minutes, this lentil tofu coconut curry offers almost 30 grams of protein per serving — or even more if you serve it with quinoa or brown rice.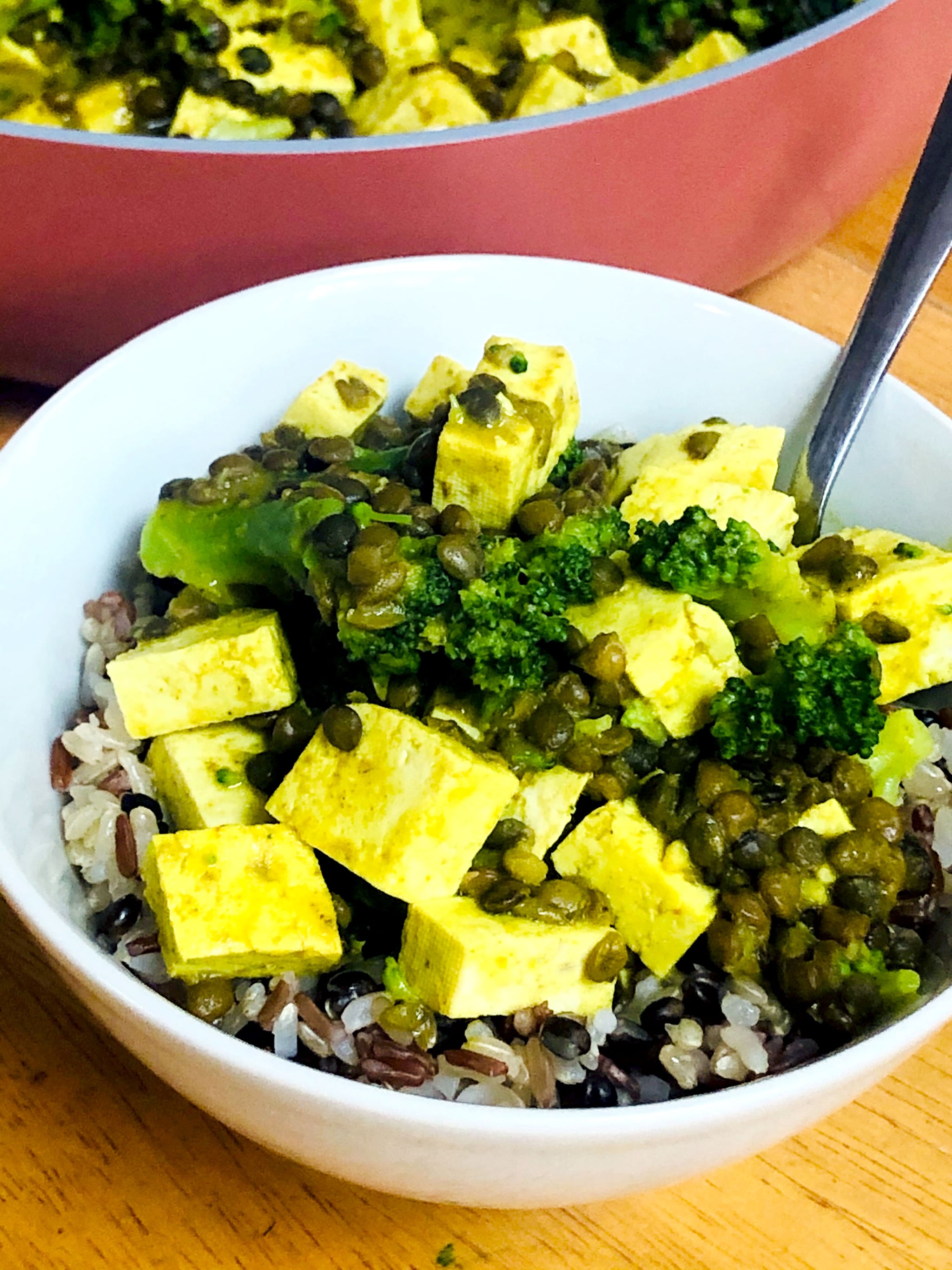 To make this recipe so fast, I used Trader Joe's Steamed Lentils (found in the refrigerator section above the salad greens), but if you have time, I actually prefer the flavor when I make this recipe with dry red lentils (also found at Trader Joe's). It takes about 10 extra minutes to cook them separately, but it's worth it.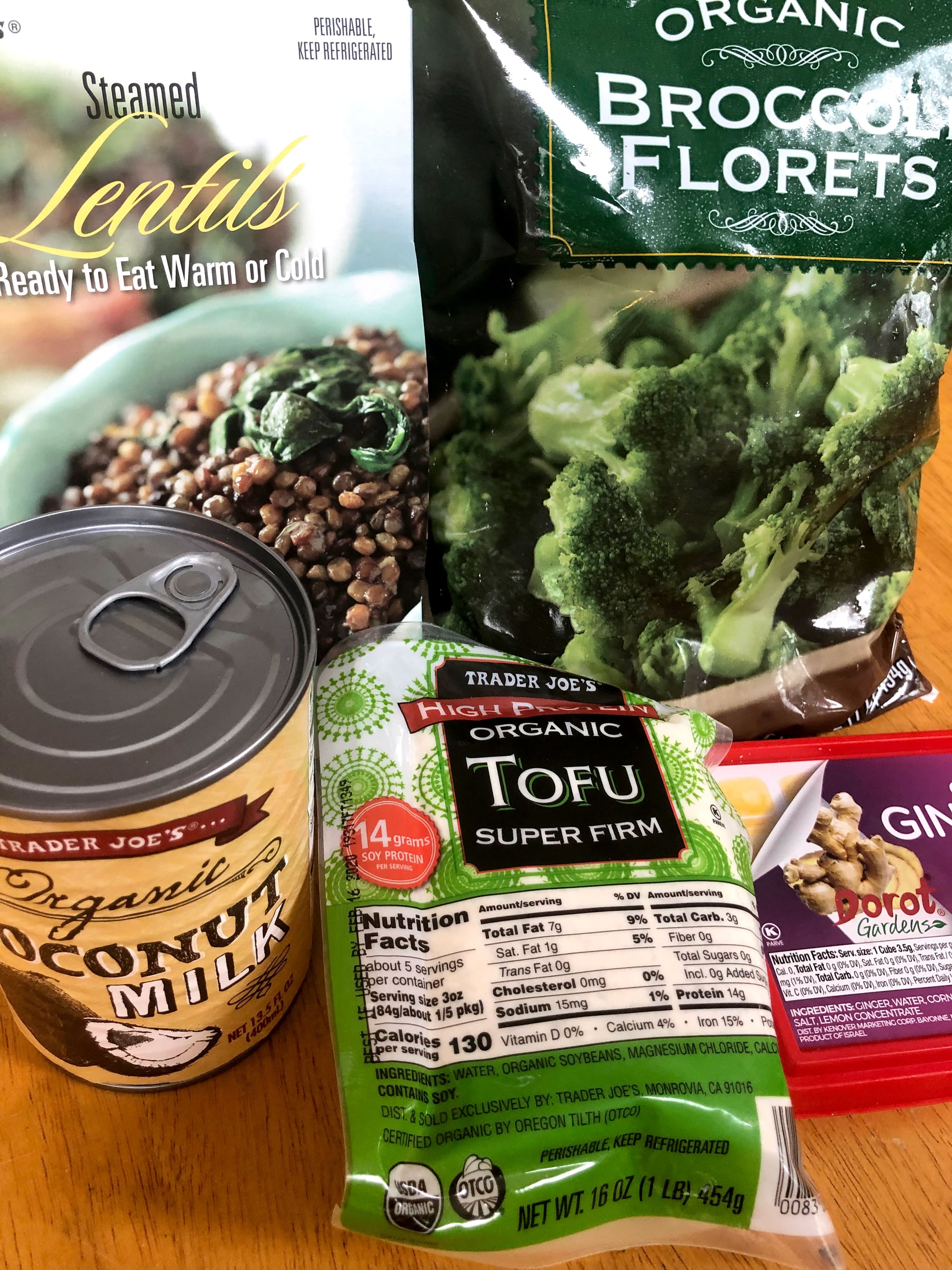 This recipe makes five servings, so it's perfect to meal prep on Sunday for a week of warm, savory, protein-packed lunches.
High-Protein Tofu Lentil Coconut Curry With Broccoli
Inspired by Minimalist Baker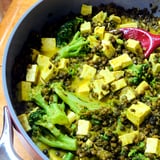 Ingredients
1 tablespoon coconut oil
1 teaspoon minced garlic (more if you love it)
1 to 2 tablespoons fresh minced ginger (or I used 3 of the frozen cubes from Trader Joe's)
1 tablespoon curry powder (more if you like it spicier)
1 teaspoon turmeric
3/4 teaspoon sea salt
1 can coconut milk (I used Trader Joe's)
1 tablespoon maple syrup
1 package Trader Joe's Steamed Lentils (or cook 1 1/4 cups dry red or yellow lentils)
14 ounces tofu (I used Trader Joe's High-Protein), cubed
2 1/2 cups broccoli (I used Trader Joe's organic frozen, about half the bag)
Juice from half a lemon (about 2 tablespoons)
Directions
Heat a large skillet over medium heat and add the coconut oil, garlic, and ginger. Sauté for a few minutes, stirring frequently to prevent burning.
Add all the spices, including curry powder, turmeric, and salt, and cook for another minute more.
Reduce heat to low, stir in the coconut milk and maple syrup, and cook for three minutes. The gorgeous bright color and aromas will be mesmerizing!
Stir the lentils, tofu, and broccoli into the coconut curry sauce, and cook for another few minutes, until the broccoli is soft.
Add more spices if you like, stir in the fresh lemon juice, and serve alone or over cauliflower rice, brown rice, quinoa, a baked sweet potato, or roasted veggies.
Here's the nutritional info for one serving (makes five):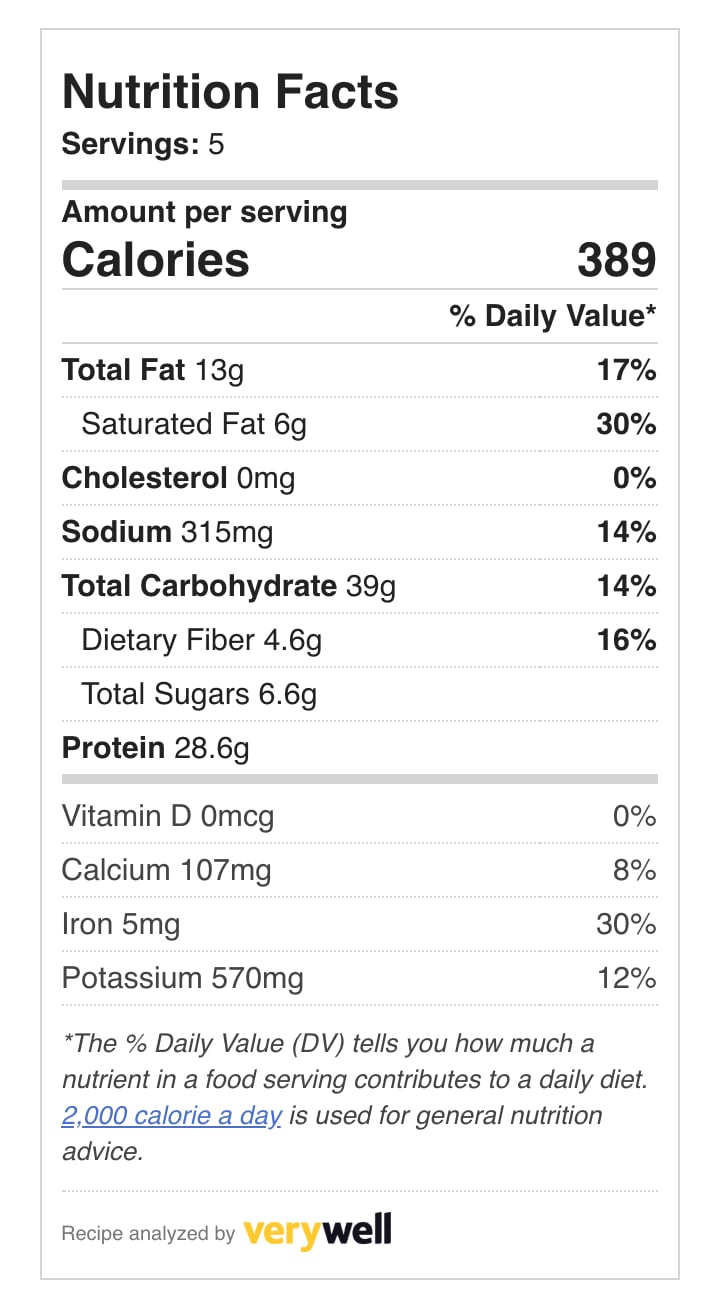 Information
Category

Main Dishes

Yield

4 servings

Total Time

4 minutes, 59 seconds