The Wildest Wellness Trends I Discovered at the Goop Health Summit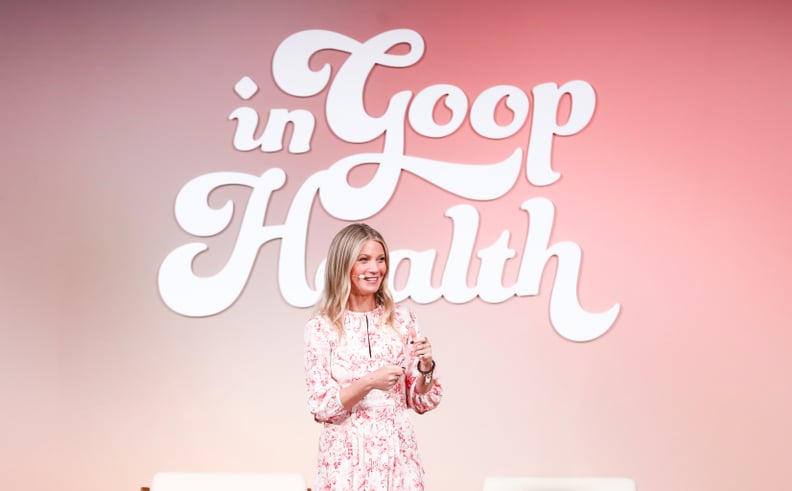 John Salangsang/BFA.com
John Salangsang/BFA.com
Gwyneth Paltrow is known for her eccentric take on wellness, from her headline-making Jade eggs for your vagina to her $200 morning smoothie, all of which was put on display at the inaugural In Goop Health Summit, featuring Paltrow and some of her A-list pals, like Cameron Diaz, Nicole Richie, Miranda Kerr, Tory Burch, and fitness guru Tracy Anderson.
The Goop Hall featured everything from kale ice cream to collagen cocktails and even glam bars offering nontoxic manicures and blowouts from the website's Goop Clean Beauty book. For someone who geeks out over the latest wellness trends, this summit was a sure treat. The event hosted some great panels; my favorite featured Dr. Amy Myers, Dr. Alejandro Junger, and Dr. Steven Gundry discussing the role of gut health. But it also came with a few new trends that made even me turn my head and raise an eyebrow.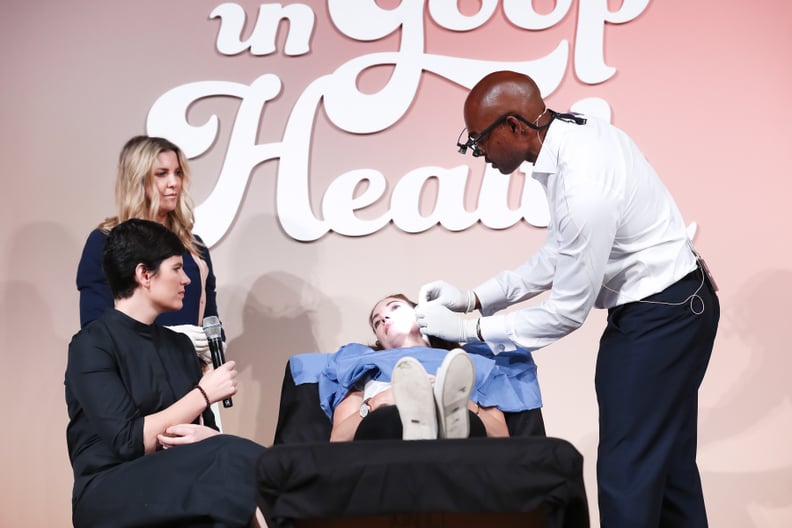 The 10-Minute Facelift
Led by Dr. Julius Few, MD, one of the editors of Goop took the stage to have a nonsurgical Silhouette Instalift live in the main showroom. The procedure takes roughly 10 minutes and consists of Dr. Few sewing a thread with soft little biodegradable cones through your face to give you an instant "lift." The audience was gasping through it all. Though not nearly as gory as a classic facelift, not even Paltrow was able to watch all the way through, laughing and turning away at the halfway mark. Just the visual of watching someone have their face sewn was cringeworthy enough. "I think I would have been good just seeing before and after photos," one guest joked with her fellow "Goop-ie." Personally, I thought it was kind of cool to watch and offered a fun break in between panel sessions.
The Human Aura Photo Dome
By far the most popular "wellness adventure" featured in the Goop Hall was Christina Lonsdale, who took photos of attendees, capturing their auras. In a large dome, described as an "adaptable aura photography laboratory," guests would enter, have a Polaroid taken of them, and get an instant reading by Lonsdale. Depending on the color and placement around your body, it was meant to signify something deeper in your current state of being. Not even featured speaker Tracy Anderson was able to squeeze in to give it a try, being turned away because it was so booked. A few guests (including myself) baked in the sun for over an hour, just to make it on the wait list.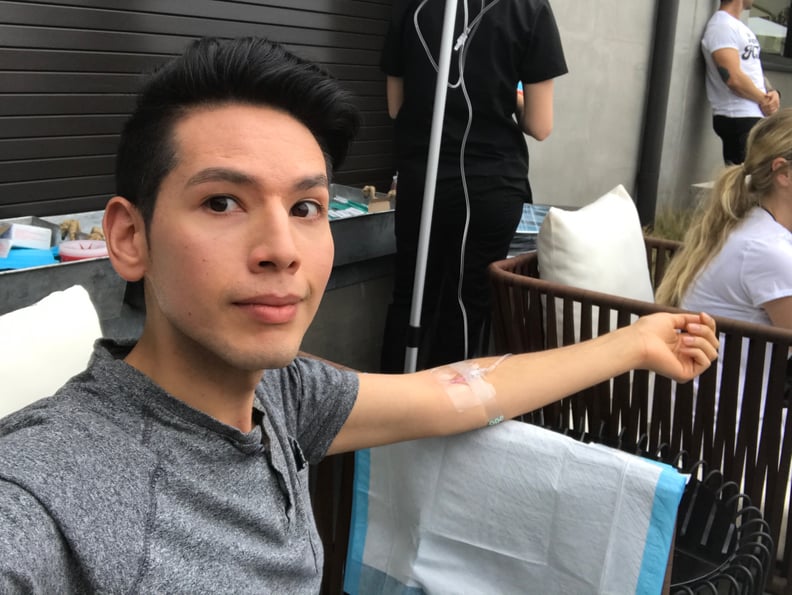 The IV and Oxygen Bars
The IV Bar
Vitamin cocktails, anybody? I read about them and have seen many people post photos on Instagram, yet had never actually tried one. That's why when I was able to score a spot to have my first Vitamin IV drip at In Goop Health, I was jumping for joy. A little sniffly, I got a combo of vitamin C and glutathione. Each session takes about 15 to 20 minutes and allowed four guests at a time to get hooked up in the name of health. It was actually pretty comical to see a hospital-like setup surrounded by moon-dusted tonics and vegan ice cream. You could feel the positive energy radiating, even among the skeptical husbands who were dragged to the summit by their Gwyneth-loving wives. I'll admit, I actually felt really good after my drip. My congestion went down, my nose wasn't as runny, and my cough dried up, giving me an extra boost before the next panel discussion. One guest even dished to me that she loves to get a vitamin drip to kick her hangover. She even referred me to an on-demand app, bringing the IV and your Vitamin MD directly to your home at the tap of an iPhone screen. You best believe I downloaded it.
The Oxygen Bar
After drinking the "Goop Kool-Aid," as Paltrow joked at the start of the summit, Bulletproof (creators of the butter coffee making buzz in the Paleo community) hosted an oxygen bar to help guests further imbibe on the healthy festivities. The bar allowed for two guests at a time to hook up to a high-concentrate oxygen tank to help boost blood flow and cell rejuvenation. Hyperbaric oxygen therapy was also given a mention by Amy Myers, MD, on a gut panel earlier in the day, as one of the up-and-coming trends attendees should be on the lookout for.
The Crystal Reading
If the above-mentioned aura photography wasn't woo-woo enough for you, get ready! Colleen McCann is a former-fashion-stylist-turned-energy-healer and gave custom reading to guests. She offered them crystals to suit their needs. It sounds a little hokey, I know, but I haven't fully taken crystal therapy off the table. According to energy practitioners, like McCann, different crystals hold different energies, and when we carry those energies with us, it can be very transformative in our lives. I've had a small reading and currently own two rose quartz crystals, so I decided to chat with one of the girls who gave McCann's reading a try for the first time. She didn't consider herself a skeptic per se, but she did tell me this was all pretty new to her. She was open to her reading and left with what she felt was some pretty solid and actionable advice.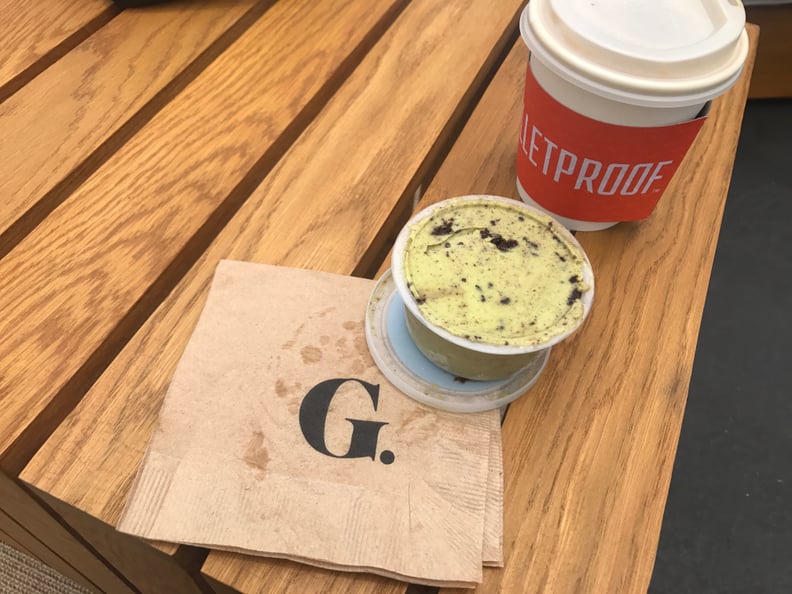 The Kale Ice Cream
This wasn't a wellness activation or an onstage demonstration, but it definitely is worth mentioning because . . . who eats kale ice cream? Am I right? Well, I did. And it was actually delicious. In between a bee pollen smoothie, a beauty-boosting MatchaBar latte, and a Kye's Paleo wrap throughout the day (all Los Angeles fixtures), I scooped up a sample of some vegan Kale Cookies + Cream plant-based ice cream from By Chloe with gluten-free dark chocolate waffles. It was heavenly. It wasn't overly kale-y, but since it had kale in the name, it made me feel healthier just for eating it, even if it is ice cream.
Oh — one thing I forgot to mention, all of the experiences listed above were included in the hefty ticket price to the event. The only things really for purchase were products in the Goop shop in the main exhibit hall, which guests were hooked up with in swag bags at the closing of the summit. So, in my opinion, it was actually well worth the price for the event and I definitely plan to be back next year (hopefully with a secured spot on that damn aura photography wait list).