When she isn't studying or hanging out in sunny Austin, TX, sprinter Gabby Thomas is casually making history. At the US Olympic Trials, Thomas clocked the third-fastest 200-meter sprint of all time, behind only the legendary Florence Griffith-Joyner, who notched the first and second best times in 1988. This makes Thomas the second-fastest woman in the history of her sport.
The 24-year-old Harvard graduate is originally from Atlanta, moved to Northampton, MA, and now lives in Texas, where she's working toward her master's degree in public health from the University of Texas. In 2018, she became the first Ivy League sprinter to win a women's national title when she took home the top prize in the 200m at the 2018 NCAA indoor championships.
In an interview with The Washington Post, Thomas explained how beating her personal best in the 200 shifted her perspective — and her expectations for herself. "It definitely has changed how I view myself as a runner. I think the standard for myself is a lot higher," Thomas said. "I am still in shock. I cannot believe I put up that time. I just want more for myself now. Now, I'm going to have to start thinking about different goals, different visions. Because this was my dream — my dream was to make the Olympic team, not to win Olympic trials, not even to break the meet record. Now that I've accomplished those, I'm going to set higher goals."
Learn more about one of Team USA's brightest stars in the slides ahead. Thomas's journey is sure to inspire you to set higher goals for yourself, too!
01
She Uses Running as a Form of Self-Care
She may be one of the greatest athletes in the world, but Thomas doesn't consider running to be a chore. "I love running for many reasons, but especially as a form of self-care," Thomas wrote in an Instagram post on June 2. "In the moments that I'm running, there's only one thing I'm focused on: running. I turn everything else off (my to-do lists, my problems, my stressors) and just get away. I feel like my best self on the track."
02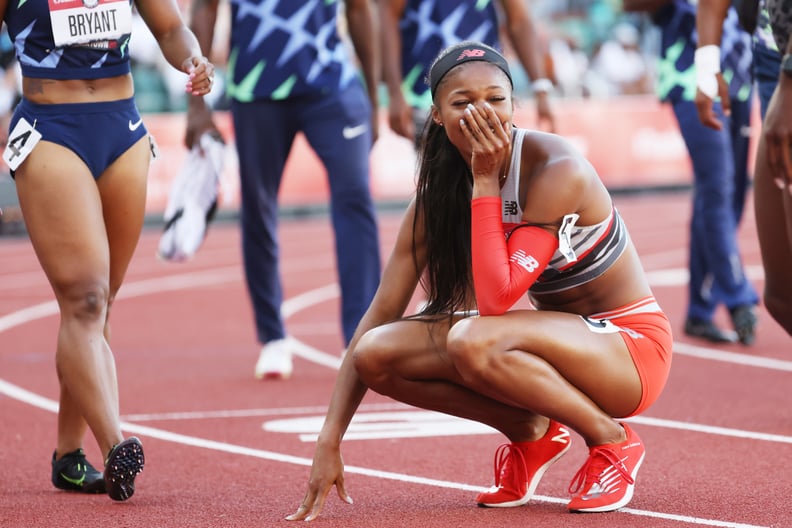 She Had a Health Scare Right Before the Olympic Trials
Thomas's dream of making it to the Olympics almost didn't happen this year. According to a report from Team USA, after she won the Golden Games on May 9, Thomas underwent an MRI to further evaluate a hamstring injury only to have the scan reveal a tumor on her liver. Thankfully, the mass is benign and won't require treatment or surgery, allowing her to go into the Games feeling healthy and strong.
03
She Wants to Help Fix Racial Disparities in Health Care
Thomas graduated from Harvard with a bachelor's degree in neurobiology in 2019, and is currently studying epidemiology and healthcare management as she works toward a master's degree in public health. Her goal is to help fix the racial disparities that exist in healthcare, something she became passionate about after attending a seminar. "You could just see the need for racial and ethnic diversity in public health because these disadvantaged populations had been just neglected for so long," Thomas told CBS. "I felt like in epidemiology, that field could really use a lot more people who look like me."
In an Instagram post on Feb. 21, Thomas explained that her long-term goal is to "transform the healthcare industry through sustainable community efforts, with a focus on mental health resources."
04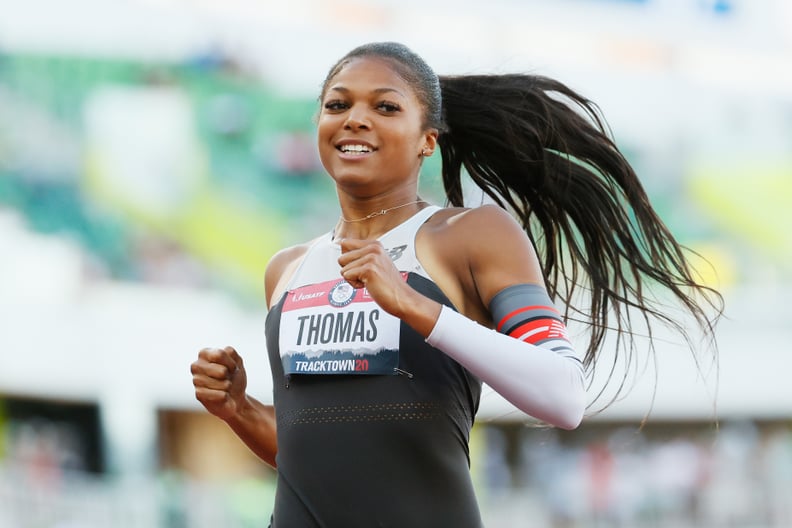 Her Mom Once Convinced Her Not to Quit Track
When Thomas felt like giving up track — often during her freshman year of college — her mom encouraged her to stick to her dreams. "I've had many phone calls with my mom during that time where I was thinking, 'You know, I might just not do track anymore,' and that was OK with me," Thomas told Today. "I thought it may have been too much for me to handle, but she told me to push through and that I would just be OK and to do it, and I'm really glad that I listened to her."
05
She Has a Pug Named Rico
In February, Thomas shared on Instagram that she adopted a pug named Rico a couple months prior. She has posted several photos of her and Rico since then, including trips to the park and a celebratory shot after she returned home from the Olympic Trials, with Rico wearing an American flag bandana.
06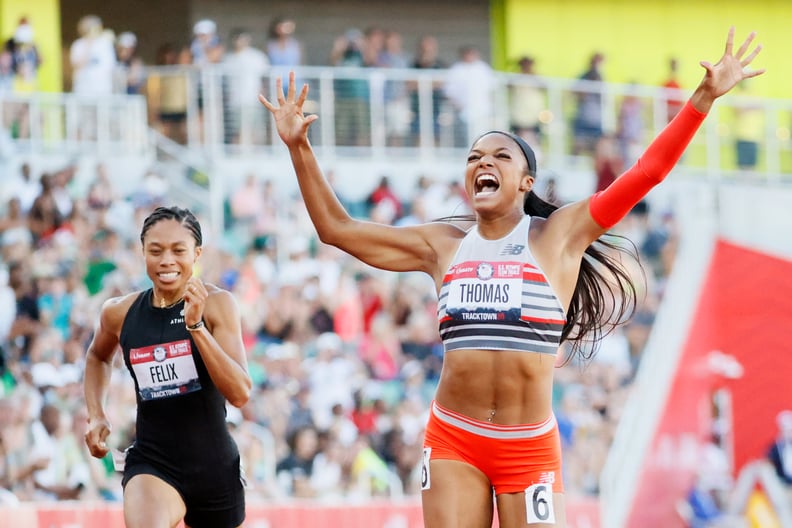 She's on the Olympic Team With Her Childhood Hero, Allyson Felix
At the Tokyo Games, Thomas will compete alongside nine-time Olympic medalist Allyson Felix, whom she's looked up to since childhood. "She was the first person I remember watching on TV, the person who has been in the back of my head. To be on the team with her makes me want to cry," Thomas told The New York Times.
CBS News reported that Felix hugged and congratulated Thomas after her historic 200-meter race at the Trials. "It made me so happy because it just really felt like she genuinely was happy for me and like, passing the torch on," Thomas said.