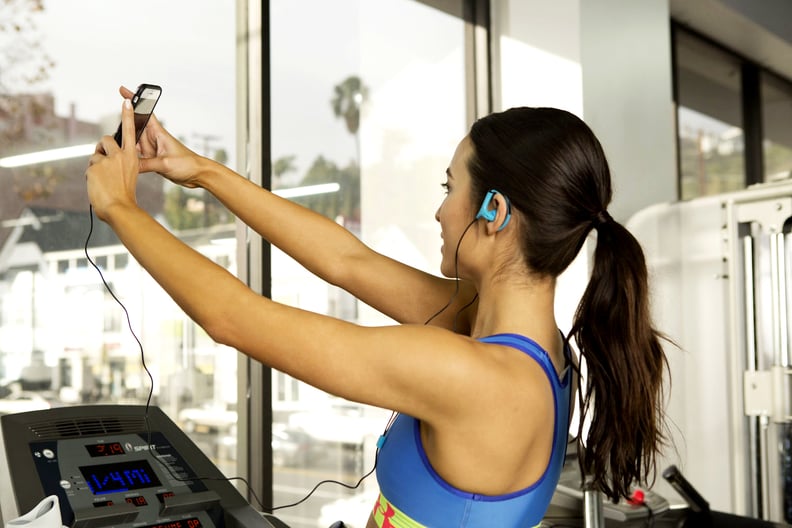 POPSUGAR Photography | Kat Borchart
POPSUGAR Photography | Kat Borchart
Love 'em or hate 'em, we shouldn't judge someone's gym selfie — it might just be helping that person reach their fitness goals. Several high-profile trainers all agree that progress photos, gym selfies, and quick snaps from your run are the ultimate way to stay on track, motivate yourself, feel energized, and measure progress.
When we sat down with Instagram sensation Kayla Itsines earlier this year, we asked her what she suggests to clients when they're feeling unmotivated. She told us that she encourages anyone hitting a slump to reflect on their progress photos to see how far they've come, and she also emphasized the importance of taking photos during each step of your fitness journey.
"My whole life is fitness, but of course I lose motivation too," she told POPSUGAR, but she looks to that visual community for inspiration — and you should, too! She suggested that anyone looking for extra accountability and motivational help should "join the [BBG] community and post progress photos" to keep themselves on track. Her encouragement sparked millions of women around the world to create specific "BBG accounts" on Instagram for just their gym and progress photos.
"It's OK to take a selfie. . . . You should be really proud of that. If it keeps you moving, great!"
Tone It Up founders Karena Dawn and Katrina Scott would agree and have noted that these pictures help individuals track progress. Not only do they encourage consistent check-ins on Instagram from their workouts (which can be found on popular hashtags like #TIUcheckin and #TIUteam), but they also encourage taking progress photos so you can gauge where you're at, saying, "Whether you want to lose weight, add muscle, tone up, or just become healthier, before [and after] pictures are the way to go!"
We also asked author of Shut Up and Run, Robin Arzon, about taking pictures on your run or while you're training. "People should be sharing their goals and successes," she told us. "It's OK to take a selfie on your route. . . . You should be really proud of that. If it keeps you moving, great!"
So there you have it — trainers from Australia to NYC saying to go ahead and snap that selfie. Your superfit, superaccomplished self will thank you later.