Why WNBA Players Are Wearing "Vote Warnock" Shirts
WNBA Players Are Wearing "Vote Warnock" Shirts to Take a Stand For Black Lives Matter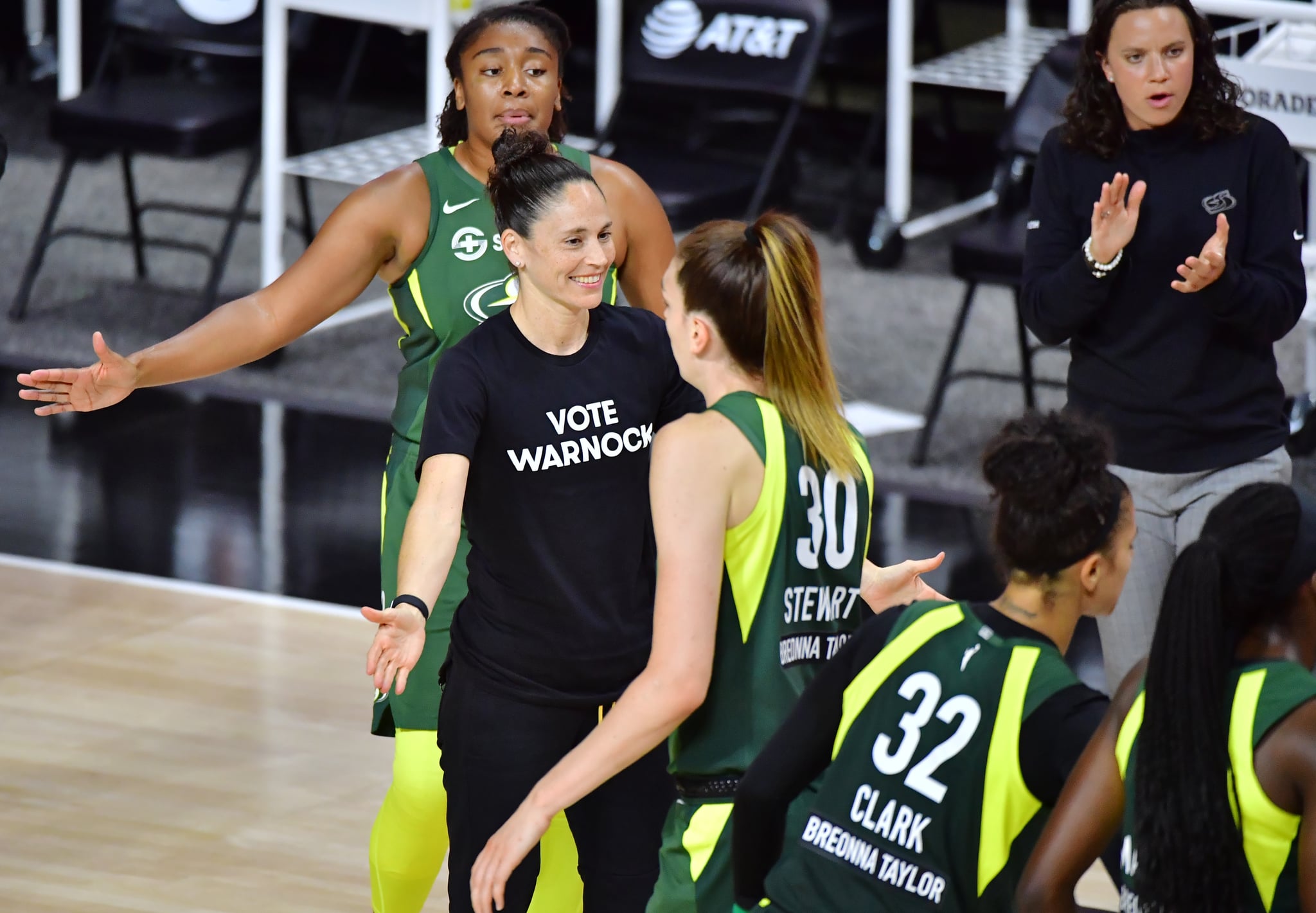 The WNBA has dedicated its 2020 season to social justice, supporting "Black Lives Matter" on shirts and courts, stitching "#SayHerName" onto the backs of jerseys, and giving players a platform to speak up for an urgent cause. In June, Sen. Kelly Loeffler, a co-owner of the Atlanta Dream, wrote to Commissioner Cathy Engelbert to oppose these moves. Supporting a "particular political agenda undermines the potential of the sport and sends a message of exclusion," she said, prompting an outcry from players and fans. (She has since stated that she believes that all Black lives matter but does not support the Black Lives Matter organization.)
Since then, Dream players have made a point to avoid talking about Sen. Loeffler and her comments. "We didn't want to feel like we were pawns," Dream forward Elizabeth Williams told ESPN. "We can only control so much about what the league does [in regard to Loeffler], and so for us, we wanted it to be bigger than that."
Instead, players coordinated a response to create change. Rather than promoting Sen. Loeffler's name and agenda, players are now wearing "Vote Warnock" shirts as they arrive at games — a statement in support of Rev. Raphael Warnock, an Atlanta pastor running as a Democrat against Sen. Loeffler. "Rev. Warnock is somebody who supports everything that we support and just happens to be running in that seat," Williams explained. "It just worked out really well."
The idea came from Seattle Storm guard Sue Bird, Williams said. Bird told ESPN, "Very quickly we started to realize that [the publicity around Loeffler's comments] was only happening for her political gain. This was something that she wanted. And the more noise we made, whether it was a tweet saying to get her out, that was just playing into her hands."
Bird saw the shirts as a way to encourage voting, "get the word out about this man, and hopefully put him in the Senate. And, if he's in the Senate, you know who's not," she continued. "And I'll just leave it at that."
Participation in the campaign is voluntary, Bird told ESPN, and the idea was discussed by players via Zoom calls while in the WNBA bubble at IMG Academy in Bradenton, FL. According to Bird's Seattle Storm teammate Breanna Stewart, players also had two Zoom calls with Rev. Warnock. "I think he's someone who's fighting to create change and fighting to be on the right side of things," she told ESPN.
We are @wnba players, but like the late, great John Lewis said, we are also ordinary people with extraordinary vision. @ReverendWarnock has spent his life fighting for the people and we need him in Washington. Join the movement for a better Georgia at https://t.co/hC8iF9urak pic.twitter.com/mvN5e9m4oO

— Elizabeth Williams (@E_Williams_1) August 4, 2020
"We definitely decided to wear it because he's for Black Lives Matter," Dream guard Chennedy Carter told ESPN. "He supports the league and the movement, and we support him. We're voting for Warnock."
In response, Warnock said he was "honored and humbled by the overwhelming support from the WNBA players," according to a statement from his campaign on Twitter. "This movement gives us the opportunity to fight for what we believe in, and I stand by all athletes promoting social justice on and off the court." Sen. Loeffler and "those like her, who seek to silence and dismiss others when they speak up for justice, have planted themselves on the wrong side of history," he added, according to ESPN. "We are in a moment of generational, transformative change, and there is no place in that movement for bigotry. We celebrate the courage and resolve of these players standing for justice, and I am proud to stand with them."
In a statement of her own, Sen. Loeffler said, "This is just more proof that the out-of-control cancel culture wants to shut out anyone who disagrees with them." Adding, "It's clear that the league is more concerned with playing politics than basketball, and I stand by what I wrote in June."
According to players, Sen. Loeffler doesn't support the very athletes competing on a team she co-owns. Loeffler and her beliefs don't represent WNBA players, Dream guard Sami Whitcomb told ESPN. "She doesn't represent our voices — not in this league, not in the community," she said. "Rev. Warnock does, so we're putting our support behind him because of the person that he is and the type of legislation that he stands for. You can call it politics. We call it supporting the human race and morals."
"For effective change to happen, there has to be policy changes," Williams added. "If we're going to sit here and talk about wanting justice reform, part of that is making sure that we have officials in office that understand that."