WNBA 2020 Social Justice Op-ed Sue Bird, Nneka Ogwumike
Activism Is Part of the WNBA's DNA — 2 Players Explain in a New Powerful Op-Ed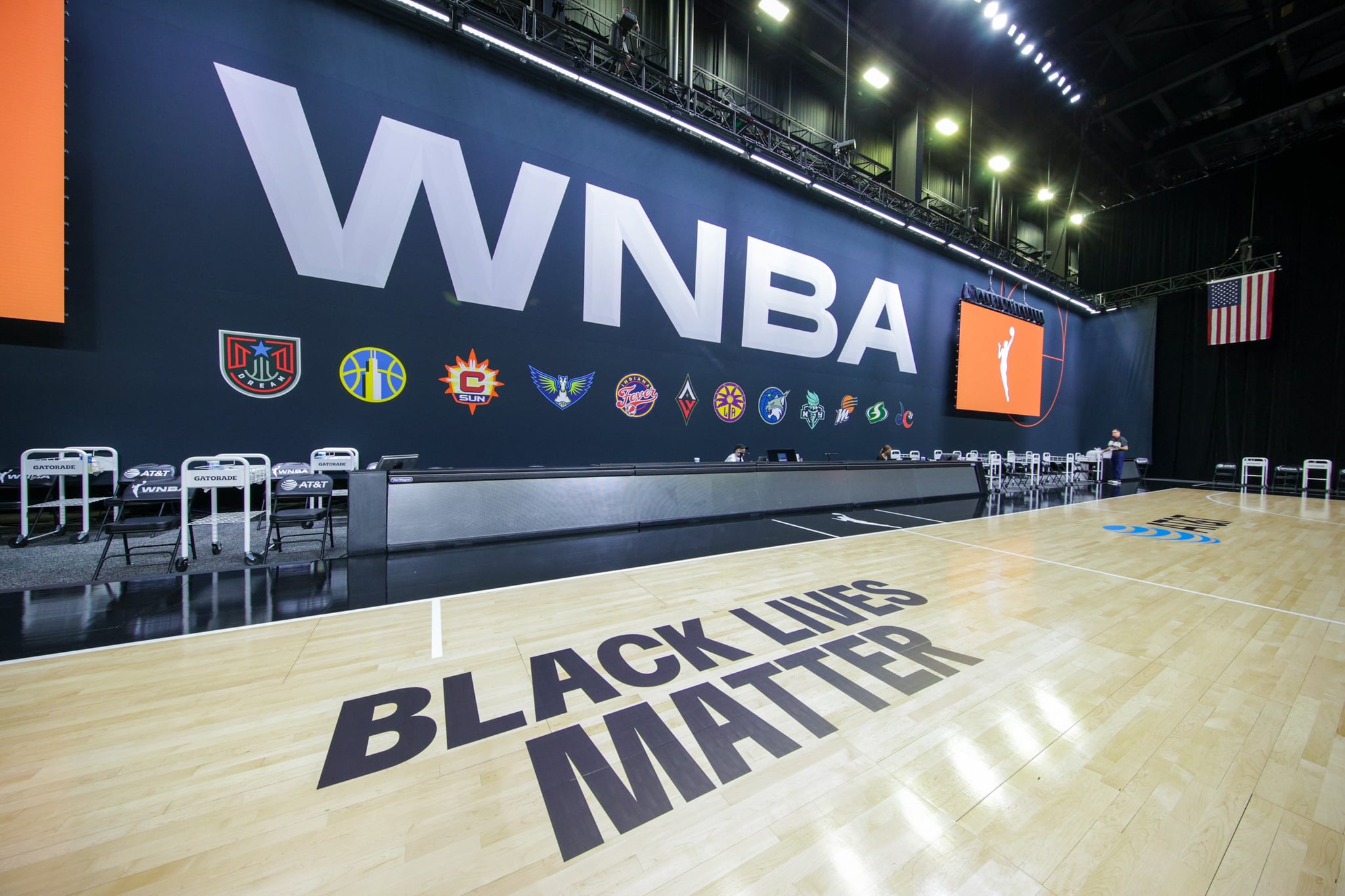 Image Source: Courtesy of WNBA / NBA Photos
The 2020 WNBA season began on Saturday, July 25, with some changes in light of the novel coronavirus (COVID-19) pandemic: games would be held without fans at IMG Academy in Bradenton, Florida, or, as the teams call it, "the bubble." But, through these changes, the league's mission is clear: it is dedicating this season entirely to social justice.
While some players are opting out of the season for that same reason, those participating showed up in stride to broadcast their message. They adorned "Say Her Name" T-shirts in honor of the #SayHerName campaign, which brings awareness to the stories of Black women and girls lost at the hands of police violence. They also played on courts that read "Black Lives Matter" and observed moments of silence. Teams had "Breonna Taylor" written on the back of their jerseys as well.
In the opening game between New York Liberty and Seattle Storm, for example, all players returned to their locker rooms during the anthem and stood for 26 seconds of silence in honor of Taylor, killed at 26 by Louisville, KY, police who forcibly entered her home unannounced to execute a narcotics raid back in March. The Storm's Breonna Stewart and Liberty's Layshia Clarendon spoke before the game, announcing the WNBA's support of the #SayHerName campaign.
The WNBA and the players' union, the Women's National Basketball Players Association (WNBPA), also launched the Social Justice Council meant to produce virtual roundtables and player-led podcasts to discuss implicit bias, systemic racism, and inequality in the US, the league announced. You can additionally buy a "Say Her Name" shirt and hoodie designed by players; one-hundred percent of proceeds will go to the Breonna Taylor Foundation.
.@Layshiac and @breannastewart address the 2020 #WNBA season being dedicated to Breonna Taylor and the Black Lives Matter Movement. pic.twitter.com/BNWrErjeWP

— WNBA (@WNBA) July 25, 2020
President of the WNBPA Nneka Ogwumike, a Los Angeles Sparks forward, along with four-time Olympian and forward Sue Bird of the Seattle Storm, further explained the WNBA's mission in a co-authored op-ed for Phenomenal Media published on July 27. This is Phenomenal's very first op-ed, and the brand itself, founded in 2017 by Meena Harris, uses its platform to bring awareness to social causes — in particular, issues affecting underrepresented communities.
"In this moment of national reckoning, our league is a microcosm of so much of the world that's worth fighting for: a community that reflects incredible diversity, real inclusion, a long tradition of proud activism, and a deep commitment to fighting injustice," Bird and Ogwumike wrote. They urged us to show up for them and said that activism has always been in their DNA because they've had to fight so hard for a spot in sports: "by simply existing in spaces that weren't built for us, women athletes are doing something revolutionary."
"Supporting the WNBA and its players at a time like this is more than just being a fan. It's a form of principled activism in its own right."
Bird and Ogwumike, who were both Phenomenal ambassadors for previous campaigns, say that, by presenting an example of allyship that is tangible and contributing to such a large social movement, they want to inspire change well beyond the WNBA. And, they know how much representation matters. "Which means that supporting the WNBA and its players at a time like this is more than just being a fan. It's a form of principled activism in its own right," they wrote. "And it's a testament to our collective understanding that we each can do something, in this moment, and in fact we must — because we're all in this together."
The women addressed comments made by Sen. Kelly Loeffler, co-owner of the Atlanta Dream, who, in a letter to WNBA Commissioner Cathy Engelbert, had rejected the WNBA's dedication to the Black Lives Matter movement. They called Loeffler's comments "glaringly out of touch with everything the league should stand for." They also said that though people are entitled to their own views, players themselves will never stop seeking change and speaking out — and the women advised those in the WNBA who disagree to invest their time elsewhere.
They seek support from sponsors, the NBA, and fans alike. "As athletes, we need organizations and team owners that respect us — and represent us — for who we are. As women, we need allyship to extend beyond women with powerful platforms to include all — from corporate sponsors to our NBA brethren — who are willing to understand and educate, listen and learn, holding space for women's voices in the national conversation."
Watching and supporting the WNBA this season especially is important, and Bird and Ogwumike want people to know that "lasting change comes down to the individual decisions we make," including cheering on the WNBA virtually and celebrating the US's return to sports by taking part in the players' historic 2020 season. "That's a lot more than fandom," they conclude. "It's feminism in action."
The WNBA season began July 25 and goes through Sept. 12. You can watch games on ESPN, ABC, and CBS Sports Network.