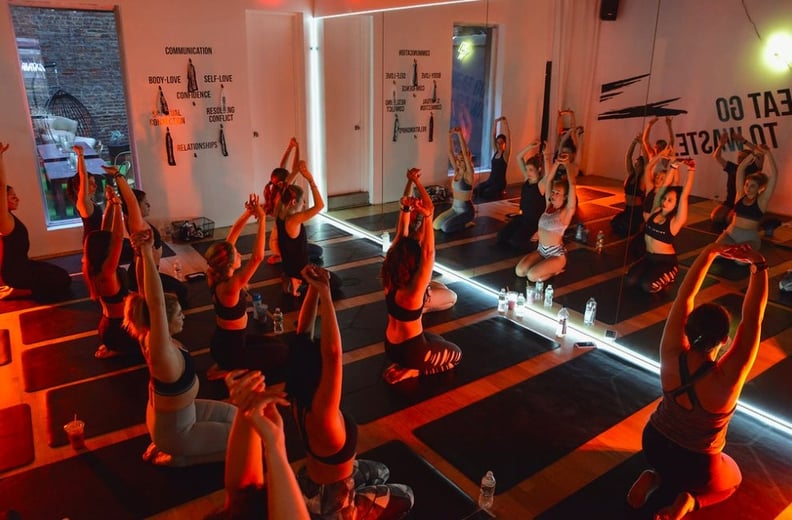 Robert Carlo
Robert Carlo
When a quick search of the best yoga moves via the 'gram turns up a whole lot of #buti, you're probably already a little intrigued. What started as a way to combine one woman's love for intense cardio with her newfound passion for yoga, Buti Yoga, a dynamic form of yoga using dance, was born. Though it feels and looks a little like Zumba for the cool kids, fitness instructor Bizzie Gold's workout craze has one of the fastest-growing teacher-training programs across the country (oh and 5,000+ instructors globally). Looking for moves that would really, truly encourage people to move their hips more, Gold turned to African-inspired dance moves for inspiration.
While you're going to get an all-over tone (and burn up to 800 calories in just one session), Gold's unique movements actually fine-tune the ab muscles by working the core in a spiral instead of a linear path. "So here's a little anatomy lesson: the top layer of abs right under your subcutaneous fat is the rectus abdominis," Gold explains. Doing crunches works only these muscles. "This is the show-it-off kind of abs, so you really need to go deeper if you want to do real work," she says. Then you hit your internal and external obliques that run up the sides of your midsection from your ribs to your pelvis to really cinch in your waistline. With spiral-style moves, you're actually going deep into your core, hitting your entire waistline, all of those abdominal muscles, lateral abs, and the abs that run like a belt wrapping into your spine. Literally, there won't be a muscle in your middle that goes untouched in this workout. "You'll whittle your middle and look great from every angle — the front, sides, and back," explains Gold.
Gold's latest project, her first-ever studio called B MVMNT (Julia Roberts and Jennifer Love Hewitt are big fans of the workout), also based in New York City, offers up to five different classes. (Bonus: for those looking to break a sweat during their lunch breaks, you can find quickie 30-minute sessions on the roster.) We all like instant gratification, so check out Gold's go-to core moves here that will be the only way you'll want to move your body all season long.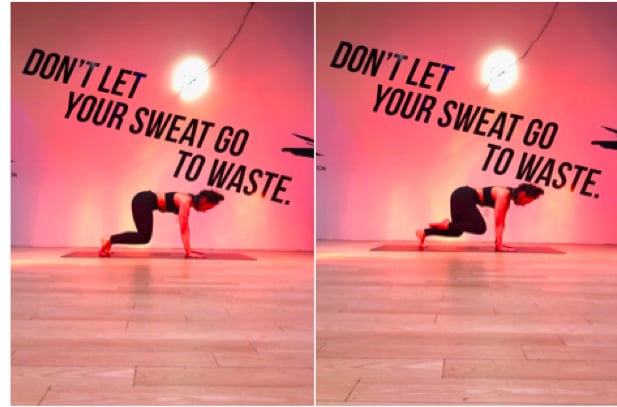 Suspended Oblique Sequence
Do these moves as a circuit and repeat three times total.
Kneeling on the floor, keep your knees stacked under your hips and hands underneath shoulders.
Tuck your pelvis and squeeze your midline as you lift your knees off floor so they're hovering floor a couple inches.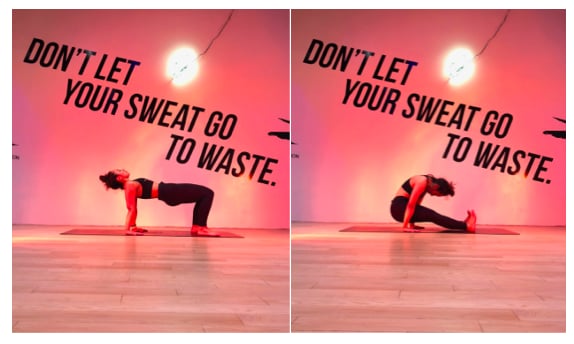 Dandasana Pass Through
Sitting on the floor with legs extended in front of you, feet flexed, palms on floor by hips and fingers facing toes, lift hips up so arms are fully extended, knees bent 90 degrees and body forms a flat surface parallel to floor.
Slowly lower butt to floor without touching down to floor so that legs are extended straight in front of you; heels on floor, toes flexed. (Touch butt to floor to make this easier.)
This is a swaying motion so perform move continuously for 40 seconds, without stopping the flow. Hold the down position for an additional 20 seconds after movement.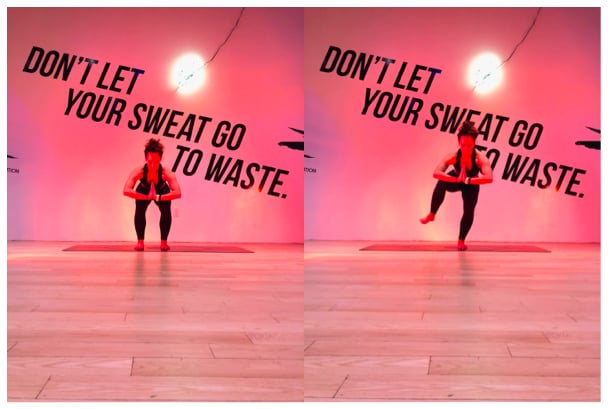 Primal Squat With Core Circles
Standing with legs hip-width apart, lower chest parallel with floor as you sit back into a squat. Raise arms, palms together in front of chest.
Staying in low squat position, lift right knee toward right elbow, almost tapping knee to elbow. Lower right foot to floor and repeat motion with left foot.
Continue movement, alternating sides, for 40 seconds. Hold start position for additional 20 seconds.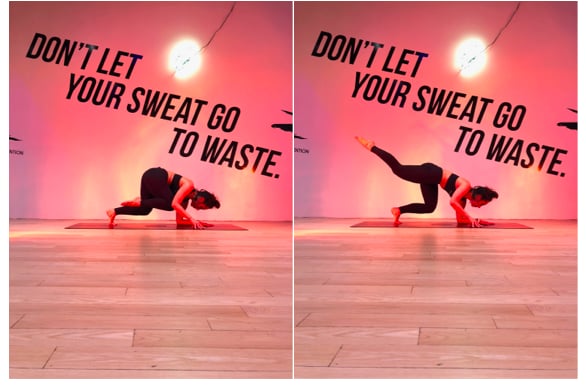 Single Leg Forearm Press
Facing the floor on all fours, with your forearms resting on the floor and knees under hips, press up onto your toes so your knees hover floor about an inch.
Lift your right leg off floor keeping it in a bent position and put your weight onto your left forearm, resting your right palm on the floor.
Extend right leg behind you as high up as you can, bending knee sightly and pointing toes. (Keep left knee lifted of floor throughout).
Return right knee back into a tucked position and repeat for 20 seconds. Continue on left side for 20 seconds.
Hold start position for an additional 20 seconds.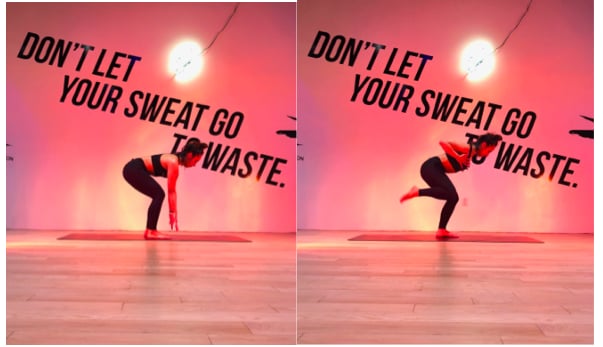 Chest Sweep Bodywave
Stand with feet hip-width apart, bend knees slightly as you lower your chest parallel to floor and reach hands forward toward toes.
Lift right foot behind you as you tap hands to chest and quickly reach hands toward floor again as right toe simultaneously taps floor.
Continue motion in a fast-paced sweep for 20 seconds, then switch sides and repeat for another 20 seconds. Hold start position for additional 20 seconds.