Cold Stone Creamery Wonder Woman Flavor
Cold Stone's Limited-Edition Wonder Woman Flavor Has Gold Glitter!
Ahead of the release of the new Wonder Woman movie, Cold Stone Creamery is releasing a fierce new flavor. The promotional flavor is called Dark Chocolate Triple Berry Ice Cream, and the new Creation is called the Wonder Woman Berry Bold, which has the Dark Chocolate Triple Berry Ice Cream plus chocolate shavings, raspberries, and gold glitter. And that's not all. The ice cream shop is also releasing a new cupcake called Triple Berry Wonder, which has layers of moist Red Velvet Cake and Dark Chocolate Triple Berry Ice Cream, topped with chocolate frosting, gold glitter, and a Wonder Woman logoed Chocolate Medallion.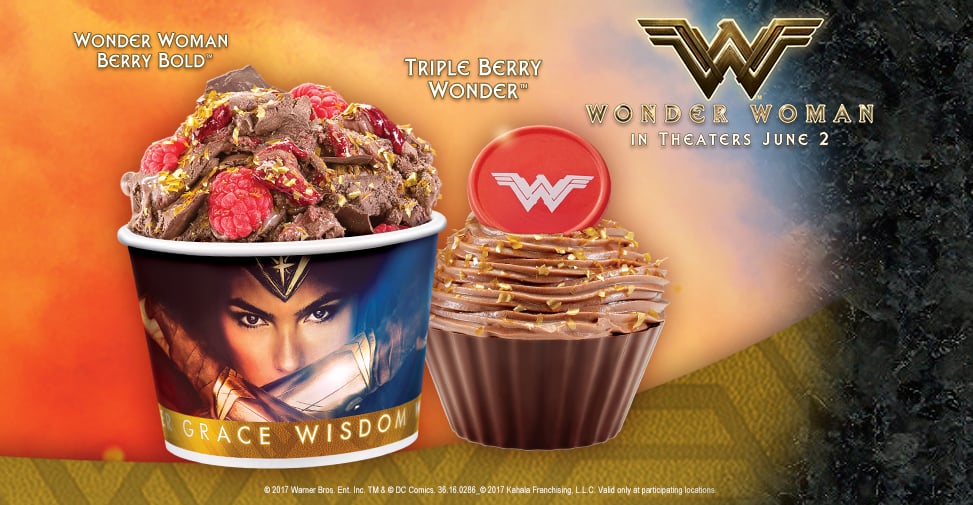 "We are excited to continue our partnership with Warner Bros. for this empowering and adventurous new movie," said Kate Unger, senior vice president of marketing for Cold Stone Creamery. "Customers are going to love our superpremium ice cream and enjoy our new Wonder Woman-inspired Creation. The bold flavor of our Dark Chocolate Triple Berry Ice Cream gives it a powerful chocolaty taste that goes perfectly with Raspberries and Chocolate Shavings. Then we add Gold Glitter to give it some glam!"
Get this epic new ice cream while you can. It's in stores from May 10 through June 13.
Image Source: Cold Stone Creamery