Disneyland Haunted Mansion Gingerbread House 2017
You Have to See the 7-Foot-Tall Gingerbread House in Disneyland's Haunted Mansion!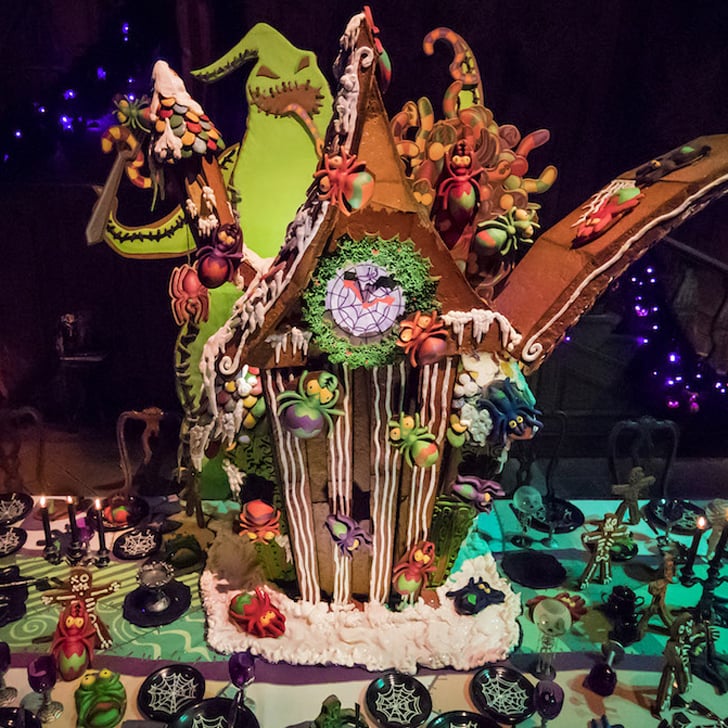 One of the best things about Disneyland during Halloween is undoubtedly the Nightmare Before Christmas-themed Haunted Mansion ride. The popular ride undergoes a spooky makeover every year for the Halloween season, and the coolest part of all — the giant gingerbread house in the ballroom — is absolutely epic this year. For the 17th season of the Haunted Mansion Holiday ride, Disney decided to feature Oogie Boogie from The Nightmare Before Christmas on its six-foot-tall gingerbread house, and you wouldn't believe the amount of culinary work that went into the creation.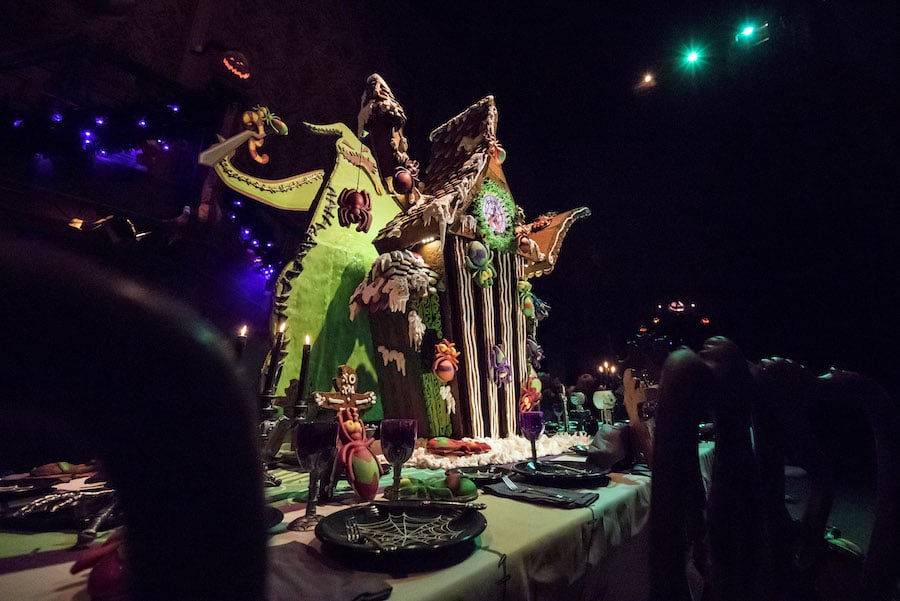 Oogie Boogie himself is an astounding seven feet tall, and the scene of the house is set up to represent the character helping with a "bug problem." Tim Wollweber, who is the associate art director for Disney Parks and designed this year's house, said in a statement, "The gingerbread mansion this year has a bug problem — gingerbread bugs! But it's not a problem that a gingerbread Oogie Boogie can't fix. He pried open the roof of the gingerbread mansion and has his fork at the ready, happy to fix the infestation in the only way he would — by eating them."
Hundreds of pounds of edible ingredients went into the making of the attraction, officially making it the most intricate gingerbread house we've ever seen. See for yourself in the official list of ingredients from Disney:
200 pounds gingerbread
200 pounds powdered sugar
4 gallons egg whites
1 gallon lemon juice
30 pounds white chocolate
50 pounds gum paste
8 ounces (each) food coloring (blue, purple, orange, yellow, red)
16 ounces green food coloring
50 pounds fondant
1/3 pound glitter
200 hours Disney Culinary Magic
Insane, right? This gingerbread house will be in the ride through January 2018, and we're tempted to plan a trip to Disneyland this holiday season to see the whimsical display!