Doritos Chicken Tenders | Food Video
Yes You Can (and Should) Coat Chicken Tenders in Cool Ranch Doritos
Chicken tenders dipped in ranch dressing are already an anytime favorite. But with this revolutionary recipe for Doritos Cool Ranch chicken tenders, you will never be able to settle for regular tenders again, whether you're eating lunch with the kids, bringing an appetizer to game day, or enjoying these during a late-night, postbar outing.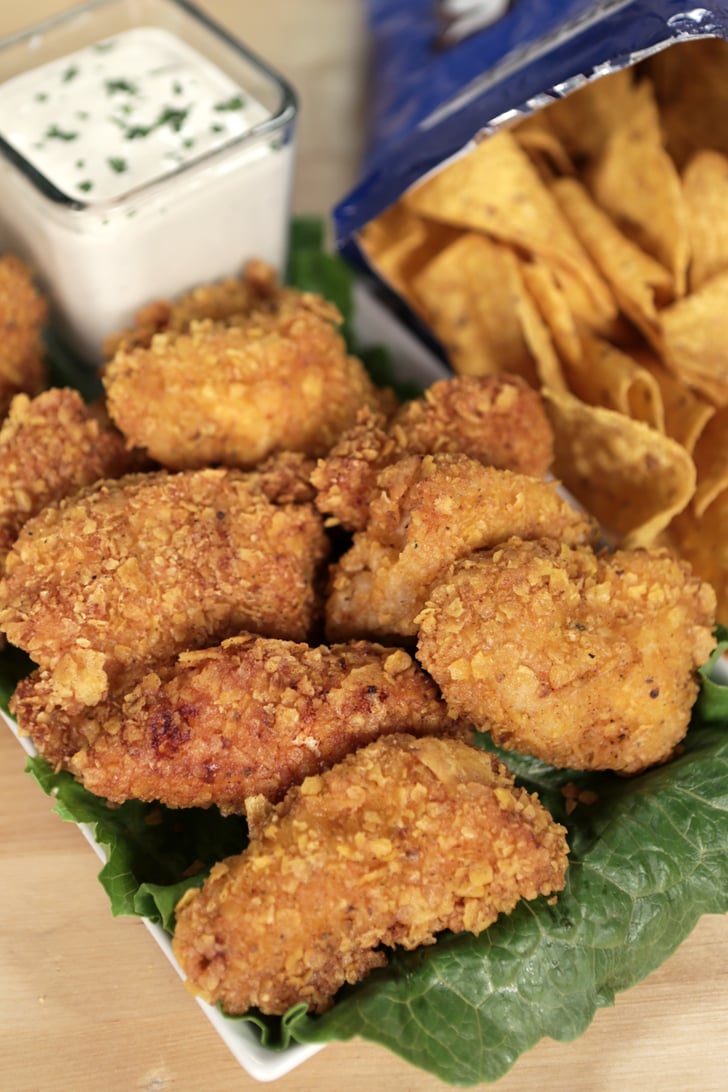 Brandi Wearing Cooper & Ella Top
Cool Ranch Doritos Chicken Tenders
From Heather Platt, POPSUGAR Food
Ingredients
1 cup buttermilk
1/4 teaspoon dried chives
1/4 teaspoon dried parsley
1/4 teaspoon black pepper
1/4 teaspoon garlic powder
1/4 teaspoon dried dill
1/2 teaspoon onion powder
1 1/2 pounds chicken tenders
1 large bag Doritos Cool Ranch Flavored Tortilla Chips
1 cup all-purpose flour
1 teaspoon salt
3 large eggs
Neutral, high-heat oil for frying
Ranch dressing, for dipping
Directions
In a large bowl, combine buttermilk with herbs and seasonings and whisk until combined. Add chicken tenders and toss to coat. Cover the bowl tightly with plastic wrap, place in the refrigerator, and let marinate for at least 6 hours or overnight.
Into a food processor, process Doritos until they are the consistency of coarse breadcrumbs. Pour into a bowl.
In one bowl, mix together flour and salt. In another bowl, whisk eggs until combined. Using tongs, remove the chicken tenders from the buttermilk mixture, letting any excess liquid drip off. Dredge the chicken in flour to coat it. Dip the tenders in the egg wash and then dredge it a second time in crushed Doritos.
Heat oil in a heavy-bottomed pot and fry chicken in batches for 4 to 5 minutes, or until golden and cooked through. Drain on a paper-towel-lined plate. Serve warm with ranch dressing.
Information
Category

Main Dishes, Game

Yield

Serving Size: 2-4 servings

Total Time

24 minutes, 59 seconds