Gordon Ramsay Idiot Sandwich Halloween Costume
A Couple Re-Created Gordon Ramsay's "Idiot Sandwich" Moment For Halloween, and LOL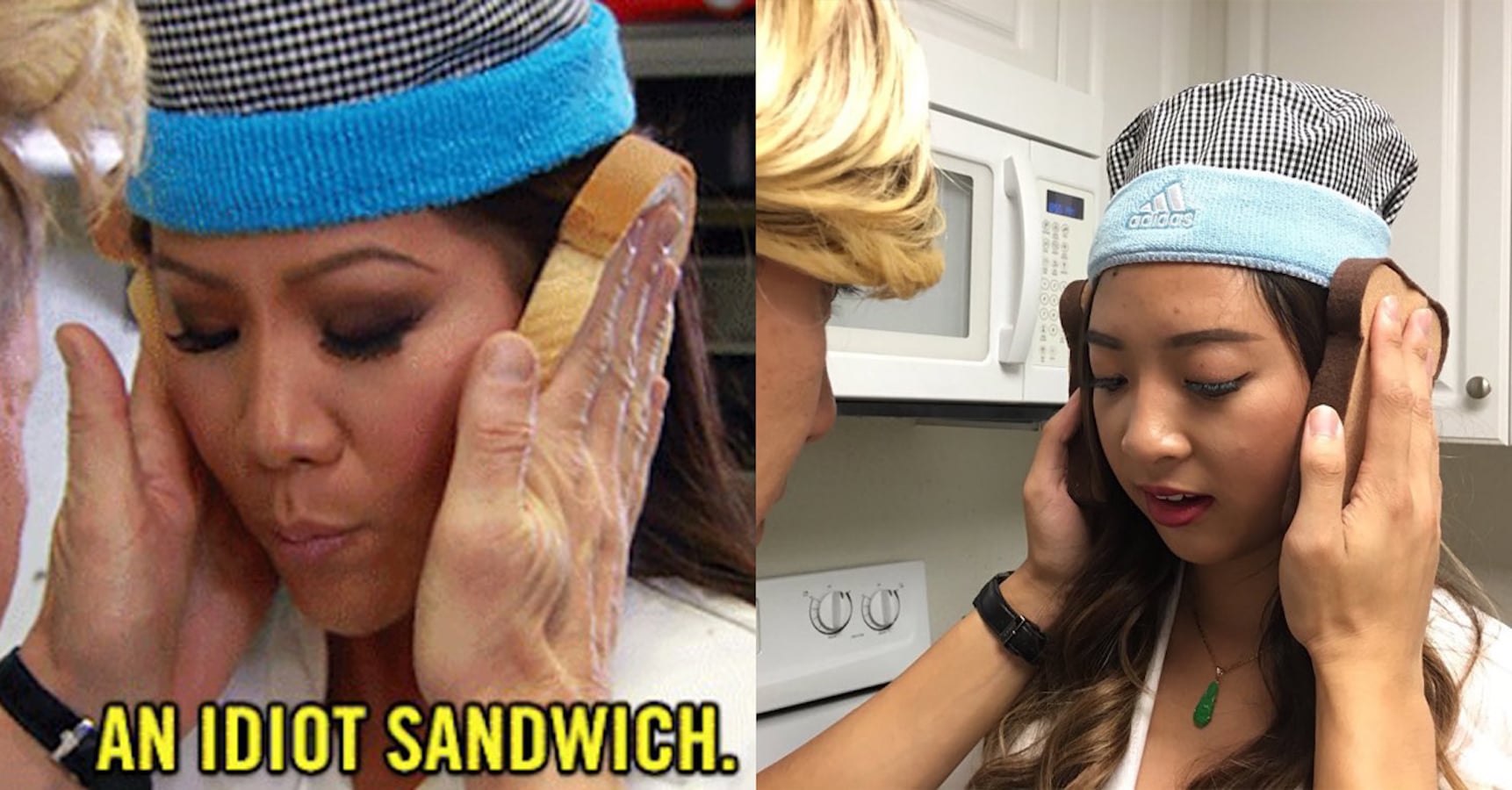 Image Source: CBS / Twitter user kaaatdoan
When Gordon Ramsay went on The Late Late Show way back in 2015, he probably had no clue his skit would inspire a wealth of hilarious memes — and Halloween costumes. To refresh your memory, the Hell's Kitchen star went on James Corden's late-night show to jokingly battle against TV host Julie Chen in a fake episode of Hell's Cafeteria. At one point, Ramsay held Chen's face between two slices of bread, and the following LOL-worthy interaction ensued:
Image Source: CBS
As soon as the hilarious moment aired, it quickly became a meme, and the phrase "idiot sandwich" became a household expression among Ramsay fans everywhere. And it looks like two fans in particular, Sabrina and Kelvin, weren't ready to let the moment disappear just yet. The couple resurrected the "idiot sandwich" meme for Halloween this year, with Kelvin dressing as Ramsay and Sabrina dressing as Chen for their spooky festivities. Behold the sheer brilliance of their epic couples costume.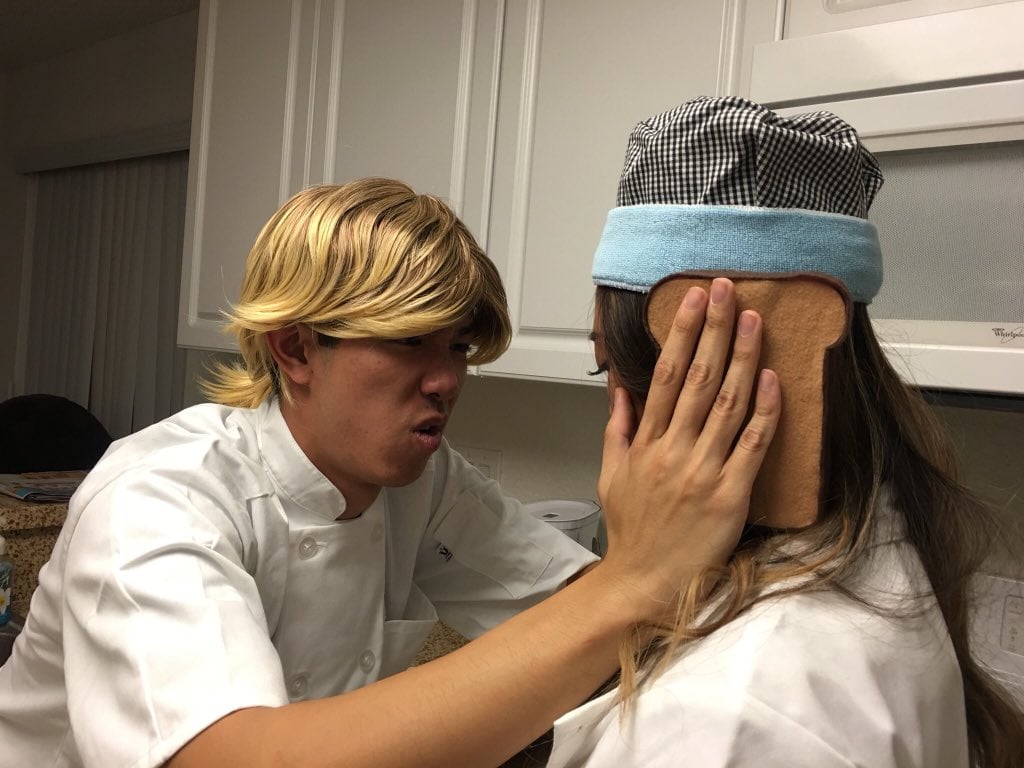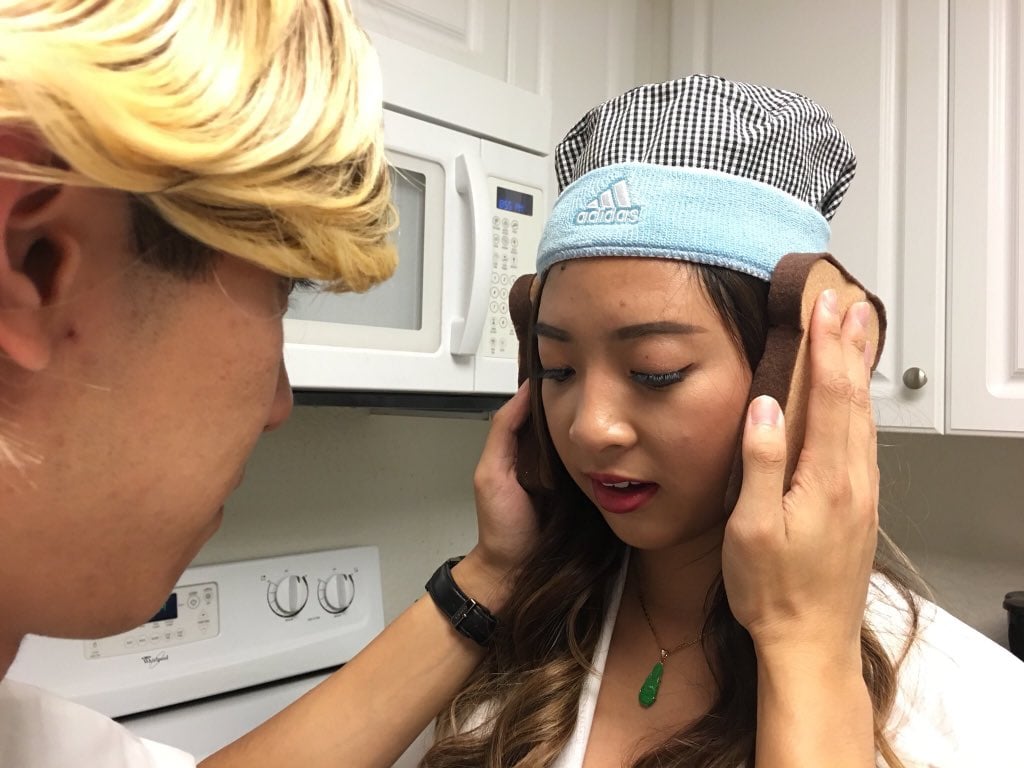 Image Source: Twitter user kaaatdoan
To flawlessly emulate the moment, Kelvin wore a blond wig and chef getup while Sabrina sported a DIY chef hat with a blue elastic band (just like Chen's!), and Kelvin held her head between two pieces of fake bread for the photo opp. They even snapped their pictures in a kitchen setting to really take it to the next level — now that's what I call dedication!
As soon as Sabrina's sister, Kathelina, shared their pictures on Twitter, they went wildly viral, garnering more than 90,000 retweets and more than 280,000 favorites — wow!
my sister & her bf gmfu pic.twitter.com/fZnNeeIthT

— Kathelina (@kaaatdoan) October 28, 2017
The internet seriously can't get enough of just how truly one-of-a-kind their costumes are, and many Twitter users couldn't resist replying to Kathelina's tweet to applaud their pure creativity. Someone get these two a trophy or something — seriously.
@jayniss IVE NEVER SEEN SOMETHING SO PERF

— Elizabeth Price. (@SoBlondeItWorks) October 29, 2017
@ZachGoraum my fave couples costume so far

— Hannah Tompkins (@htompkins027) October 29, 2017
THEY HAVE DONE IT GOD BLESS

— KT Morfin (@katiemorfin) October 30, 2017
Relationship goals

— Krissi Bucy (@Krissi_Noel14) October 29, 2017
LMFAO HAHAH best costume

— John Nguyen (@johnnttn) October 29, 2017