Guy Fieri Super Bowl Party Tips
Guy Fieri's Guide For Hosting the Ultimate Super Bowl Party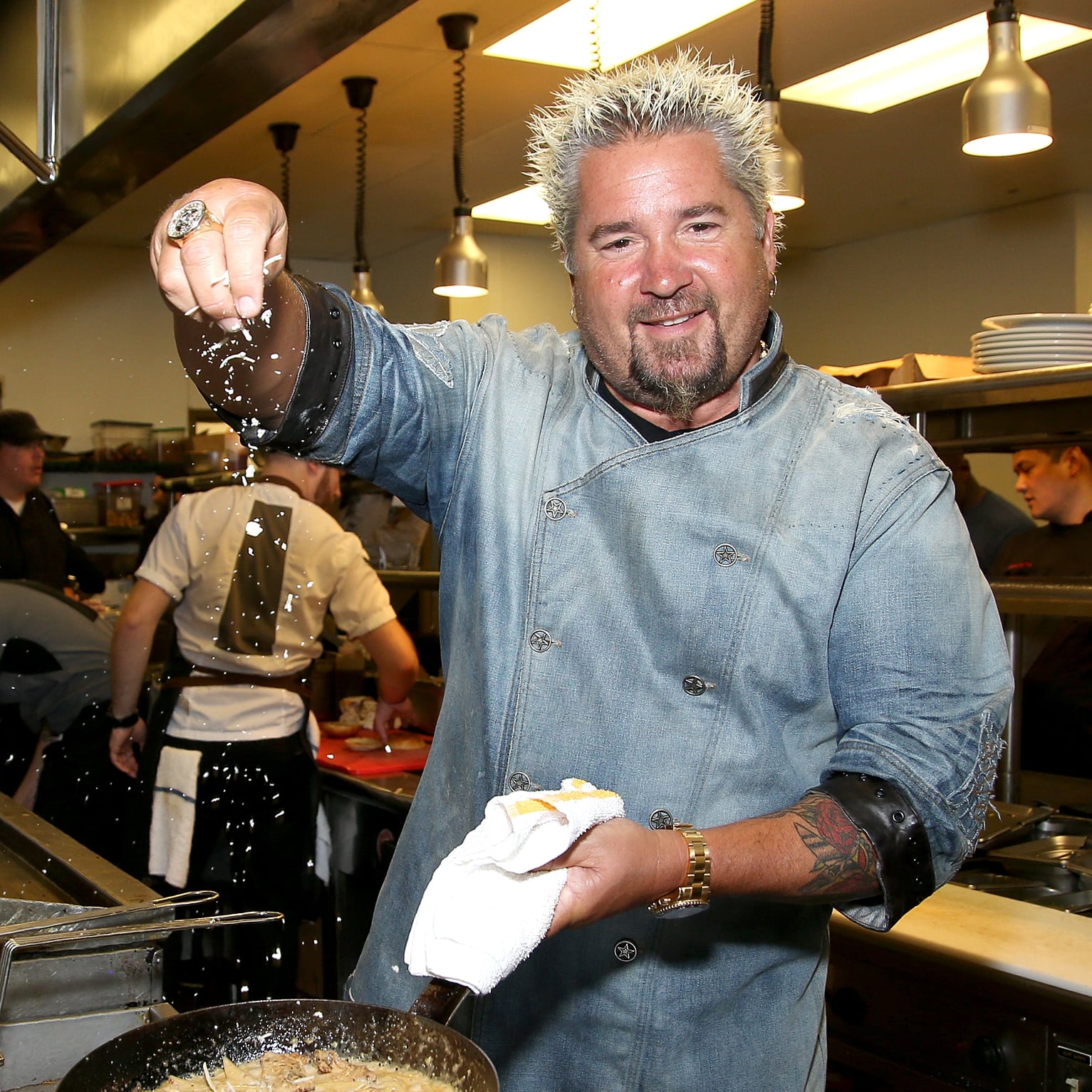 Image source: Paul Zimmerman / Stringer
If anyone knows how to tailgate and throw the most epic Super Bowl party, it's Guy Fieri. He hosted the tailgate at last year's Super Bowl in San Francisco. Guy told POPSUGAR, "After that experience . . . I had such a good time. I said, 'Let's take it to another level.'" So he's headed to Houston for this year's Super Bowl (Patriots vs. Falcons) to throw the ultimate pregame party. A $699 ticket to his Super Bowl party gets you unlimited booze, a "Whole Hog Throwdown," "Mac Daddy Mac and Cheese Bar," and more crab, lobster, and sushi than you could possibly eat.
"It's gonna be a real good one," Guy promises. While we might not all be able venture down to Texas to taste all of Guy's famous creations, we can re-create some of his killer ideas in the comfort of our homes. I spoke to Guy about his tips for prepping it all, from nachos to mac and cheese. Trust me, his cooking advice is a game-day game changer.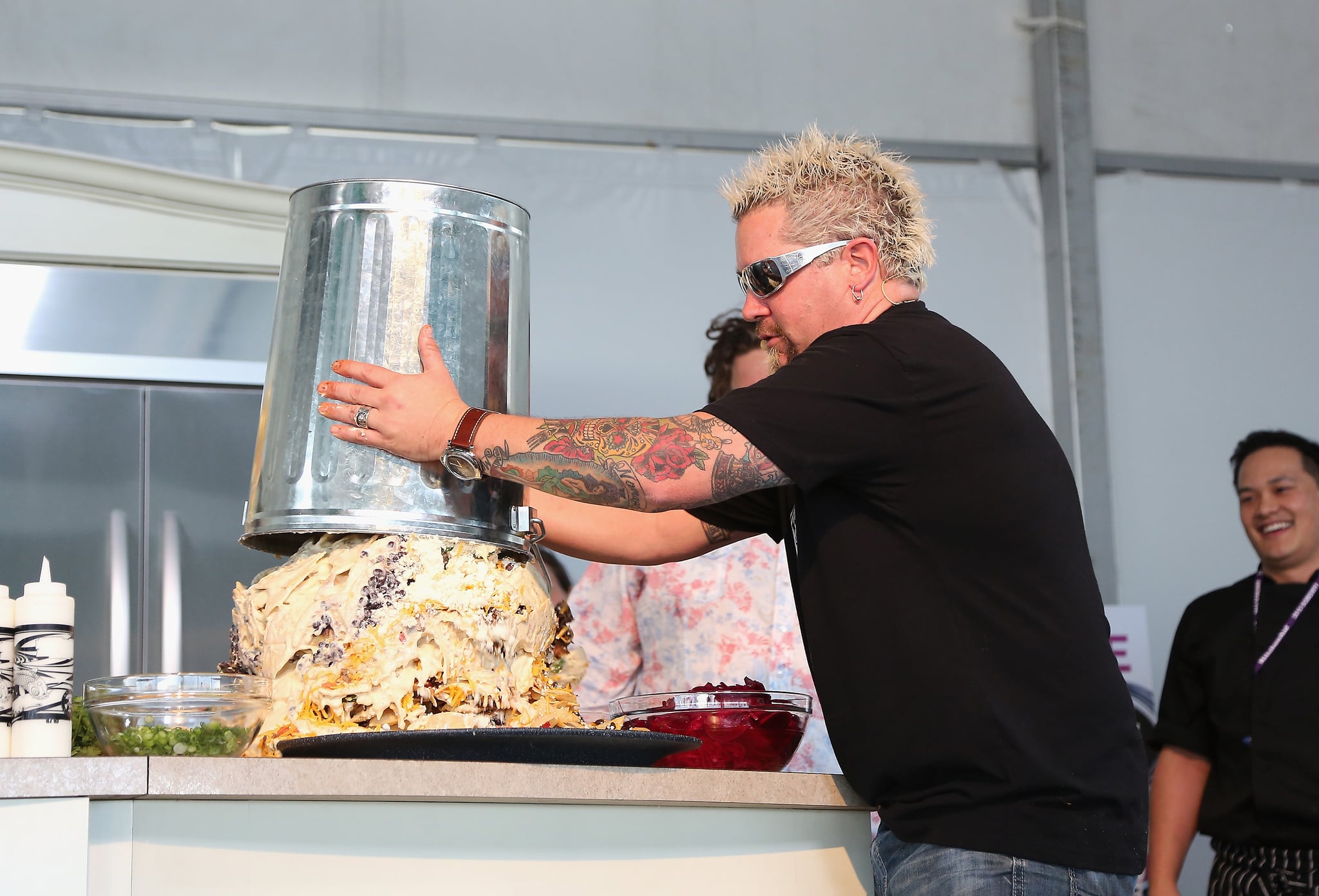 Image source: Alexander Tamargo / Getty
Guy's Tips For the Best Nachos
Fry your own chips. "The beginning key is the foundation. You gotta have really good chips. You could buy some really good, nice, thick corn tortilla chips and that's what I recommend. If I really have my choice, I'll make my own chips. If the center of your tailgating event or your Super Bowl party is going to be nachos, make the chips. Alright?"
Make Super Melty Cheese: "I think one of the things that we all love about nachos is nice, creamy cheese. We call it SMC, Super Melty Cheese. The thing to remember when making Super Melty Cheese is don't rush it. A little roux with some flour and butter. Into there, [whisk] a little milk. You've got yourself a nice base. Slowly at a low-to-medium temperature, start stirring in crumbled or shredded cheese. A little Gouda, a little provolone, a little cheddar, a little parm. Keep it warm in a double boiler. You don't want to keep that flame directly on the cheese in a pan 'cause it'll have a chance to scald it or burn it."
Stack them TALL. "We call them 'Trash Can Nachos' in most of my restaurants. We stack em up in a big can, because as soon as the nachos sit on a plate, they start to cool off. Cold nachos . . . it's kinda like cold pizza. I mean, you'll still eat it, but it's always better when it's hot."
Or, set up a nacho bar. "Setting up a nacho bar, kind of like a taco bar, let's people kind of devise how they want their nachos to go. Have some chili ready to go. Let people have those chips, a little bit of chorizo, a little bit of jalapeño, a few olives, and then hit it with some really nice SMC. My mouth's watering, telling you."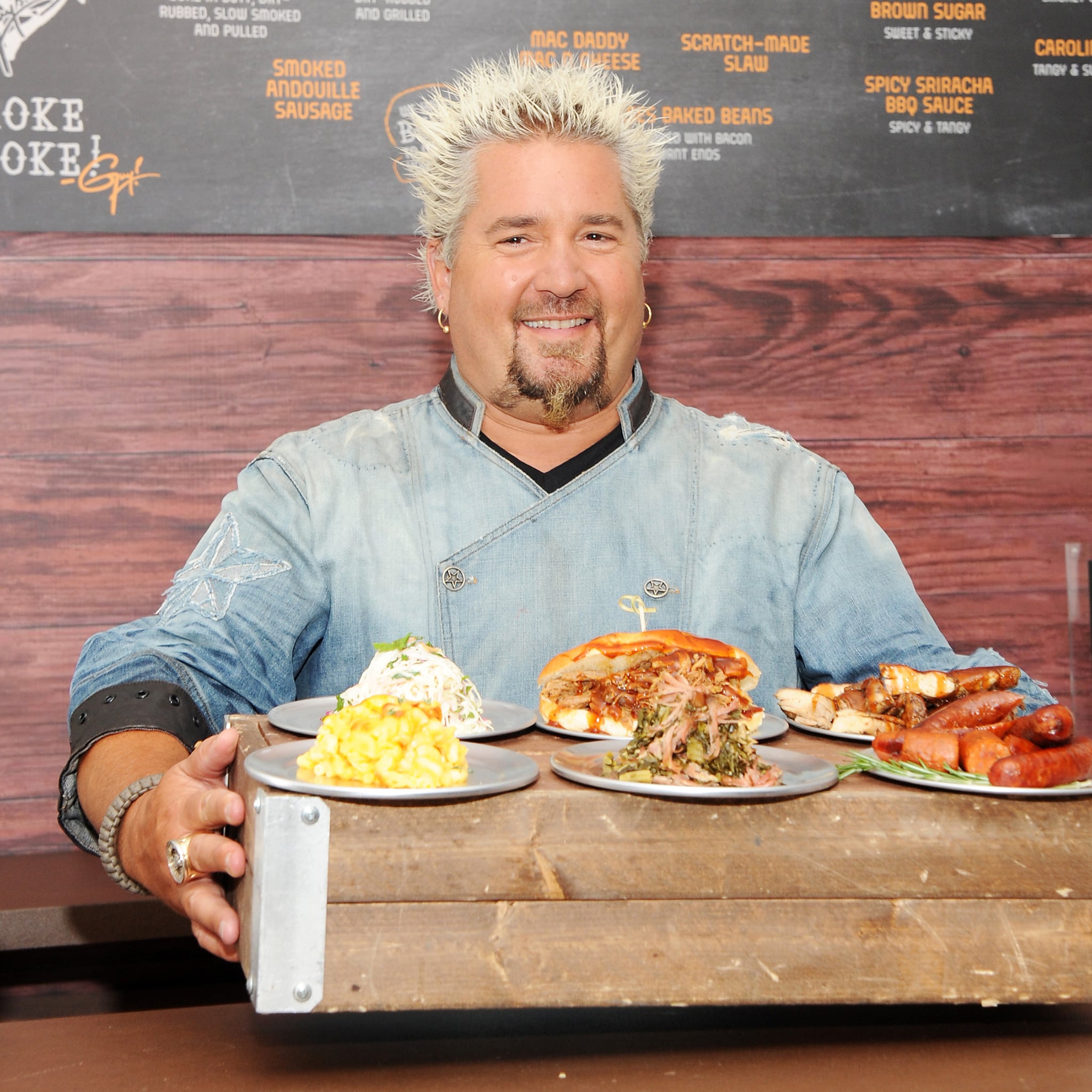 Image source: Desiree Navarro / WireImage
His Advice For Killer Mac and Cheese
Use the same ingredients as nachos! "Some of the same toppings you love on nachos, you also love on mac and cheese."
Buy (or make) legit pasta. "Same thing with pasta, same thing with chips. If you're gonna eat this stuff, get some really good pasta. Don't skimp and buy some cheap crap. You know, buy something good. Get something with some texture to it."
Guy's Take on Guacamole
Never settle for anything other than fresh. "Guacamole is kinda like a song. Everybody plays it their own way. You know, kind of like 'Free Bird.' Everyone puts a little spin on it. Mine is, I gotta have really fresh guacamole and a really fresh avocado. I mean, I sometimes have guacamole people make when the avocado's not fresh, and I'm like, 'They shouldn't have played the song if the guitar wasn't tuned. [They] just wrecked it.'"
Ripen those avocadoes in advance. "The avocado's gotta be ready. [If] you're gonna enjoy something awesome like that, you're gonna enjoy it out of season, you just have to make sure that you're getting them ahead of time and ripening them."
Don't overcomplicate it. "I'll take a little bit of the fresh pico de gallo that I just made that's gonna go with my nachos. I'll stir a little bit of that into my guacamole, add a touch of lime juice, some salt and fresh cracked pepper, and let it speak for itself."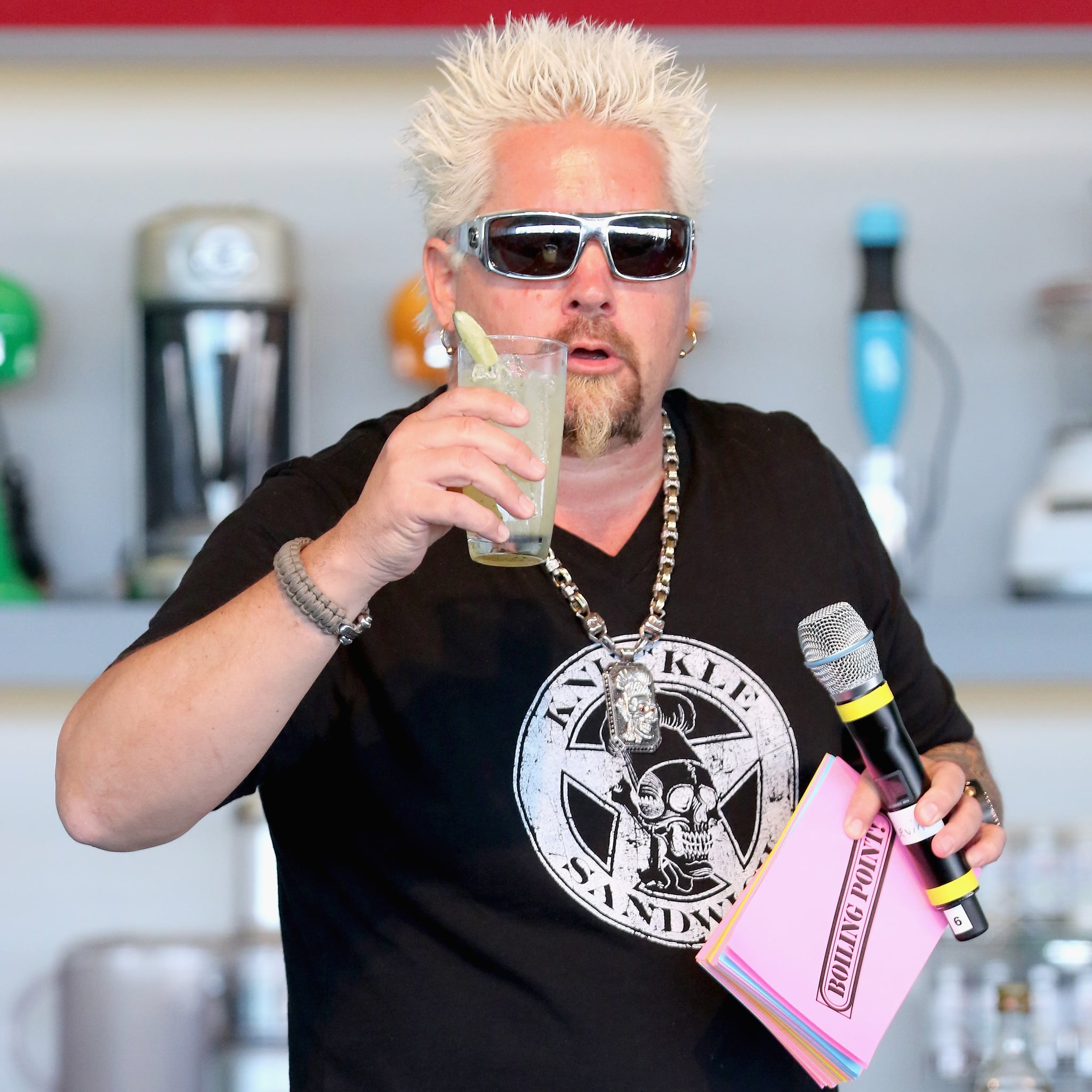 Image source: Alexander Tamargo / Getty
How to Make Chicken Wings That Don't Suck
Take the time to do them right. "My favorite thing to do with chicken wings is brine them, really get in that flavor all the way through. Then dry rub them, then roast them in the oven, rendering them down. Then right before service, giving them a quick fry and putting a little bit of that crisp on the outside. I'll tell you something, you can't beat it. The wing is tender. You rendered down the fat. You've got it all-the-way cooked. Nothing worse than flab or yellow fat inside of the wing. It also doesn't take a bunch of time."
What to Serve Other Than Beer
Two words: adult milkshake. "A little surprise move like a mudslide or something blended with a little ice cream [that's] stomach soothing always is a good call. We do a bananas foster milkshake with a nice little addition of rum. 'Cause you've had a lot of flavors. You've had a lot of savory; you've had a lot of salty. It's nice to kind of mellow it out with something a little sweet."
How to Stress Less if You're Hosting
Prep early: "Get the work done ahead of time; do a nice little pot luck. Let [guests] bring a few of their favorites. [Put] yourself in a situation that once that pregame starts, you're already set up, things are sitting there, ready to go, and you can enjoy yourself."
Don't forget to catch Guy after the Super Bowl by watching Guy's Grocery Games, airing Sunday, Feb. 5 at 11 p.m. and on Sundays following the big game at 8 p.m. on Food Network.