How Chefs Make Latkes
This Is How All Your Favorite Food Network Stars Make Latkes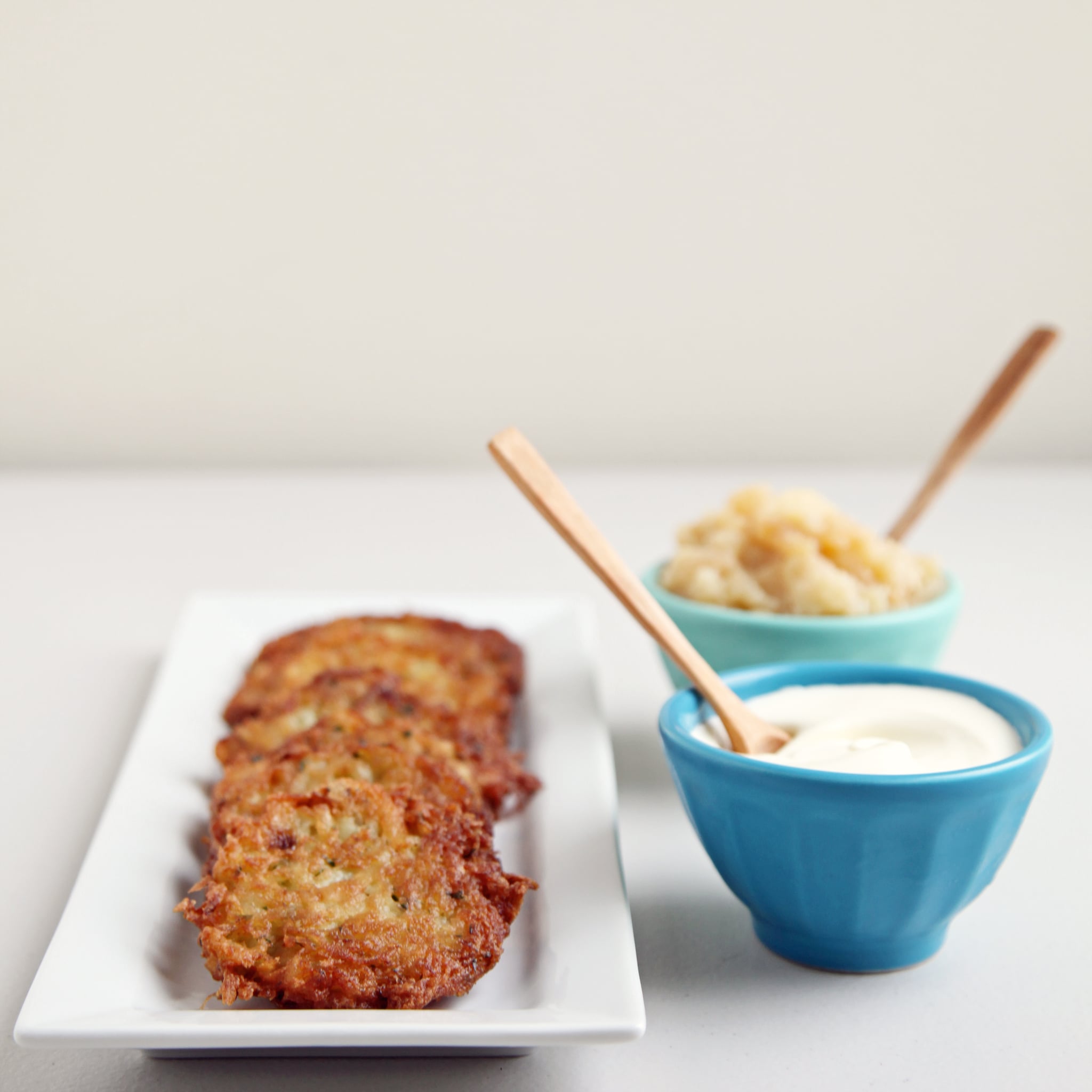 Eating latkes is a good idea any time of year, but especially during the holidays. There's a variety of ways you can make homemade latkes (with or without apple sauce, with grated garlic or onion, and with regular or sweet potatoes), but one thing remains the same: potato pancakes of any kind are a must have this holiday season. If you're in need of some recipe inspiration for Hanukkah and beyond, look no further than these popular latke recipes from some of your favorite Food Network stars. Here's how Ina Garten, Guy Fieri, and more experts prepare their crowd-pleasing potato pancakes.
Ina Garten: Fuss-Free Classic
Ina Garten's potato latkes recipe is a tried-and-true classic that's great for beginners. With just four ingredients besides salt and pepper (potatoes, egg, flour, and clarified butter), these classic latkes come together after 10 minutes of prep time and 10 minutes of cook time.
Rachael Ray

: With Carrots

Rachael Ray's latkes have a secret ingredient that gives them a brighter hue: fresh carrots. Rachael opts for shredded hash brown potatoes instead of full potatoes to make assembling the latkes even easier, and the grated carrot and onion aid in flavor. To give the latkes an even crunchier texture, Racahel adds three tablespoons of matzo meal.
Nigella Lawson

: Heavy on the Apples

Nigella Lawson's latkes aren't topped with apple sauce. Instead, they're made with actual apples grated into the rest of the mixture for a slight sweetness in each bite. To give them even more of a pancake feel, Nigella drizzles maple syrup on top, which complements the cinnamon, sugar, and apples inside the latkes.
Guy Fieri: With Sweet Potatoes and Chives
With a combination of both regular potatoes and sweet potatoes, Guy Fieri's latkes have the best of both worlds. Upping the ante in true Flavortown style, Guy incorporates granulated garlic, cayenne pepper, and ground cinnamon for a noticeable kick. Guy recommends making them in a cast-iron skillet to develop a perfectly golden-brown crust and super crunchy exterior. A dollop of sour cream and sprinkling of fresh parsley is the cherry on top.
Jeff Mauro: As a Sandwich
Would you expect anything else from the king of sandwiches himself? Jeff Mauro's latke corned beef sandwich proves you can successfully sandwich-ify just about anything. He piles sliced corn beef high in between two "slices" of crispy latkes, and tops it off with a vinegary apple slaw to cut through the richness of the meat and potatoes.
Emeril: With a Special Garnish
Emeril's take on latkes is called "special" latkes for a reason: the chef garnishes them with caviar, naturally. If you'd rather opt out of that part, his recipe is still a keeper, coming together in no more than 25 minutes.
Image Source: POPSUGAR Photography / Nicole Perry