Outlander Wine
Outlander Fans Will Say "Je Suis Pret" For This New Wine Collection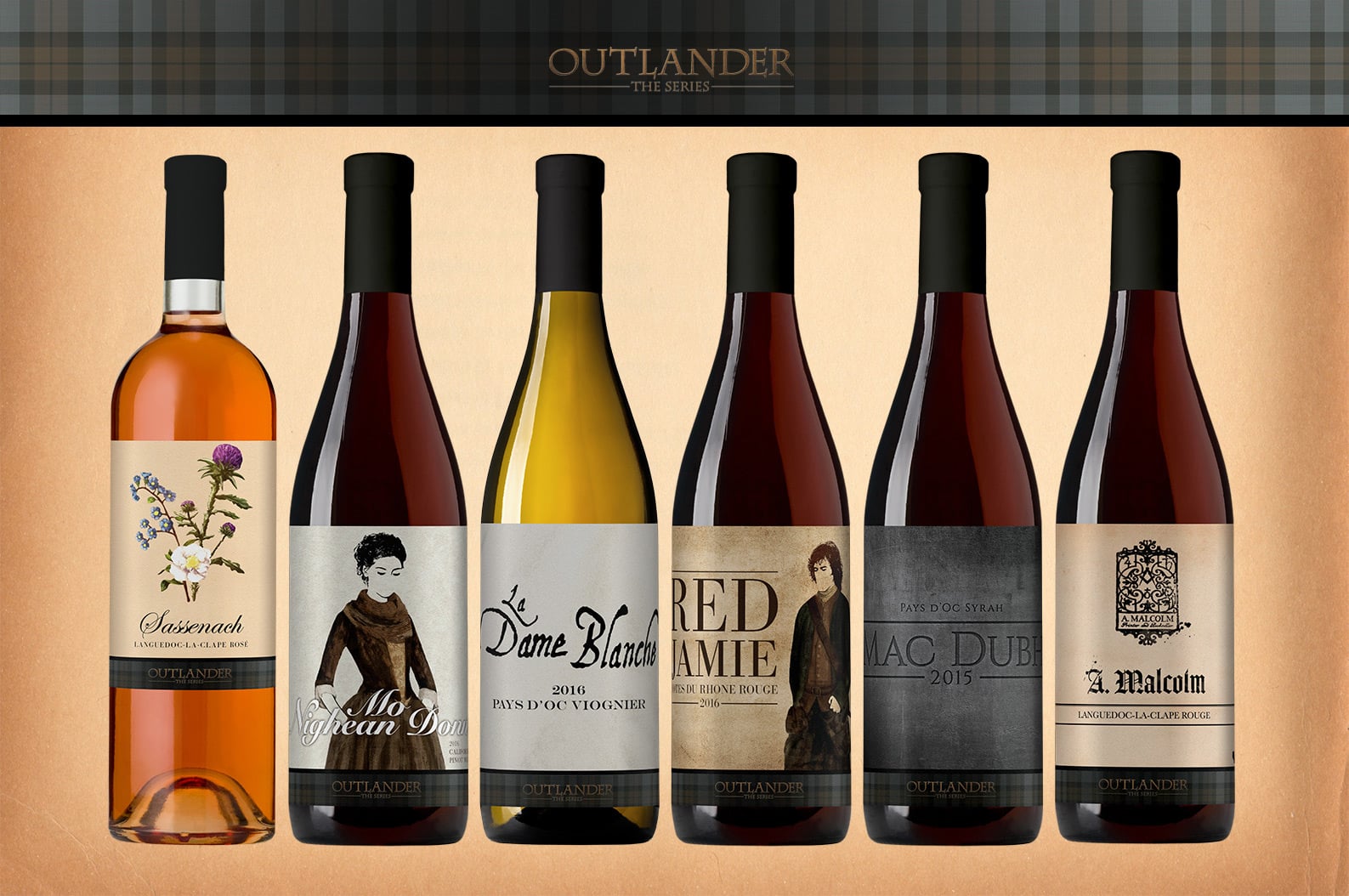 Catching up on season three of Outlander just got even more exciting thanks to a brand-new wine collection inspired by the series. The limited-edition Outlander Wine Collection has arrived, with six hand-crafted bottles of wine meant to honor Claire and Jamie. Available online exclusively from Lot18, the red, white, and Rosé wines range from $20 for some of the individual bottles to $224 for the full case. If you're a diehard fan of the show, you'll appreciate the meticulous details on the labels' designs and the meanings behind each of the names. Check out the full descriptions of each wine below, and stock up ASAP before it's all gone!
Sassenach — Languedoc-la-clape Rosé: "As a visitor of a time and place that's not her own, Claire is a true outsider until Jamie Fraser draws her into his world and bestows upon her the playful nickname Sassenach. This Rosé is Provencal in style, but like Claire, it comes from an unexpected place — Languedoc-la-clape, where the limestone-rich soil lends the wine its flavors of strawberry, white peach and grapefruit, racy minerality, and clean finish."
Mo Nighean Donn — California Pinot Noir: "'My brown-haired lass' is what Jamie affectionately calls his charming new bride in Gaelic, and there's no better wine to embody that side of Claire than this earthy, seductive Pinot Noir. Exhibiting flavors of black raspberry, forest floor, and tea, this complex and balanced wine will make anyone fall in love with its alluring qualities immediately."
La Dame Blanche — Pays d'Oc Viognier: "She is given the name La Dame Blanche by her husband as a clever ruse, but in truth Claire does possess some of the cunning powers of this mythological figure, using them to turn fortunes her way. This French Viognier is similarly persuasive in its nature, with a heady floral aroma that leads to peach and apricot flavors on the palate."
Red Jamie — Cotes du Rhone Rouge: "Whether he's fiercely defending the love of his life or charging off to war alongside his clansmen, the notorious Jacobite Red Jamie is a force to be reckoned with — as is this dynamic Cotes du Rhone," a blend of Syrah, Carignane, and Grenache.
Mac Dubh — Pays d'Oc Syrah: "Even as a prisoner at Ardsmuir, Jamie retains a commanding presence, rallying the other prisoners and earning their respect as a leader. They give him the nickname Mac Dubh, or 'son of the black' — and it's this earthy, brooding French Syrah that embodies this dark version of Jamie."
A. Malcolm — Languedoc-la-clape Rouge: "A fugitive after the Jacobite rising, Jamie Fraser must become Alex Malcolm and begin anew as a printer in Edinburgh . . . yet under this simple facade lies the same complex and passionate man who captured Claire's heart. Equally unassuming, at first, is this red wine from a small appellation in southern France."