Recipe For Oprah's Maui in December Cocktail
Oprah Revealed Her Favorite Cocktail to Serve at Parties, and It Sounds So Freakin' Good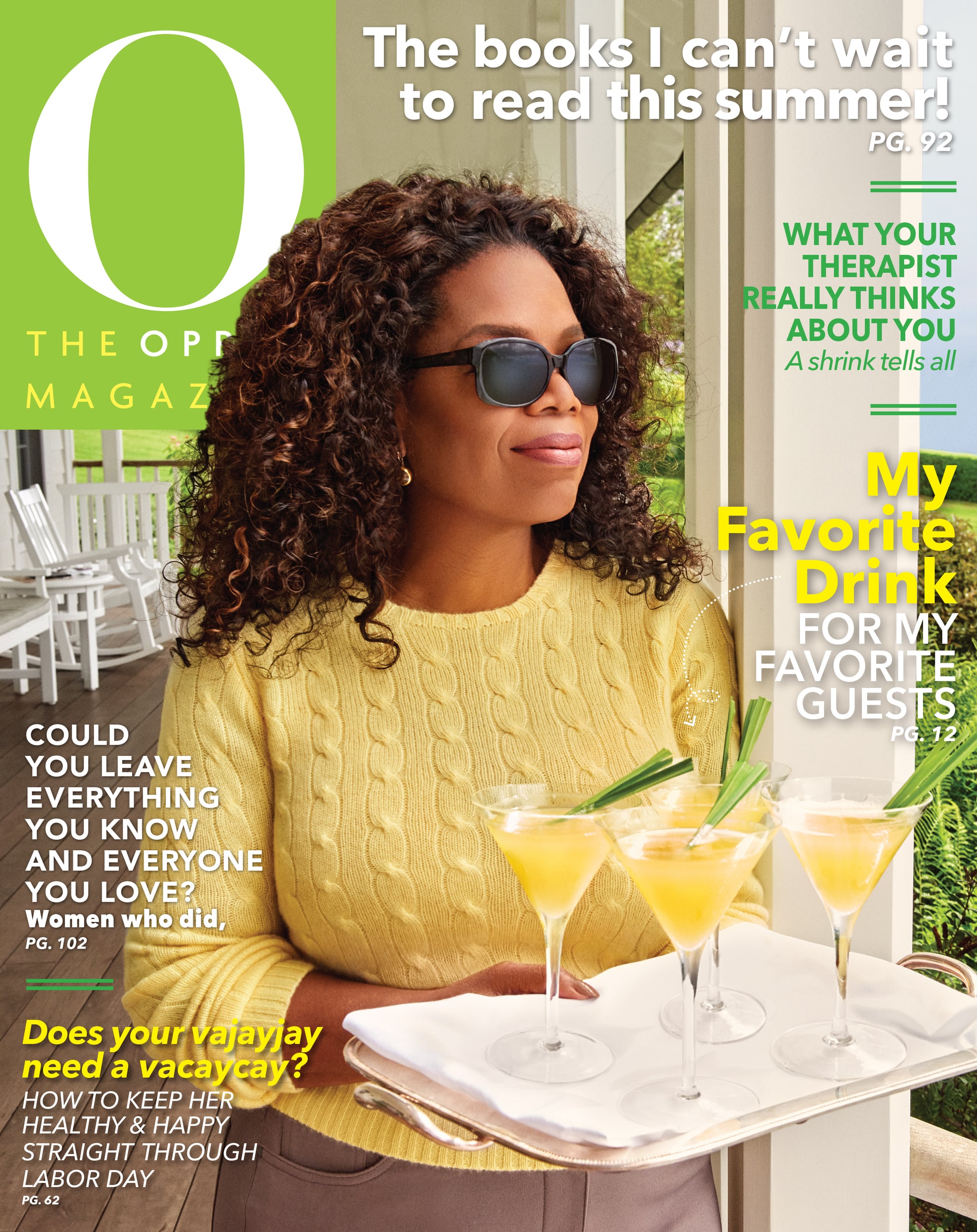 Summer is the perfect time of year to have friends over for backyard, patio, or rooftop drinks, and what better drink is there to serve up than Oprah's personal favorite, the Maui in December? Oprah's go-to cocktail, which she revealed in the July issue of Oprah Magazine, is one that's both delicious and super easy to make. Featuring ingredients like sweet pineapple, lemongrass, and ginger, the Maui in December is perfect to make for guests (or even just yourself) regardless of what month it is.
Recipe (makes two cocktails, plus extra infused vodka):
1 large pineapple
2 lemongrass stalks, root ends trimmed and outer leaves reserved for garnish
1 (750-milliliter) bottle of vodka
3 mint leaves
2 thumbnail-size slices peeled ginger
1/4 cup chamomile tea, chilled
1/2 cup lemon juice (from about 2 lemons)
Instructions:
Cut off and discard top and bottom of pineapple. With a serrated knife, remove skin. Cut flesh into quarters; slice out core from each. In a blender, place 2 quarters. Blend until smooth, then strain through a fine-mesh sieve into a bowl. Transfer to a glass jar and refrigerate.
On a grill or a stove-top grill pan over medium-high, place remaining pineapple and lemongrass, cover, and cook 4 to 5 minutes on each side. In a large canning jar, place smoked pineapple, lemongrass, vodka, and mint. Cover and refrigerate for 8 hours or overnight.
To make cocktails, muddle ginger in a shaker and fill with ice cubes. Add 1/2 cup infused vodka, 1/2 cup reserved pineapple juice, tea, and lemon juice.
Shake and strain into chilled martini glasses. Garnish with lemongrass leaves and serve.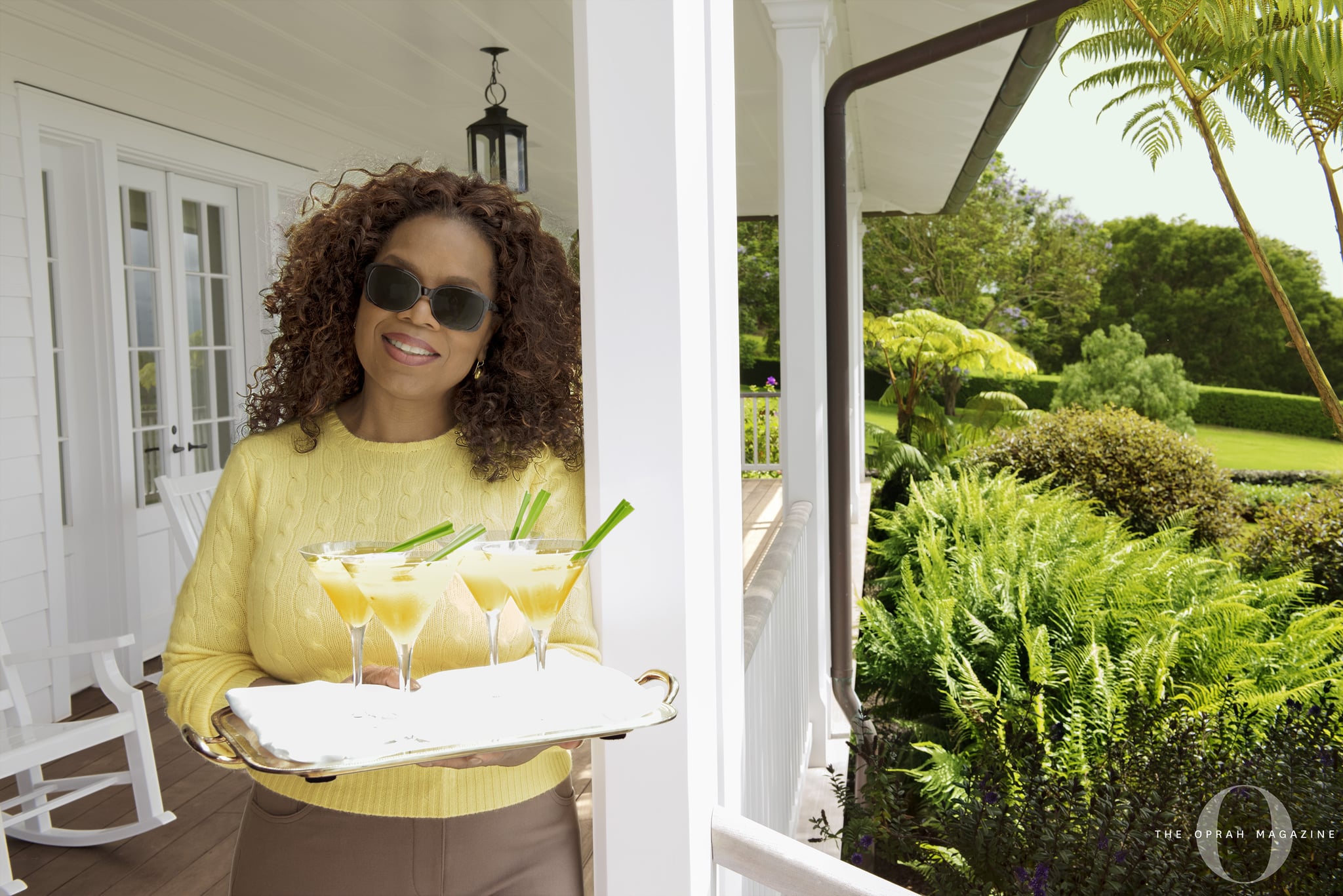 Besides sharing a delicious cocktail recipe with us, Oprah also opened up about hosting friends and family at her ranch in Hawaii: "On any given day or night, there are usually 20 to 25 people gathered, first on the porch to watch the sunset with mocktails and cocktails, but the real fun is the gathering table, where conversations and laughter and disagreements and jokes and sometimes even tears take place in the spirit of coming together. Where we do what humans are meant to do: commune with one another. Learn from one another. Feel a sense of belonging and connection."
While hosting 25 people sounds intimidating, if you ever do decide to bring different friend groups together, Oprah shared her tips for how to break the ice. "Sometimes, especially with a group of people who aren't familiar with each other, I'll ask a question, and everyone at the table has to answer," she said. "Like: If you had only one gift to offer the world, what would it be, and why? Or, what dream is yet to be realized for you? Or, what is the one rule your parents drilled into you that you will or won't pass on? A question like that focuses the evening and prevents having multiple conversations going on at once."
With these Oprah-approved hosting tips and her favorite cocktail recipe, we're definitely inspired now to host our own get-together! Now, if only we had a house in Maui . . .