There's a reason the food Antoni Porowski makes on Queer Eye isn't especially intricate. Through the beloved Netflix original series, now in its second season, the 34-year-old, Montreal-born chef simply wants to make viewers less afraid of cooking. So, he'll teach people how to make guacamole or an omelet because he isn't trying to dazzle viewers with his advanced culinary techniques. He's just here to help.
In a phone interview with POPSUGAR to promote his mixology partnership with Vita Coco Sparkling, Antoni shared his thoughts on delivery culture and broccoli lattes, and he dished out some details about his fairly under-wraps restaurant . . . without getting himself in trouble.
Antoni likes to keep things simple. As a self-described "purist" with "more traditional sensibilities," he's not here for the most recent viral what's it called. The latest food trend that elicited an "eye-roll" from him? The broccoli latte. "I can't imagine it to be pretty delicious. I feel like hot broccoli should be roasted, charred, or it should be like a cheddary broccoli soup," Antoni said. "Anything too gimmicky tends to throw me off."
While that's clearly a hard pass on the broccoli latte, Antoni has quite the affinity for popcorn, his favorite snack for a Netflix binge-watching session. "Whenever I eat, I like to eat a lot of it. Moderation is not really in my vocabulary as hard as I try," he said. To satiate his cravings, Antoni will jazz up up some popcorn by adding peanut oil and a lot of black pepper, then microplaning some Parmigiano-Reggiano that "clings" to the popcorn due to the oil. "It's healthier than chips," he said. "It's not deep-fried, and it still kind of feels very junk food-y, which I really like."
To wash it down, Antoni recommends making simple-ingredient cocktails with Vita Coco's new fizzy range, like a take on the classic Moscow Mule made with the lemon ginger can or a refreshing Paloma made with the grapefruit can. "It's really good as long as you drink it really cold. Coconut water has to be very cold in my opinion," Antoni said. Otherwise, "I won't tell you what it tastes like, but it does have a weird taste when it's warm."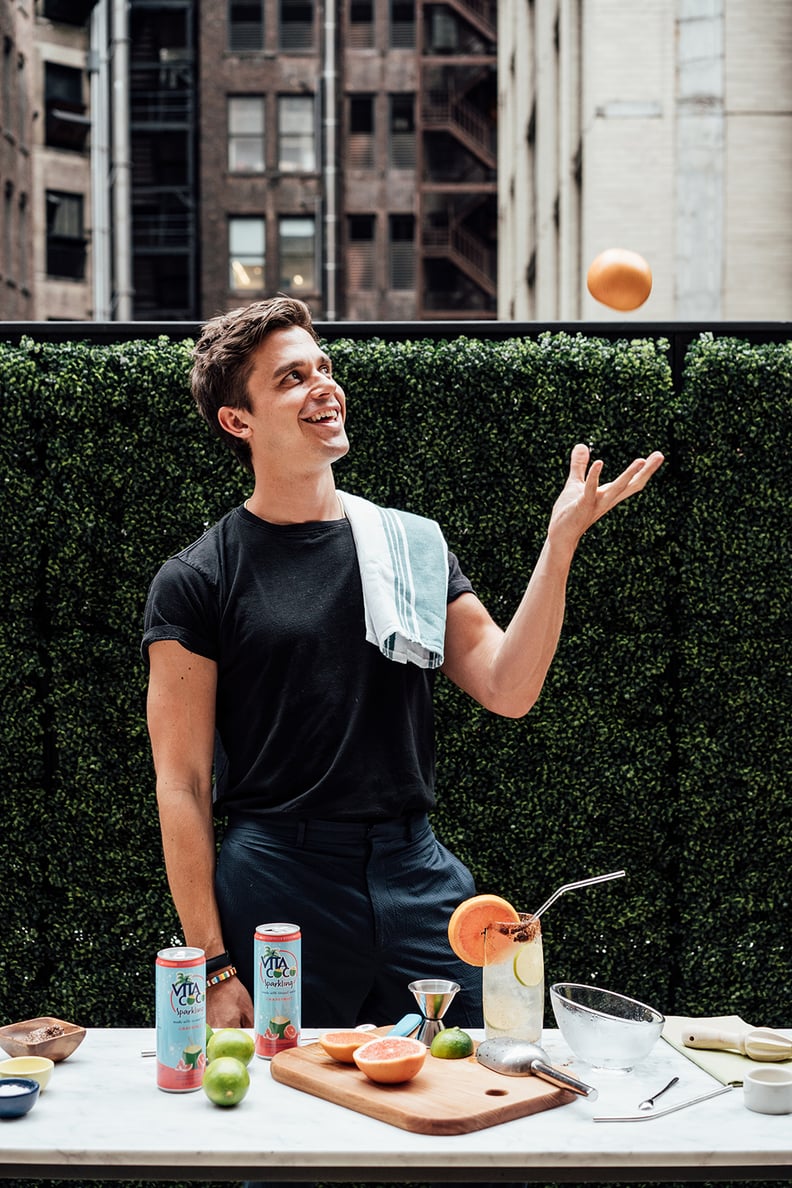 Though he technically wasn't supposed to talk about it yet — "I got a little gentle slap on the hand," he said — Antoni recently revealed that he is planning to open his own fast-casual restaurant in New York City. What he could say is that the food will be healthy. "It's food that you can have before or after the gym and still feel good about your life and feel like you're making good decisions — at least on the food front."
He also wants some of the dishes to simply add to what customers are already cooking up. "There's going to be a delivery option for certain protein-based things that are a little more time-consuming to make in terms of stews and roasts and things like that," he said. "So, you can always order something like that but then make your own salad, and at least it shows your guests that you actually made the effort to do something. The term has already been coined, but semi-homemade is the idea."
"I feel like people are intimidated by cooking because they see food as this elitist thing — which it can be, but it doesn't have to be."
So, yes, while his restaurant will have delivery, Antoni doesn't want customers to give up on cooking. "Everything is done for us," he said of this generation's growing dependence on food delivery. The chef shared his interesting theory about why young people, especially those living in urban areas, might feel intimidated by cooking. With the recent influx of elevated food shows and documentaries, Antoni said, "Everyone kind of thinks that they know everything, which has helped us be more knowledgeable but also more opinionated. I feel like people are intimidated by cooking because they see food as this elitist thing — which it can be, but it doesn't have to be." He added, "Get to know your produce or fruits or vegetables and learn how to work with it from there."