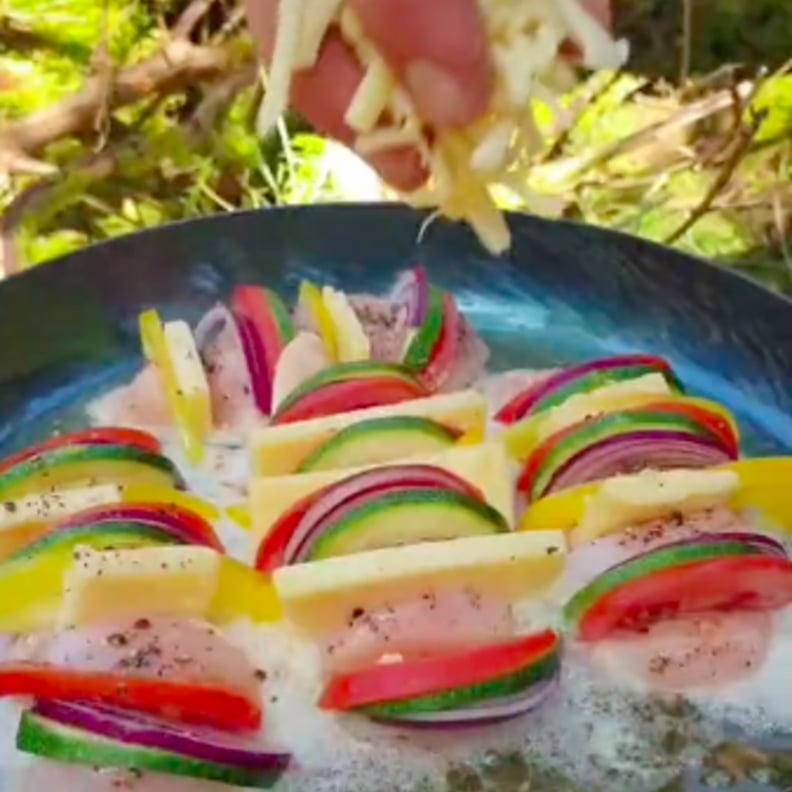 TikTok | menwiththepot
TikTok | menwiththepot
If you are looking for better sleep or relaxation, ASMR videos just might be the solution to your stresses. ASMR stands for "autonomous sensory meridian response." The videos are full of satisfying visuals and soft sounds that allow viewers to decompress seemingly instantly. While there are many kinds of ASMR videos, such as tapping and role-play categories, one of the most popular genres is food ASMR. Recently, TikTok has even become home to bite-size videos of this variety. If you find quietness and the sweet sound of a pizza getting sliced soothes your brain, you might just love food ASMR on TikTok.
Charcuterie Board ASMR
TikTok user @fiftyshadesofgruyere brings ASMR magic to the ever-trending charcuterie board with a collection of cheeses, breads, and pomegranate seeds to please any ears.
Wilderness Cooking
TikTok user @menwiththepot made a name for himself cooking in the beautiful outdoors. Here, he makes a sizzling chicken-breast dish with sliced veggies and loads of cheese to make you hungry and relaxed.
Scoring Sourdough
If you're on the sourdough trend, you'll love TikTok user @thecattery and his videos where he gracefully scores plump loaves of bread.

Eating Candied Fruit
Lesa ASMR makes videos in which she bites into crunchy food, like in this video where she eats candy-coated fruit.
Frozen Blueberry Slicing
In this sharp and satisfying TikTok, @deanedwardschef slices into a frozen blueberry with a slim blade for the ultimate satisfying cut.
Raw Egg Over Rice
In a video labeled #dormfood, @tony_foodvlog mixes a raw egg into a bowl of spam and rice to create a relaxing visual and a delicious dish.
Charcuterie to Go
This beautiful charcuterie board is ready for a picnic in a to-go box. Enjoy TikTok user @linisbelx cutting perfect cheese triangles and making beautiful patterns with various cured meats.
Sweet Cadbury Chocolate
If you're excited for holiday candy, you'll love this TikTok where @doughnuttime_uk quietly breaks up a chocolate bar.
Chocolate-Wafer Chopping
In this video, @foodimspo cuts up wafers into tiny slices with a peaceful crunch.
Pizza Slicing
The sweet sound of a cheesy pizza getting sliced echoes in this pizzeria-themed TikTok by @devourpower.
Cutting Onions
Like a machine, @thatdudecancook expertly cuts this onion on a wood surface for the most crisp and satisfying sounds yet.