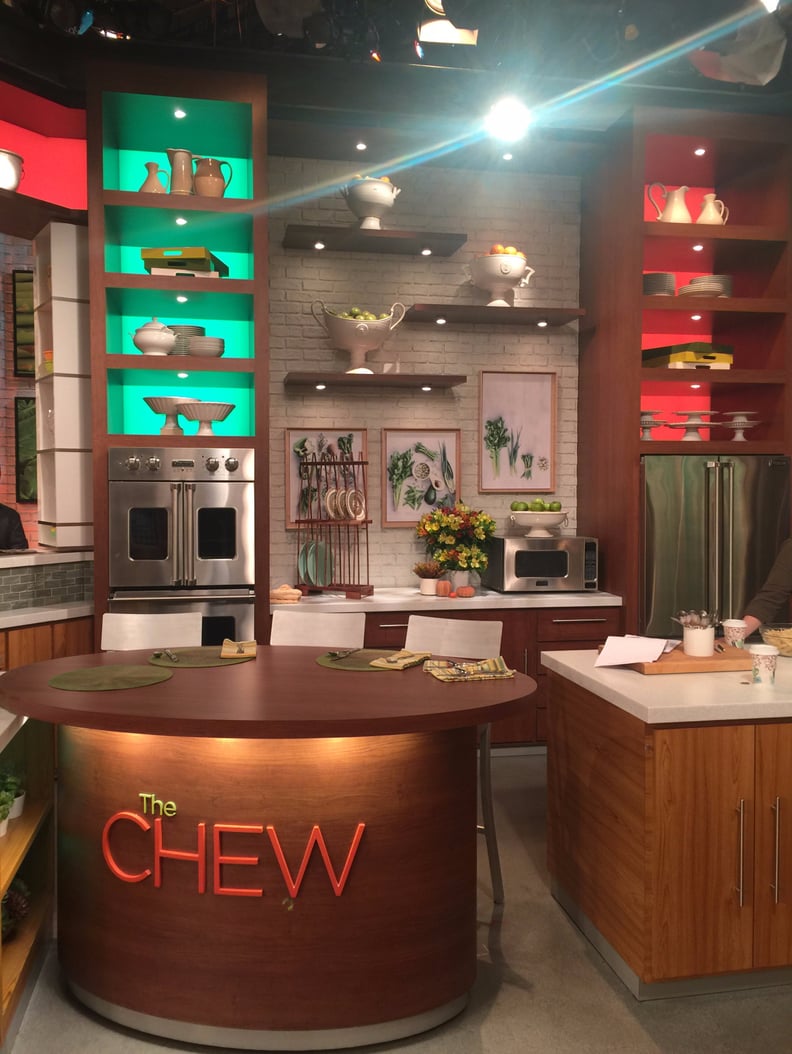 POPSUGAR Photography | Anna Monette Roberts
POPSUGAR Photography | Anna Monette Roberts
Every editorial product is independently selected by our editors. If you buy something through our links, we may earn commission.
I've always wanted to be part of the live studio audience of ABC's The Chew and I scored a ticket to attend a taping in New York City. I've filmed at Food Network's test kitchen and filmed my fair share of POPSUGAR Live! recipes, yet I couldn't help but feel mesmerized entering such a historic studio at ABC in New York City where so many iconic people have stepped foot, including Julia Child. As a huge fan of Mario Batali, Carla Hall, and Michael Symon, I couldn't believe I'd get to see them all up close and watch them cook in front of hundreds of people and so many cameras. The experience was truly memorable, especially since I was able to see the set itself and enter the test kitchen. However, there are a few key things I learned this time around which I'll share with you so you can make the most of your visit. I know I plan on returning again!
Watch the full episode of the show here: "Recipes From the Vault"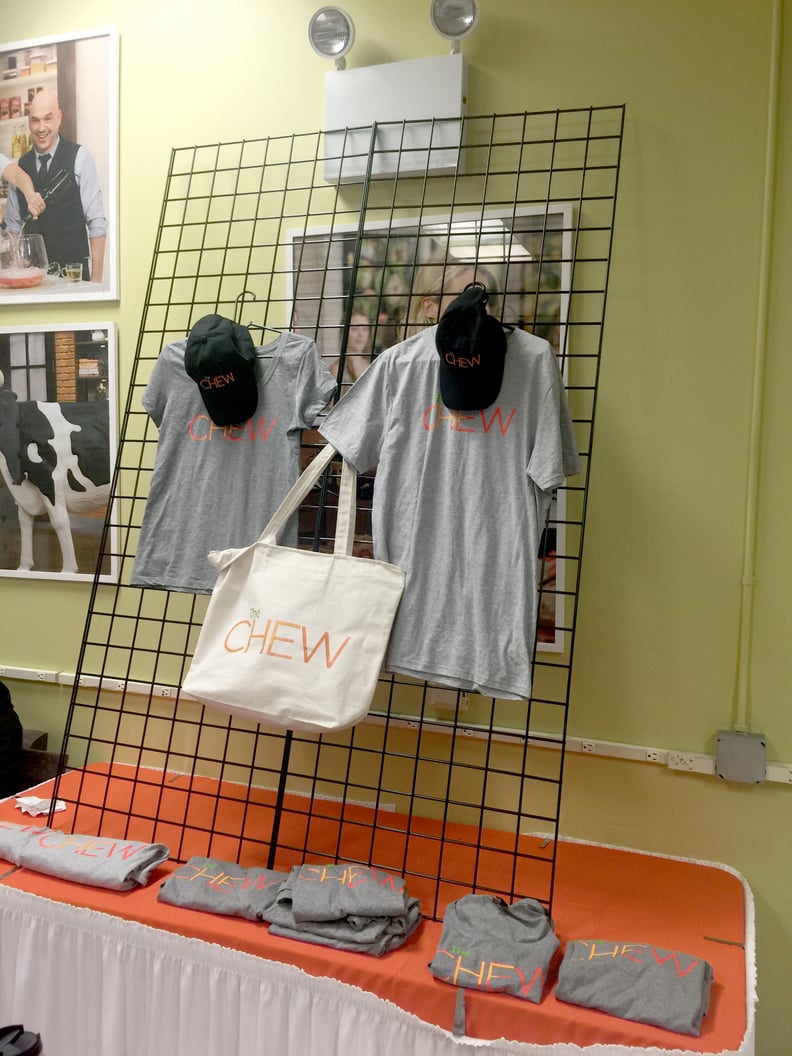 Prepare to Wait
For the a.m. taping of the show, we had to be in line at 7:45 a.m. It's EARLY. Especially during cold, wet months, be prepared to stand out there in the cold for a while. There's a production assistant outside calling in various names to come inside and get a numbered ticket and go through security. I then went inside a third room full of The Chew swag for purchase and some water bottles and cookies to snack on. Another assistant called out certain ticket numbers and asked for specific clothing details, like "Is anyone wearing a shirt with blue stripes?"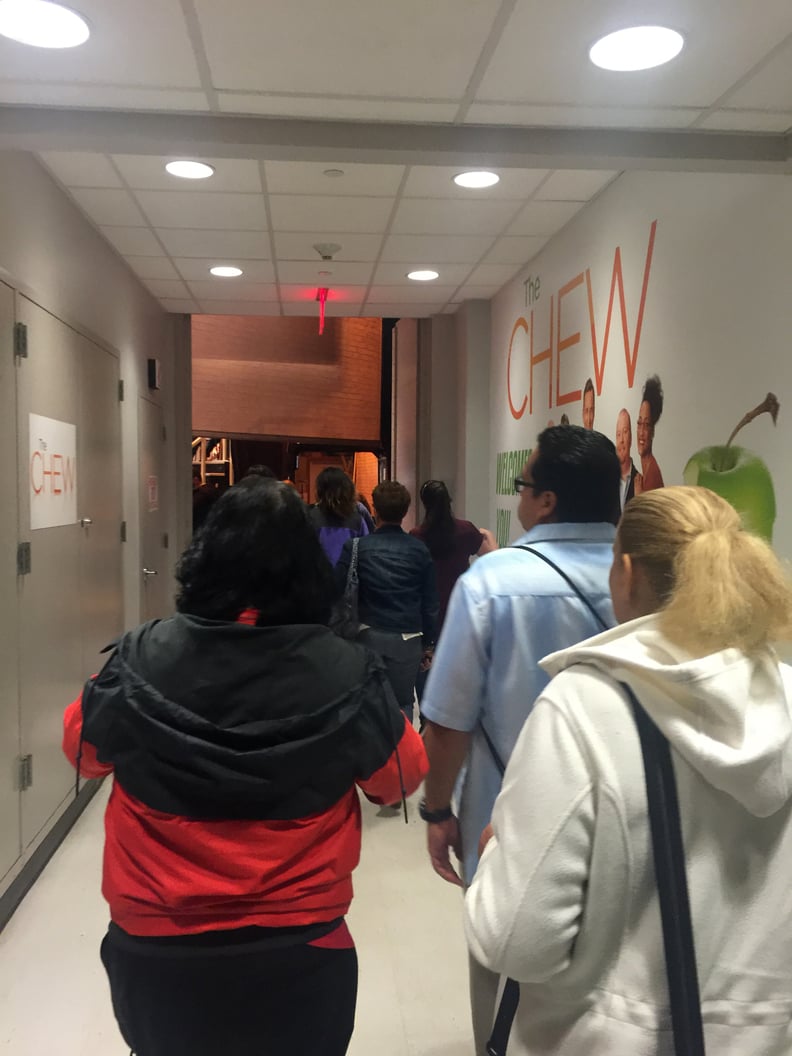 There's So Much Anticipation Entering the Studio
It's nail-biting waiting in all of those different rooms hoping to land an actual seat in the audience. Even though it's free to be an audience member, it's never guaranteed you'll actually get to appear on the show. It helps to be in a large group of people! Finally, my ticket number was called and I proceeded down a long hallway filled with tons of props, costumes, and dusty lights. We made our way down another hallway with The Chew logos lacquered on the doors and walls. Music blasted from the studio and my heart started to beat fast!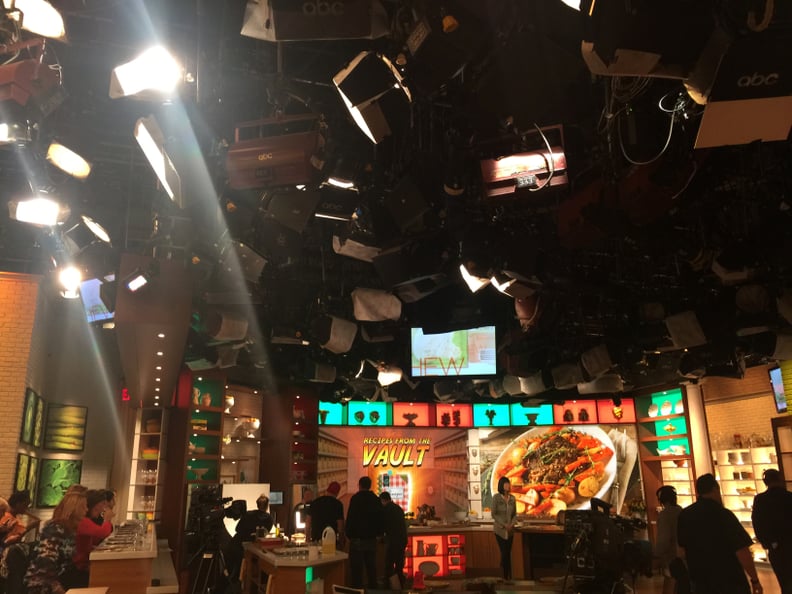 The Most Coveted Seat in the House
More assistants ushered us into various seats. I thought I was getting the best seat in house sitting in the front row until I looked to my left and discovered the ultimate, most-coveted row: the tasters, a small group of maybe seven audience members who sit at a table and get to eat all the recipes that the cohosts and guests make. I have NO idea how to land that spot in the audience. A retiree in line with me told me that "you've got to know people to get in one of those seats." My heart sunk. I would be smelling all of the food and not get to eat it?! Torture!
Even though this image makes the studio look well lit, it's actually very dark and cold inside the studio until lights, camera, action! To keep the energy of the audience high before the show begins, The Chew has it's very own RC named RC Smith. He greeted the audience, called out various members to learn more about them and poke fun at their responses, and played classic hits that everyone could dance and sing to. Though it's silly to be singing at like 8:15 a.m., part of being part of the audience is to overexaggerate laughing, clapping, and gasping so it's picked up by the microphones overhead.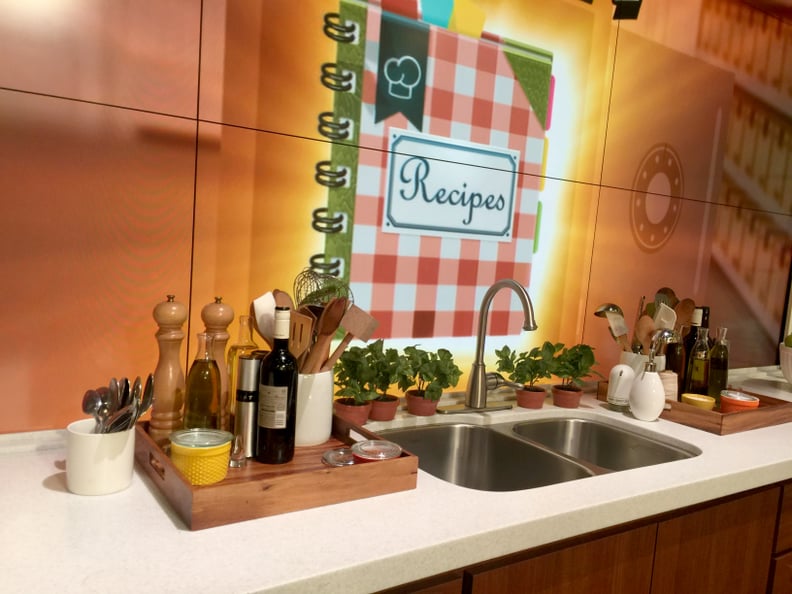 The Chew Kitchen Is Fully Functional
I was able to step down and into the kitchen set to check it out. It's a fully functional, fully stocked set with every gadget you could possibly need. For most kitchen sets, everything is fake, but not at The Chew. The sink, refrigerator, stove, and burners all really work!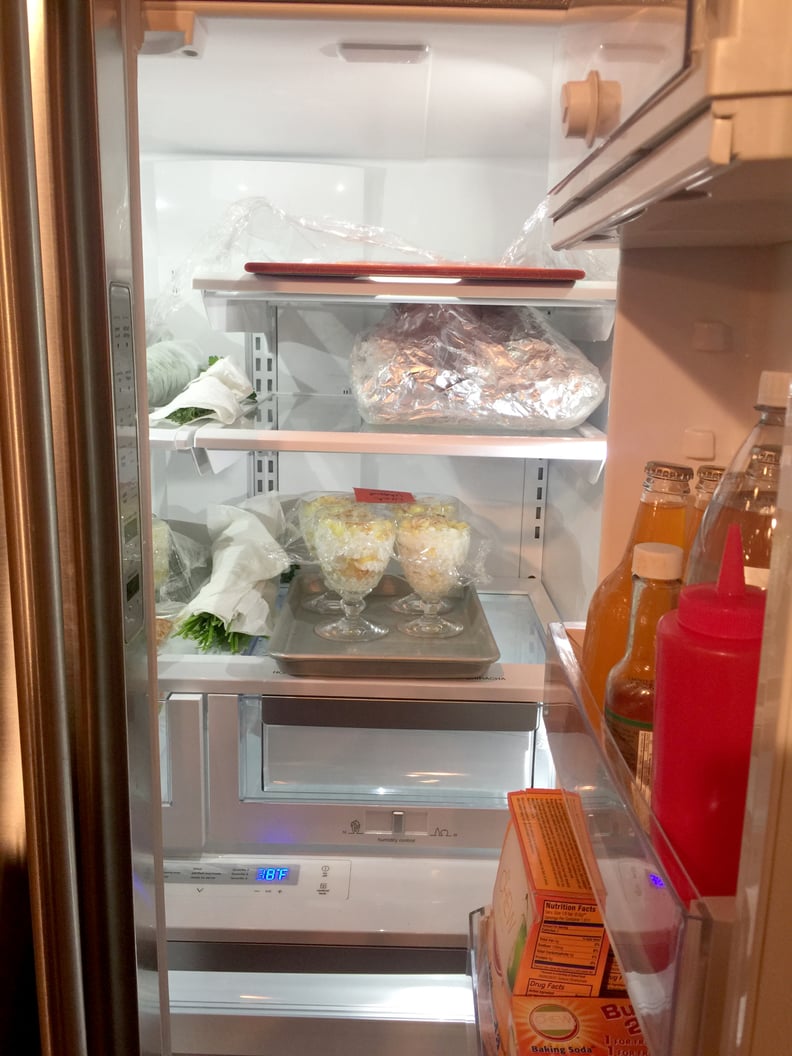 The Refrigerator Is Stocked
I took a peek inside the fridge and got a glimpse of all the prep ingredients as well as a finished recipe for Clinton Kelly's tapioca pudding parfait.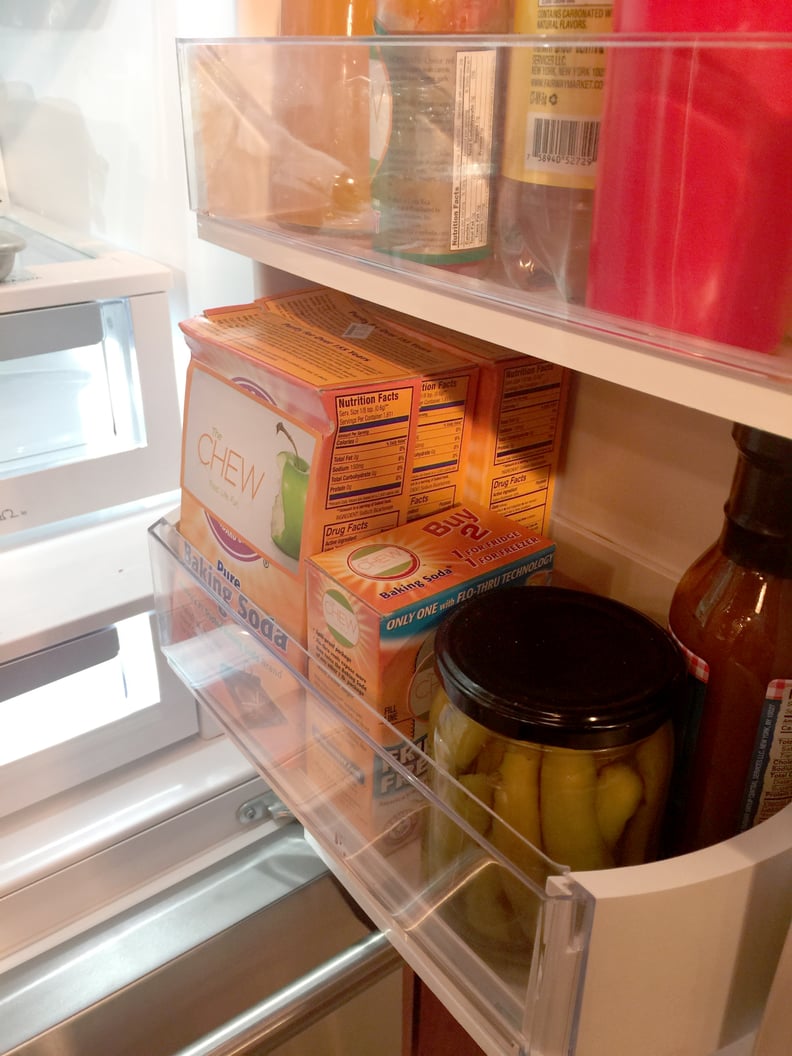 Everything Is Greeked
Every pantry item is Greeked, meaning all brand names on packages are hidden with The Chew stickers. It's pretty funny seeing The Chew baking soda, pickles, hot sauce, etc.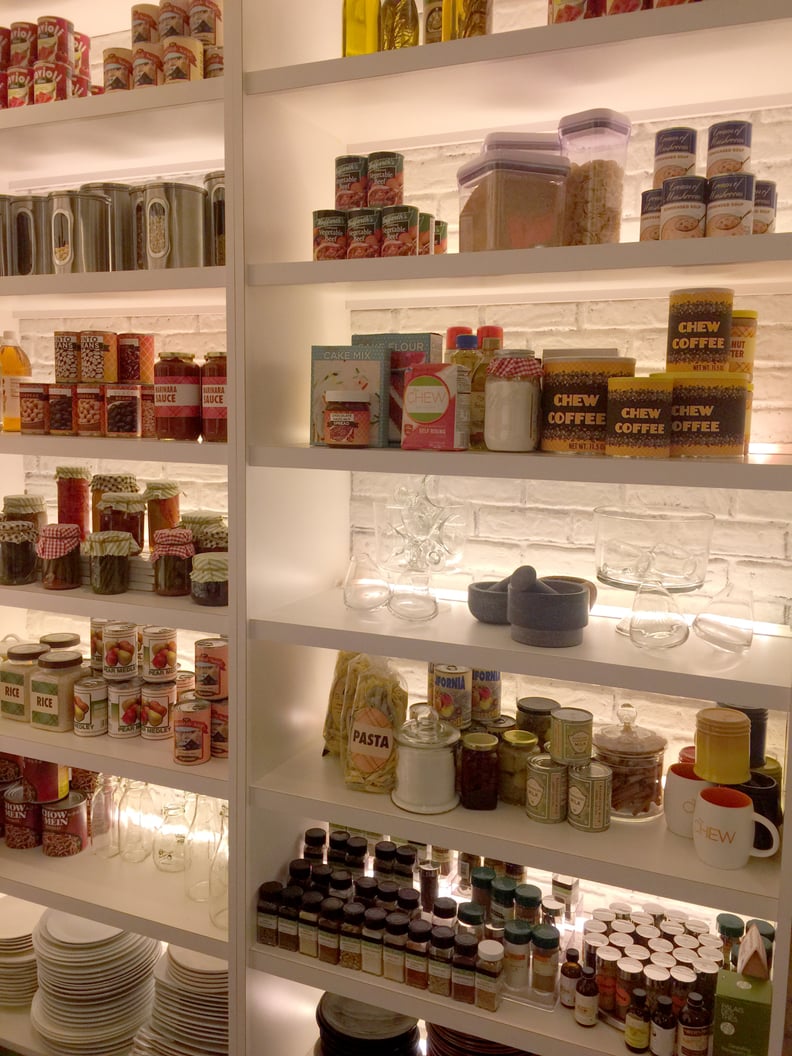 There's a Stocked Pantry
Just beyond the set are shelves of more pantry goods. It's like The Chew's very own grocery store!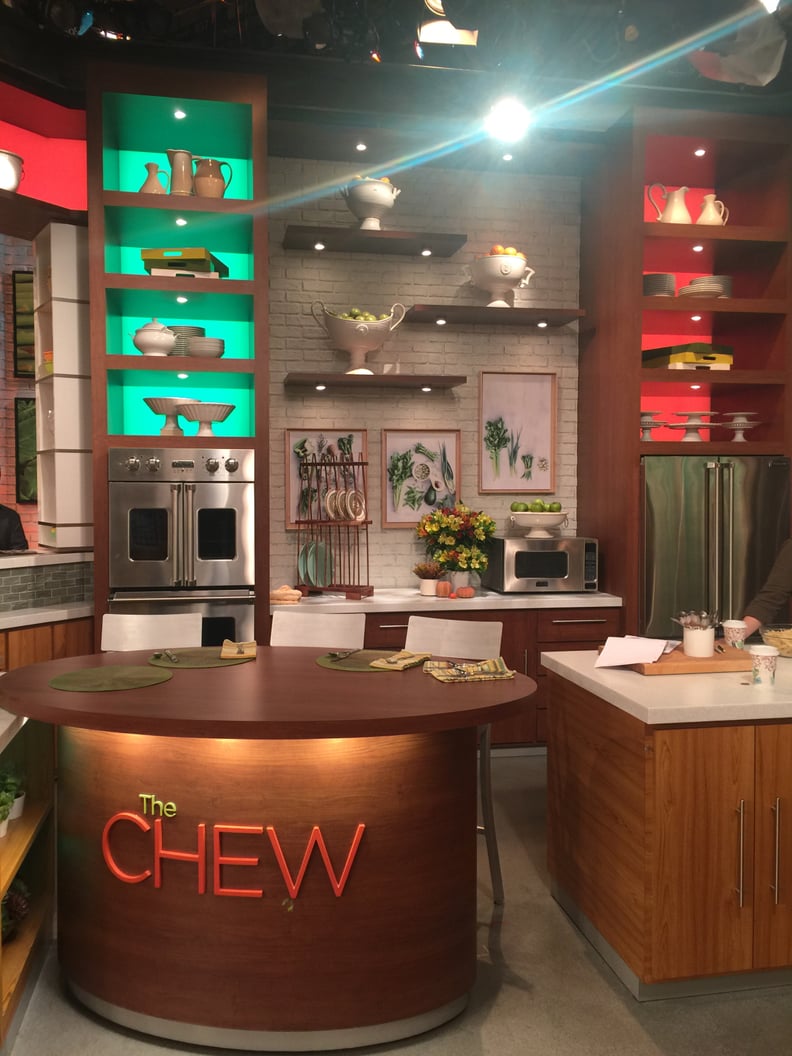 The Audience Gets Amped Up
Before the hour-long show begins taping, the hosts come out and hang with the audience, shaking hands and taking quick selfies with fans. Carla was the first to come out, and she danced and sang right along with us. She and another audience member discovered they were wearing the exact same fabulous pair of Stella McCartney platform shoes that cost over $1K! I was amazed how tall Carla is in real life and in those platform shoes she was well over six feet.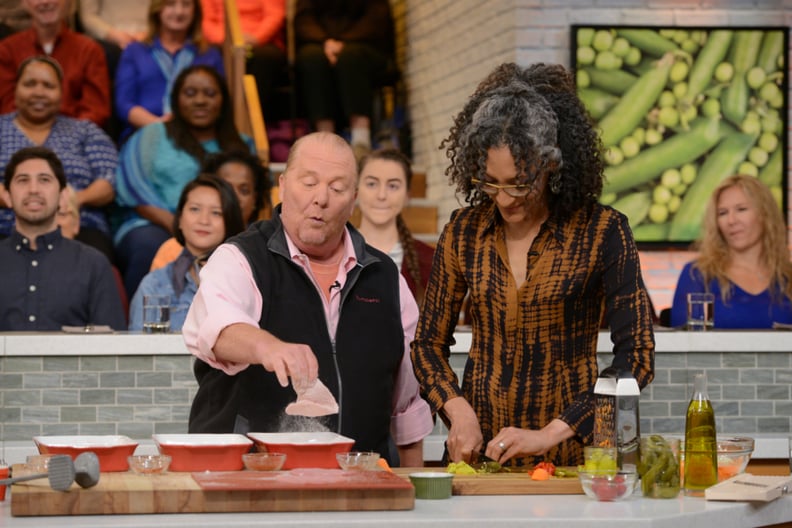 Mario Makes Pork Cutlet Sandwiches
Finally the show began! Mario made fried pork cutlet sandwiches tucked in a crusty hoagie roll with a spicy pickled slaw. It was agony watching him fry up those sandwiches and watching the hosts eat them. It didn't help that I didn't have time to eat breakfast that morning. I felt completely sick with desire for that dang pork cutlet sandwich. Meanwhile, as we watched the show, the RC stood on the side of the audience and listened intently to help guide the audience to clap, laugh, and "ooh" and "ahh". If you listen closely in the video, you can hear him start the laugh track with a high-pitched "haha".
After the segment finished, Mario shook hands with audience members and he said to me, "Would you like to try a bite of the sandwich?" I probably screamed "Yes!" a little too eagerly. He waltzed back to the test kitchen in Mario fashion and reappeared dramatically holding a plate with a full sandwich over his head like a French waiter. He presented it in front of me along with his signature orange kitchen towel. I think my jaw landed on the floor. I wanted to take a picture of it and started rummaging around for my phone but Mario shook his finger at me and said, "No, no. It's best eaten when hot," so I abandoned my effort and ate the sandwich gleefully. Meanwhile a million envious eyes glared at me, including the cameramen, who came over and asked if they could have a bite.
The crunchy pork cutlet itself reminded me of tonkatsu, or Japanese breaded fried pork. It meshed perfectly with the tart mustard, spicy pickled relish, and crisp hoagie bun. I ate every last crumb.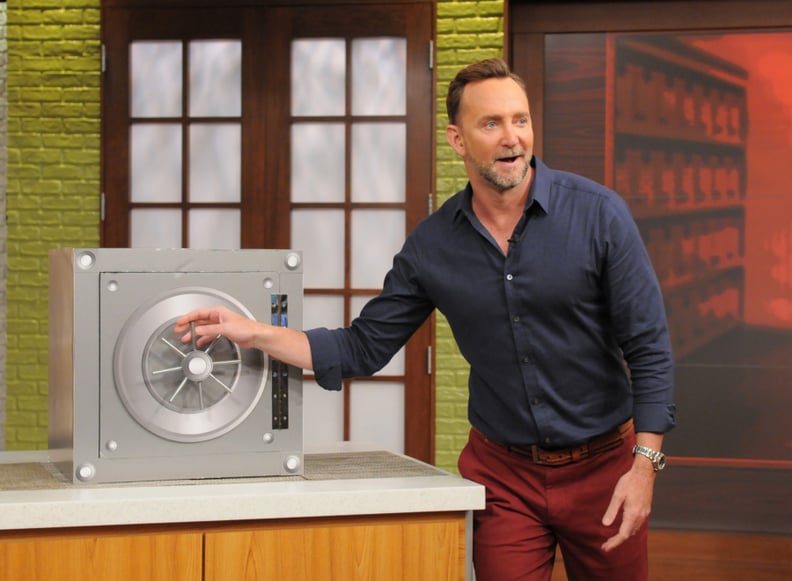 The Dreaded Vault Trick
The theme of the episode was "from the vault," and Clinton Kelly's segment involved a magic trick with an actual vault. Well, there was a mishap and we ended up waiting for a very long time for the crew to figure it out. Thank goodness for RC Smith who kept the corny jokes a comin'. He and one of the camera men had a funny banter that had us heehawing despite the hiccup in the show. Being the pro he is, he didn't run out of material and he practically interviewed the whole audience by the end of it. Eventually Clinton stepped in and convinced the audience to say "Presto, chango . . . boop!" for his magic trick. We had time to practice before it was time to go back on air.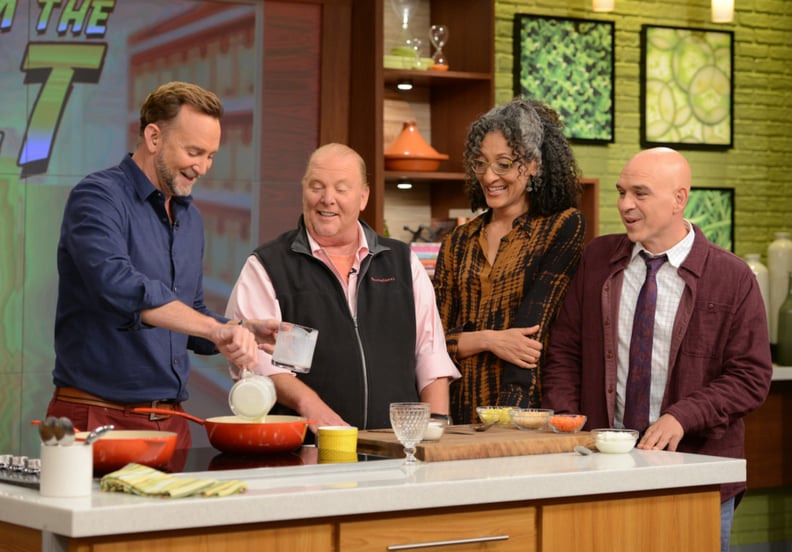 Clinton Changes How People Feel About Tapioca Pudding
I've only ever had tapioca pearls in Asian bubble tea, but Clinton's tapioca pudding with milk, heavy cream, sugar, and vanilla bean looks decadent and comforting and way better than the packaged stuff you see in pudding cups.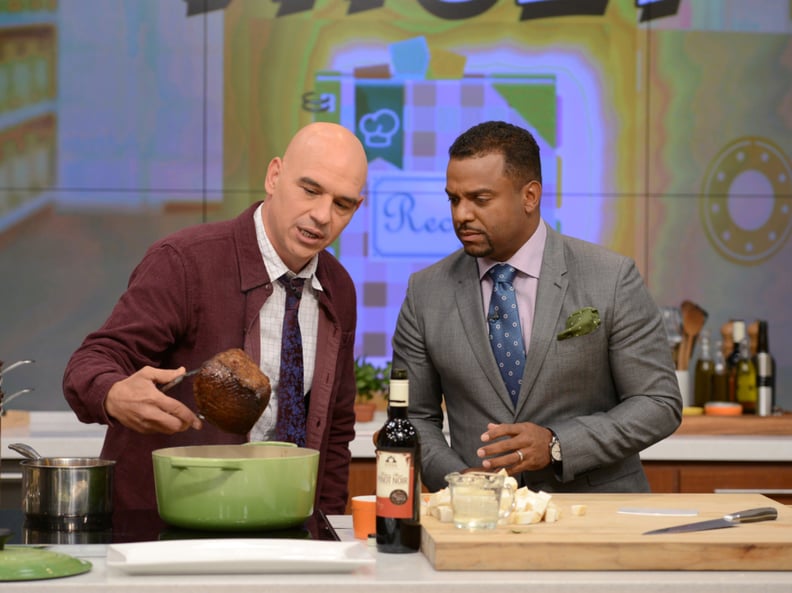 The Special Guest Helped Michael in the Kitchen
Alfonso Ribeiro, host of America's Funniest Home Videos, helped Michael make his mom's Italian beef with Sunday sauce. At this point, I was getting tired and I'm sure other audience members felt the same. It was around 10:30-11 a.m., so we had been in our seats for almost three hours.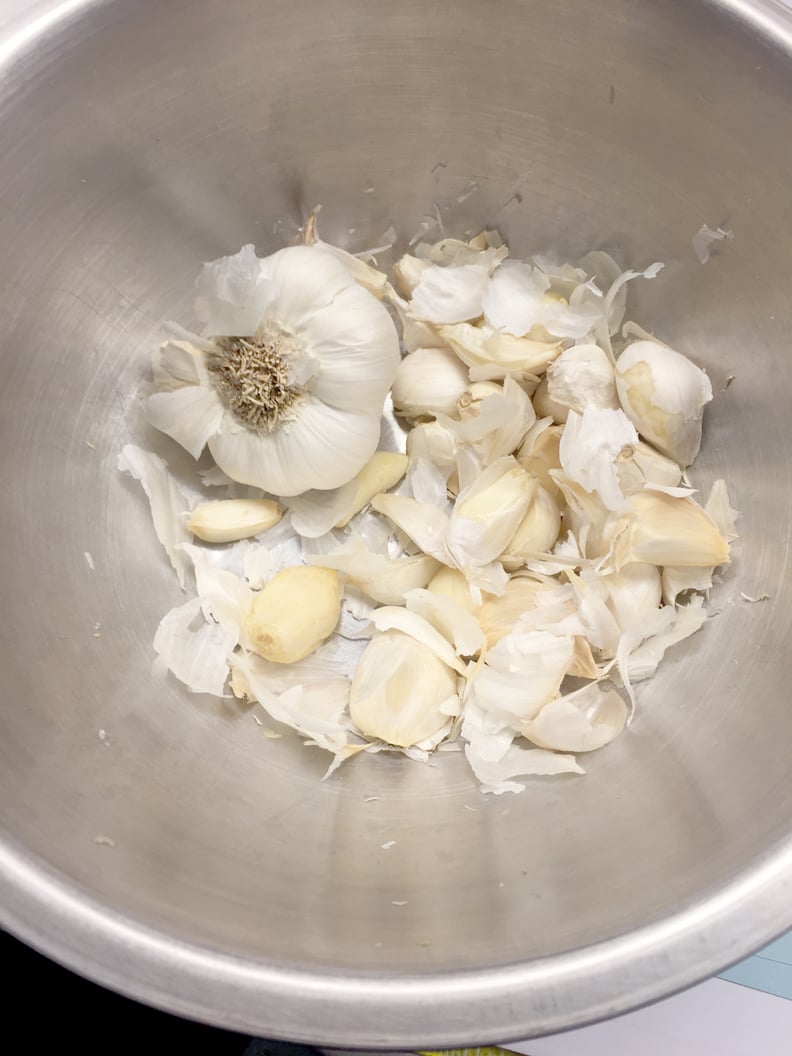 The Peeled Garlic Hack
Michael showed Alfonso this cool hack for peeling garlic. Throw a whole bulb of garlic in a rimmed metal bowl, cover it with another rimmed metal bowl, and "shake the heck out of it." It magically peels the cloves! I took this picture backstage in the test kitchen after the show.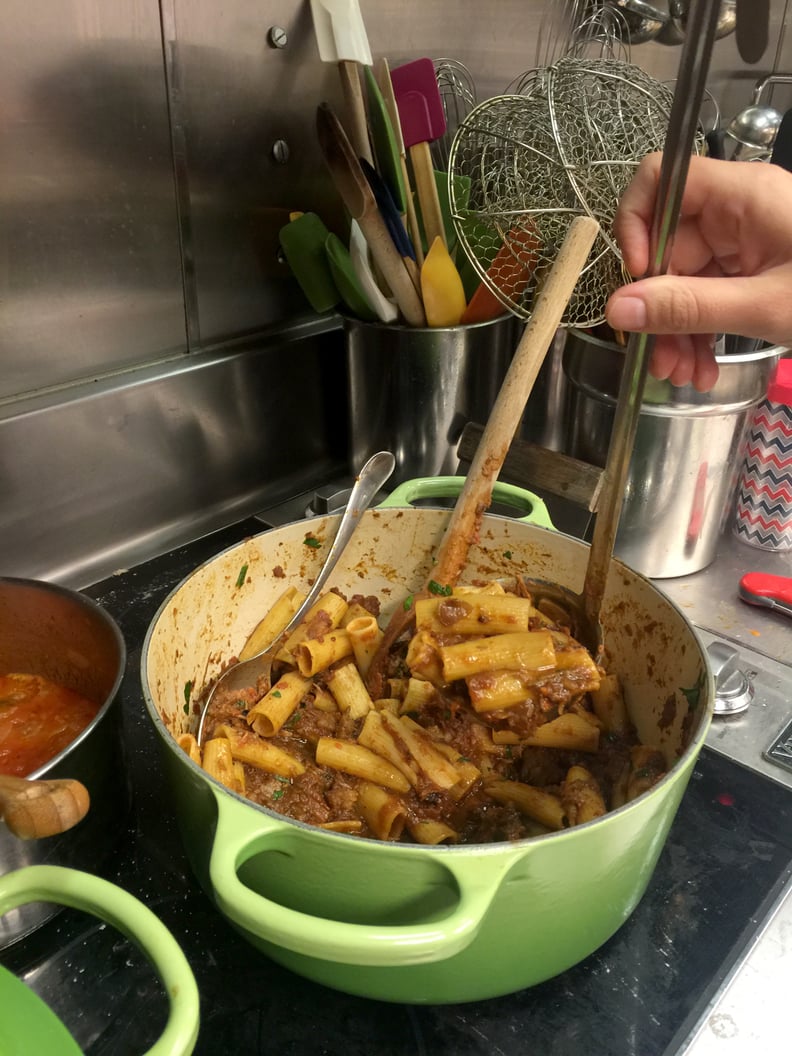 The Tiny Test Kitchen Cooks Up Magnificent Things
After the show, I went backstage to see the test kitchen. It's incredible what they are able to accomplish in such a tiny kitchen. The cooks help develop up to six recipes a day. One of the cooks asked if I wanted to try Michael's pasta, which I couldn't turn down! I was impressed by how tender the shredded, slow-cooked roast tasted, and it paired oh so well with the red-pepper-flaked tomato sauce.
I left the show with a whole new respect for The Chew. The hosts made the audience feel appreciated and kept us entertained. The crew took great care of us and, based on their playful behavior, really loved working there. And most important (for me at least!), the recipes couldn't have been tastier, which is why I'm really looking forward to busting into my copy of the show's latest cookbook: The Chew Approved: The Most Popular Recipes From the Chew Viewers ($17) out Oct. 25.