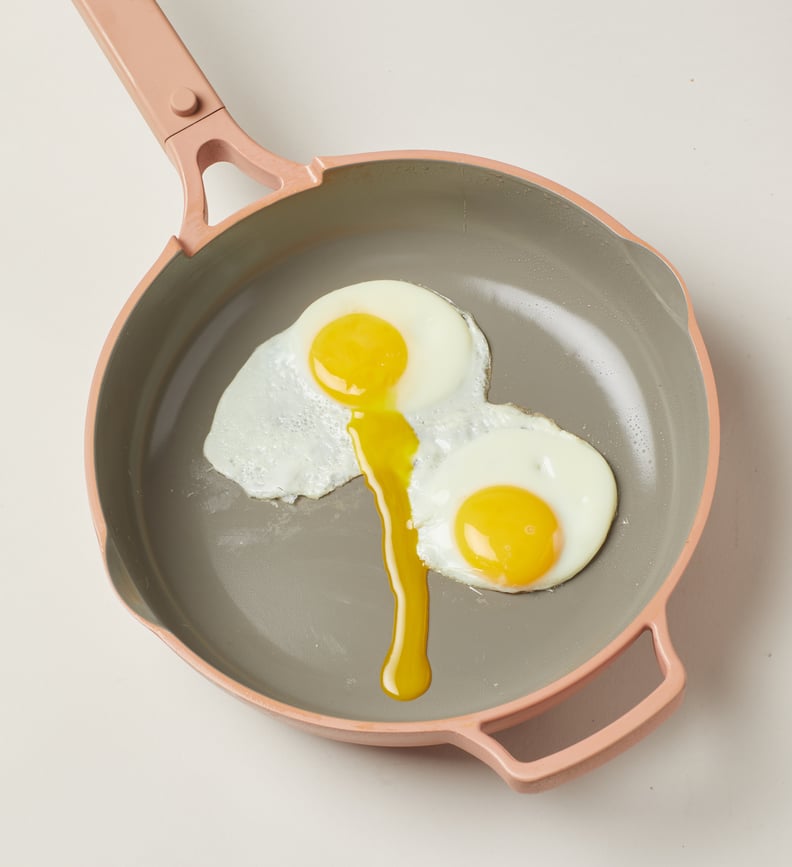 Our Place
Our Place
As POPSUGAR editors, we independently select and write about stuff we love and think you'll like too. If you buy a product we have recommended, we may receive affiliate commission, which in turn supports our work.
Shopping direct-to-consumer brands is my new favorite way to discover new names and cool brands. Heading to department stores for mattresses or kitchenware items is now a thing of the past — these brands have been popping up left and right lately, and there's just something about them that I trust. I love reading founders' stories and seeing an idea become an independent business. Also, if they're only focused on making pans, those pans must be really f*cking good, right?!
Last year, I embarked on a mission to find great new cookware and was shocked by the number of DTC brands. I didn't know where to even start, so I did what any shopping pro does: I tried them all.
If you're in the market for some new cookware and interested in these intriguing new brands, I'm here to offer a little guidance. Whether you're a beginner or the self-proclaimed chef of the house, these options are true winners. Keep reading for a full breakdown of my thoughts, and find the right cookware for you.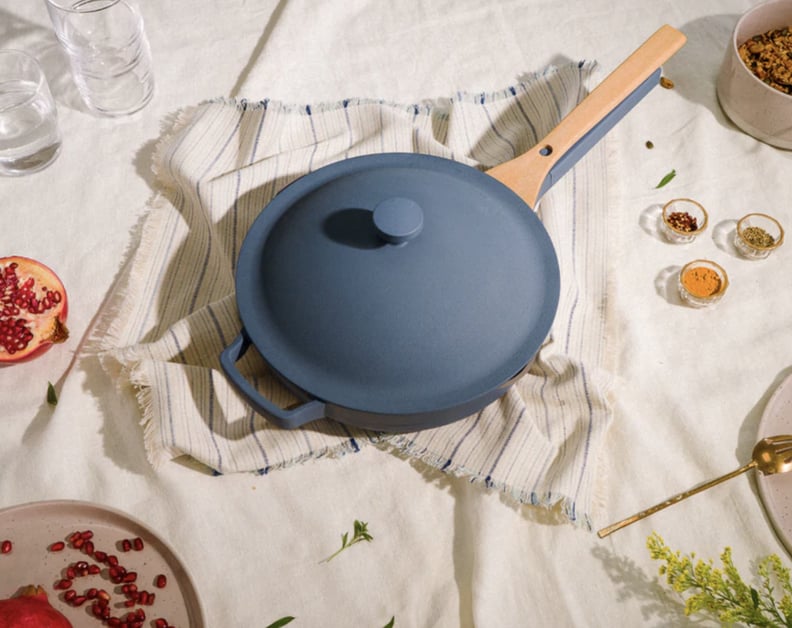 The Best Does-Everything Pan: Our Place Always Pan
The Pan: Our Place Always Pan ($145)
The Specs: The ceramic nonstick pan is made with nontoxic materials and comes with a beechwood spatula and stainless-steel steamer basket. The pan itself features a spatula rest and an easy-to-use pour spout to prevent messes.
What I Cooked in It: The pan's deeper design made it easy for me to cook pretty much anything in it. It's great for pasta dishes like Cacio e Pepe, but I've used it for everything from pancakes to crispy rice — there's not much it won't fit.
My Favorite Feature: The overall design of the pan is so smart, and the spatula rest is especially genius. Its well-thought-out design makes it easy to keep everything in one place without making a mess on the stovetop.
Why It's Worth It: This all-in-one pan truly does it all, and it's a great buy for someone who wants to keep it minimal in the kitchen. The smart, stylish design can save you tons of space in your cabinets, since it does the job of several pans. Bonus: the brand released its newest addition, the Perfect Pot ($165).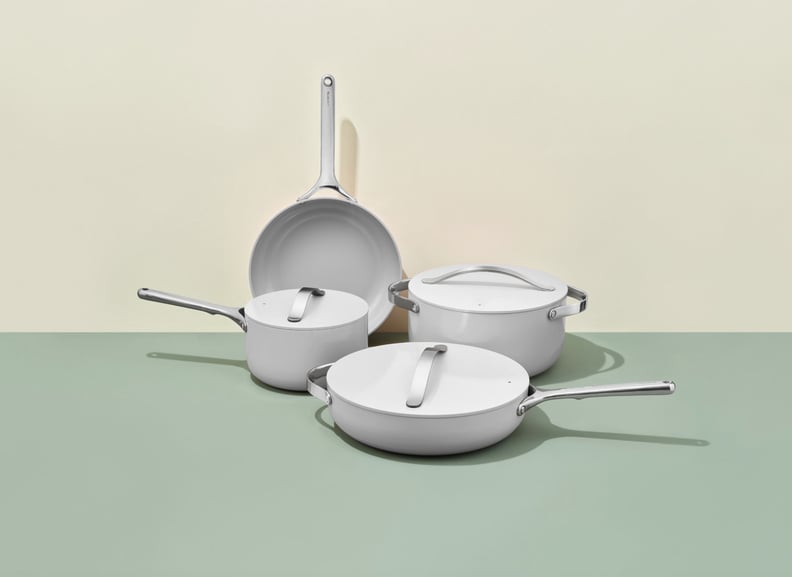 The Perfect Starter Set: Caraway Cookware Set
The Set: Caraway Cookware Set ($395, originally $495)
The Specs: The nonstick set is ceramic coated and made with nontoxic, eco-friendly materials. It comes with two pots and two pans, each in a small and large option.
What I Cooked in It: From pasta to eggs to leftovers (I don't own a microwave), there was nothing this set couldn't handle.
My Favorite Feature: The set comes with a handy storage system that makes grabbing and storing each piece easy. The bottom portion is even magnetic, keeping things neat and tidy.
Who It's Perfect For: I would recommend this for a first-timer or for someone looking for a total cabinet rehaul. The set comes with just the right number of pieces, and the easy-to-clean surface makes cooking easy and doing the dishes even easier.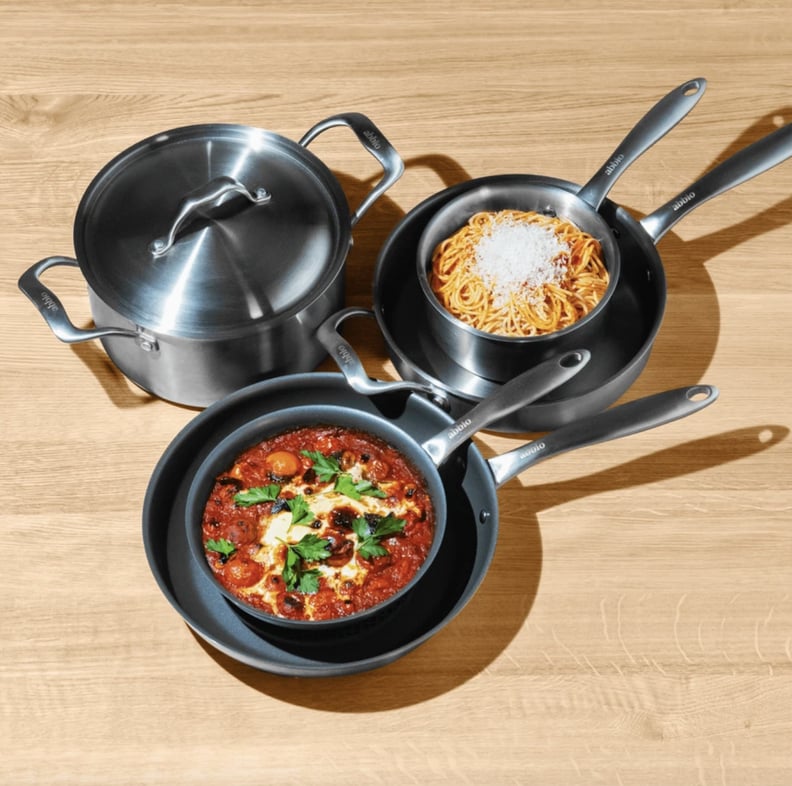 The Stainless Cookware Set: Abbio The Set
The Set: Abbio The Set ($355)
The Specs: This professional-grade quality set is a great if you're looking for an option with a variety of choices. It features two nonstick skillets, a sauce pan, a sauté pan, and a large pot. The three pots feature lids, and the smaller pans are both nonstick.
What I Cooked in It: The very first thing I cooked was a piece of steak in the large skillet. I impressed not only with how well it cooked, but how easy it was to clean. With just a sponge and a few drops of dish soap, all the grease and grime was gone.
My Favorite Feature: The set feels like it's made for pros. You can tell just by touching it that the design and materials are carefully crafted for cooking a variety of foods. Each piece has its own unique way of fulfilling its precise function.
Who It's Perfect For: The brand boasts that "you don't need a million pots and pans — just the right ones." That's exactly how I'd describe this set. If you're looking for a classic, professional-grade option with nonstick finishes, a timeless look, and versatile options, this is the one for you.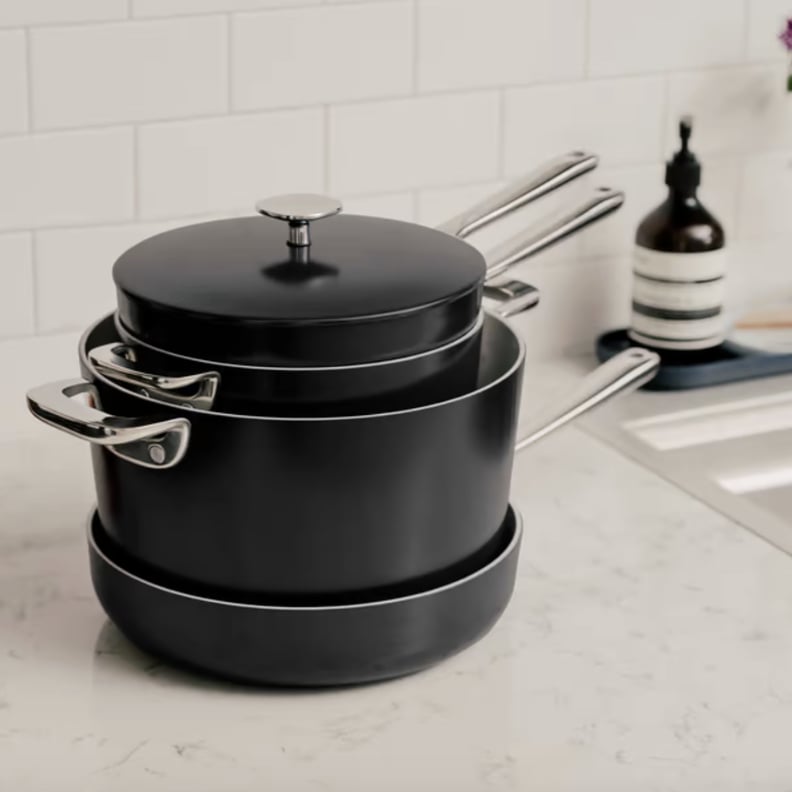 The Best Space-Saving Cookware Set: Equal Parts Nonstick Cookware Set
The Set: Equal Parts Nonstick Cookware Set ($325)
The Specs: Made with a natural ceramic nonstick coating, this set is high quality and free of toxins. It has a stackable, space-saving design, and all the pieces can go in the dishwasher.
What I Cooked in It: The larger pots were great for making large portions of spaghetti or mac and cheese. I liked using the smallest pan for my morning eggs — and I also enjoyed just throwing it in the dishwasher when I was done.
My Favorite Feature: Not only are these easy to clean, they're also stackable. I don't have a ton of kitchen space, but I'm able to store these easily without taking up more than one cabinet.
Why It's Worth It: If you have a tiny kitchen, this set is for you. The stackable design saved me tons of space, and I found them all to be the perfect size for their specific functions.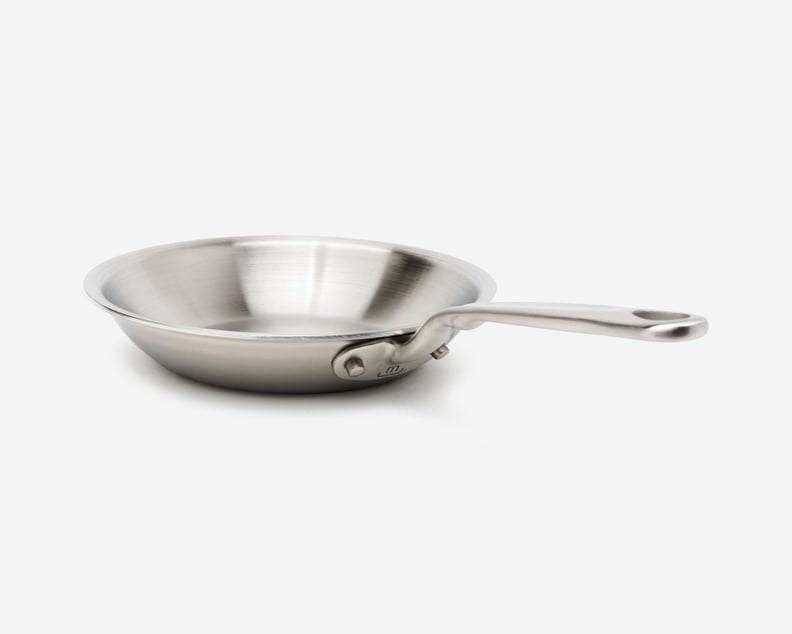 The Best Professional-Grade Pan: Made In Frying Pan
The Pan: Made In Frying Pan ($75-$99)
The Specs: Made with five sheets of four different metals, the stainless-steel pan is a professional-grade choice. It comes in eight-inch, 10-inch, and 12-inch diameters.
What I Cooked in It: This pan is great at heat retention, which makes it ideal for searing. I seared scallops and other seafood in this, and all of it was cooked to perfection.
My Favorite Feature: Most pans like this don't come with lids, but this brand gives you the option of buying the Frying Pan Silicone Universal Lid ($59). The lid can be used with pretty much anything from any brand.
Why It's Worth It: Most brands with similar stainless-steel options charge a lot more money for this kind of quality. Made In, however, cuts out the middle man and sells directly to consumers for more reasonable prices.