As POPSUGAR editors, we independently select and write about stuff we love and think you'll like too. If you buy a product we have recommended, we may receive affiliate commission, which in turn supports our work.
Searching for a new mattress doesn't have to be stressful. While some might think finding the right match on the internet can be a chore, it's actually a great way to get exactly what you want for the best price — especially with the help of our expertise. We love turning to direct-to-consumer brands, because each one has a cool angle on why theirs is the best. It's pretty much impossible to say which one is the clear winner, because every person has different needs, so we're here to break it all down for you with the help of David Rubin, the director of product testing at Sleep Doctor.
How Do You Pick the Right Mattress?
"When picking a mattress, it's important to find one that supports your individual needs and preferences, like sleep position and body types. Pay attention to comfort, support, durability, and firmness," Rubin says. He also acknowledges that cost can affect which mattress you choose, so if you're on a budget, he says to focus on finding one with a solid support core, cooling properties, and a sleep trial.
Rubin states that most mattresses have a life span of six to eight years. "We recommend regularly rotating memory foam mattresses (yearly is fine) from head to foot to help extend the life of your mattress and prevent consistent body imprints. If you are consistently waking up with body aches or pain, it may be time to consider replacing your mattress," he says. To properly care for your mattresses, he suggests using a mattress protector, vacuuming the surface to remove dust and dirt whenever you change your sheets, and to spot clean visible stains or spots with a mixture of water and hydrogen peroxide.
What to Know About Different Mattress Types
The mattress market is overwhelming just because of the sheer options available. However, Rubin points out that you can break down most mattresses into three categories: hybrid mattresses, memory foam mattresses, and latex mattresses.
Hybrid mattresses combine the best parts of a traditional spring mattress with the innovative support of a memory foam mattress. "These have a coil, or innerspring, support core and are constructed with a combination of memory foam, polyfoam, or latex. We usually recommend hybrid mattresses for most sleepers because they are durable, come in many different firmness levels, and sleep relatively cool," Rubin says.
If you're a side sleeper and love that body-hugging feel, Rubin recommends going for a memory foam mattress. Pointing out that they are usually on the affordable end, Rubin says, "a memory foam mattress relieves pressure points that can build in the shoulders and hips and excels at conforming to the body." However, he does warn that memory foam sleeps hotter than other materials and adds: "If a memory foam mattress is too soft, it can throw your spine out of alignment."
Compared to a memory foam mattress, a latex mattress has more of a responsive, contouring feel and provides a cooler sleep, too. "Though they cost more, latex mattresses provide pressure relief without the feeling of sleeping 'in' the mattress that you get from a memory foam mattress. Latex can be a great option for stomach sleepers who need some contouring without too much sinkage," Rubin says.
Ahead, we curated a list of the 14 best mattress choices you can shop online. What makes these special is that they're comfortable, popular, and have easy return and trial policies, so you don't have to feel nervous about making your purchase. Plus, we even found options that come at a variety of price points, so you can get the right mattress for your budget. And to make it even easier to compare, each mattress is priced according to its queen sizing.
We tried and tested several of these mattresses ourselves, so you know you're getting a trusted breakdown of these picks. We have editor-backed reviews of mattresses from brands like Casper, supportive options from Bear, organic mattresses like Avocado, and even a mattress that delivers a hotel-like experience from Saatva. These mattresses cater to a variety of different needs and comfort levels, whether you're a side sleeper or deal with back pain and want something cloud-like. No matter what your preferences are, there's something for you.
Keep reading to check them all out and find the one you can't wait to sleep on.
— Additional reporting by Angela Elias
Best Medium-Plush Mattress
Leesa Sapira Hybrid Mattress ($1,699, originally $1,999)
If you prefer a mattress that's supportive yet cloud-like, Leesa's Sapira Hybrid Mattress is an editor-backed pick. "I appreciate all of the thoughtful design elements that have been incorporated into it, from the supportive edges that ensure the mattress doesn't sink down on the sides to the highly breathable foam material that helps with pressure relief," she says. "If you're on the fence about investing in a full memory-foam mattress . . . the Leesa Sapira Hybrid Mattress is the perfect happy medium — especially for shoppers who prefer a mattress with a medium feel." Read our review of the Leesa Sapira Hybrid Mattress here.
This mattress has six layers, including a breezy cover, a memory-foam recovery layer, and durable support layers that are made up of 1,000-plus responsive pocket springs. This hybrid mattress also comes fitted with a signature cover material that's composed of ultrafine viscose fibers and plant-based rayon that's designed to wick moisture and keep you feeling cool and comfortable all night long.
While our editor enjoyed the feel and even noted that the sides still offered plenty of support, some reviewers on the site mention that the mattress is on the plush side as far as firmness. One reviewer wrote that the mattress was "much softer" than expected for being a hybrid, while another reviewer found it to be "much softer than Leesa's original hybrid mattress."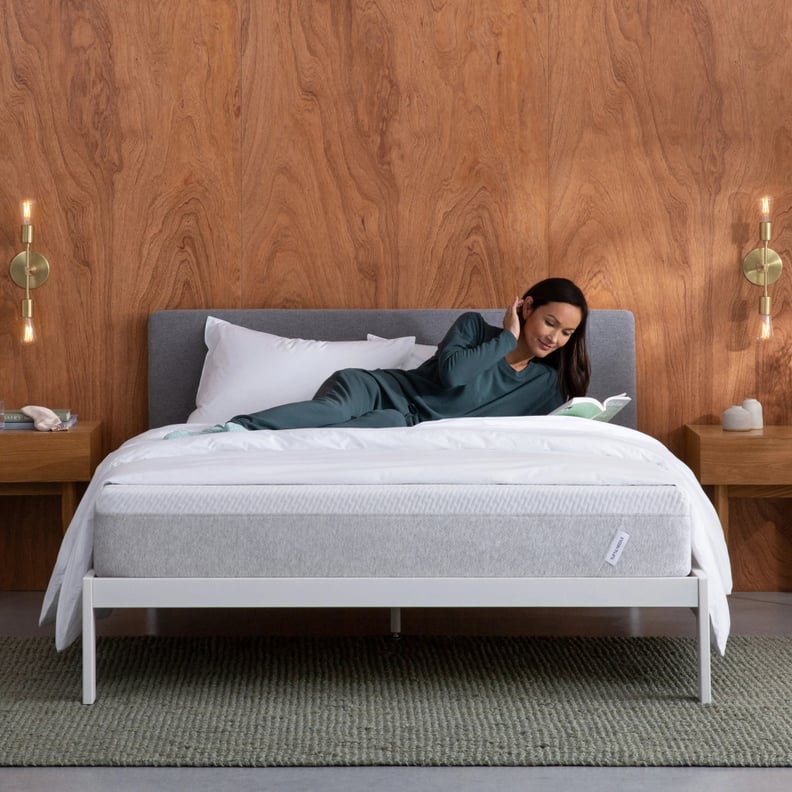 Best Firm Mattress
Tuft & Needle Original Mattress ($995)
Featuring a breathable, open-cell cooling gel and multiple layers to help reduce motion transfer, the Tuft & Needle Original Mattress is an ideal choice for those looking for something with a firmer feel. The brand's signature foam layer offers bounce-back support that relieves pressure on the back and shoulders. This mattress is also designed for those who sleep on their backs and stomachs, perfect for anyone looking for something that's more supportive. If you're on a budget, it's a great option for a quality mattress that will run you less than $1,000 for a queen.
One thing worth noting is that the brand released a new version of this original model in 2015. The newer version is softer than the prior model, which some reviewers commented on not liking. Others commented that it might not be the best option if you run warm at night, which is a common downside to all-foam mattresses.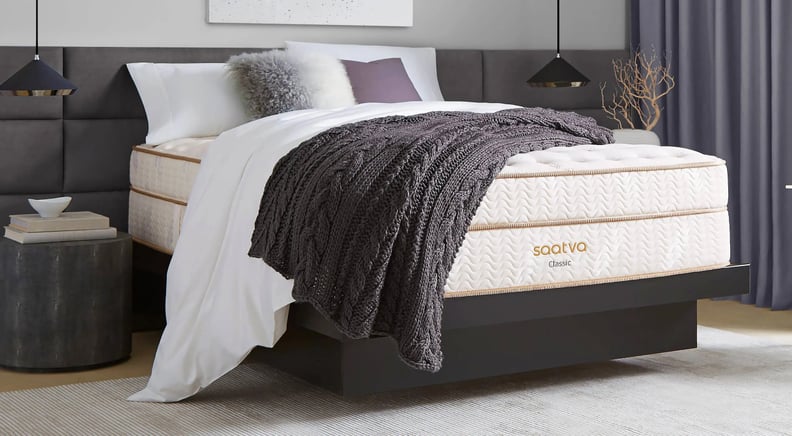 Best Hybrid Innerspring Mattress
Saatva Classic Mattress ($1,696, originally $1,995)
If you're looking for a hybrid choice that has both springs and memory foam, then we found your match. The Saatva Classic Mattress is an editor favorite for being the best of both worlds: plushness and firm support. It has five layers of support that offer a comfortable night's sleep and also keep you cool, including a breathable organic cotton cover with a concentrated quilted zone for lumbar support, a high-density memory-foam layer, a layer of 884 pocketed coils, and base layers that help prevent sagging. The Classic in Luxury Firm's comfort level replicates the comfort of mattresses used in luxury hotels. This is available in sizes ranging from twin to California King, including split king and split California king, and heights at 11.5 inches and 14.5 inches.
Our editor tested it out and was impressed by how supported her back felt by a mattress that still felt really plush. "It has a cloud-like and cushiony feel at first, but then you experience the firmness and support along your back," she writes in this detailed review of the Saatva Classic Mattress.
Although the Luxury Firm is not the brand's firmest comfort level, she notes that it's still pretty firm overall. If you truly prefer something with more of an enveloping feel, this might be a bit too stiff for you.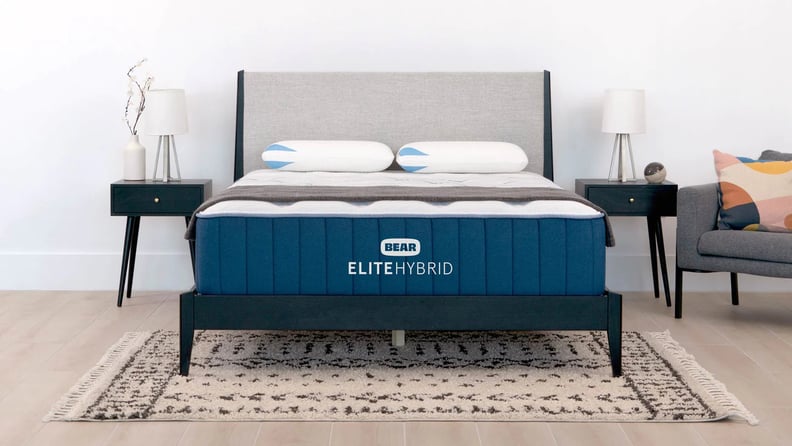 Best Mattress For Back Pain
Bear Elite Hybrid Mattress ($1,373, originally $2,111)
If you suffer from back pain, the Bear Elite Hybrid Mattress is the choice for the you. The mattress is filled in every nook and cranny to offer four times the pressure relief all over your body and includes a dynamic transition foam, individually encased coils, reinforced edge coils, and a high-density support foam base.
It also has a soft, quilted cushion top layer that's made with PCM Fabric and Celliant fiber to keep you cool through the night. The second layer includes copper-infused memory foam, which is antimicrobial and absorbs heat.
Our editor tested out this mattress and was happy with both its cooling and supportive features. She writes all about it in this Bear Elite Hybrid Mattress review. "It has a plush feel at first, but when I laid down, I felt my back instantly realign and feel supported," she writes. "As I moved around and turned to my side, I felt as though the layers were contouring and shaping to my body." As for its cooling affect, she writes, "This mattress keeps me cool and sweat-free no matter how much I bundle up or hike up the heat."
Her least favorite aspect of the mattress was the process of setting it up. "This mattress is pretty heavy, so you'll need one or two people to help you get the rolled-up mattress out of the box and onto your bed. It's wrapped in a vacuum-sealed plastic wrap, and I highly recommend keeping it in the vacuum wrap until you're done unrolling and unfolding the mattress and positioning it on your box spring. It took us a few tries to get the mattress in the right position since it was hard to tell which side was the front of the mattress," she writes.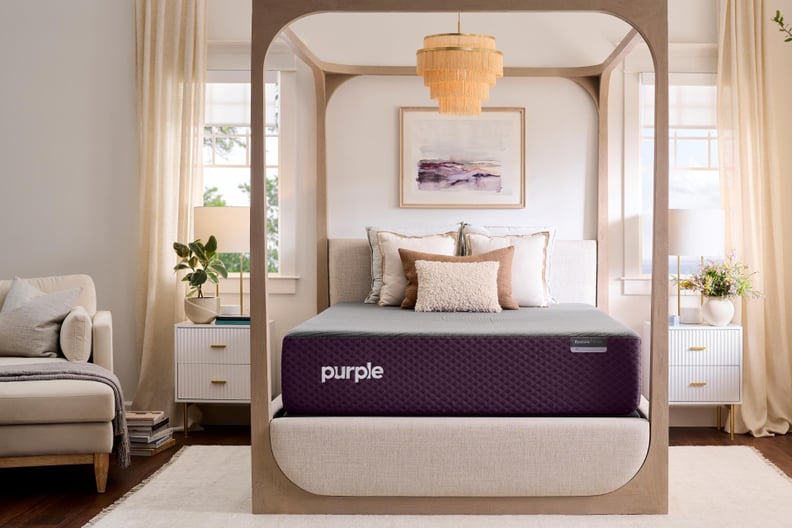 Best Mattress For Side Sleepers
Purple RestorePremier Hybrid Mattress ($3,195, originally $3,495)
Made with nontoxic and hypoallergenic materials, not only is this Purple mattress a great quality option, but it's also extremely comfortable. The brand's innovative and signature purple grid design is one of a kind and made to flex under the pressure of your shoulders and hips to help you feel supported. "I've experienced one too many mornings where I wake up with a knot in my neck or with pain in my back — that is, until I slept on Purple's RestorePremiere mattress. In fact, the first night I slept on this mattress, I was blissfully asleep for a full 10 hours," one of our editors says. The GelFlex Grid layer, as well as the deeper layers, promote airflow, adding to the mattress's breathability and comfort. Read our review of the Purple RestorePremier Hybrid Mattress here .
Looking for something cheaper? Go for the brand's original Purple Mattress ($1,199, originally $1,399) One former editor tested it out and was impressed by how comfortable it was. She writes about her experience in this Purple Mattress review: "The hyper-elastic gel feels squishy to the touch yet still supportive and helps cradle pressure points on your back, hips, and shoulders." It's perfect for someone who loves that plush, cloud-like feel. "It's comfortable, soft, supportive, and everything you want in a mattress," she says.
Since it's an all-foam mattress, the edges don't have the best support, which is worth considering if you're sharing a queen-size bed.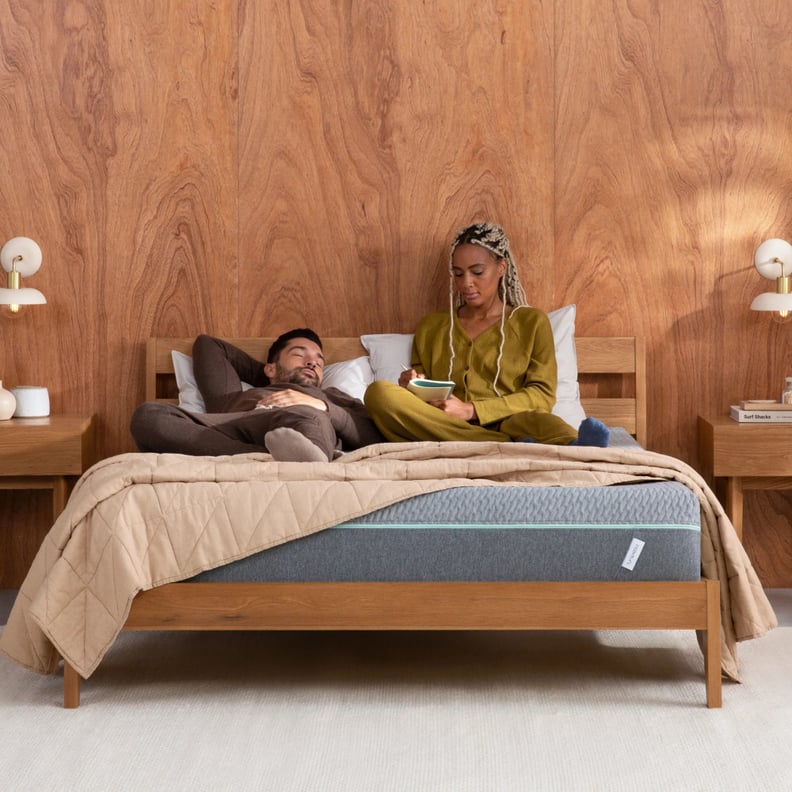 Best Mattress For Couples
Tuft & Needle T&N Mint Mattress ($1,595)
Tuft & Needle's Mint Mattress is designed specifically for couples, with edge support, cooling comfort, and pressure relief. This mattress has a medium feel that's softer than the original mattress but still supportive. According to one of our editors, "this Tuft & Needle mattress seamlessly blends the two into one model that wraps the body in comfort but still has a firm enough base to ensure it won't sink in too much over time. . . . I love that it provides ample comfort and a cushioned, cloud-like feel without sacrificing support."
The mattress has an adaptive foam that helps reduce motion transfer and contours to your body for a supportive and disturbance-free slumber. It's also got an open-cell foam infused with ceramic and cooling gel so you can sleep comfortably without night sweats. It cradles your body without feeling like you're sinking into the mattress. This mattress is ideal for side and back sleepers as well.
After testing it out for a month, our editor's only qualm with the mattress is its textured design, which shows through sheets. "While I appreciate not having to deal with the hassle of putting on a traditional mattress cover, I have noticed that after sleeping on the product for an extended period (mostly after a full night's rest), the fitted sheet starts to bunch up in certain areas and shows a dotted design coming through," she writes.
For more details, read her in-depth review of the Tuft & Needle Mint Mattress.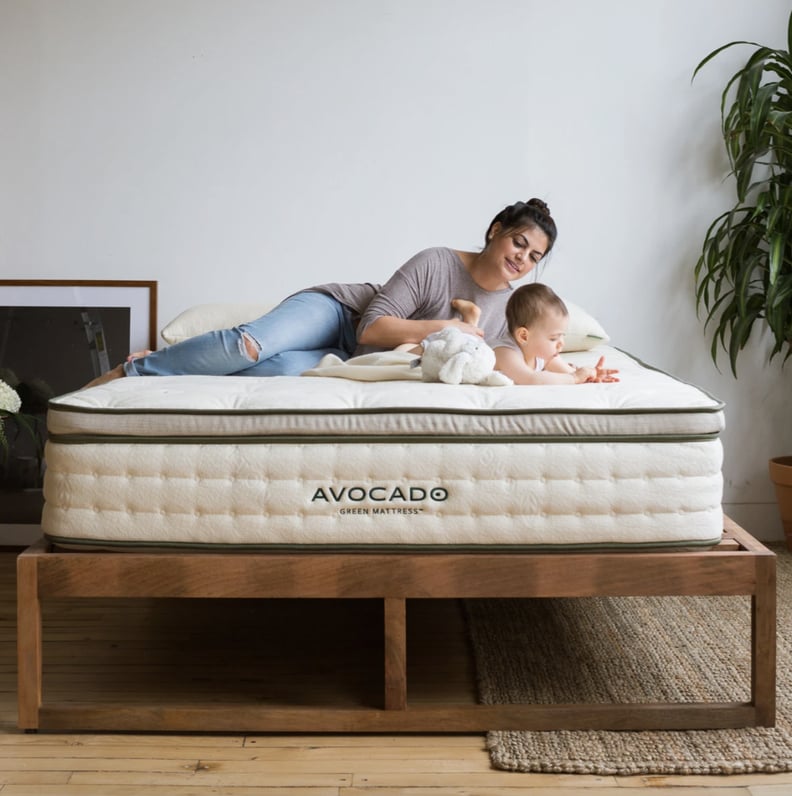 Best Organic Mattress
Avocado Green Organic Mattress ($1,999)
If you're looking for an organic option, the Avocado Green Organic Mattress is made with certified organic latex rubber foam, wool, and cotton. The hybrid mattress offers support and durability with 1,414 pocketed support coils arranged in five spine-aligning zones. Its latex foam base, wool layer, and cotton top cover offer temperature control as well to keep you feeling comfortable all night long.
Our former editor tested out this organic mattress and wrote about her experience in this Avocado Green Organic Mattress review. Aside from instantly noticing the lack of chemical smell as she unboxed it, she also loved the way it supported her different sleeping positions. "The mattress has this bounce-back feeling when you sit on it, knowing you're getting support from head to toe. . . . I sleep both on my side and back, and I found it the perfect amount of soft yet supportive," she writes.
She was also impressed by the way the mattress's organic wool performed. "The wool is the real hero of this mattress; the organic fiber does what other materials can't. While it's known for wicking away moisture, making it temperature regulating (great for sweaty sleepers), it's also antimicrobial and resistant to dust mites. The material acts as a natural fire barrier, which is why you go without the chemicals here."
While the mattress passed her sleep test, it's worth noting that the organic materials don't come cheap. If you prefer a plush feel and want to opt for a pillow top like the one reviewed, be prepared to spend some extra money. Otherwise, save by going for the standard option, which is a medium-firm comfort level and costs $500 less for a queen size.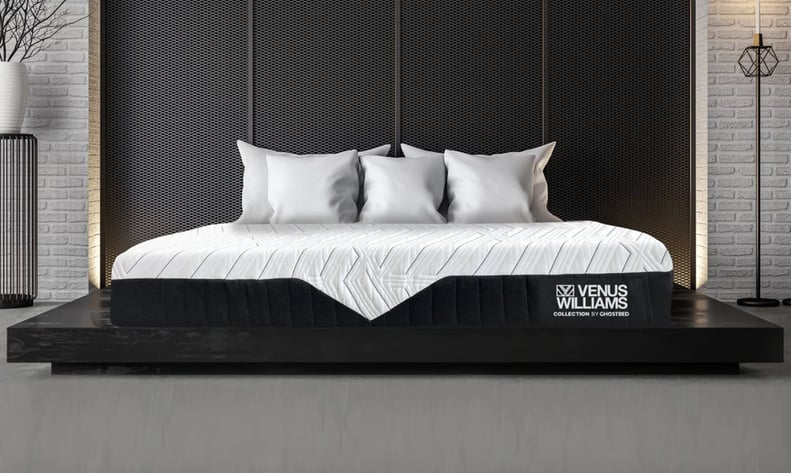 Best Luxury Mattress
Ghost Bed Venus Williams Legend Mattress ($1,882, originally $2,895)
Want a bed fit for a champion? The Ghost Bed Venus Williams Legend Mattress is the all-foam choice from the exclusive Venus Williams Legend collection. Made with a mineral-infused gel memory foam, it promotes muscle recovery for better sleep. It even includes far infrared materials to help with circulation. It's also sustainable — the cooling cover is made from 25 percent recycled water bottles.
This mattress has a springy yet supportive foam layer that's intended for spine-aligning support. It's a medium in firmness level, so if you are over 250 pounds or just prefer a firmer mattress, this might not be the best option for you.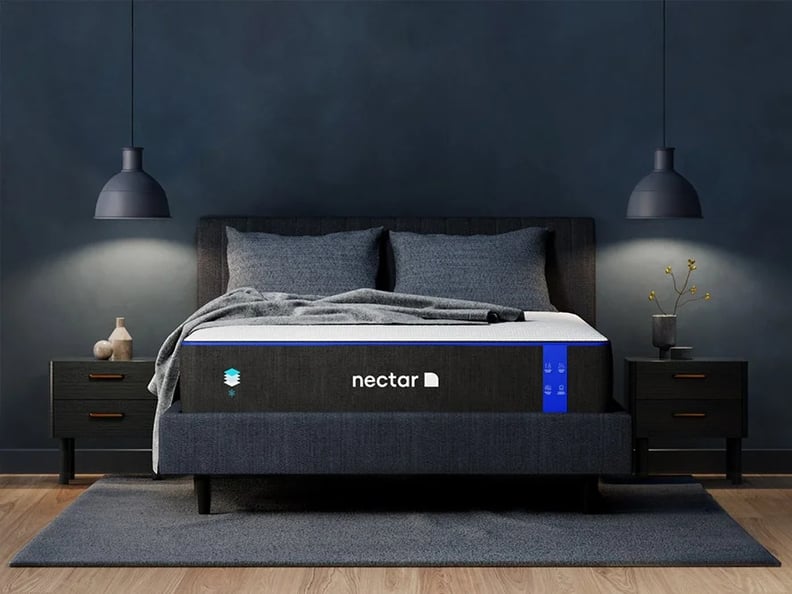 Best Mattress For Back Sleepers
Nectar Memory Foam Mattress ($699, originally $1,099)
Whether you like to sleep on your back, side, or stomach or just have a tendency to toss and turn in the night, the Nectar Memory Foam Mattress will cradle your body while keeping you cool. Our contributor tested this mattress and wrote about her experience in this in-depth review of the Nectar Memory Foam Mattress. She particularly enjoyed the level of support it offered her as a side sleeper. "On a scale of 1 to 10, the Nectar mattress is probably a 7 in terms of firmness. While I'm a side sleeper who typically prefers an ultraplush pillow-top mattress, I was impressed by how supported I felt." This mattress has a therapeutic gel memory foam for pressure relief, a transition layer to minimize motion transfer, and a firm base layer for stability.
One of the common cons from reviews on the retailer's site mention that this mattress is warm. "I like the support and softness of the Nectar, but I wake up in the night hot from the memory foam," one reviewer writes. If you tend to sleep hot at night, you might want to consider an option that isn't all foam.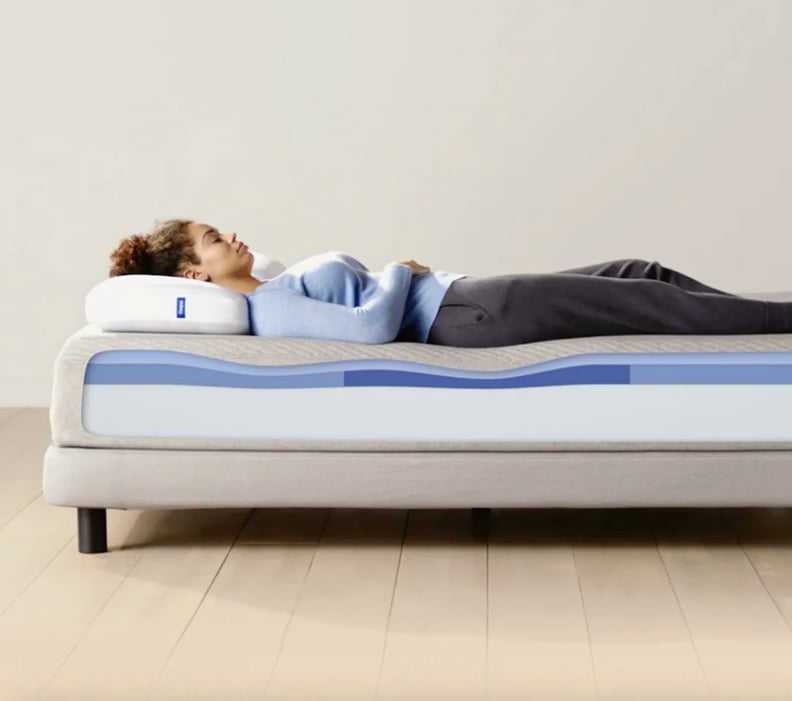 Best Affordable Mattress
Casper Original Memory Foam Mattress ($1,036, originally $1,295)
When it comes to mattresses, no doubt you've heard of Casper. The brand's popular Original Memory Foam Mattress has been a bestseller for years, and it's an editor favorite. This mattress has multi-zoned support that will keep your spine supported and aligned no matter how much you toss and turn, including a premium foam layer and a durable base foam layer. If you like to sleep cool, this mattress is also breathable, with thousands of tiny perforations for airflow. It comes in sizes ranging from twin to California king. Read our review of the Casper Original Memory Foam Mattress.
Our editors have reviewed a number of other Casper mattresses, too, including the Nova Hybrid Mattress ($1,836, originally $2,295), the Wave Hybrid Mattress ($2,316, originally $2,895), and the Snow Mattress ($1,596, originally $1,995).
The Nova Hybrid is ideal for those looking for cloud-like comfort who prefer a medium-soft feel. Our editor claims "it's so fluffy and plush that you almost sink into it, while relieving your body from its daily tensions." Read her review of the Nova Hybrid Mattress here.
The Wave Hybrid is best for those looking for a medium-firm feel that offers ergonomic support for your back and shoulders with a cooling night's sleep. "I feel like an entirely new person. I have more energy every day, all because I changed what I'm sleeping on. Oh, and those back aches? They're entirely gone," our editor says. You can read about her experience sleeping on the Wave Hybrid here.
The Snow Mattress is an editor-backed pick perfect for those who want something breathable and will help keep them cool all night long. It offers medium support with zoned cushioning, with our editor claiming that she "avoided turning on the AC at night, making my bedroom about 75 degrees Fahrenheit. I was able to blissfully sleep through the night without feeling overheated, even while wrapped in my cozy sheets and comforter." Check out her in-depth review of the Snow here.