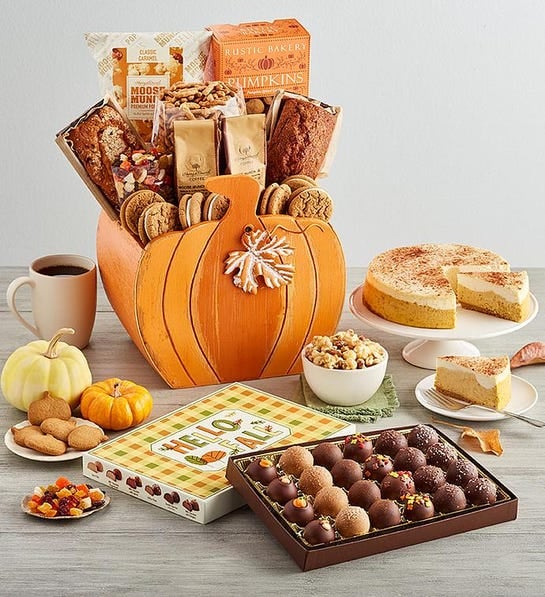 Harry & David
Harry & David
As POPSUGAR editors, we independently select and write about stuff we love and think you'll like too. If you buy a product we have recommended, we may receive affiliate commission, which in turn supports our work.
From apple picking to pumpkin carving, I have a special love for fall activities. They not only give me a reason to be in nature, but they also make for wholesome memories. As much as I love summer, I'll admit there is a certain magic to the first few weeks of fall. It may be the feel of the crisp air or the sight of the changing leaves.
Harry & David currently has some fall gift baskets that will bring that fuzzy autumn feeling right to your doorstep, or that of someone you care about. You'll find pumpkin-dipped strawberries and apple treats among other goodies; prepare to order a basket or two.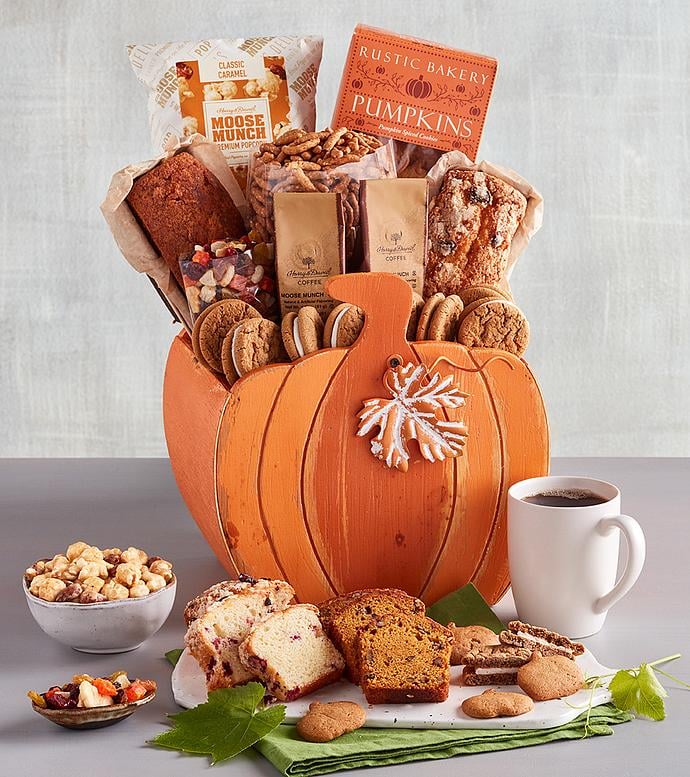 For an Excellent Fall Gift: Pumpkin-Shaped Gift Basket
This Pumpkin-Shaped Gift Basket ($80) contains a pumpkin spice loaf cake, a cranberry orange loaf cake, pumpkin cookies, some gingerbread sandwich cookies, sesame sticks, and a mix of dried fruits. All this to say, it makes an excellent fall gift.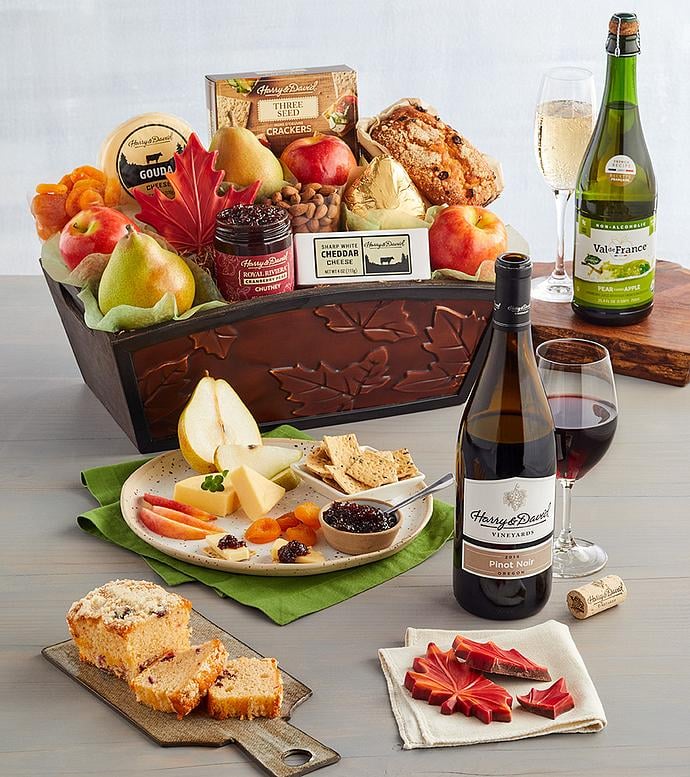 For a Great Housewarming Present: Harvest Treats Gift Basket With Wine
Get this Harvest Treats Gift Basket With Wine ($120) for the friend who just bought their dream house. It contains a bottle of Pinot Noir, which will pair nicely with the seasonal apples, three-seed crackers, white cheddar cheese, gouda cheese, roasted almost, dried apricots, and cranberry pear chutney.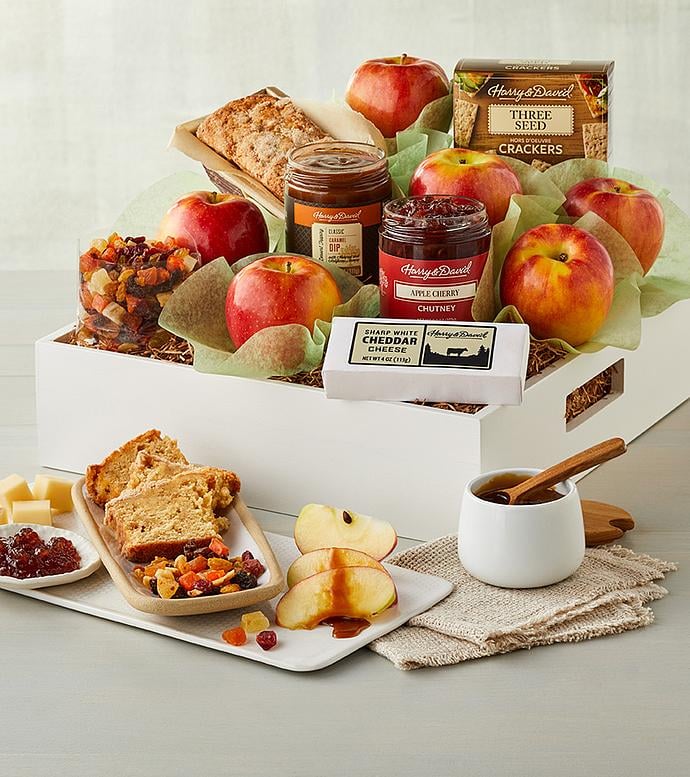 To Welcome Fall: Apples and Treats Gift
Nothing like this Apples and Treats Gift ($80) to ring in the spirit of the new season. With a mix of fruits, crackers and cheese, it has everything you need for a chic appetizer at home.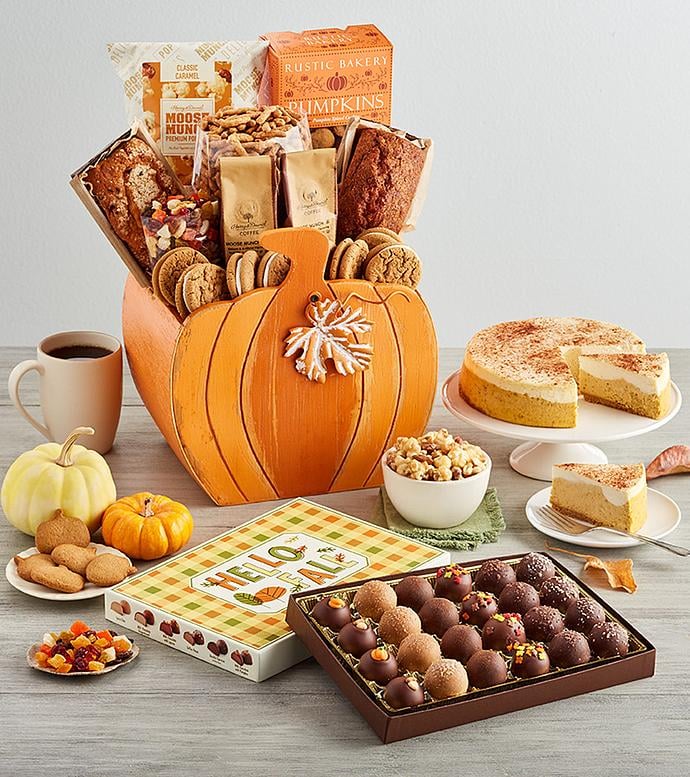 For a Classic Fall Basket: Harvest Bundle of Gifts
The Harvest Bundle of Gifts ($150) contains everything you associate with fall, including the pumpkin cheesecake, harvest truffles, loaf cakes, and pumpkin cookies.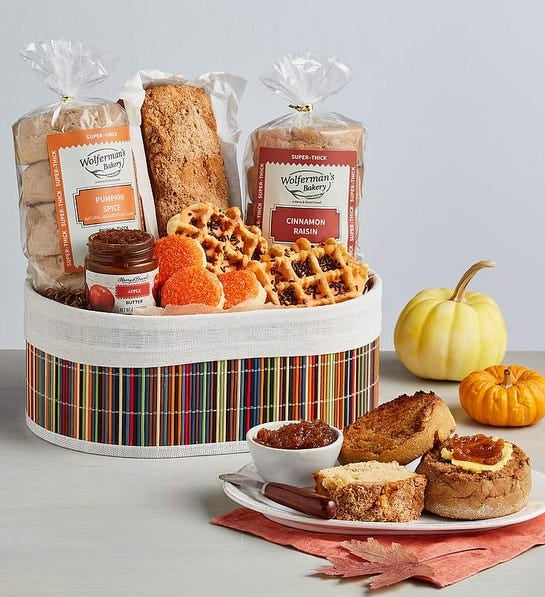 For a Special Treat: Fall Gift Basket
This Fall Gift Basket ($50) contains English muffins, organce-iced vanilla Belgian waffles with chocolate sprinkles, vanilla shortbread cookies, and an apple streusel loaf cake for the ultimate treat.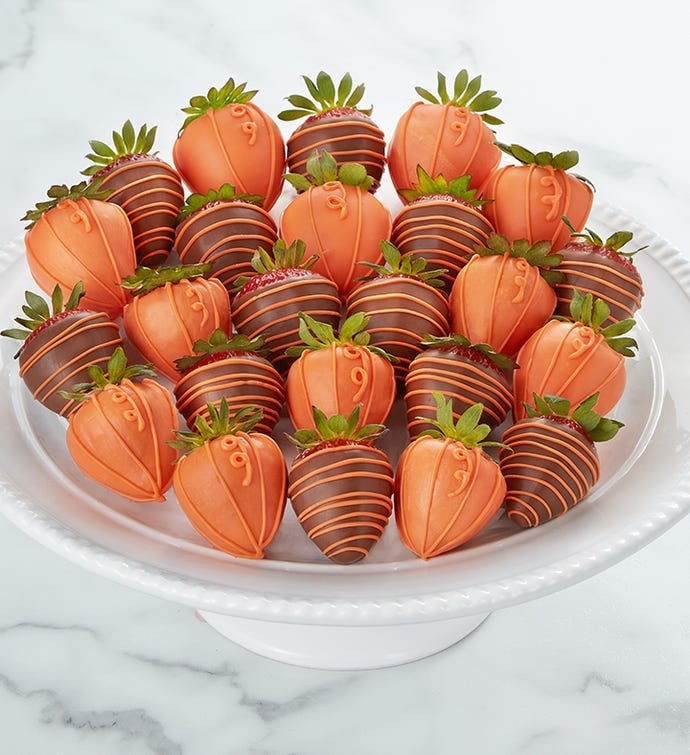 For Dessert: Pumpkin Patch Dipped Strawberries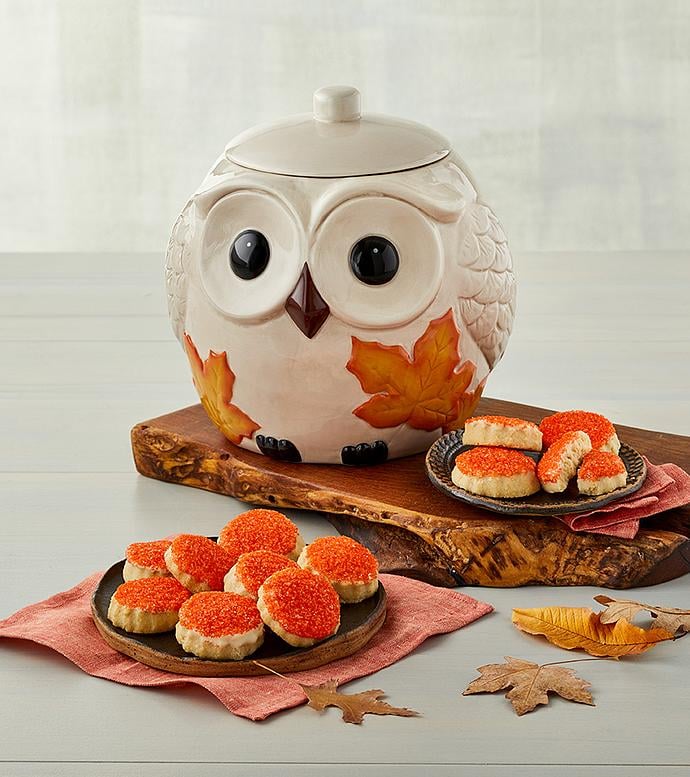 For a Quirky Gift: Fall Owl Cookie Jar With Cookies
How cute is this owl-shaped cookie jar? Share the 12 vanilla shortbread cookies in this Fall Owl Cookie Jar ($50) with some friends.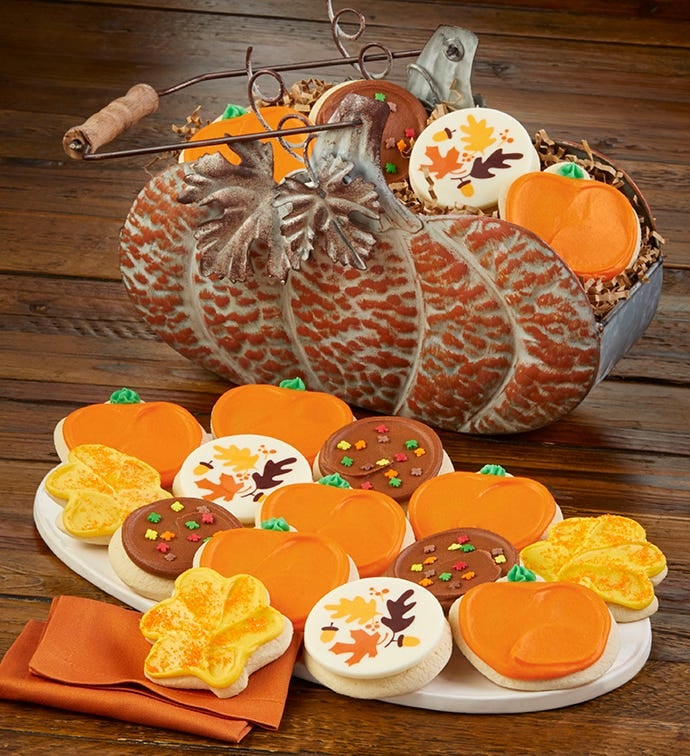 For the Next House Party: Buttercream Frosted Cut-Out Pumpkin Gift Basket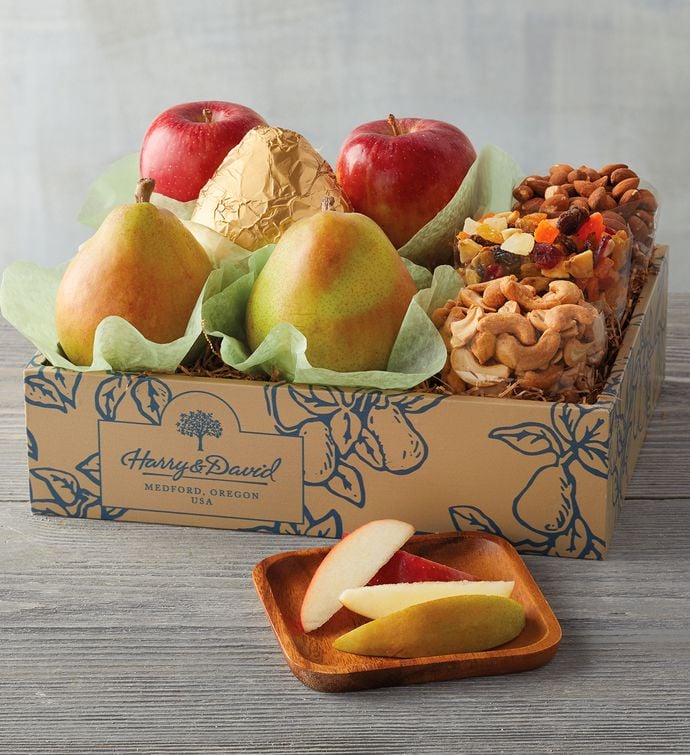 For a Thoughtul Present: Fruit and Nut Gift Box
Surprise your parents or best friend with this Fruit and Nut Gift Box ($45). It makes for the perfect pick-me-up, and is ideal for an afternoon treat.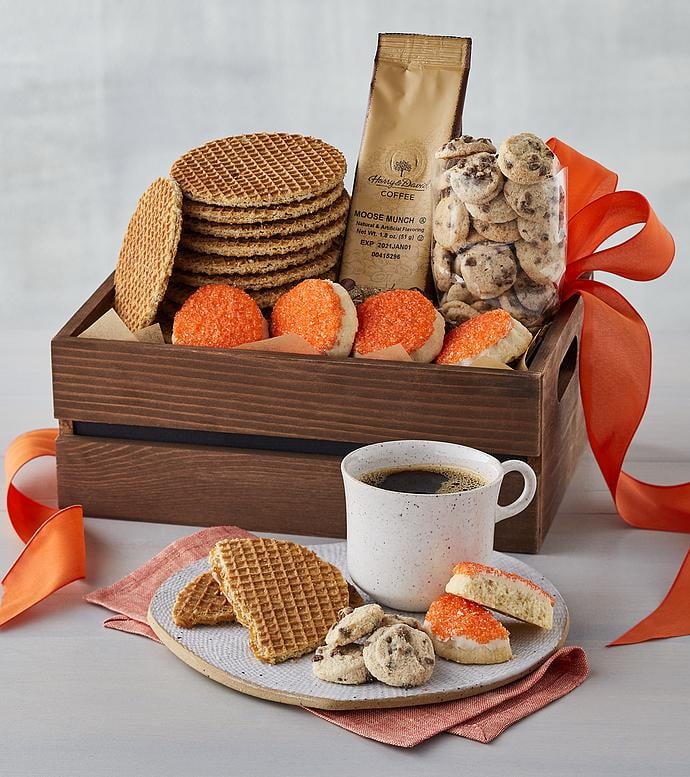 For Coffee-Lovers: Coffee Gift Basket
Shortbread cookies and coffee anyone? This way for the ultimate treat: the Coffee Gift Basket ($30, originally $40).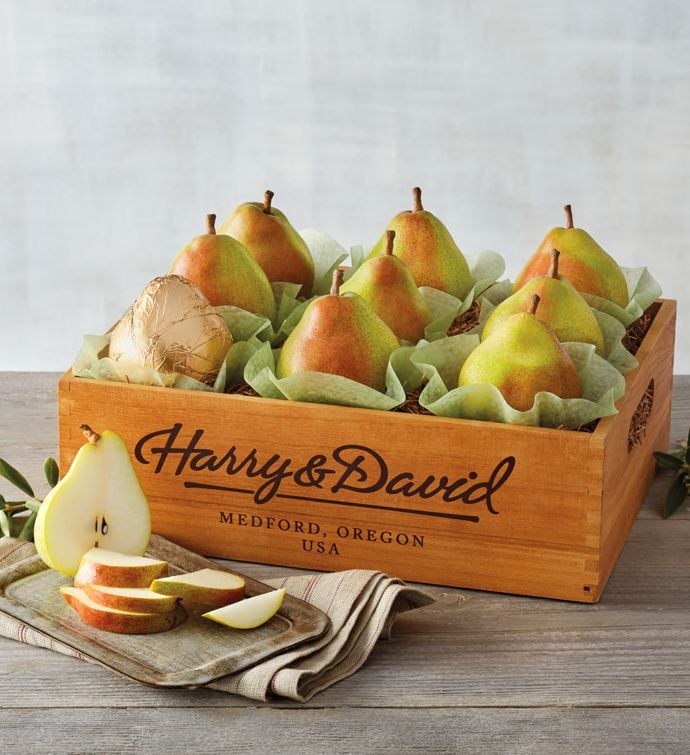 For the Apple Picking Feels: Royal Riviera Pear Orchard Crate