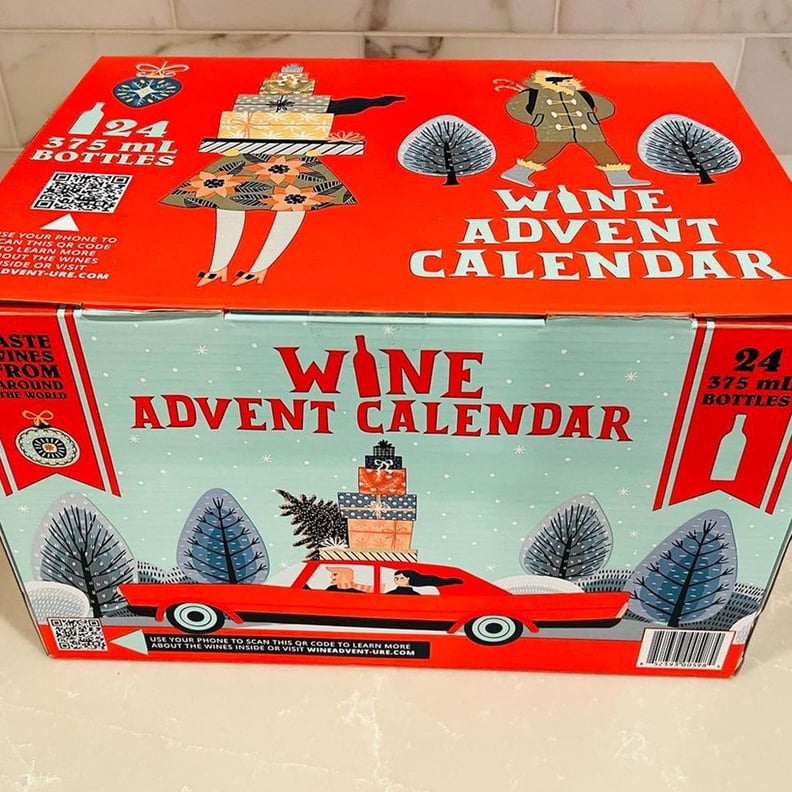 Costco is giving shoppers a taste of wine from around the world this holiday season. This fall, the retailer revealed its 2022 wine Advent calendar, complete with 24 half bottles of wine (375 milliliters) to sip as we begin the December countdown to Christmas. Available in Costco warehouses — right next to the Christmas trees and holiday decorations — the new wine Advent calendar features a snowy winter scene against a colorful red and blue backdrop on one side and a family bringing home presents in their car on the other. "Our favorite calendar is here!" the retailer captioned a post shared on Instagram on Oct. 21.
Over the years, the wine Advent calendar has become a cult favorite for membership holders, who are quick to swipe up every last box as soon as it drops. Some shoppers have already reported seeing the wine Advent calendars sold out at their nearest Costco locations this year. As in previous years, the calendars seem to be available for $100, bringing in the half bottles at about $4 each. However, some Costco shoppers have reported seeing the calendars being sold for $140. Costco could not report specific pricing details when POPSUGAR reached out for comment.
According to Costco Wine Blog, each box contains wines — red, white, rosé, and bubbly — from France, Spain, Portugal, Moldova, Georgia, and Italy. Specific wines include Right Hook Cabernet Sauvignon from Bulgaria, Moon Meadow Chardonnay from Italy, Nightfall, Monstrell from Spain, My 2 Cents, Cabernet Sauvignon from France, and more to help you bring out your inner sommelier.
Whether you plan to pack a bottle (or two) with you when you travel to visit family this holiday season or just want to sip your way through a box from the comfort of your couch leading up to the holidays, take a closer look at the new Costco Advent calendar ahead.