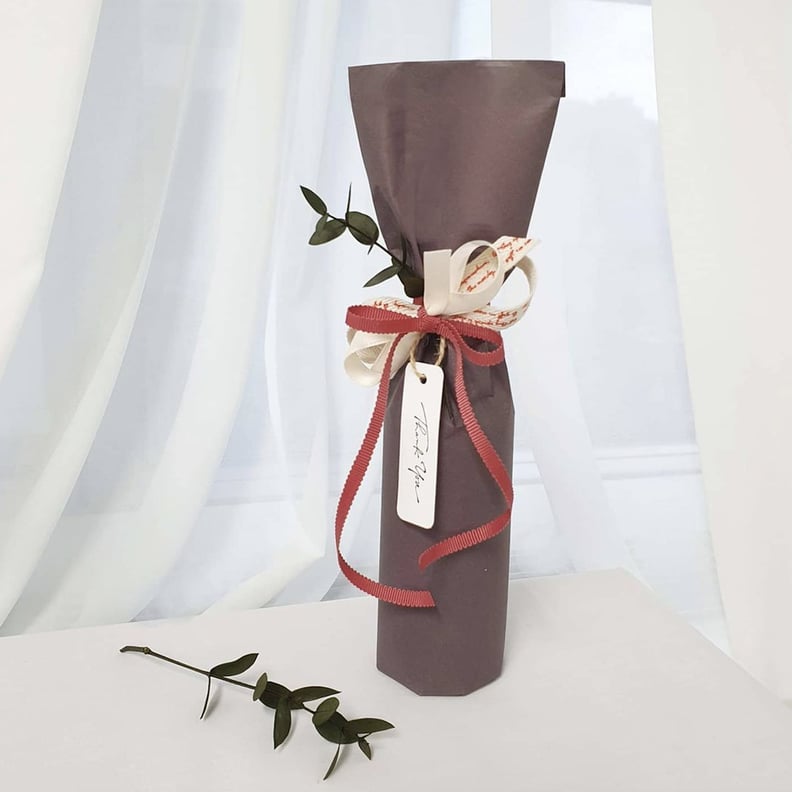 Cheers to the holidays! The gift-giving season is here, and with it come good tidings, great joy, and even better vino. Wine aficionados know that there's nothing better than indulging in their favorite blend, which means now is the time to give them the best gift of all: a gorgeously wrapped bottle of wine. Giving the gift of good alcohol is not only easy, but it's also much appreciated by the receiver. To make this present even more thoughtful, just step up your gifting game by wrapping each wine bottle in these beautiful, festive, and effortless ways. Just add tissue paper and tinsel, and your work here is complete. We'll cheers to that!
01
Use Faux Flowers as a Fun Touch
Wrap the wine bottle in tissue or fabric, and tie on faux flowers to make it as eye-catching as ever. These can be real or fake, depending on what is in bloom.
02
Bag It With a Bow
Use a big brown bag to cover the bottle. Once the bag is secured, add little ribbons, bows, and a tag to make it stand out.
03
Play With Pictures
Feel free to get creative with this wrapping idea. Simply cover the bottle in tissue or wrapping paper, and glue on your favorite photo. This can be a personal picture that's printed out or one from a magazine. Add a bow to make it complete.
04
Velvet Vino
Have any extra fabric lying around the house? Good! Just wrap it around the bottle and secure it with a bow. Not only is this a chic wrapping method, but it will also keep the bottle safe from breaking.
05
Construction-Paper Cutout
Colorful construction paper is the key to this creative solution. Wrap a piece around the top of the bottle, and once that's on, wrap another piece around the middle of the bottle. Then, tie a couple of bows around it, and your work here is done!
06
Use Outdoor Decor
Wrap the bottle in a wine bag and add a touch of the outdoors to give it some flare. This can be everything from rosemary to mistletoe.
07
Tag and Tie
Use a big tag and a bold bow to make your bottle stand out. The more festive the tag, the better!
09
Play With Paper
Use tissue paper, wrapping paper, or even newspaper to wrap each bottle differently. Twine will make this present extra chic.
10
Pack It With Presents
Gift the wine with other goodies in a big box. Add cute packaging decor to complete the present. We suggest finding tasty snacks that pair well with the blend you're gifting.
11
Take on the Tissue Paper
Reuse the tissue paper from the original packaging to rewrap the wine. It's eco-friendly, affordable, and cute!
12
Big and Beautiful
For the utmost elegance, find bold packaging to spotlight the wine bottle. Finish it off with a flower display to make it extra enchanting.
13
Take Control of Twine
Wrap the wine bottle up in the paper of your choice, then use twine to decorate the bottom of the bottle for a fun effect. Add a tag to make it more personal.
14
Do Less
Use only tasteful bows and ribbons, and let the wine bottle do the rest.
15
Add Tasteful Touches
Wrap the bottle in sheer tissue paper, and add a chic ribbon to the neck of the bottle. Done and done!
16
Tie It Tight
Wrap the full body of the bottle in twine. Add a homemade flower band for a tasteful touch.
17
One or the Other
If you're gifting multiple wines, wrap every other one in tissue paper while leaving the other labels exposed.
18
Repurpose Brown Paper Bags
Decorate brown paper bags however you want and wrap the wine up in twine!
19
Top It Off
Add small, decorative hats to the top of each bottle to give it a touch of Christmas spirit.
20
Bag It in Burlap
Burlap bags are supercute and can be used for wrapping wine and other kinds of presents all year round.
21
Flirt With Florals
Make the wine bottle look like a beautiful bouquet by adding flowers to the top.
22
Make It Pretty in Pink
Keep the wrapping simple with a couple sheets of colorful tissue paper and twine.
23
Keep It Simple
Make the bottle stand out by adding just a little dash of decor. This can be a small tag, strip of twine, or little bow.
24
Delicately Decorate
Use tasteful burlap and big ribbons to wrap sections of the wine bottle. Add faux flowers if you want to give it an extra touch to elegance.
25
DIY Decor
Take wrapping to the next level by using something other than traditional wrapping paper. Twine, string, and wire all work, and they each give it an exclusive look.
26
Use Prepackaging For Perfection
Grab some wine bags from a liquor store and let your wine wrap itself. Easy enough!
27
Be Bold With Bags
There are a bunch of cute bags out there, so take advantage of them for easy and quick wrapping alternatives if you don't have time to get super creative.
28
X Marks the Spot
Be creative with burlap by marking it yourself. Use twine to secure the burlap.
29
Use Big Bows to Bring It Out
Let your wine bottles take center stage when you use bold bows to wrap them in.
30
Bring Out the Bowls
Use decorated bowls to display the wine bottles for a unique gifting method. Complete the look by adding trinkets and accessories that pair well with the wine.
31
Take It in a Wine Tote
This reusable way to wrap wine is the gift that keeps on giving long after the wine is gone. The receiver can tote bottles around everywhere they go,.
32
When in Doubt, Bag It Out
Use a traditional wine bag to gift the bottle in. Spice up the look with decorative tissue paper and fake flowers.
33
Tie It and Tag It
Place the wine bottle in a paper bag and tie tinsel around to seal it. Then, add a cute gift tag on it and it's ready to go!
34
Twist It Up
Find a different kind of ribbon to use to achieve a fresh new spin on traditional wrapping methods. Look for ribbons with leaves, twine, bows, and more.
35
Make It Match
If you're gifting multiple wine bottles, make them all match. Add custom gift tags for each recipient.
36
Tie It at the Top
Hide the shape of the bottle by extending the wrapping to the very top. Complete the look by adding holiday bows at the top. Cheers!
37
Brown Bag It
Decorate a big paper bag and toss two bottles in for easy gifting.
38
Make It Mesh
Use mesh to cover the bottle and add a festive bow to complete the look.
39
Top It Off With Tape
Wrap the wine bottle with tissue paper and secure it with tape. Add decorative pieces under the tape to make the present stand out.
40
Make Tasteful Tags
Put each bottle in individual bags, and then tag the top of each one with the recipient's name.
41
Make It Dazzle With Diamonds
Add a dazzling touch to the wine bottle by sticking jewels and diamonds on it to make it shine.
42
Use Festive Accessories to Make It Shine
Use tissue paper, cello sheets, and all the extra accessories that you can find to make the wine bottle festive and fun.
43
Use Color Creatively
Mix and match different colored tissue paper to make the wine bottles pop.
44
Box It Up
Use the original packaging box and put a big bow on it for a festive touch.
45
Use the Tree For Inspiration
Take after the tree by tying little ornaments to the wine bottle for added decor.