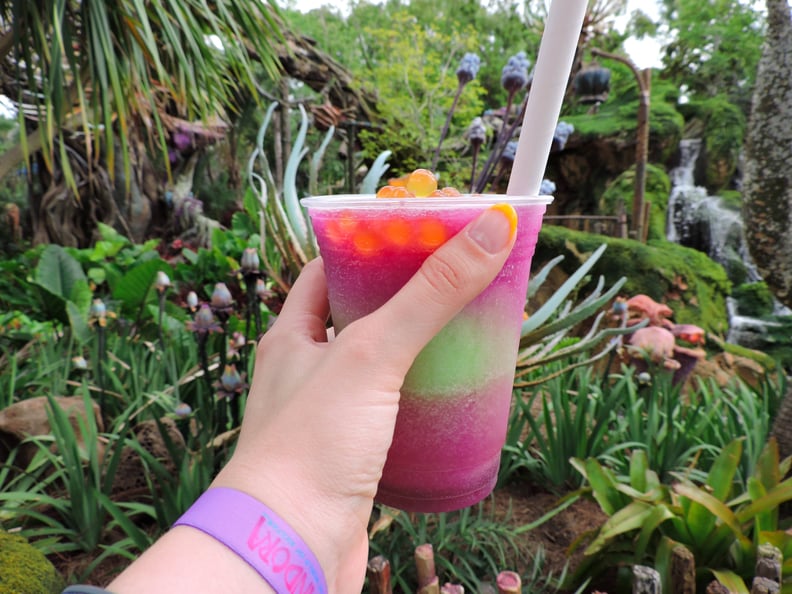 POPSUGAR Photography | Kelsey Garcia
POPSUGAR Photography | Kelsey Garcia
To say that Walt Disney World's brand new Pandora land is otherworldly is an understatement. Located within Animal Kingdom, the so-called World of Avatar features floating mountains, two incredibly advanced rides, and a menu unlike any other within the sprawling parks complex.
Pandora offers two different dining options. There's Pongu Pongu, a drink stand with one tasty snack, and Satu'li Canteen, a dining hall with an extensive menu. At both, there are highlights and some misses. Overall, it's clear that Disney wanted to match its inventive new land with food and drinks that are just as diverse and futuristic.
I got to try Pandora's standout menu items prior to its official opening on May 27 — check out my recommendations on what to try or skip, ahead.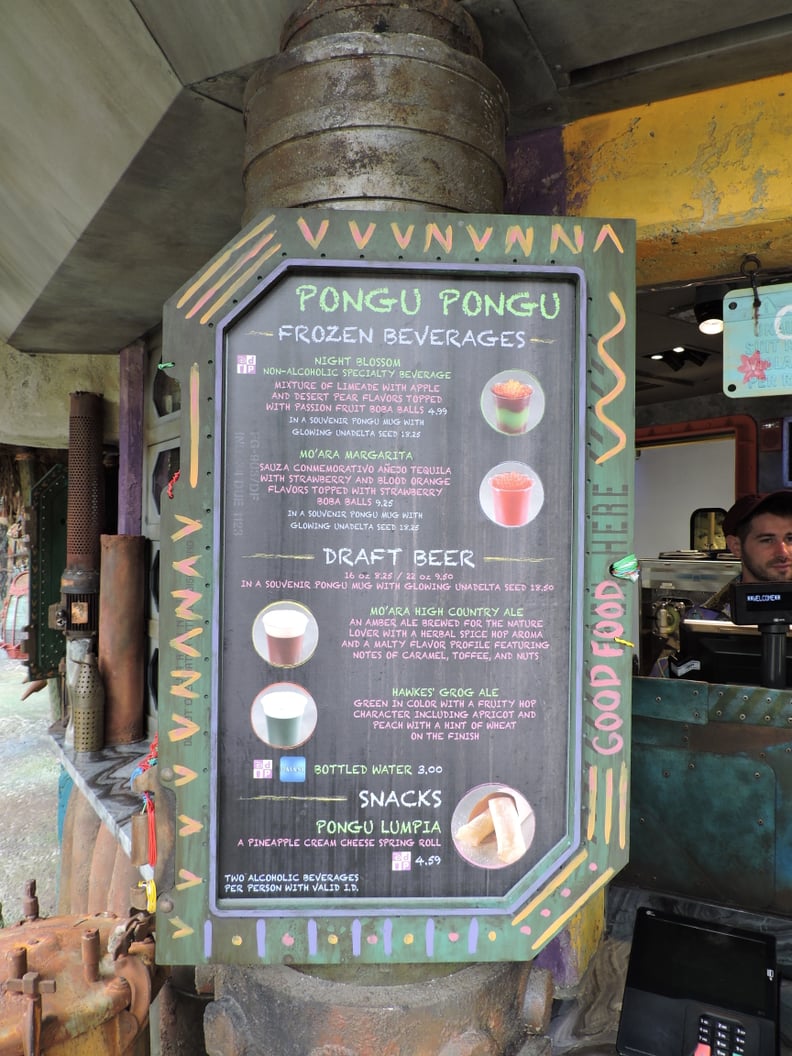 Pongu Pongu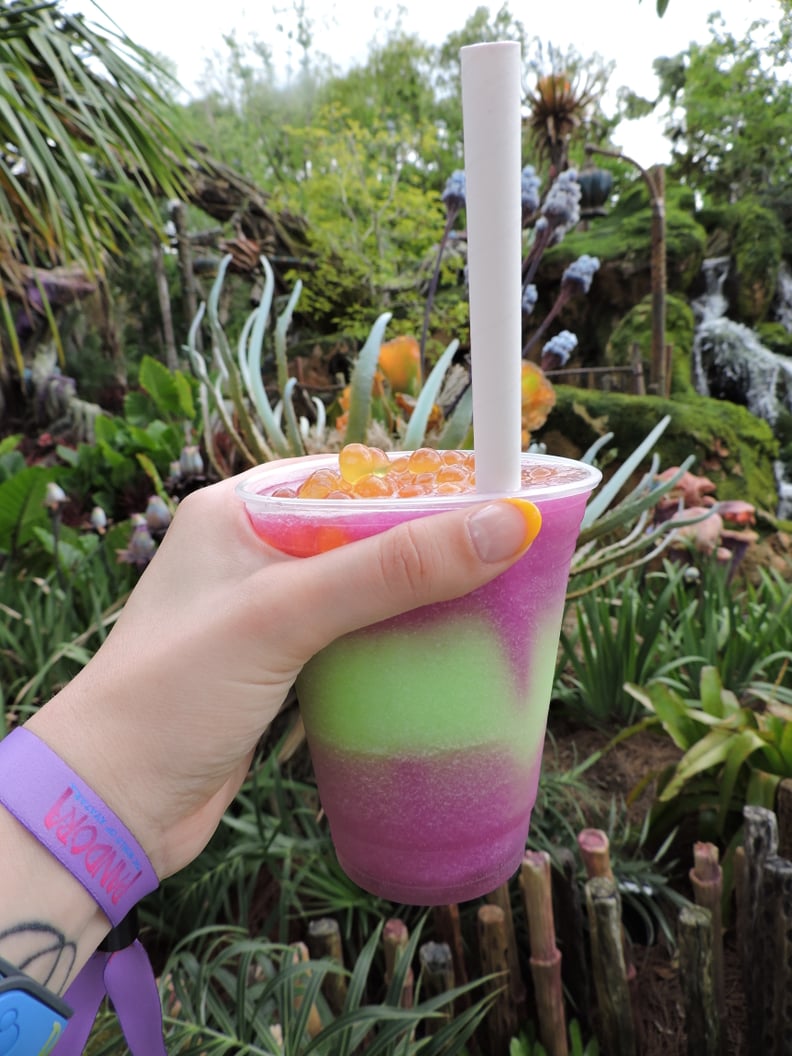 Night Blossom
If and when you make the journey to Pandora, you're going to see everyone carrying this drink. As the stand's most popular and only nonalcoholic beverage, it blends together limeade, apple, and desert pear flavors. The drink is then topped with passion fruit boba balls. Night Blossom tastes like a very sweet candy-flavored smoothie.
The boba balls happened to be my favorite component because they exploded in a way that doesn't happen with squishier tapioca balls. It's definitely a good drink to try if you need a sugar kick or a pretty Instagram shot.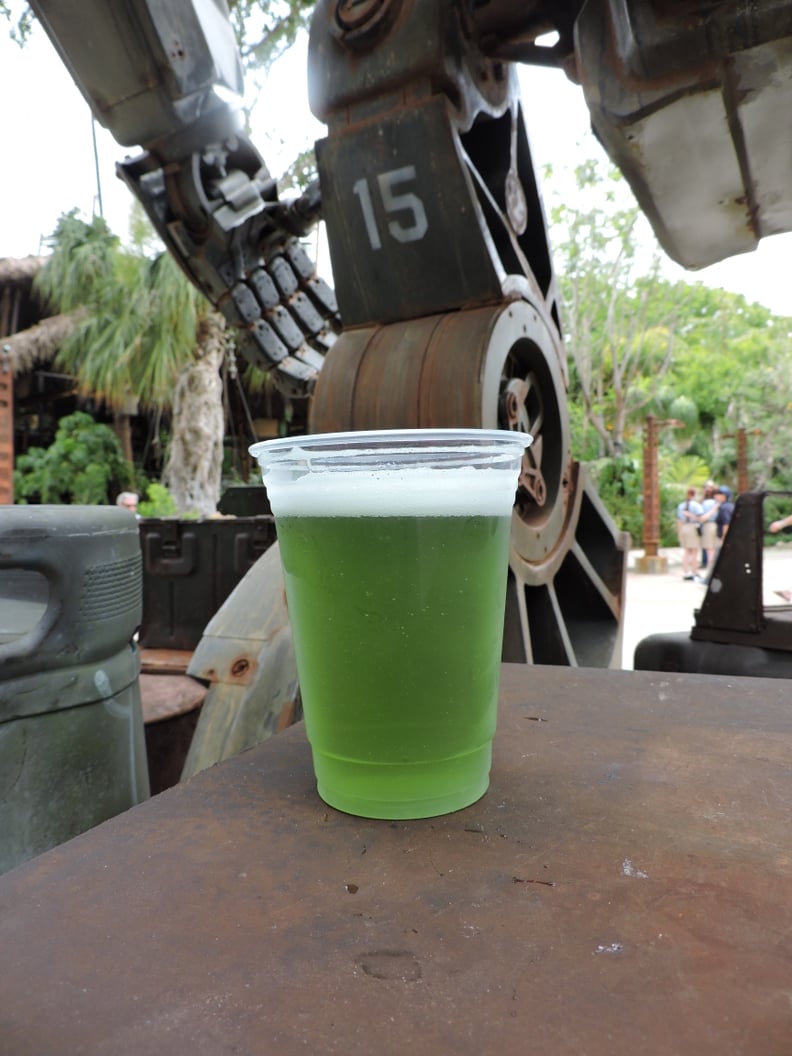 Hawkes' Grog Ale
The Hawkes' Grog Ale consists of a golden ale that's simply been dyed green. It's simple, tastes like regular beer, but looks way cooler. If you're a beer-lover, go for it!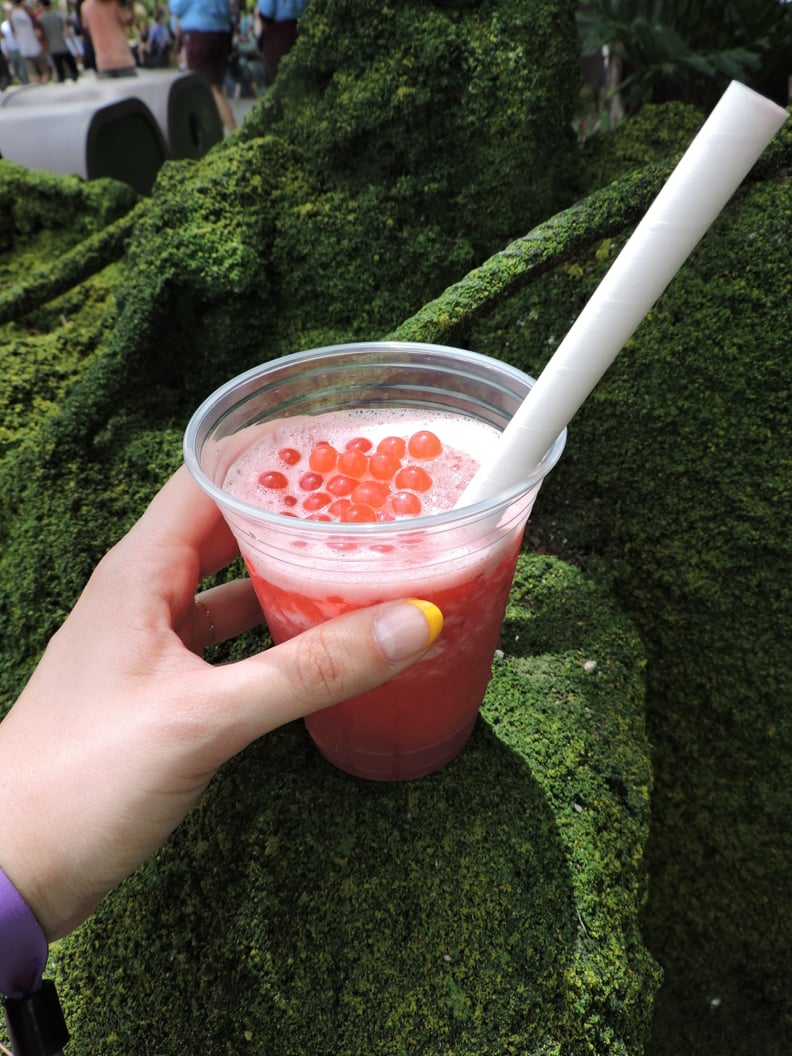 Mo'ara Margarita
The Mo'ara Margarita is certainly Pandora's strongest beverage. It consists of Sauza Conmemorativo Añejo Tequila, strawberry, blood orange, and strawberry boba balls. The drink is delightfully tangy due to the blood orange element, but there's also an undoubtedly strong tequila taste.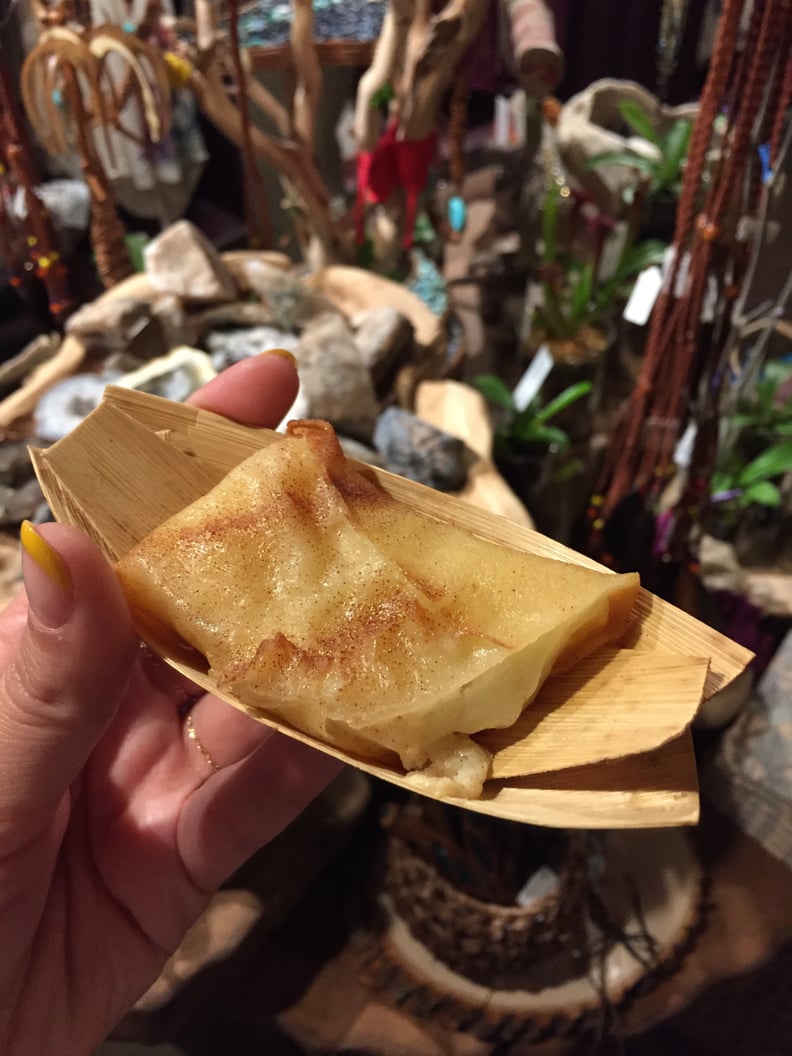 Pongu Lumpia
If you try anything at Pongu Pongu, it should be the Pongu Lumpia. While the drink selections are tasty, this spring roll filled with pineapple and cream cheese is so damn good. The snack strikes a perfect balance through the combination of the sweet flavors and wonton wrappers.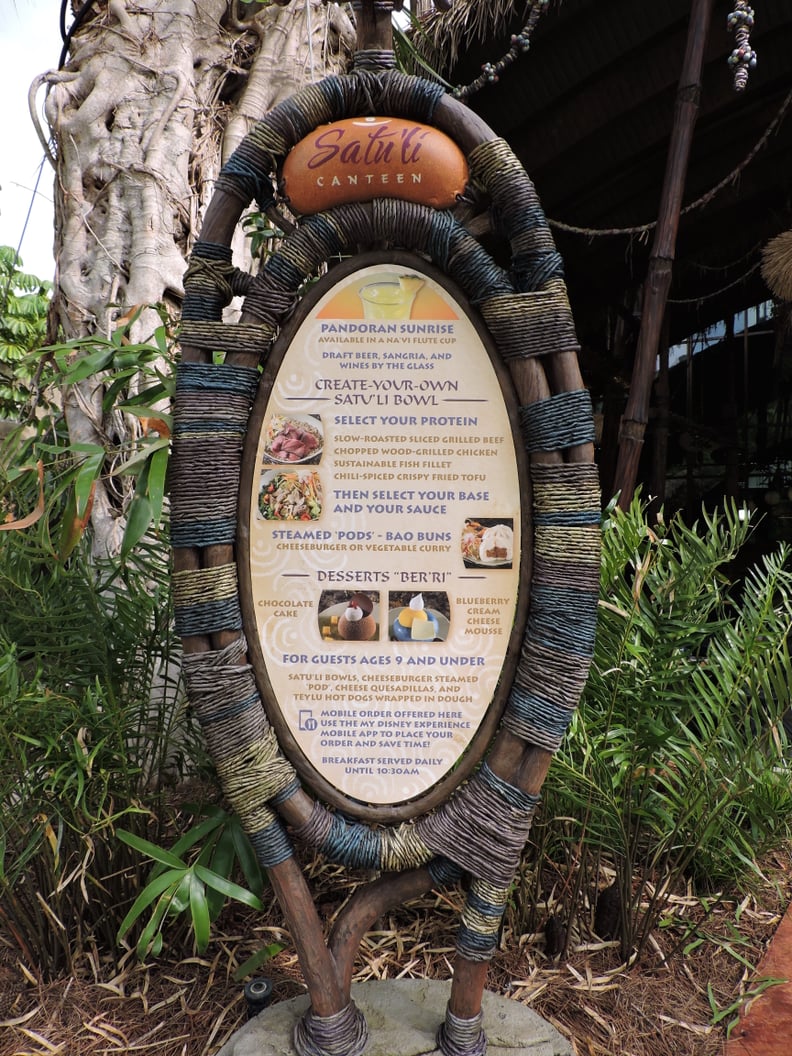 Satu'li Canteen
Steamed Vegetable Curry Pod and Cheeseburger Steamed Pod
Satu'li Canteen offers two steamed bun options. The Cheeseburger Steamed Pod is filled with ground beef, ketchup, mustard, pickle, and cheddar cheese. I was most excited to try this menu item, and I have to say I was a little disappointed. The ground beef is tasty, however the mustard somehow seemed to overpower all the other flavors.
On the other hand, I was surprised by how much I liked the Steamed Vegetable Curry Pod. Filled with eggplant, cauliflower, sweet potato, and more, this bun simply offers more ingredients that work well together.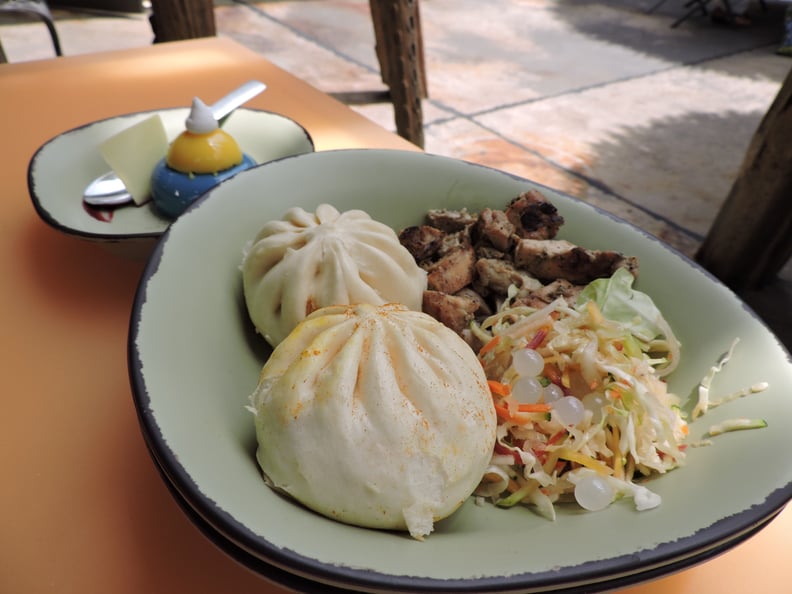 The Chopped Wood-Grilled Chicken Bowl
In addition to the two aforementioned buns, I also tried the Chopped Wood-Grilled Chicken, which is paired with the Crunchy Vegetable Slaw. The grilled chicken offered a much-needed source of protein. The vegetable slaw, on the other hand, had some issues. For some reason, the slaw had an oddly sweet taste. The addition of clear boba balls seemed out of place as they didn't add anything to the recipe.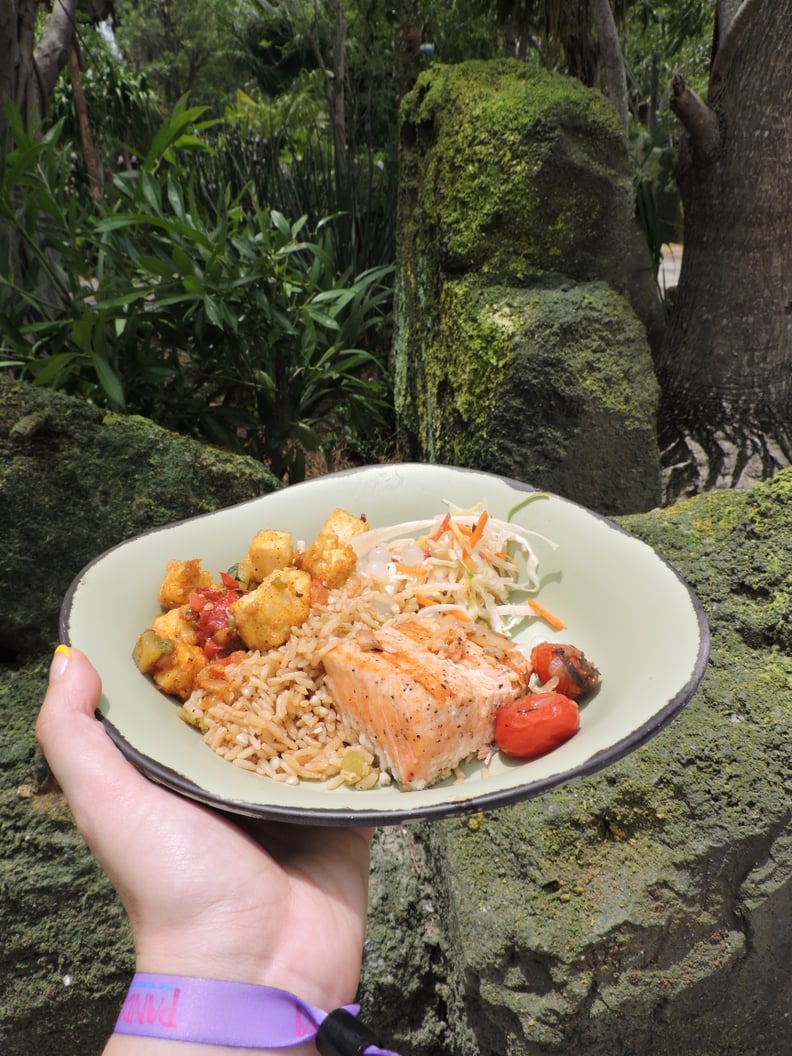 The Chili-Spiced Crispy Fried Tofu Bowl
When I visited Pandora, the Satu'li Canteen was sadly not serving the breaded fish bowl that I had been hoping to try. Instead, I had some delicious salmon, brown rice, and some of the Chili-Spiced Crispy Fried Tofu. As one of the main vegetarian options, the tofu was great! The crispy outer layer made the tofu feel indulgent, and it paired nicely with the mixed vegetables it was served with.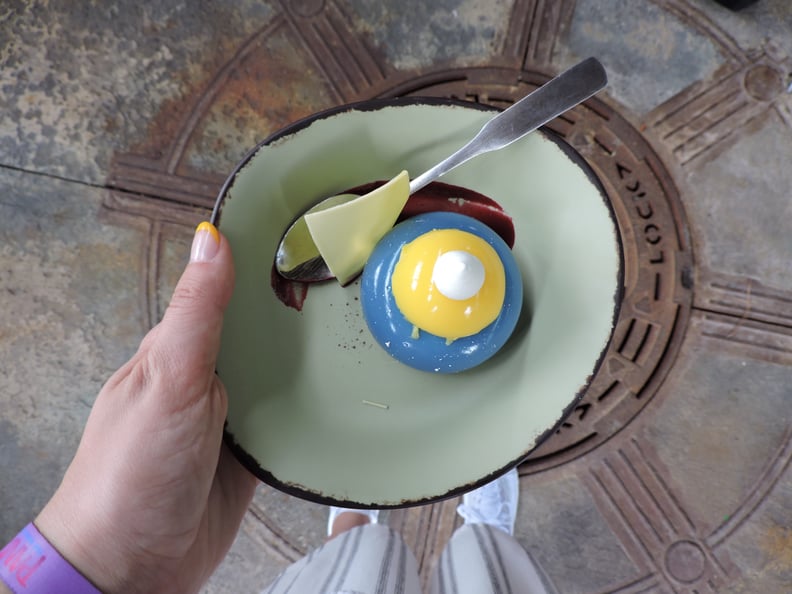 Blueberry Cream Cheese Mousse
The Blueberry Cream Cheese Mousse is Satu'li Canteen's finest. The dessert is comprised of whipped blueberry cream cheese mousse, passion fruit curd, whipped cream, and a sliver of white chocolate. When combined, all of the fruity flavors are simply magical.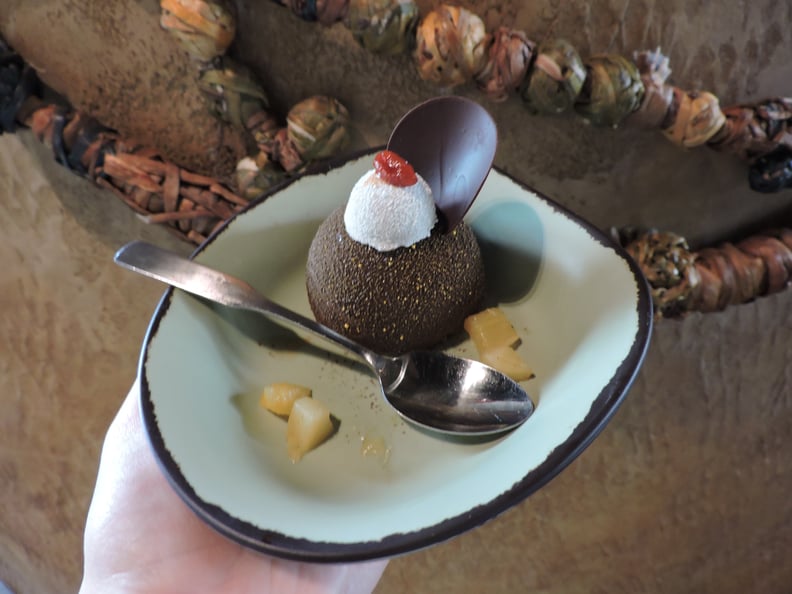 Chocolate Cake
While this dessert is good for chocolate-lovers, it's no Blueberry Cream Cheese Mousse. That being said, it's still a solid dessert option that consists of chocolate cake, a crunchy cookie outer layer, and banana cream.
Travel and accommodations were provided by Disney for the purpose of writing this post.