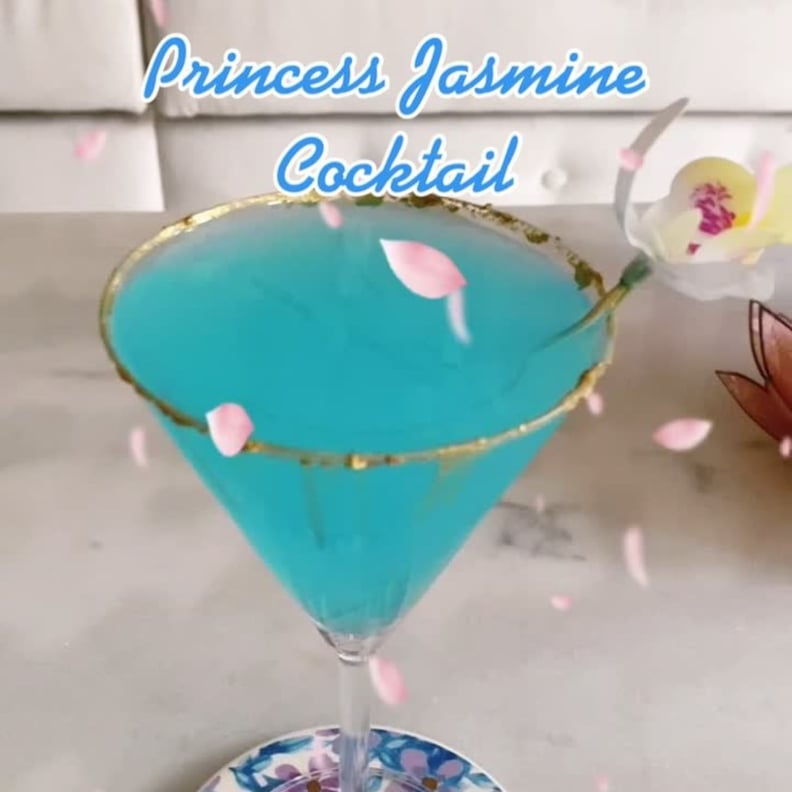 Bring the magic of Disney into your very own kitchen when you re-create the most magical drinks of all: princess-inspired libations. TikTok users know a good recipe when they see one, especially ones that involves alcohol. Complete with everyone's favorite princesses and some of the most beloved characters of all — how could we not include Tinker Bell? — these themed drinks are both magical and delicious. With a drink that matches Jasmine's outfit to a tee to a blue-and-pink-colored cocktail that would make Aurora's fairy godmothers blush, these alluring concoctions are as sweet as the Disney movies themselves.
The perfect pair for Disney-themed parties or at-home movie marathons, these spellbinding recipes are sure to make you believe in magic. Whether you're leaning more towards gin or whiskey, vodka or tequila, you'll get an enchanting buzz no matter what spirit you choose. Not to mention, these drinks are chic enough to make you feel like pure royalty with every sip you take. Keep reading to see the most magical Disney-princess-inspired cocktail recipes from TikTok, ahead.
Ariel-Inspired Cocktail
A stiff shot of gin mixed with blue curaçao is bound to be good. Inspired by The Little Mermaid, this drink will take you away to a beach vacation far, far away. Add candy sharks or Swedish Fish if you really want to channel the ocean.
Aurora-Inspired Cocktail
The fairest drink of all, this Sleeping Beauty libation is colorful, cute, and simply charming. With the same pink-and-blue hue that the fairy godmothers fought over, this drink is as magical as it gets. Garnish it with sweet treats for best results.
Aurora-Inspired Cocktail
Get the pick-me-up you needed when you re-create this so-called "Aurora Wake-Up Call." It features pink lemonade vodka, charming sparkles, and a blue liqueur that looks sweet enough to cure any and all of your cravings. Sorry, coffee, but this drink is way better.
Aurora-Inspired Cocktail
Perfectly pink, this Aurora-inspired cocktail is absolutely enchanting. Complete with raspberries and rosé, what could be better? Garnish with blue-colored candy to make it complete.
Alice-Inspired Cocktail
Go down a rabbit hole when you sip on this baby blue concoction. With a color that matches Alice's charming dress, this drink will put anyone into a tizzy. Cheers!
Belle-Inspired Cocktail
This lovely yellow cocktail is just as chic as the princess herself. Made with vodka and elderflower liqueur, this drink is sweet, alluring, and so easy to drink. Raise your glasses for Belle!
Cinderella-Inspired Cocktail
Blue, beautiful, and a drink that will definitely keep you out past midnight, this Cinderella-themed cocktail is as magical as they come. Topped off with a splash of Prosecco, you'll be toasting to this libation all night long.
Cinderella-Inspired Cocktail
This drink features blueberry-flavored vodka, so you already know you're in for a treat. With a hint of cream soda and blue curaçao, this cocktail is fit for royalty.
Jasmine-Inspired Cocktail
This gorgeous drink matches Jasmine's outfit so perfectly, it has to be magic! With a hint of coconut rum and passion fruit vodka, this fruity drink will take your taste buds to a whole new word.
Megara-Inspired Cocktail
Want a strong drink? This Hercules-themed concoction was made for you. It has a hint of strawberry and lime juice, meaning it's just as spunky as the beloved Megara. And to that, we'll cheers!
Merida-Inspired Cocktail
Fly high when you sip on this bright green libation. Gin and vermouth work together to make this drink come to life, while the curly and cute orange slices give it the perfect amount of detail. Anyone brave enough to drink this?
Mulan-Inspired Cocktail
Lemons, Rosé, and grenadine pair up to make the coolest drink of all. Inspired by the warrior herself, this red-hot libation was made for the strong and courageous.
Mulan-Inspired Cocktail
Crown Peach and sakura syrup are the two key ingredients you need to make this Mulan-inspired cocktail. With the bright flavors of cherry blossoms and whiskey, this drink is as delicious as they come.
Pocahontas-Inspired Cocktail
This "Colors of the Wind" cocktail is fruity, light, and filled with booze. With hints of rum, pineapple, and lime, this drink pairs well with a sunny day and the great outdoors.
Rapunzel-Inspired Cocktail
Empress Gin is the star ingredient in this Tangled creation. With strawberry vodka and a hint of lemon juice, this drink is oh so refreshing. Rapunzel, we thank you for inspiring our new favorite drink!
Tiana-Inspired Cocktail
White rum and Ginger Ale are the dynamic duo you didn't know you needed in a drink. This sweet yellow cocktail was fashioned after the princess's yellow work dress, and wow, is it good. Shake this up the next time you need a pick-me-up.
Tiana-Inspired Cocktail
As pretty as Tiana's gorgeous ballgown, this cocktail is a dream come true. Vodka and Prosecco make this drink a boozy masterpiece, giving you the buzz you were looking for. No need to kiss a frog to make this drink come to life.
Tinkerbell-Inspired Cocktail
All you need is faith, trust, (vodka,) and a little bit of pixie dust to make this enchanting drink come alive. With an alluring green hue, no one will be able to turn down this fun creation. Let the mischief begin!