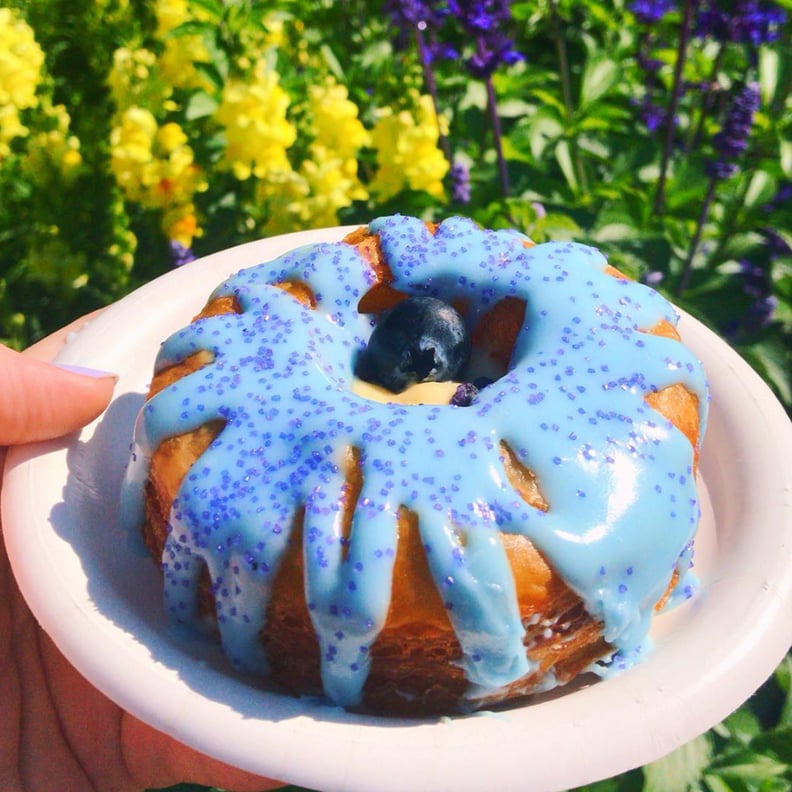 In celebration of the Spring weather, Epcot is hosting its annual International Flower and Garden Festival and, of course, it's all about the food. While the festival has welcomed a variety of food booths that share absolutely mouthwatering treats, the Taste Track food cart might have just won us over with this must-have Violet Vanilla Blueberry Croissant Doughnut (better known as a cronut). Look at that blueberry icing!
Complete with candied violets and real blueberries on top, this delectable dessert is also stuffed to the brim with lemon pastry cream, so it's no surprise that it's gotten rave reviews from those lucky enough to try it. "Nothing like a Violet Blueberry Vanilla Croissant Doughnut to make a trip to Disney even more magical," said Instagram user Chasing Doughnuts. "Two weeks later and I'm still thinking about this violet blueberry vanilla cronut I had at Flower and Garden 😍," Instagram user melthemermmm added. So messy, but so worth it.
Available for $6.50 at the Taste Track food cart, the flaky croissant-doughnut combo is definitely a next-level Disney dessert. Epcot's International Flower and Garden Festival runs through June 3, so stop by to taste a blueberry vanilla cronut of your own, and see photos of the amazing dessert ahead.