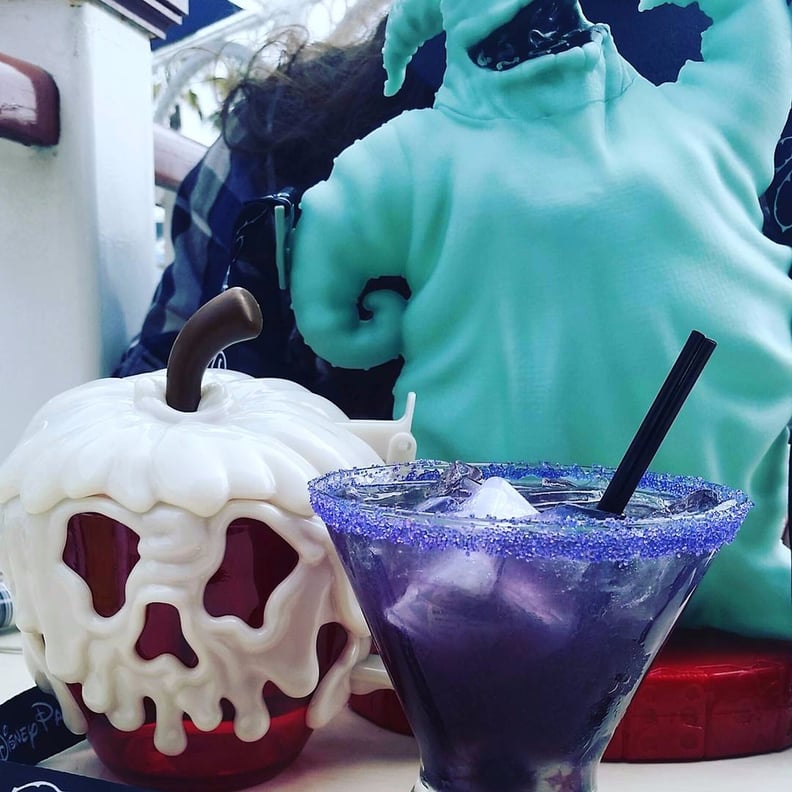 Of all the delightfully spooky treats we've seen from Disneyland this Halloween season — and there are many — the seasonal cocktail from California Adventure's Cove Bar is our favorite, for more than just its flavor. First, because there's alcohol. A day at a theme park is even better when you can unwind with a drink and watch the World of Color show! And second, because of the drink's aesthetic: a dark purple hue with a glowing ice cube and a lychee fruit "eyeball" floating inside.
The restaurant menu describes the drink as a $14 vodka and Chambord concoction vaguely named "The Halloween Specialty Cocktail." (It's not the only spooky item on the menu for Halloween, either; Cove Bar also has spicy "Ghost-ly Pepper Nachos" all season.) Park-goers have gone absolutely bonkers over the gorgeously goth drink, describing it as "spooky sweet" with a lychee and maraschino cherry garnish that has the consistency of an eyeball.
Drop a glow cube inside, and the dark drink glows vivid purple while you enjoy it on a crisp Fall night. Sounds like Halloween perfection, no? If the description doesn't convince you that this cocktail should be first on your edible Halloween bucket list, just check out these creepy pictures!