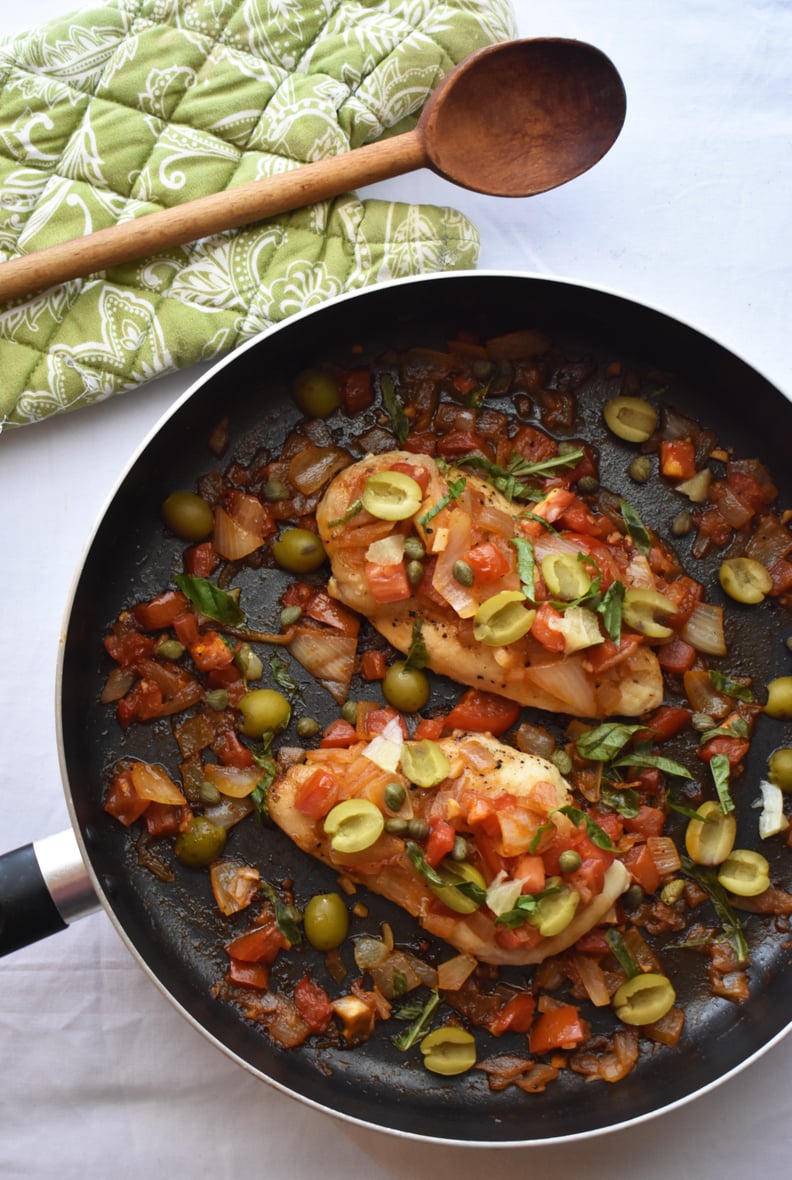 POPSUGAR Photography | Sara Cagle
POPSUGAR Photography | Sara Cagle
Next on your list of basic dishes to master should be Gordon Ramsay's chicken cacciatore, a visually stunning entree of chicken breast in a light tomato sauce with onions, olives, and capers, finished with lemon and basil. A light coating of flour totally transforms the chicken. Notorious for being dry and bland, the chicken breast in this dish is instead moist and perfectly browned, its seared exterior giving way to impeccably tender meat.
The chicken is sauteed in olive oil and a touch of butter for two minutes on each side so it's caramelized and rich in flavor, then set aside. The key to Ramsay's chicken cacciatore, though, is its base of caramelized onions splashed with white wine to create a rich syrup that lends sweetness to the otherwise savory entree. It's so robust that it brings out the natural brightness in the flavors of the tomatoes, olives, and capers, and it's why the chicken needs no seasoning other than salt and pepper.
Once the sauce reduces, the chicken returns to the pan and finishes cooking in the wildly aromatic, simmering sauce. A vibrant medley of olives, capers, diced lemon (yes, diced!), and basil chiffonade (basically, twirled ribbons of basil) is sprinkled over the dish, which looks incredible when served straight from the pan. The best part? It's ready in less than 30 minutes. (And all without Ramsay's infamous yelling.) I was amazed at how each bite was bursting with summery flavor without any additional ingredients. Give this dish a try once, and you'll soon want to make it for every occasion — as both an easy weeknight meal for yourself and as a beautiful, healthy dish for guests.
Get the recipe: Gordon Ramsay's chicken cacciatore