Everything You Need to Know About Gordon Ramsay's New Hell's Kitchen Restaurant in Vegas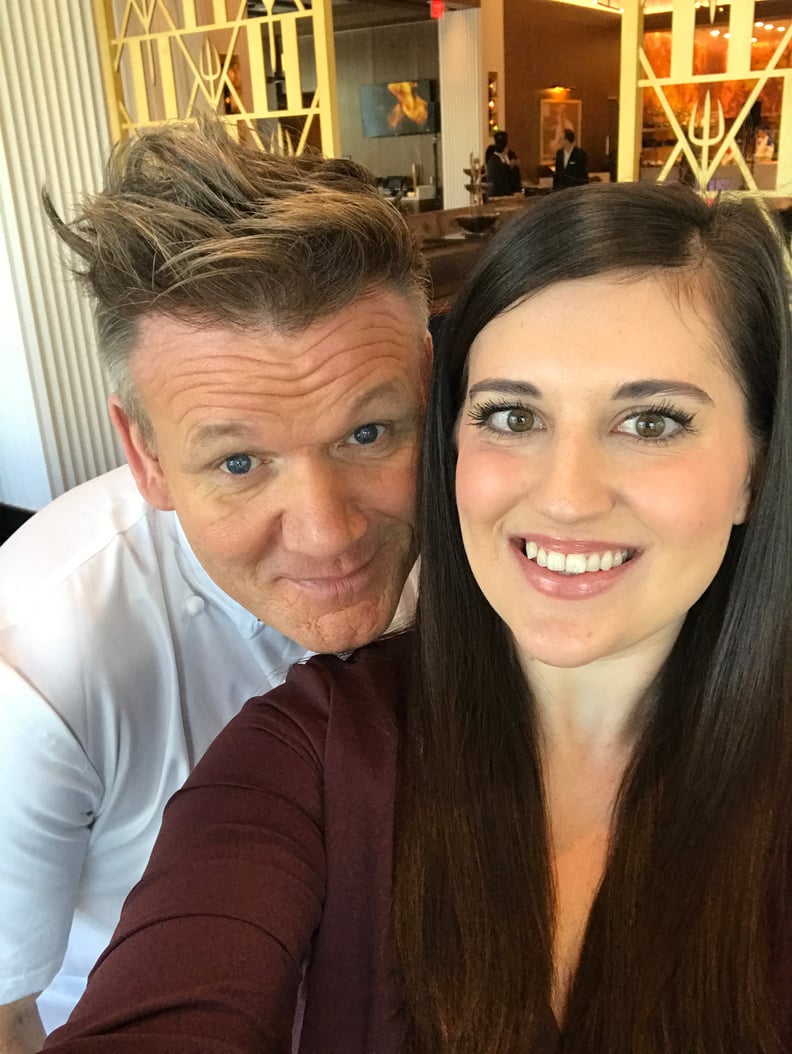 POPSUGAR Photography | Erin Cullum
POPSUGAR Photography | Erin Cullum
Gordon Ramsay has 34 restaurants around the world, but none are quite like the new Hell's Kitchen-themed restaurant that just opened in Las Vegas. Located at Caesars Palace, Hell's Kitchen is an 8,000-square-foot restaurant that combines elements of the TV show with Gordon Ramsay's signature dishes for a truly unique dining experience. I got to dine at the restaurant during the grand opening and sit down with Gordon to talk about the exciting, much-anticipated destination.
"The location is extraordinary. I do have to pinch myself," he told POPSUGAR. Fans of the Fox show, which is currently in its 17th season, will recognize items and themes from the Hell's Kitchen set throughout the restaurant. The meticulously designed space has red and blue details throughout, and the cooks in the kitchen wear the same red and blue jackets and bandanas, mimicking the competitive environment in a bustling, open kitchen ablaze with onscreen flames. The difference is this isn't a show. "There's no f*cking around in here. It's the real deal," Gordon said. You'll find pitchforks throughout the restaurant, too, from the bathroom door handles to the custom napkins. It's themed, but it's most definitely "not a theme park," Gordon said sternly.
Led by executive chef Jennifer Murphy, the kitchen is turning out pan-seared scallops, braised short ribs, lobster risotto, baked macaroni and cheese with smoked Gouda, herb-crusted rack of lamb, beef Wellington, and much more as quickly as possible. Come hungry, because there's a lot to eat — and all of it is as perfectly cooked as you'd hope. Expectations are high, and when season 17 of Hell's Kitchen All Stars wraps, the winner will be named head chef.
This is a must-visit restaurant for every Gordon Ramsay and Hell's Kitchen superfan, but make no mistake: securing a spot during your trip to Vegas will take some planning. After the restaurant opened up reservations in mid-January, the bookings came flooding in — 25,000 of them, to be exact. Hell's Kitchen fits approximately 300 guests and is open from 11 a.m. to 10 p.m., Sunday through Thursday. It stays open an hour later on Friday and Saturday, so you do have options, and walk-ins are welcome if there is room. But reservations are recommended, and if you can't access your preferred date online, you can call the restaurant directly and book as far in advance as you'd like.
Itching to learn more and see what Hell's Kitchen come to life is really like? Read on for a first look and a full recap.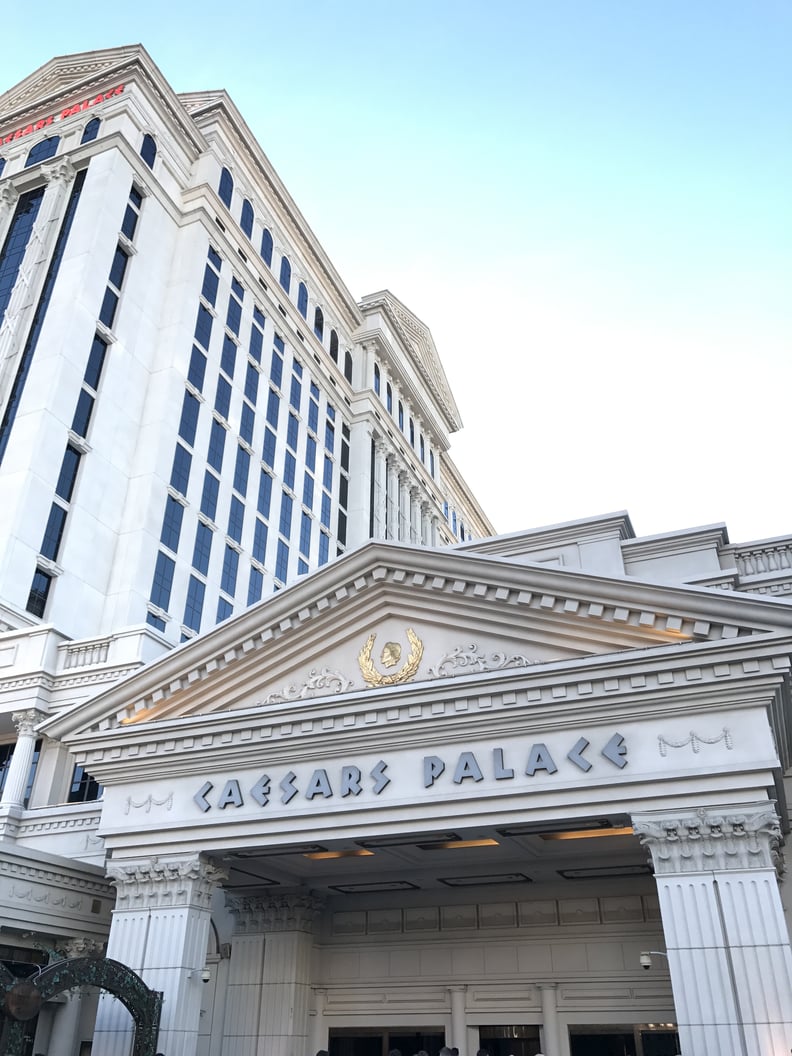 It's part of Caesars Palace, located right across from the main entrance to the hotel.
This is Gordon Ramsay's fifth restaurant in Las Vegas, and it extends his partnership with Caesars Entertainment. Walk out the doors of the hotel's main entrance at 3570 S Las Vegas Boulevard, and you'll see the towering building with a sign that reads "Gordon Ramsay's Hell's Kitchen" (it's got the bronze pitchfork straight from the set of the show; you really can't miss it). The new restaurant takes the place of Serendipity 3, which closed in Jan. 2017. You don't have to be a guest at Caesars Palace to access the hotel or any of its restaurants — just walk right in . . . if you can.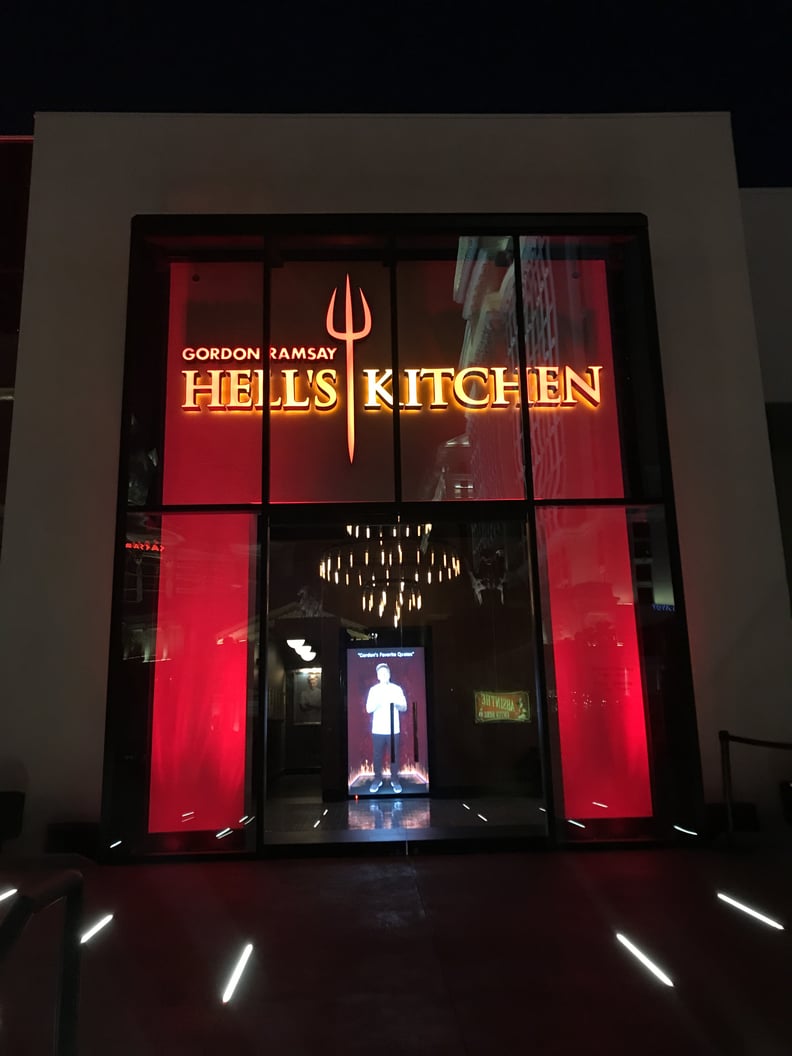 The entrance of Hell's Kitchen is iconic.
See what I mean about the conspicuous pitchfork? Walk up to the electrifying entrance of Hell's Kitchen, and you'll soon be greeted by a video of Gordon welcoming you to the restaurant. From the start, there's an excellent mix of entertainment and a fine-dining environment, a combination that could become kitschy if not capped at the right amount.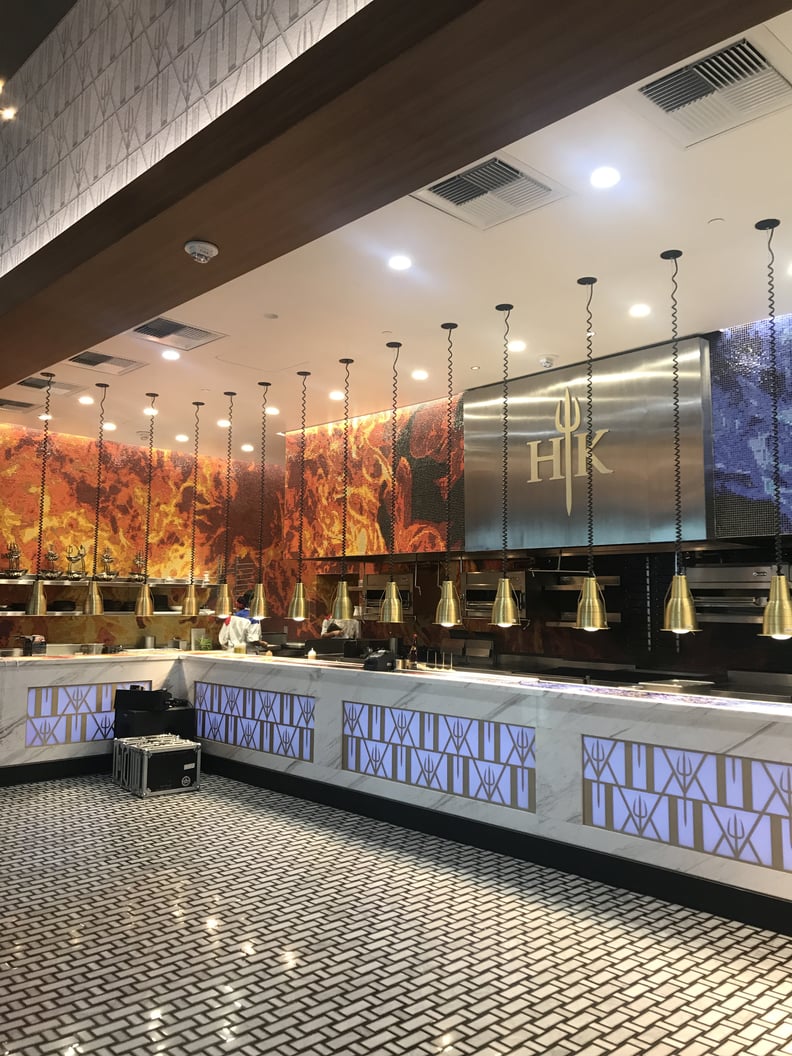 You can watch the cooks work their butts off in the open, high-energy kitchen.
Part of the fun of eating at Hell's Kitchen is watching the talented chefs and cooks on the line, working so seamlessly that they barely even need to talk. "You'll hear the ferociousness of the kitchen," Gordon said, and the energy is palpable.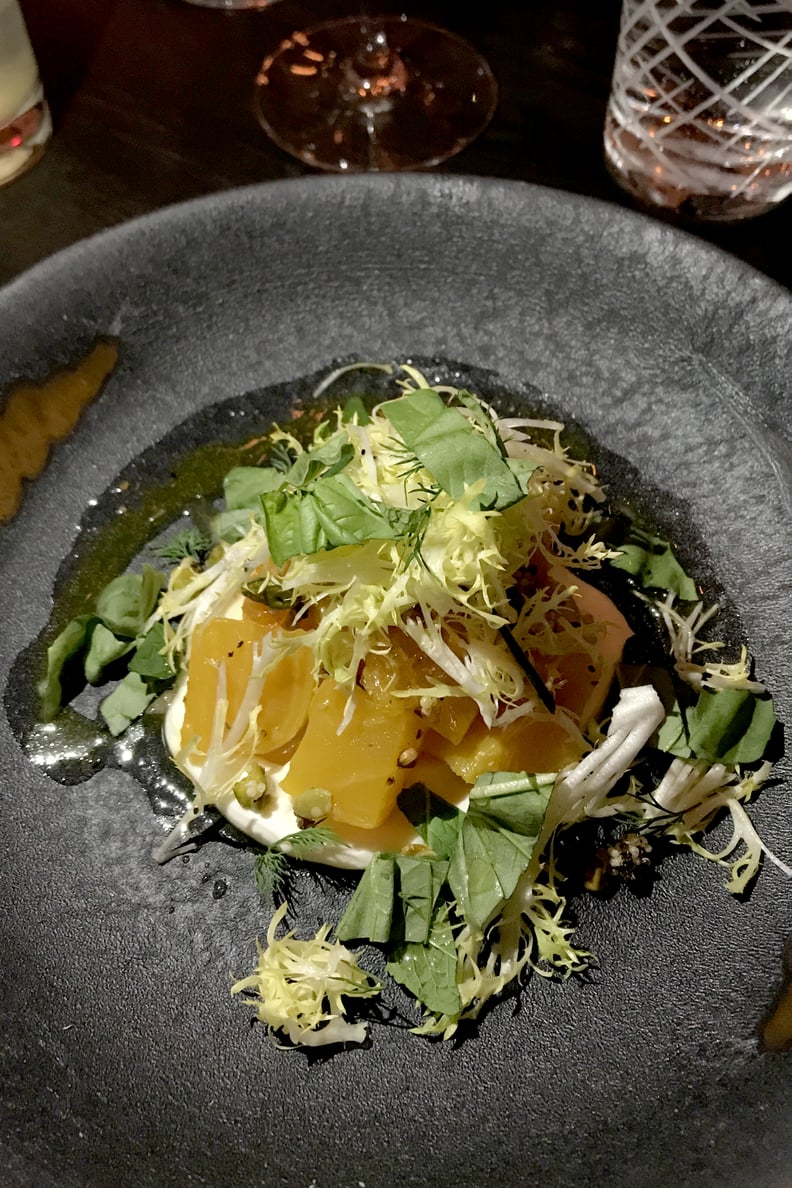 Every single thing on the menu is beautifully presented, including the salads.
The smoked golden beets salad ($21) offers a light, refreshing start to dinner. The earthy beets are accompanied by a bed of Greek yogurt, a crunchy pistachio granola, kumquats, and a tangy white balsamic vinaigrette.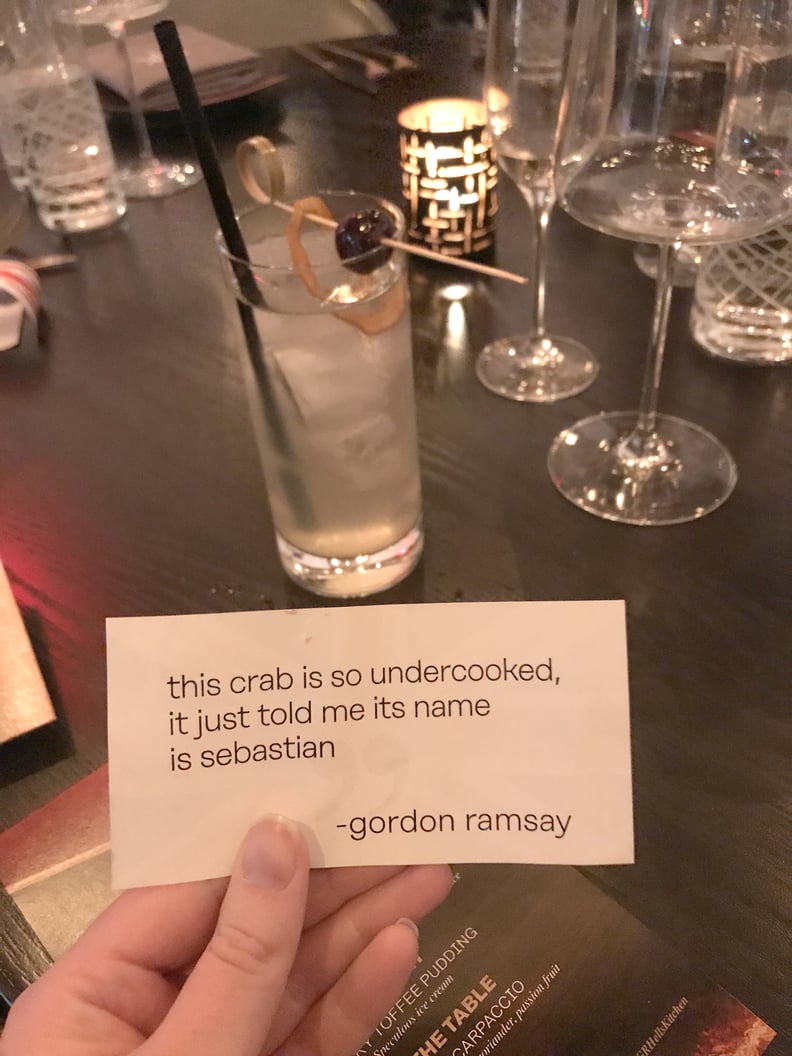 Order the "Notes From Gordon" cocktail to get a classic insult from the chef.
The Notes From Gordon cocktail ($14) on the rocks (with Plymouth gin, green tea, lemongrass, peach, and lemon) is delicious, but the key ingredient is the message from Gordon. "This crab is so undercooked, it just told me its name is Sebastian" and other sweet compliments from the chef — which are printed on a British flag scroll — will have you chuckling as you sip.
I'll be dreaming about the lobster risotto with butternut squash and sage for weeks.
Listed as an appetizer, the lobster risotto ($24) is not as big of a portion as an entrée, but it's so rich that you won't mind. Slowly taking bites of the creamy risotto and butter-poached lobster allows you (and maybe a friend) to savor the decadent dish.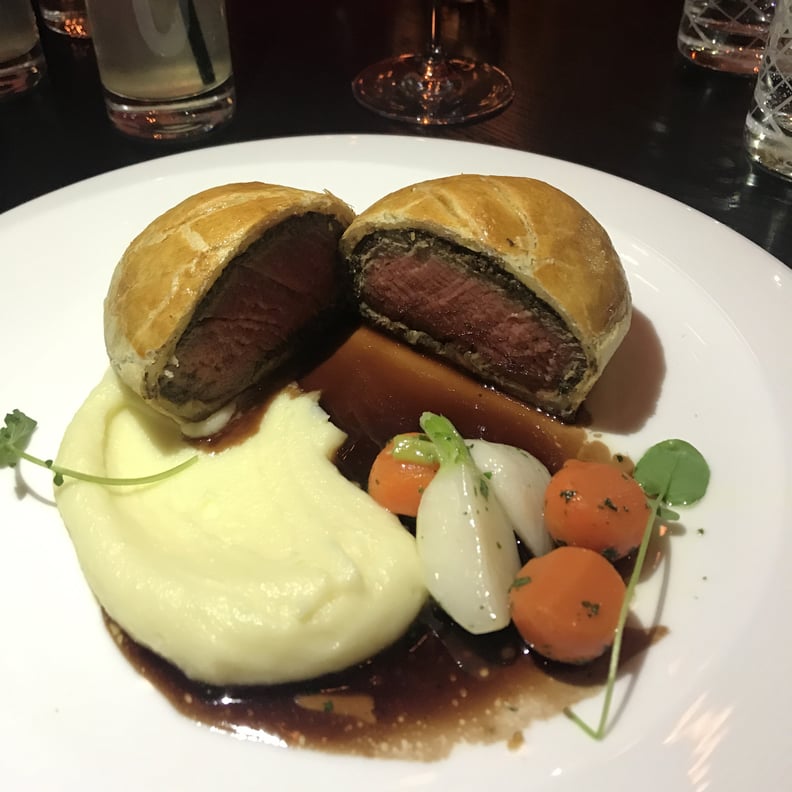 Getting the beef Wellington is a MUST.
It wouldn't be a Hell's Kitchen-themed restaurant without Gordon Ramsay's famous beef Wellington ($49). The tender, puff pastry-wrapped filet mignon comes with a silky potato purée, glazed root vegetables, and a red wine demi-glace sauce. Having tried it firsthand, I can confirm that you'd be an "idiot sandwich" if you leave without a bite — it's so worth the hype. The restaurant is also able to accommodate vegetarians who want to try something similar, offering a sweet potato-stuffed version instead.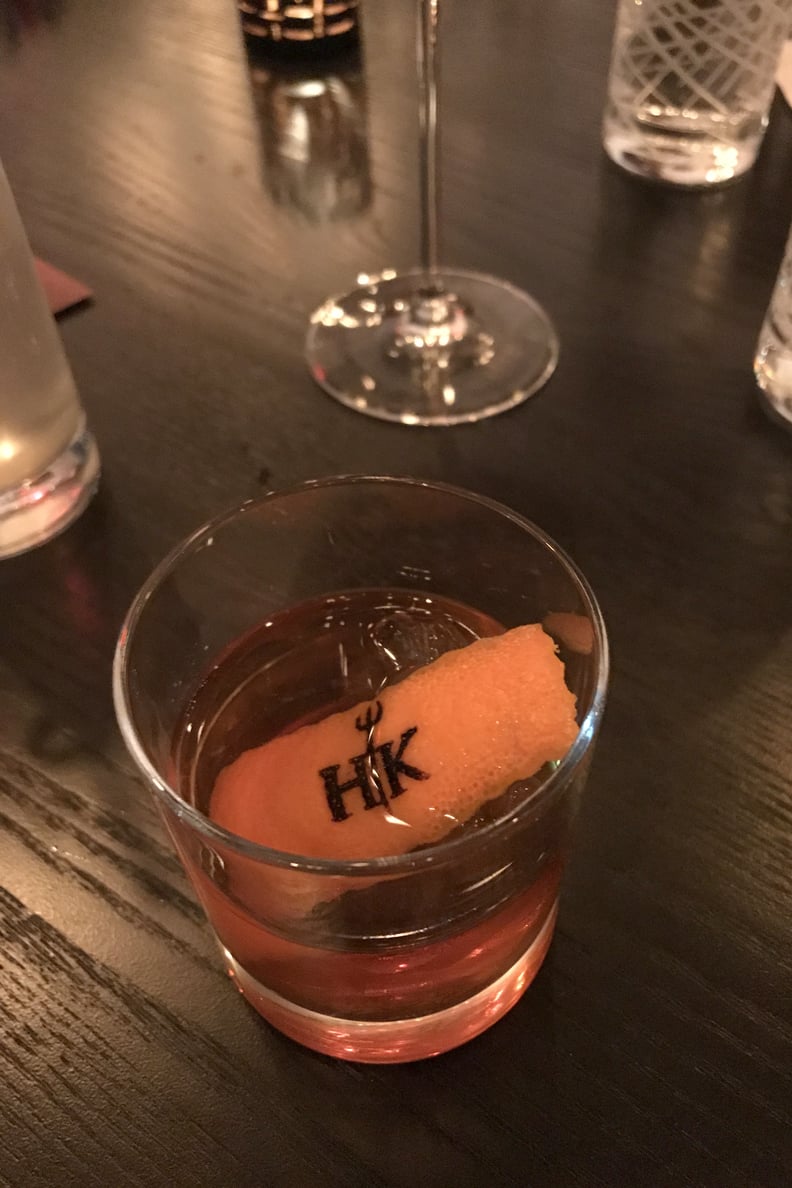 There are pitchforks everywhere . . . even on the cocktail garnishes.
The Smoke on the Boulevard ($16) has Woodford rye whiskey, Amaro Averna, and sweet vermouth, and it's smoked with cherry wood for added intensity. It's tied together with an HK-branded orange peel, complete with a pitchfork symbol.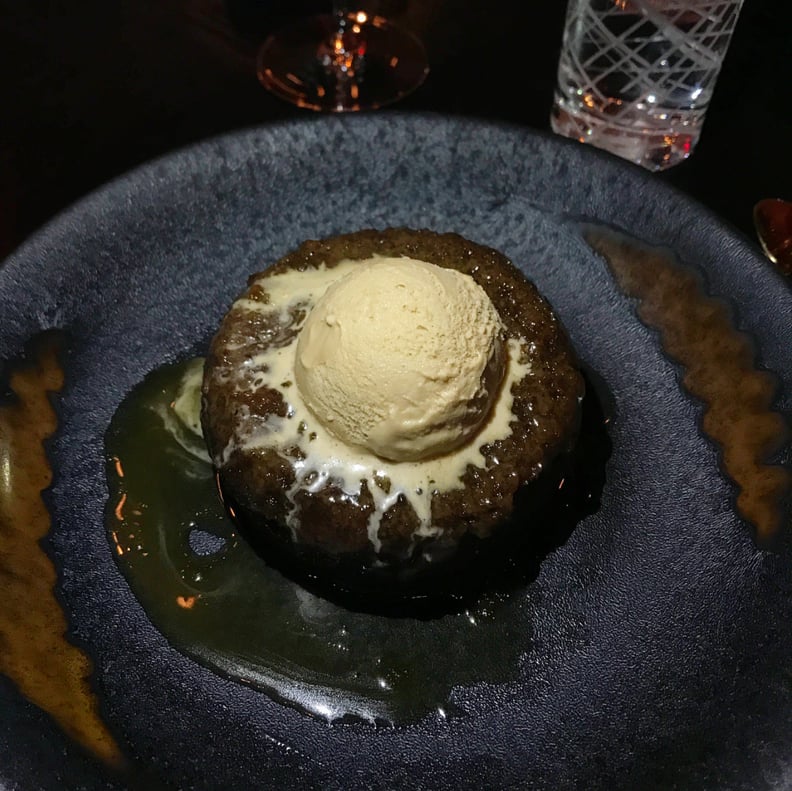 The sticky toffee pudding might be the best thing on the menu — Gordon even says so.
When I asked Gordon what the best thing on the menu was, he said, "Every time I put a new version of my sticky toffee pudding, the f*cking thing just gets better and better. I don't know whether it's the salted caramel or the amount of toffee that we steep inside." The Hell's Kitchen version of his sticky toffee pudding, which is a traditional British sponge-cake dessert, comes with speculoos ice cream, and it's a match made in heaven.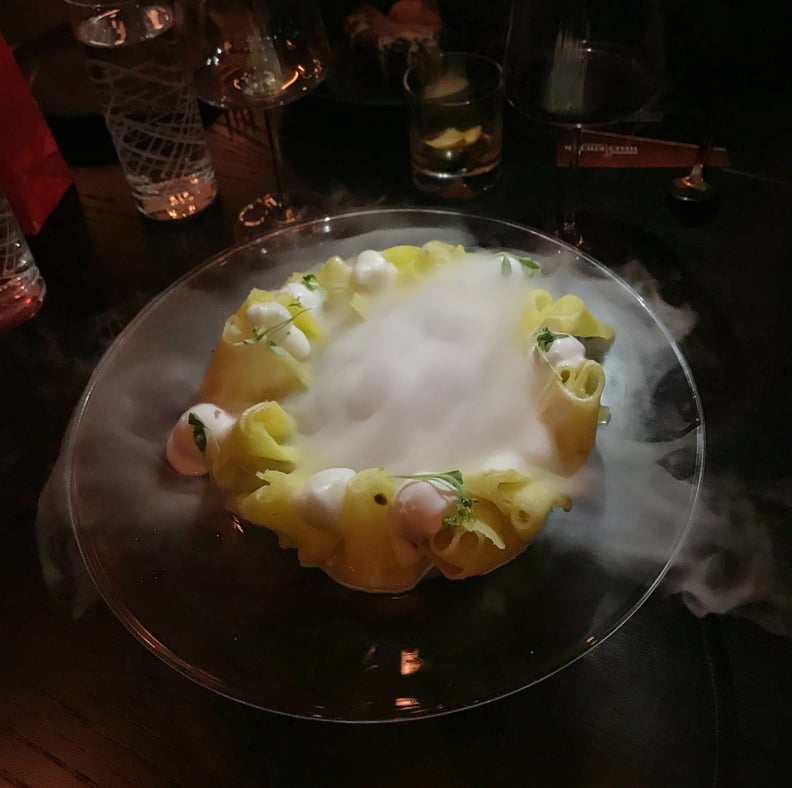 The pineapple carpaccio is worth it for the tableside experience alone.
Another interesting dessert option to share is the pineapple carpaccio, with citrus foam, coconut sorbet, coriander, and passion fruit. Your server will top it off by pouring liquid nitrogen in the center, creating a whirling, smoky effect.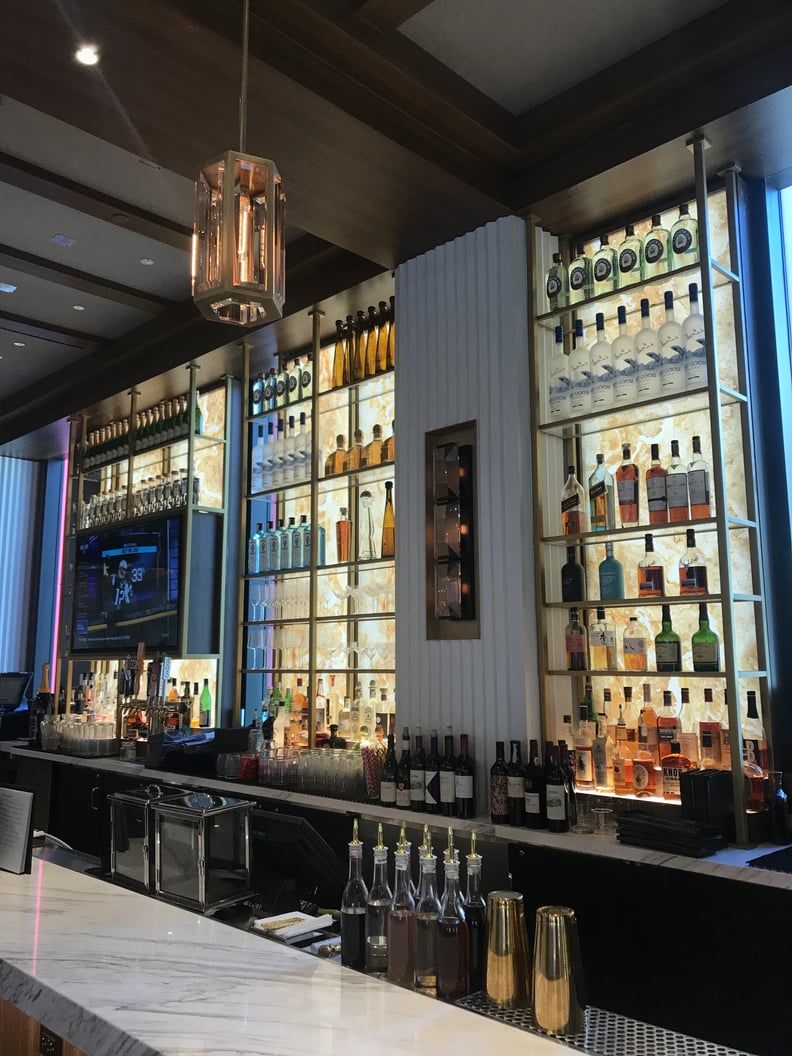 If there's a long wait, hanging out at the bar is ideal.
It's hard to say whether there will ever be a time when Hell's Kitchen isn't crowded, but at least there's a beautiful bar behind the host podium to ease the wait time a little bit. With a list of specialty and classic cocktails (mostly $15), draft beer ranging from Miller Lite to Firestone Walker Blonde Ale ($8-$10), and more than 20 curated wines by the glass, there's something for everyone.
Travel and expenses for the author were provided by Caesars Entertainment for the purpose of writing this story.