Regular Unicorn Macarons Have Nothing on This Hello Kitty Version!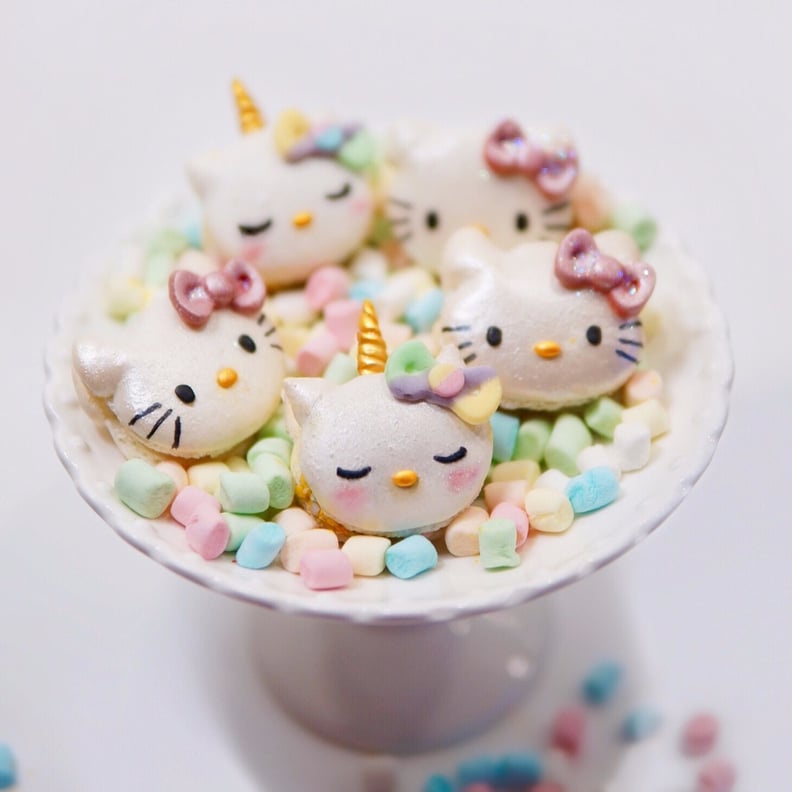 When Hello Kitty and unicorn macarons meet, the result is just about the cutest freaking thing you could possibly imagine. While we admit the unicorn trend itself is a little tired at this point (unicorn pizza isn't exactly pizza), a Hello Kitty twist on anything instantly makes it worth your attention.
Based on our Instagram searches, it looks like Hello Kitty unicorn macarons originated from a blogger named Deer Daniels, who's a Norwegian nurse who also happens to be a seriously talented baker. In his blog post for the Hello Kitty unicorn macarons recipe, he writes, "OK, this unicorn thing has already had its peak but I want to share this recipe because this macaron with filling tastes just as scrumptious as it looks cute." And after reading through the recipe, we believe it.
Daniel's recipe calls for a saffron-infused caramel filling that not only looks pretty but has a depth of flavor uncommon in most macarons. To guide the piping of the kitty-shaped macaron, Daniel suggests making a template of Hello Kitty's face and piping inside the lines. Then, you make a miniature version of a unicorn horn with fondant and edible glitter.
As doable as the recipe is (with a little patience and craftiness, that is), we don't blame you if all you want to do is look at photos of this magical dessert instead of making it for yourself. Ahead, see even more ways people have created the glorious mashup of Hello Kitty, unicorns, and macarons. Not only will you suffer from a craving macarons, but you just might experience a severe overload of happiness.