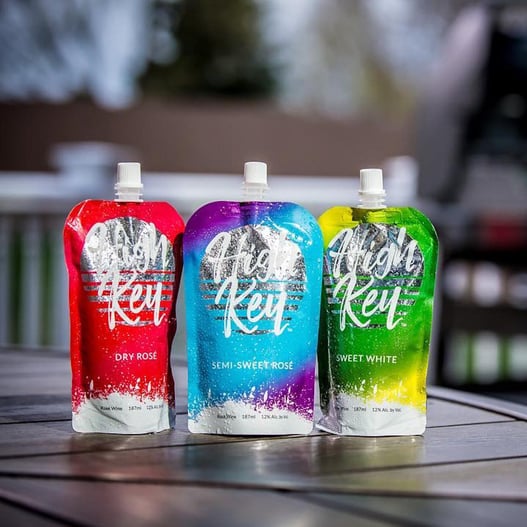 To be frank, corkscrews and I don't mix. No matter how many bottles of Sauvignon Blanc I open, I just can't seem to get the hang of doing so seamlessly, typically resulting in a butchered cork and tiny wooden chunks in my vino. As such, I'm very much on board with the portable wine pouch trend, and there's a new brand, dubbed High Key, that just launched in time for Summer beach getaways and park hangs.
High Key's lightweight, single-serving wine pouches are available in three variations: Sweet White, Dry Rosé, and Semi-Sweet Rosé. Each container features a cap that untwists to fit a straw attached to the back, so yep, it's pretty much like the adult Capri Sun you've been waiting for. If you're looking to take your Rosé where no breakable wine glass can go, you can purchase a pack of High Key's wine pouches online now. Your boozy summertime adventures await!
The Wines Come in 3 Different Colorful Pouches
Which One Do You Have Your Eyes On?
No Glass Allowed by the Pool? No Problem!
Sporting Events Just Got Even More Exciting
Imagine Sipping One of These While Watching a Beach Sunset