How to Make a Salad That You'll Crave Again and Again
Have you ever noticed that the salads you get at a restaurant actually feel like a whole meal, while the ones you make at home taste like a side dish at best? If so, you probably assume that the setting (i.e. not your house or desk) or the fact that someone else made it has something to do with it; however, the truth is that it's possible to make a restaurant-quality salad at home. To get the scoop on the best way to go about doing so, we sought out the expertise of a registered dietitian.
Dalia Beydoun, MS, RD, tells POPSUGAR that the most reliable approach to making a great salad every time is to follow what she calls "the three Cs," which refer to "crunch, color, and crave-worthy factor." As long as your salad has a balance of these three elements, you can expect it to be both nutritious and satisfying. Any salad recipe can be modified to be crunchy, colorful, and crave-worthy, but if you're building one from scratch, ahead you'll find a step-by-step breakdown of what to do and which ingredients to include, along with a few helpful tips from Beydoun. Ready to rethink your relationship to salads?
Choose Your Greens
Like any salad, you'll want to start with a bed of greens. To pack in the most vitamins, minerals, and fiber, Beydoun recommends dark, leafy green such as spinach, kale, and arugula, though you could always use whatever vegetables you have on hand. Don't be afraid to think beyond "leaves," including using things like chopped cucumber, shredded cabbage, cooked asparagus, or even zucchini as your green veggie base.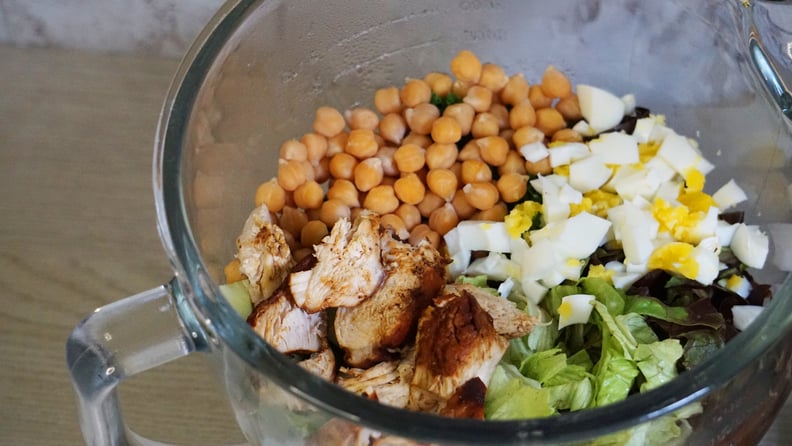 Introduce a Protein
Chicken might be the first protein that pops in your head, but eggs, quinoa, and chickpeas are also rich sources of protein. "Protein content plays a crucial role in keeping you full and satisfied," Beydoun says, so you definitely don't want to skip this step even if you don't eat meat.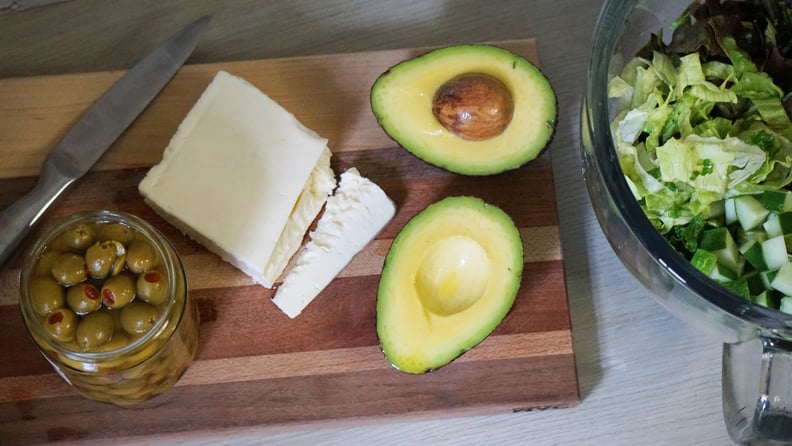 Add Fat
Adding ingredients like avocados, cheese, and olives are a good way to both bulk up your salad and introduce essential fatty acids to your meal. Don't be tempted to skip this component to make your salad "healthier," because fat actually allows your body to fully absorb all the antioxidants and vitamins from the vegetables. Beydoun is a fan of using avocado as the source of fat in a salad since it also adds a creamy texture.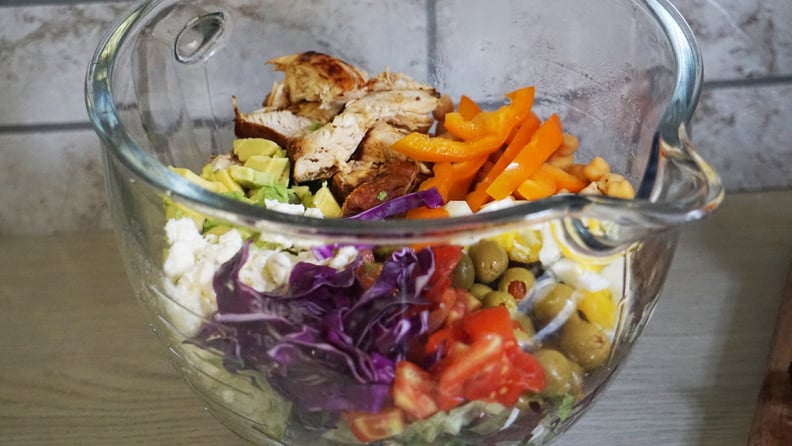 Include a Starch (Optional)
According to Beydoun, starches and carbs don't play a major role in making a salad nutritious; however, they can make them more filling, especially when you're really hungry or need to fuel yourself for a future workout. If you feel like you're always reaching for something else to munch on after eating salad, you may want to supplement it with a fiber-rich starch, such as brown rice, sweet potatoes, or even fruit.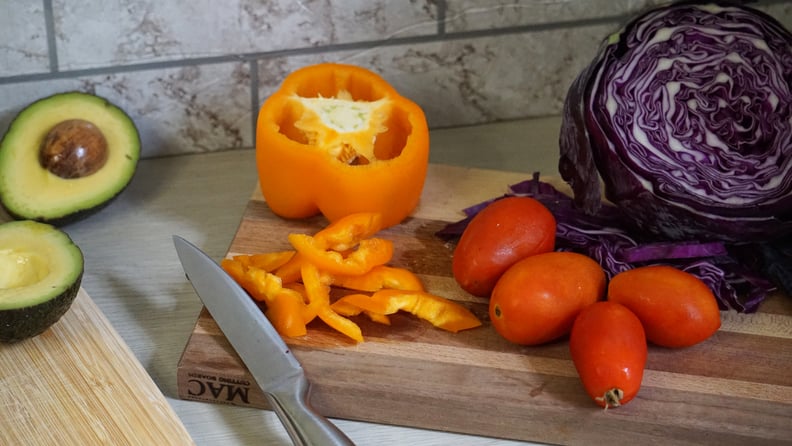 Incorporate Color
Leafy greens form a great foundation for a salad, but an assortment of colorful vegetables adds more visual appeal and nutritional value. "Deep greens, reds, yellows, and purples reflect a diverse range of antioxidants, vitamins, and minerals that contribute to overall health," Beydoun explains.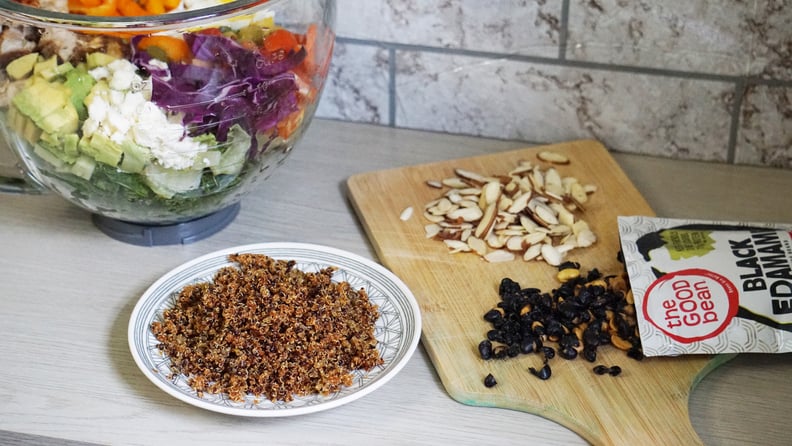 Increase the Crunch
Sometimes, no amount of salad is enough to leave you full and satisfied, and that tends to happen when there's not enough textural interest. Beyond crunchy veggies like cucumber or celery, Beydoun recommends topping your salad with other crispy, crunchy ingredients like nuts and seeds. This can also be a good place to introduce a starch such as crispy quinoa or Baked by Melissa's potato croutons.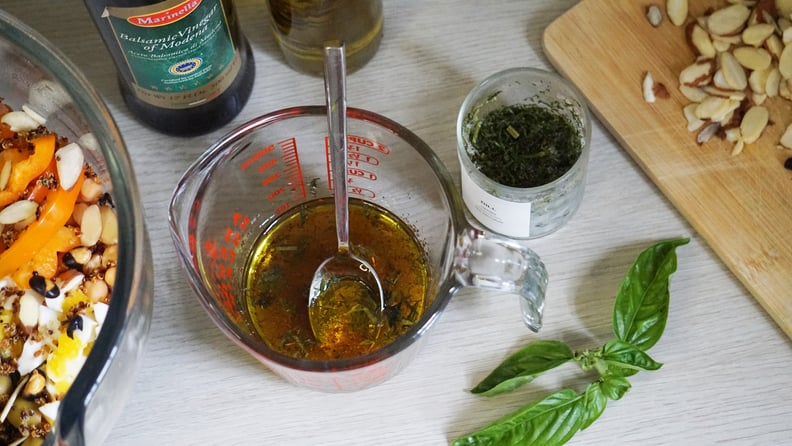 Prepare the Dressing
"A simple blend of extra virgin olive oil and lemon juice or vinegar not only elevates flavors but also aids in nutrient absorption due to its healthy fat content," Beydoun says.
To really amp up the crave-worthy factor, flavor this vinaigrette base with the seasoning you typically add to your favorite meals, whether that be pesto, everything bagel seasoning, chili oil, or something else. A satisfying combination of veggies, proteins, and other mix-ins does wonders in making a salad taste good, but a dressing with flavors you already like can really take it home.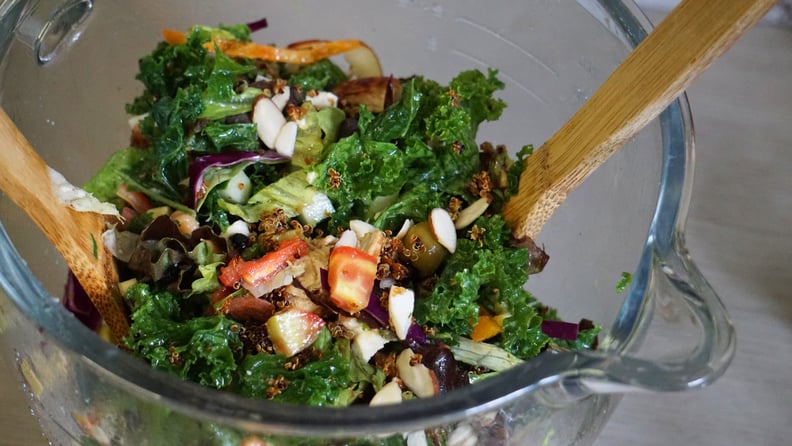 Toss and Enjoy!
Tossing the salad will allow all the components to get coated in dressing, but to ensure they're evenly dispersed throughout the salad, make sure to chop them up in uniform-size pieces. Instead of smaller pieces collecting at the bottom of the bowl, you'll be able to get a bit of everything in every single bite. Once your salad is thoroughly mixed, serve it immediately to prevent sogginess from setting in.