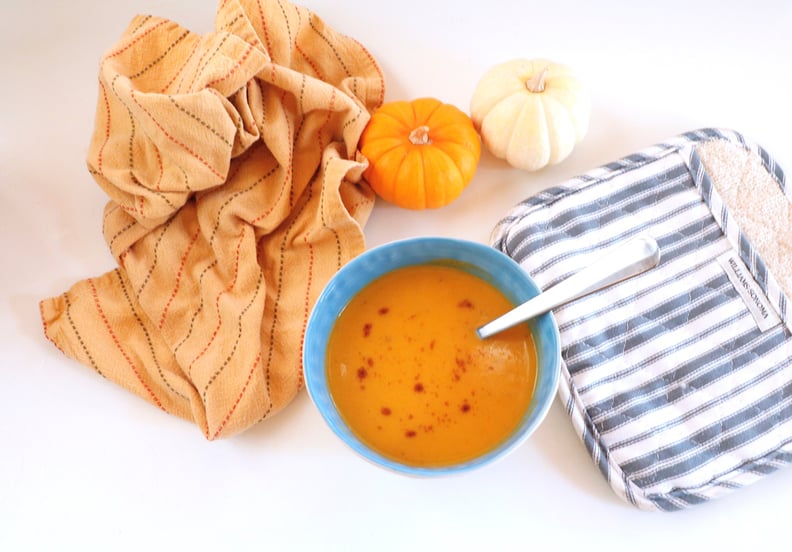 POPSUGAR Photography | Michelle Chahine Sinno
POPSUGAR Photography | Michelle Chahine Sinno
Fall soups are one of the best things about this season, whether it's for a healthy weeknight dinner or as part of a larger holiday meal. At these holiday parties with a lot of guests, however, it becomes difficult to accommodate all the different food aversions, allergies, and sensitivities. This sweet potato soup recipe is incredibly easy and quick to make in an Instant Pot and will be loved by everyone — from eaters with no restrictions to those following gluten-free, dairy-free, and even vegan diets.
Note that this recipe is measured for the smaller Instant Pot Mini Plus, so if you have a larger pot and want to double it, go right ahead!
Here are the simple steps to make this soup.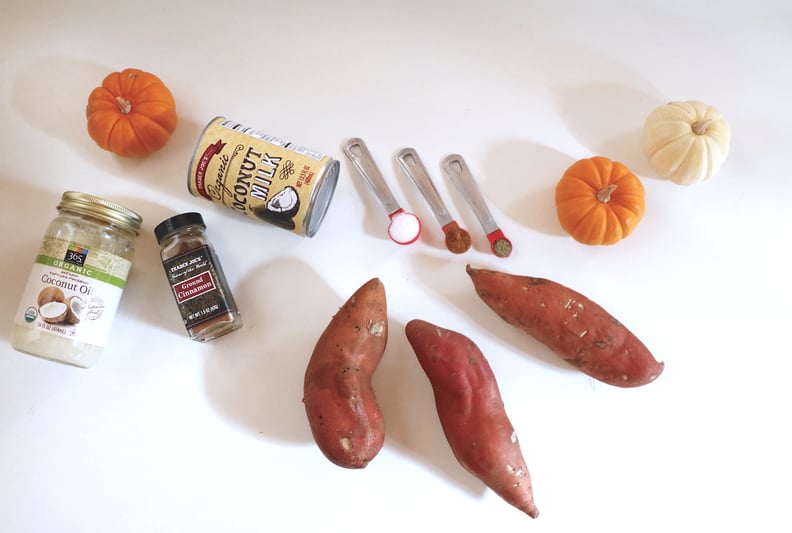 Gather your ingredients.
For this recipe, you'll need . . .
3 large sweet potatoes
2 tablespoons coconut oil
1 cup canned coconut milk
1/2 teaspoon ground cinnamon
3 cups water
1 teaspoon salt
1/4 teaspoon black pepper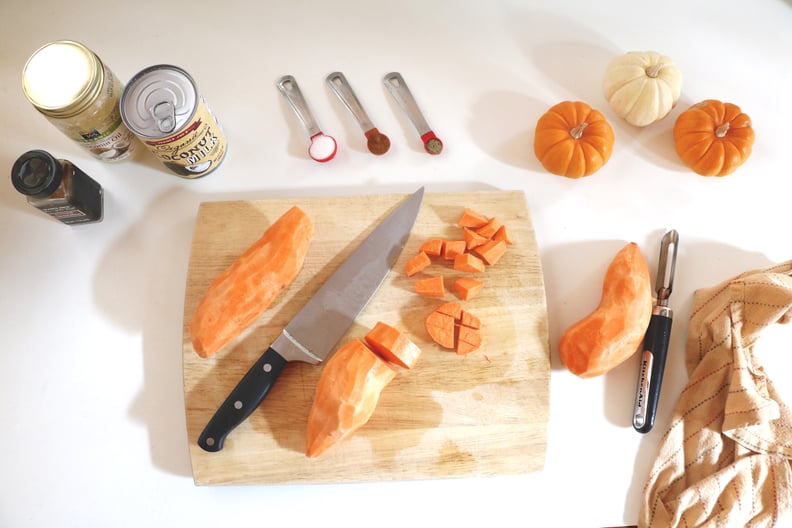 Peel and dice your sweet potatoes.
You want roughly 4 generously heaping cups of diced sweet potato.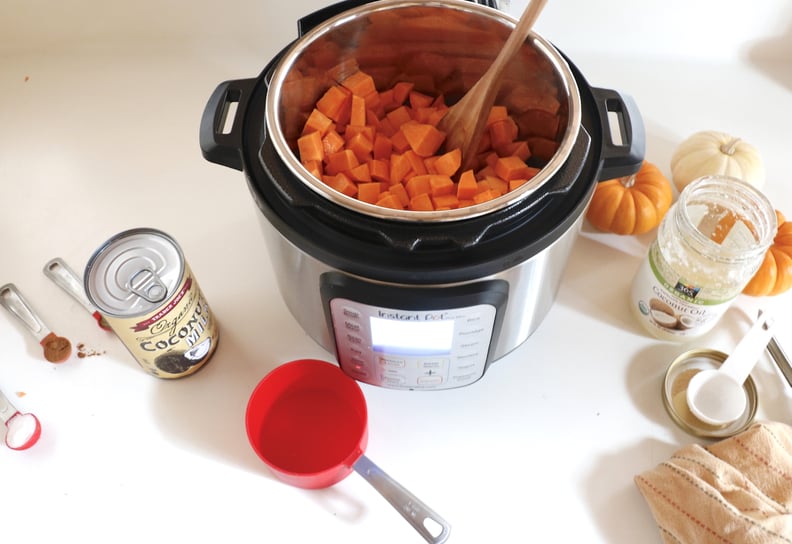 Set the Instant Pot to "Sauté."
Select "Sauté" and wait a few minutes for the Instant Pot to heat up. When the screen display switches to the word "Hot," pour 2 tablespoons of coconut oil into the pot and heat it up for 1 minute. Then add the sweet potatoes and swirl around the bottom for 1-2 minutes until it's all evenly coated with the hot oil.
Add the remaining ingredients.
Turn off the Instant Pot. Add the coconut milk, water, and cinnamon. Stir well. Then select the "Pressure Cook" option (or "Manual," if you don't have it) and set the time to 8 minutes. (Remember that it will take around 10 minutes for it to reach pressure cooking level before the screen displays the 8-minute countdown.) Make sure your steam-release valve is set to "Sealing."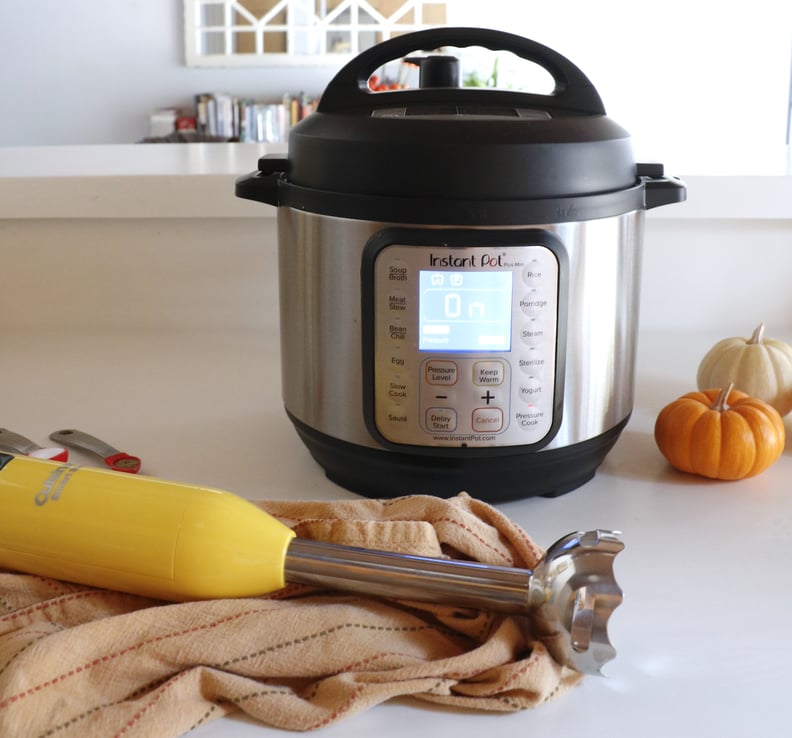 Get your immersion blender ready.
As someone who came very late to the immersion blender game, I'm on a mission to spread the word about this fantastic, life-changing kitchen tool. While making soups before investing in one (which is only about $30!), I'd have to wait for soup to cool before puréeing it in batches in a blender or food processor (and making a total mess in the process). If you don't have a handheld blender yet, get one now. Trust me: it's worth it.
Release steam and open the lid.
When the Instant Pot beeps to let you know the 8 minutes are up, select "Cancel" and wait a minute or two. Then, very carefully, using a pot holder, switch the steam-release valve on the lid to the "Venting" position. Wait until all the steam is released, around 4 minutes. Then purée the soup using an immersion blender on the "Low" setting for about half a minute.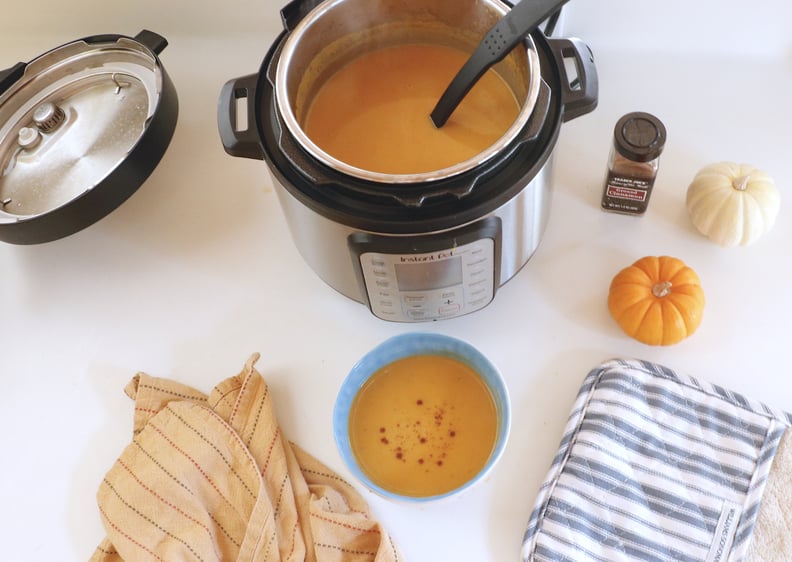 Season with salt and pepper.
Add the salt and pepper and stir well. You can garnish individual bowls with a sprinkle of cinnamon if you like when serving.
It's that easy.