Top Chef Star Nyesha Arrington Shares Her Favorite Home-Cooked Meal: "It Hugs the Soul"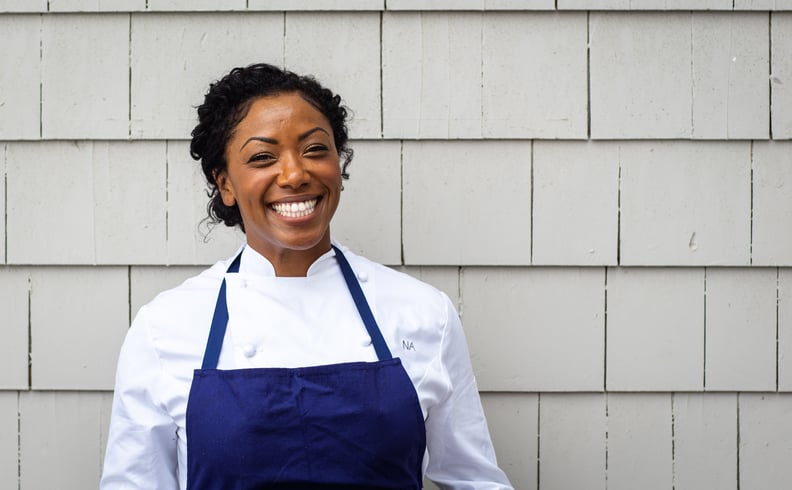 Jake Ahles
Jake Ahles
Chef Nyesha Arrington is "all about vibes," which has dictated the way she's lived her life, from growing up in a heavily artistic Afro-Korean household in Southern California to finding her way in some of the most important kitchens in the world. After gaining widespread recognition from her stints on season nine of Top Chef and Food Network's Chef Hunter, Arrington went on to open renowned California restaurants Leona and Native while continuing to appear on TV. Traversing both sides of the spectrum, Arrington is "most passionate about growth," which is reflected in every move she makes, guided by her own intuition. POPSUGAR recently chatted with the chef, where she shared some sage advice, sweet childhood stories, and her favorite home-cooked meal.
Arrington "had a great childhood" in Southern California, growing up in a family that incorporated the cultures and flavor profiles of both Mississippi (her dad's side) and Korea (her mother's side). "Cooking has been a part of my DNA since I was a little girl," she told POPSUGAR, adding that her journey since then has been a "constant pursuit of evolution." Perfecting her craft working from the bottom up at Michelin-star restaurants like Joël Robuchon's notorious kitchen, Arrington still draws inspiration from her childhood, her two cultures, and her musician father and sister — but her grandmothers take the cake.
"I think really what has inspired me the most recently has been my dad's storytelling of my grandmother," she said. "I think grandmothers [are] the most soulful people and the fabric of families." Describing to us her diverse "taste memories" that she still draws upon while developing her repertoire, it's clear that Arrington uses all the tools in her toolbox (er, kitchen) to create the incredible meals she's known for.
As Arrington reflects on her 15-plus years of "just [putting her] head down and [looking] at that cutting board" in some of the most competitive, intense restaurants in the world, an experience only intensified by "a lot of times being the only Black female in these very Eurocentric kitchens," it becomes all the more obvious how hard she worked to get to where she is today. Luckily, we "haven't really seen nothing yet," as Arrington is just getting started. She's building on her booming media career with Eater's Plateworthy series, a recent appearance on Food Network's Guy's Grocery Games, and upcoming guest-judge spots on MasterChef and Tournament of Champions.
Keep reading to learn more about the world-renowned chef, including her favorite food to cook at home and some of her father's best advice that you'll definitely want to bookmark.
Arrington Takes a Worldwide Approach to Cooking
Although she takes inspiration from her own family's flavor profiles, hailing from both Mississippi and Korea, the chef truly draws upon the techniques of countries around the world. "I love to tell stories of not just my ancestors and my background, but really of a multicultural lens — that's really what excites me," she said. So what specifically does the chef love to incorporate? "Maybe the respect of ingredients from Japan, or a spice from India, or a braising technique from French cuisine." In fact, Arrington has made it her "aspiration in life to build that repertoire, which makes [her] style of cooking so unique."
Her Cooking Style Pays Homage to Her Family's Artistic Background
Arrington's family is full of artists, including her father and sister, who are both musicians, and her mother, who channels her creativity as a seamstress. When it comes to the chef, she explained that she's "a big proponent for understanding processes and building the borders" but has a brain that "loves to color outside the lines," just like her artistic family members. That being said, Arrington is all about traditions, too: "People in this new digital age always talk about the disruption of spaces, but I think it's good to understand the classic way to do something and ask, 'How am I going to put my spin on it?'" And her 15 years of experience have only taught her more about learning and rule breaking. In fact, Arrington explained how she's spent the past decade and a half honing her craft and "learning how to be a good leader and then adapting [her] style" to tell stories through food.
Her Favorite Thing to Cook at Home Sounds Absolutely Delicious
We really relate to Arrington's idea of a perfect home-cooked meal. "My favorite things to cook at home are stews," she said. "I love making stocks, sauces, and stew-y things. I just love how those types of dishes hug your soul. Personally as a single woman, I like to cook food that lasts me a while. I'm way less likely to cook one protein, one side of vegetable, one little starch — for me, if I'm going to cook, I'm cooking cooking. I'm going to make food for the week." And the dish is all about creativity, too, as there is "an amazing artfulness when designing a pot of stew." Arrington describes making a big pot of stew or braise, putting "a pot on and [layering] the flavors," while "roasting the vegetables or braising some sort of meat." Whatever she chooses to put in, it's all about "things that take hours to cook on the stove." Truly the perfect cozy meal!
She's Motivated to Inspire Other Young Black Creators
"I think for me, coming up, it was really difficult a lot of times being the only Black female in these very Eurocentric kitchens," she told POPSUGAR. "It was a very difficult space for someone like me who has the chops, has the mental capacity, has the grit, perseverance to want to be the best, but damn well knowing there's a glass ceiling over my head. It became very frustrating." Fast forward to the current moment, and the chef didn't just want to pay "lip service" to the social unrest, instead asking herself, "How do I do better?"
Right Now, She's Most Interested in Growing and Evolving
It's no secret that Arrington has had a major career evolution, going from Michelin-trained cooking-show contender to opening two fine-dining restaurants, that's setting herself up for a different kind of success in the cooking world. "I'm a chef, but in my core, I'm a businesswoman," she said. "I think it really comes from my dad also; he said something to me at a very young age, which was, 'Aim for the moon and hit the fence post, but never aim for the fence post and hit the dirt.' So I took that as, I can never dream big enough. Learning to be vulnerable, learning to be open, not being afraid . . . my ultimate goal really is to break that systemic idea that people like me can't win."
While describing her "huge evolution of self," the chef recalled her time spent in some of the most arduous kitchens in the world, where "just to be showing up and having representation was important" to her. Now a true mentor to a young woman named Peyton Johnson who worked at her restaurant Native, the chef continues to branch out in unexpected ways. With appearances on MasterChef, Tournament of Champions, Guy's Grocery Games, Eater's Plateworthy, and Selena + Chef with Selena Gomez, plus her addictive restaurant-news podcast, Happy Mouth, and her recent collaboration with Shake Shack on her limited-edition Aisoon burger, there doesn't seem to be anything Arrington can't do.