Jonathan Van Ness knows a thing or two about cocktails, and now that it's the holiday season, the Queer Eye star is especially ready to kick back and relax with a mixed beverage. As a brand partner with Smirnoff, Jonathan is helping to promote awareness of using clean ingredients in alcoholic drinks. In October, the iconic vodka brand announced that it went non-GMO, specifically opting to use non-GMO corn during distillation. At a recent event hosted by Smirnoff, Jonathan sat down with POPSUGAR to share which drinks he (and the rest of us) will be sipping on this season.
For a simple quaff and a "moderation moment," Jonathan says a cranberry Smirnoff No. 21 does the trick for him. But if he wants to "shake up a moment," then he goes for the "Van Ness," a pleasant blend of Smirnoff No. 21, blackberries, lemon juice, agave nectar, and club soda garnished with a rosemary sprig. Or, if you want Jonathan's description of it, then it's "this lemony, citrusy, rosemary-ish, blackberry-ish Smirnoff No. 21 non-GMO gorgeous vodka." Altogether, the fusion of flavors make for a refreshing drinking experience.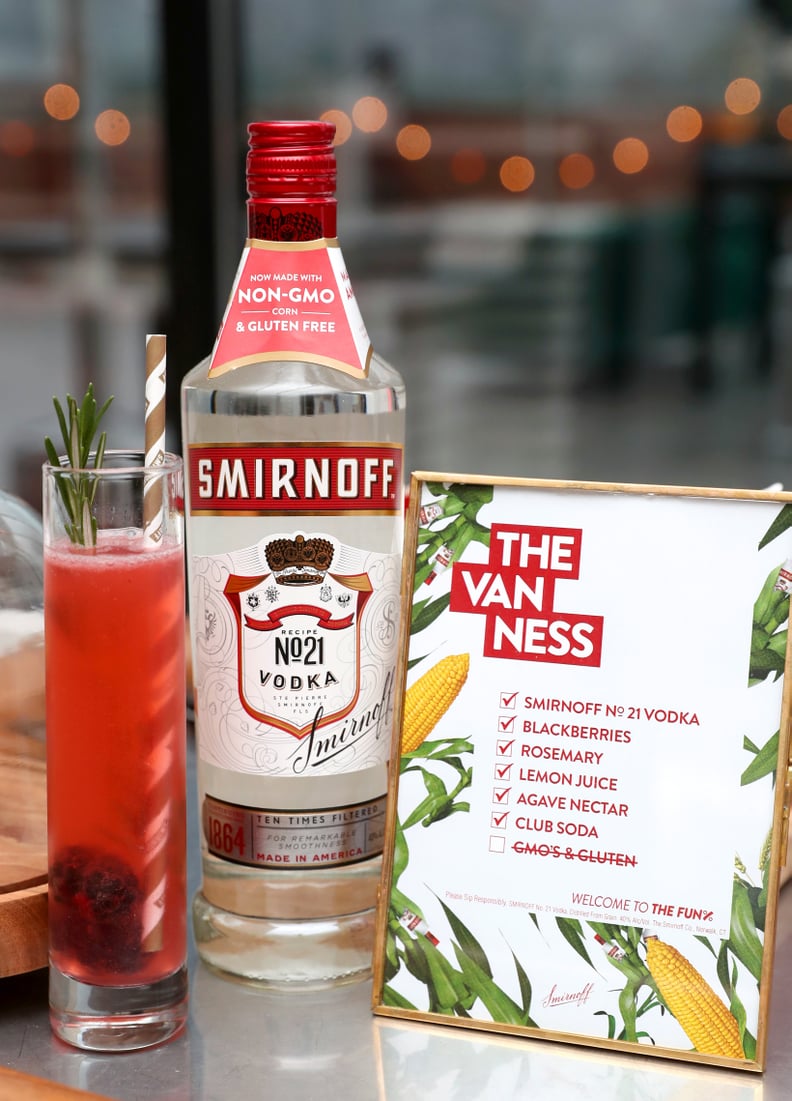 "I think getting into a non-GMO space is great," Jonathan said. "Anywhere we can just have a space to make things more simple and a little bit cleaner — I love that. It feels like an opportunity to be a little bit more balanced and a way to be a little bit more diverse in where we get our ingredients." These sentiments echo a growing fancy for more transparency in the food and drink industry. After all, the use of fresh ingredients is something that's become much more important to cocktail-lovers.
In addition to having a solid background as a hairstylist, comedian, podcast host, and TV personality, Jonathan Van Ness clearly also knows how to partner with brands for causes that he's passionate about. I was already a big fan of Jonathan before because of his shining personality and upbeat aura, but seeing him at the event, getting behind the bar in front of attendees and making a few drinks with the bartender, made me love him even more — along with the red sweater and overalls. By the end of the night, even I felt like I could dabble into the world of mixology (and believe me, I'm no cocktail connoisseur).
Whether or not you decide to try out the "Van Ness" at your next holiday party, Jonathan still has just one tip for making sure your drinks are good: "Wash your hands before you put the ice in if you're using your hands. Don't get your germies in the ice!"