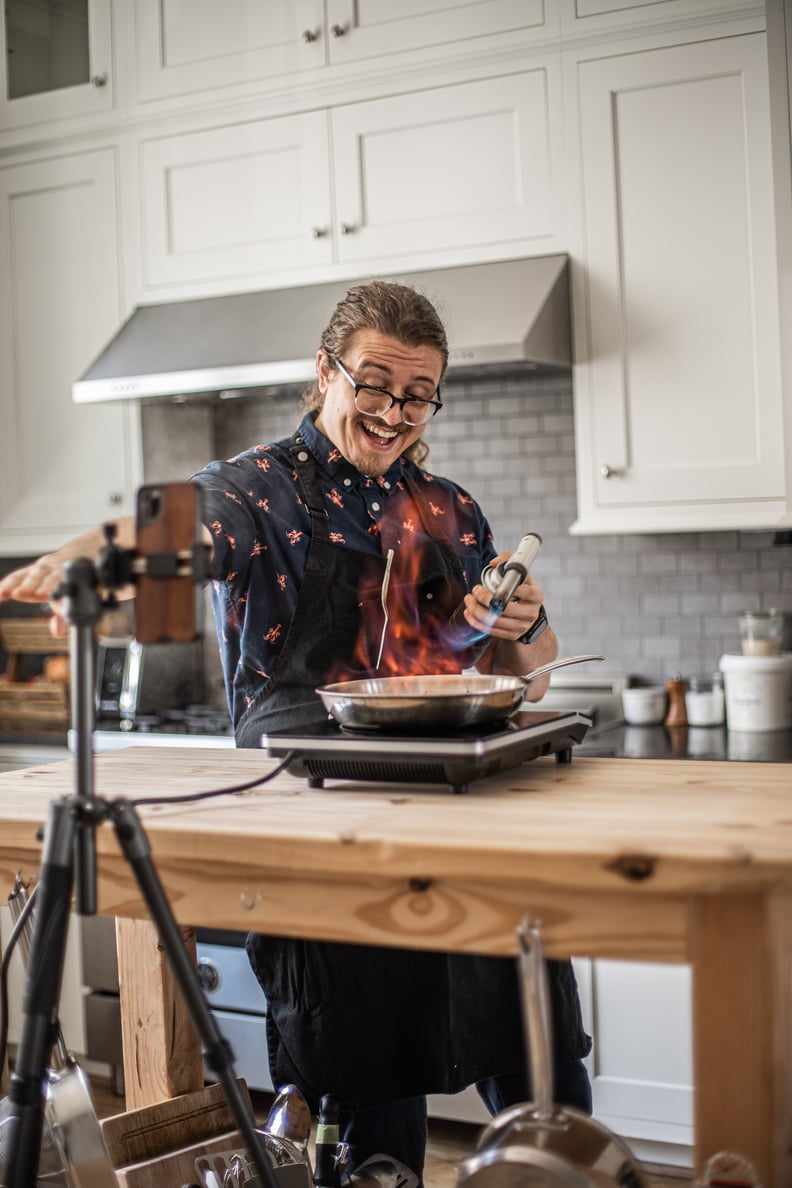 Vicram Chatterjee
Vicram Chatterjee
Homemade sourdough. Banana bread. Dalgona coffee. If you've found yourself trying to recreate any of these recipes at home over the last few months, allow Joshua Weissman to spice up your cooking game with some ridiculously delicious-looking gourmet meals. Joshua, aka @flakeysalt, is a YouTuber, cook, and food-lover with over 7 million social media followers, and his upscaled comfort food recipes are basically the reason tastebuds were invented, if you ask me. From homemade Doritos and ooey gooey Nutella to an elevated version of McDonald's crispy chicken nuggets, all of Joshua's recipes are the five-star equivalent of your favorite foods.
Joshua — who's working on a cookbook and was recently nominated for a 2020 YouTube Streamy Award — started cooking around five years old, when his mom taught him how to make "eggsellent" scrambled eggs, and at 10 years old, he decided cooking was his passion. "The fact that I can take whatever ingredient I want, and manipulate it into being whatever I want, I think has always been the biggest appeal," he told POPSUGAR. "I think [cooking] was a very whimsical, mysterious thing for me to uncover as a kid. Now it feels much more calculated." Since his scrambled egg days, Joshua has worked in some of the best fine dining restaurants in the country, earning his first job as a cook when he was 18 and becoming a lead cook at 21.
"I think cooking can be that vessel of teaching people how to take that first step."
This fine dining experience inspired Joshua to bend the rules of cooking, leading to the creation of his TikTok account and YouTube channel and his "But Better" series, where he reimagines popular fast foods at home with the goal of making them even better than the original. "Like there are no rules, and you can manipulate everything if you actually understand the science of it," he said. "As cooks, we all stand on the shoulders of the chefs and the cooks before us. We are all where we are now because of . . . all of the thousands, hundreds of thousands, millions of hours of cooks who have tested and failed and tried, and made these incredible dishes that now we're able to riff off of. And the only way we move forward as a cooking community is to break those rules."
As Joshua tells me his secret for making his favorite shelter-in-place meal — a fried runny egg omelet (don't pop the yolks!) — his description is so vivid that I'm not surprised he has dreams about the dishes he wants to make. His videos are filled with humor, but his passion for food is unwavering. From discussing amino acids and polyphenols to describing his favorite foods to sprinkle with a pinch of flaky salt ("thick, gigantic" chocolate chip cookies with a 50:50 dough to chocolate ratio), Joshua is a foodie through and through.
Each of his videos puts a fun and comedic twist on the cooking process while also inspiring his millions of viewers to pick up a saucepan and try his dishes for themselves. For anyone interested in cooking but worried about food fails, Joshua recommends starting with a recipe you know you love and making it without hesitation. "I think people stop themselves a hundred times, like, 'Oh, well what about the dishes?' Or, 'Oh, well what if I make a mistake and I waste money?' . . . They're afraid to take a risk. And I think cooking can be that vessel of teaching people how to take that first step."
So grab a snack and indulge in a few of Joshua's gourmet comfort food recipes — including the In-N-Out cheeseburger, McDonald's hash browns, and the cheesiest chicken parmesan I've ever seen — ahead. And, if you're feeling brave, maybe preheat the oven and try a few of his recipes for yourself.
Joshua Weissman In-N-Out Cheeseburger Recipe
Joshua Weissman Homemade Pizza Hut Pepperoni Pizza Recipe
Joshua Weissman Taco Bell Crunchwraph Supreme Recipe
Joshua Weissman Homemade Levain Bakery Chocolate Chip Cookie Recipe
Joshua Weissman Chick-Fil-A Chicken Nuggets Recipe
Joshua Weissman Homemade Chicken Parmesan Recipe
Joshua Weissman McDonald's Chicken Nuggets Recipe
Joshua Weissman Cinnabon Cinnamon Bun Recipe
Joshua Weissman Cheesy Bacon Breakfast Tacos Recipe
Joshua Weissman Homemade Chipotle Burrito Recipe
Joshua Weissman Homemade Doritos Recipe
Joshua Weissman Homemade McDonald's Hash Brown Recipe
Joshua Weissman Homemade Fluffy Pancakes Recipe
Joshua Weissman Homemade KFC Famous Bowl Recipe
Joshua Weissman $30 Charcuterie Board vs. $130 Charcuterie Board