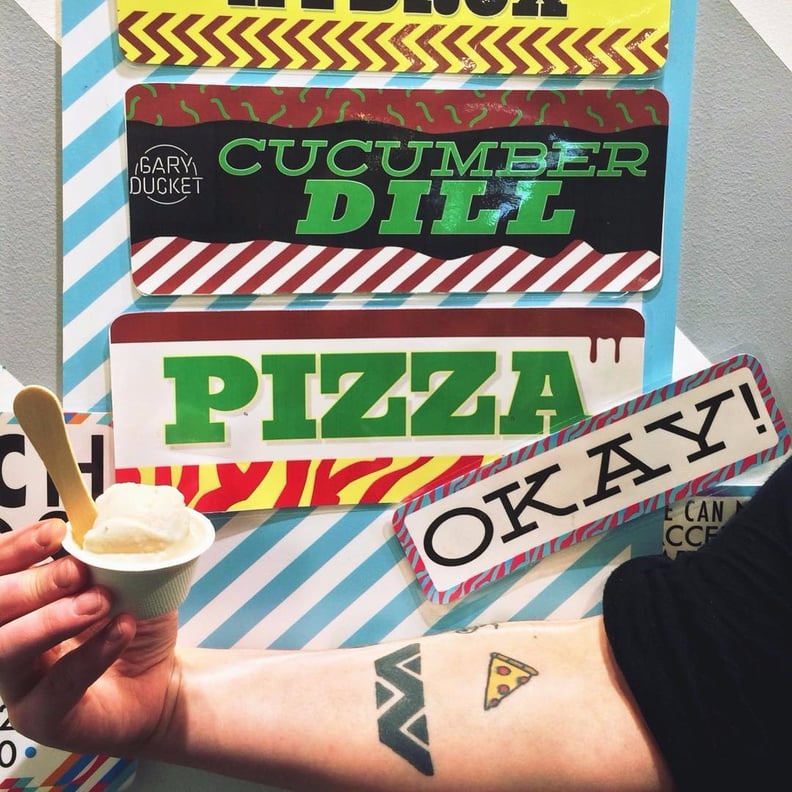 Has science gone too far? Has humanity reached a point of no return? Pizza-flavored ice cream is officially a real thing, thanks to the culinary mad scientists at Little Baby's Ice Cream in Philadelphia, PA. According to Circa, "The ice cream includes ingredients you'd regularly find in a pizza: tomatoes, basil, garlic, oregano, salt, and crushed red pepper. The final product is a smooth blend of flavors and surprised us in its ice cream form." Local customers have been enjoying the wacky flavor at Little Baby's since 2014.
Not only can you enjoy the pizza-flavored dessert on its own, but you can also try the "Frankfort Ave. Taco," which includes a dollop of the ice cream atop an actual slice of pizza from the joint next door. And if you're completely enamored with the idea of pizza-inspired frozen treats, you can also check out Los Angeles staple Coolhaus, which debuted its own version of pizza ice cream back in 2015. Why must we play god? For the morbidly curious, keep reading to see the creamy creation in action.
Pizza isn't the only wild ice cream flavor on the menu, but it warrants a special "woah" sign!
Best enjoyed while also sporting a pizza tattoo, naturally.
You can get the pizza ice cream in a flight . . .
But perhaps the best way to enjoy it is in the form of a Frankford Ave. Taco.
That's right: a scoop of pizza ice cream atop a slice of actual pizza.
Look at the satisfaction!
OK, how can we get our hands on one? We need it now!