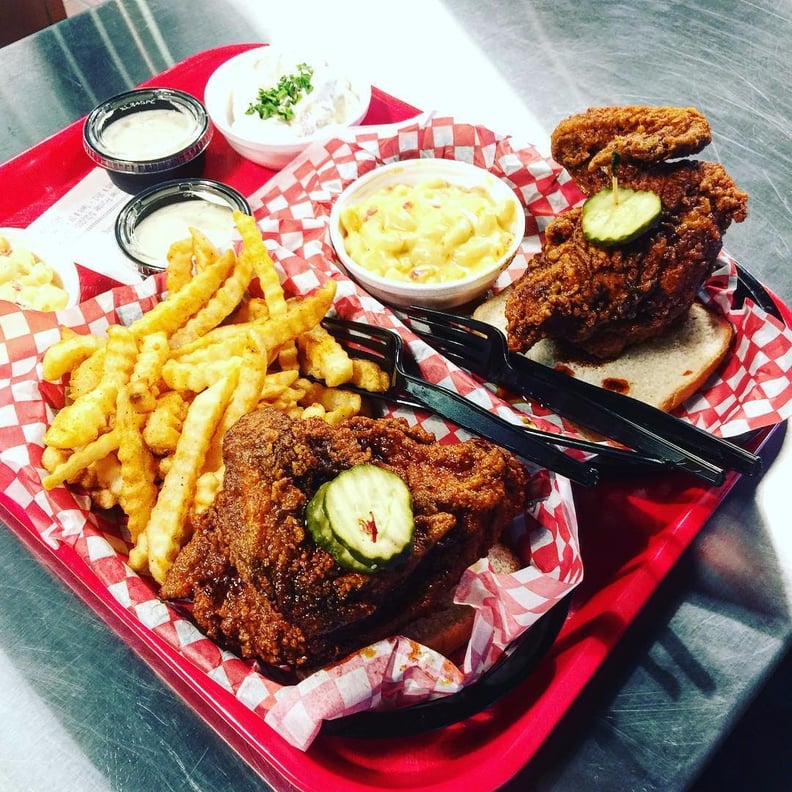 Hot chicken has been a local specialty in Nashville for generations, but it's becoming increasingly popular all over the US. You can't call any spicy fried chicken "hot chicken," either; you'll know authentic Nashville-style hot chicken when you see it. With its cayenne-pepper-laced dry rub and spicy oil, a piece of hot chicken will have a rich, reddish hue. The chicken (usually bone-in and skin-on) is served on pieces of soft white bread and topped with pickle chips, usually stuck with a toothpick. Levels of spiciness can range from mild to hot, and when people label it "hot," they mean it.
Nashville hot chicken has a rich history with roots in Nashville's African-American community. The short version of the story that dates back to the 1930s goes like this: a woman attempted to get back at her lover, Thornton Prince, after she learned of his infidelity, so she made his favorite dish, fried chicken. She intentionally made it so spicy that she believed it would be inedible, but instead, Prince loved it so much that he and his brothers turned the idea into a restaurant called Prince's Hot Chicken, which is still family owned in Nashville and remains the gold standard for hot chicken today. And the rest is history. In more recent years, chefs in Nashville, Los Angeles, Brooklyn, NY, Dallas, TX, Kentucky, and more areas across the country have interpreted the dish in their own way and are helping spread the love of the wildly popular (and ultraspicy) chicken.
One such chef is Nashville-born Carla Hall, cohost of ABC's The Chew, who's serving up her version of hot chicken at Carla's Southern Kitchen in Brooklyn. I got up close and personal with Carla's famous chicken thanks to my front-row seat at her cooking demo during this year's Food & Wine Classic in Aspen. She made it look easy as she explained her dry rub of paprika, cayenne pepper, garlic powder, onion powder, and salt. Sealing the raw chicken thighs in a plastic bag with the rub, she added pickle juice in place of vinegar powder, which she didn't have on hand — "a game changer," according to Carla. Next up is even more cayenne pepper in the all-purpose flour for the dredge. "This is like the shrimp scampi of the South," Carla said as she fried her chicken in a cast-iron skillet, drained it on paper towels, drenched each piece in a quick homemade hot oil on the stove top (cayenne pepper and canola oil), and plated it over white bread with pickle chips. No overnight marinade or buttermilk brine required — "I don't do that buttermilk thing — I'm OK with that chicken, it's just not my chicken," Carla said. Audience members' hands eagerly shot up as Carla asked who wanted to give the chicken a try. "Outstanding," the few lucky people muttered as they bit into the juicy chicken, followed by, "Whoa, there's the heat."
As doable as hot chicken is to make at home (you can get Carla's hot fried chicken recipe here), it's even easier to let someone else do the work and order it at a restaurant. Ahead, check out 10 amazing places in the US that are doing Nashville-style hot chicken right, and if you know what's good for you, you'll add them to your must-do list for each city.
Carla's Southern Kitchen in Brooklyn
Prince's Hot Chicken in Nashville
Dave's Hot Chicken in Los Angeles
Peaches Hot House in Brooklyn
Gus's World Famous Fried Chicken in Atlanta
The Budlong Hot Chicken in Chicago
Hattie B's Hot Chicken in Nashville and Birmingham, AL
Hot Chicken Takeover in Columbus, OH
Joella's Hot Chicken in Louisville, KY