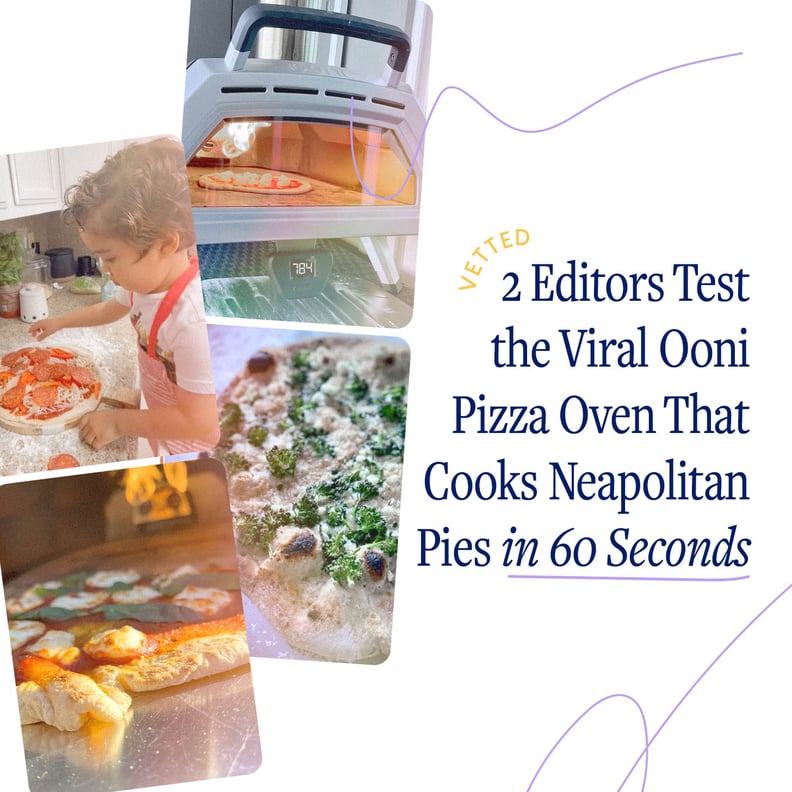 POPSUGAR Photography/ Macy Williams
POPSUGAR Photography/ Angela Elias
Photo Illustration: Ava Cruz
POPSUGAR Photography/ Macy Williams
POPSUGAR Photography/ Angela Elias
Photo Illustration: Ava Cruz
Every editorial product is independently selected by our editors. If you buy something through our links, we may earn commission.
Any time friends share that they bought an Ooni Pizza Oven, "oohs" and "ahhs" instantly ensue. Foodies, home chefs, and carb-lovers have been buzzing about the famous outdoor-cooking essential for a couple of years now; the design is known for cooking a Neapolitan pizza in under one minute. So when our editors received an opportunity to test out the Ooni Karu 16 Multi-Fuel Pizza Oven ($751, originally $799), they quickly jumped at the chance.
According to the brand's site, an Ooni is "the first and only pizza oven to be 'Recommended for Domestic Use' by the Associazione Verace Pizza Napoletana, the acclaimed international authority on true Neapolitan pizza." That means you can cook delicious, restaurant-quality pies in your backyard. The oven our editors chose has multiple fuel options: you can cook with wood or charcoal out of the box, or use gas with the gas burner. And FYI, this thing gets crazy hot — it reaches 950°F in 15 minutes. There's a digital thermometer that very clearly shows you the internal oven temperature, so you know exactly when you're ready to get cooking.
So what did we truly think of this investment piece? Two editorial directors — one with a family of four in a house with a backyard, the other with a foodie boyfriend in an apartment with a deck, put the oven to the test. Keep reading to learn their candid thoughts and uncover if the Ooni pizza oven will be your next culinary splurge.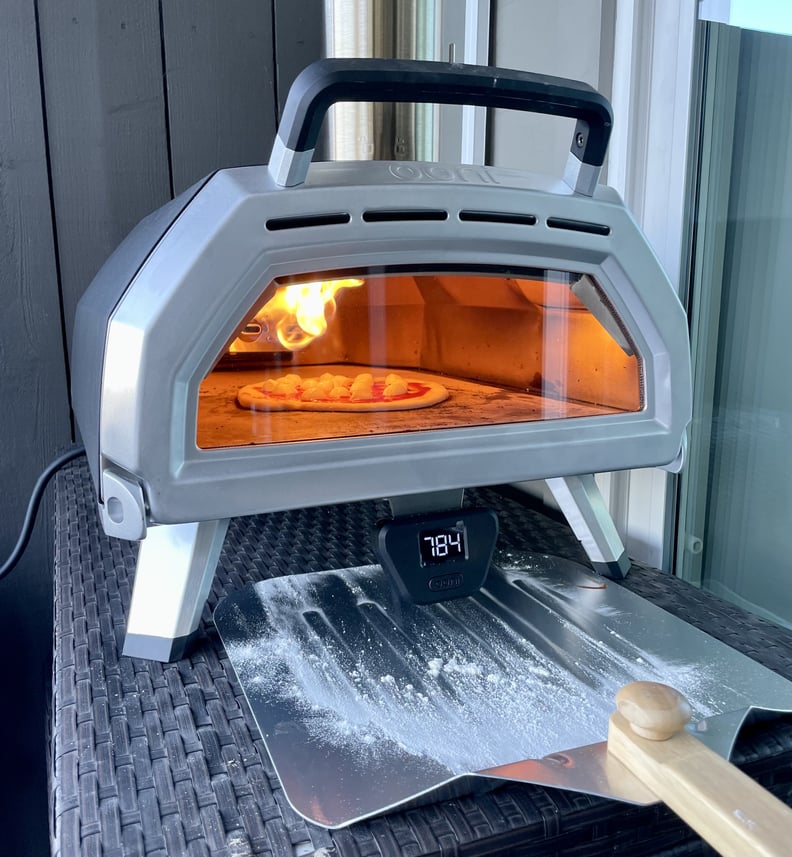 The Foodie Couple: Initial Thoughts on the Ooni Pizza Oven
"My boyfriend and I are a millennial couple who live in an apartment, but we take home cooking seriously. Frankly, I think my partner, Ken, could be a professional chef. When our Ooni Karu 16 Multi-Fuel Pizza Oven ($799) arrived at our doorstep, Ken was so excited, he unpackaged it that same day. Upon first unboxing it, it needed minimal assembly. We put it together and hooked up the gas burner in under 10 minutes. We have a narrow deck, so we were pleased to learn that it didn't take up too much space on a sturdy tabletop.
I will say, it took a few dinners of trial and error to perfect our Ooni strategy. The first time we tried our oven, we didn't have a pizza peel, which we quickly learned is absolutely essential for properly inserting, rotating, and removing your pizza. Another lesson we discovered is to never step away from the oven while a pizza is cooking inside. Sixty seconds goes fast, and if you wait too long, you'll end up with a severely burnt pie. Lastly, we figured out that for the most even bake, you should rotate your pizza 90 degrees 30 seconds through cooking.
Since our first experience, we have cooked at least 20 Neapolitan pizzas and now consider ourselves total pros. We can get perfect results every single time after mastering our skills and watching a few how-to YouTube videos. Now I look forward to my weekly pizza date night." — Macy Cate Williams, content director, Commerce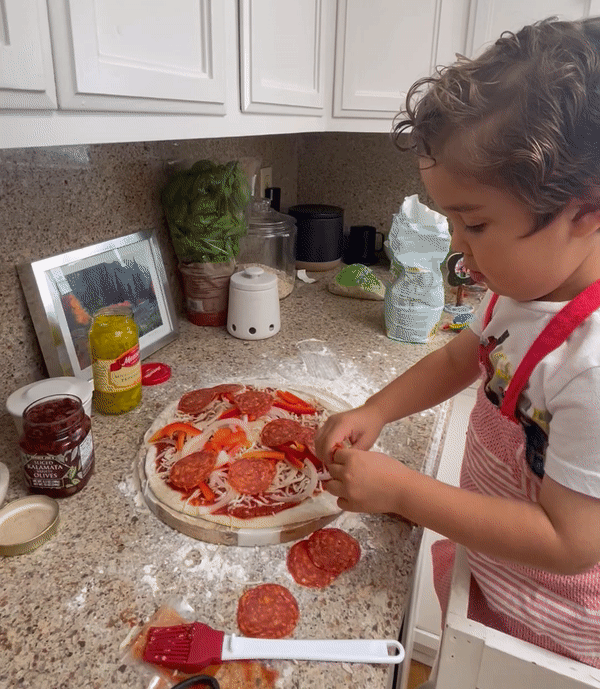 The Family of 4: Initial Thoughts on the Ooni Pizza Oven
"My husband and I just moved to a house in the 'burbs with our 3- and 6-year-old sons, and I'm in the giddy, anything-is-possible stage of suddenly gaining access to a decent-size backyard. Procuring an outdoor pizza oven topped my wish list of backyard items I was pining for. I could already imagine hosting backyard dinners and ditching pizza deliveries to feed my kids during the work week.
As eager as my husband and I were to fire up our first pizza as soon as our Ooni Karu 16 Multi-Fuel Pizza Oven arrived, our kids honestly couldn't wait. After jumping in headfirst, we learned through a few torched pizzas that there was a significant learning curve we'd have to contend with. After some trial and error, these tips helped us cross the threshold from pizza novices to pros:
Buy a couple of pizza peels (we have both metal and wooden options) to prep multiple pizzas on. This way, you can have pizzas ready to slide in, one right after the other, as soon as the oven is ready.
Wait for the pizza stone to fully heat (about 15 minutes). Otherwise, your stone won't be hot enough, and you'll get undercooked dough and burnt toppings.
Sprinkle some cornmeal in addition to lightly flouring the pizza peels. The cornmeal really helps the pizzas easily slide off of the peel into the oven."

— Angela Elias, senior content director, Commerce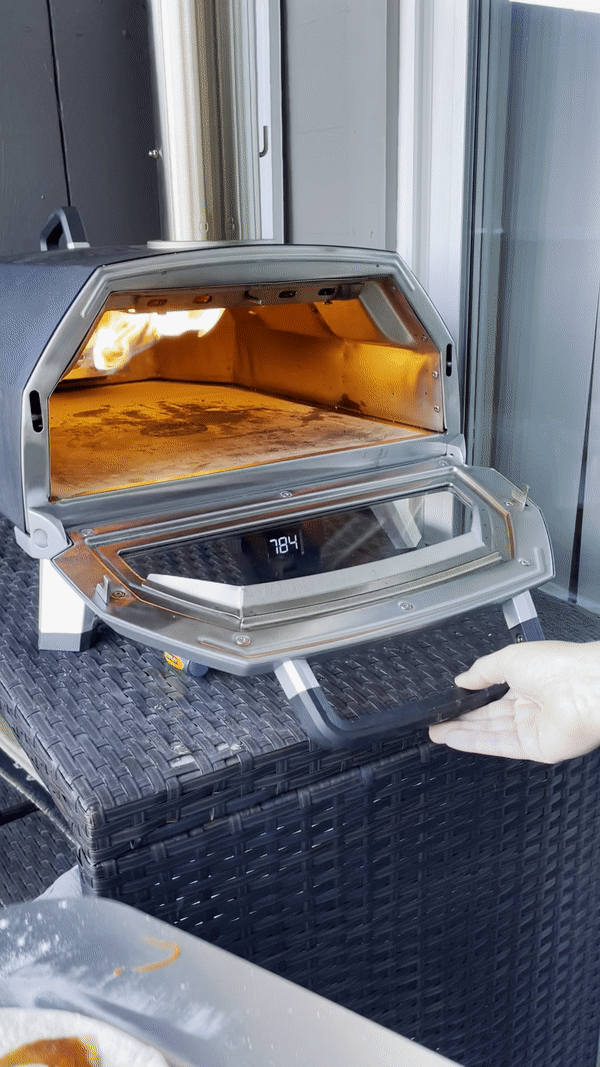 The Foodie Couple: What's Worth Noting on the Ooni Pizza Oven
"I've got to say, the Ooni Karu 16 Multi-Fuel Pizza Oven ($799) is a total crowd pleaser and party must have. If you have to feed a bunch of people, you can serve several pizzas swiftly. I also appreciate how easy the design is to use — you don't need to be some chef extraordinaire to make spectacular pizzas. That being said, my chef boyfriend with ridiculously high standards is equally impressed with the results as my father who barely knows how to boil water. It's truly a product designed for anyone.
I will also mention that the gas feature is slightly easier to use than cooking with charcoal or wood. It takes longer for the oven to get hot, and you have less control over the temperature. That being said, the effort pays off because wood or charcoal really add to the flavor of the pizza. When someone like my boyfriend wants maximal flavor and results, they'll opt for wood chips.
Overall, I must admit that this is our most beloved cooking essential, and it's absolutely worth every penny. We look forward to using it and experimenting with different types of pizza." — MCW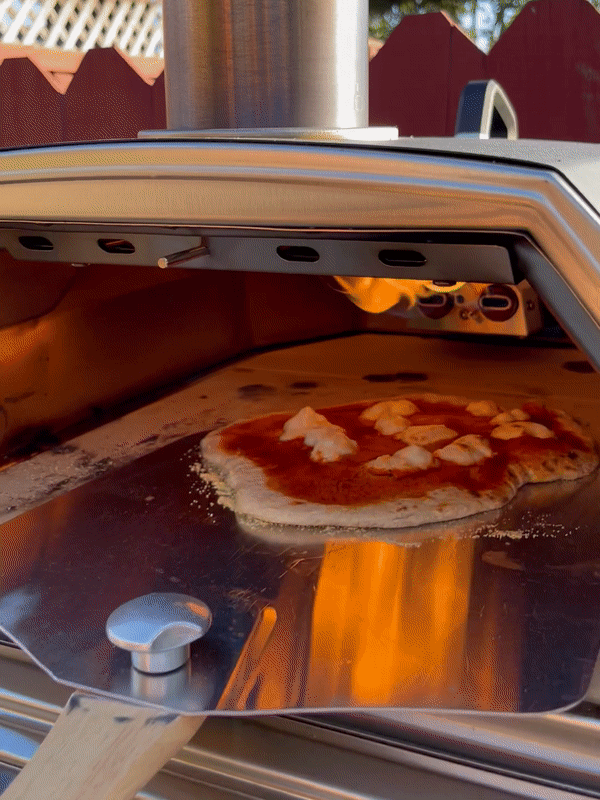 The Family of 4: What's Worth Noting on the Ooni Pizza Oven
"Because we're a family of four and love to host, the larger-size Ooni Karu 16 Multi-Fuel Pizza Oven helps us get away with making less pizzas when we have people over. If it's just us, we can also all have at least a couple slices of the first pie we pull out, and sometimes, one is all we even need.
While we have the flexibility of cooking with different types of fuel, we've only cooked with propane so far. Between our skill level and juggling little ones at dinner time, I've happily swapped smoke-infused flavor for the convenience of propane, especially since it still delivers that slightly charred yet chewy crust. Plus, it's nice to have the option to level up if we feel inspired.
If you plan on cooking with gas, it's important to note that you have to purchase this Gas Burner For Ooni Karu 16 ($112, originally $118) before you can hook up your propane tank. On the plus side, this model does come with a mounted digital thermometer, so you can easily see when the oven is fully heated without having to continually check with an infrared thermometer." — AE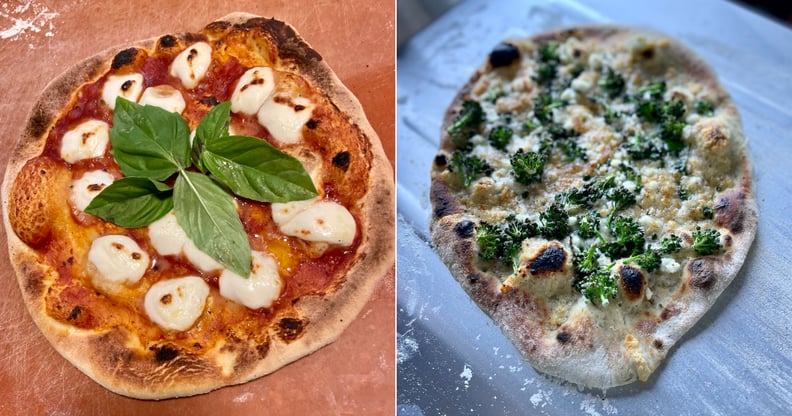 The Foodie Couple: Ooni Pizza Oven Results
"We have cooked everything from a classic margherita pie to a Greek-inspired broccoli and feta pizza. We've even tried cooking a loaf of garlic bread and calzones. What the oven gives you is a crispy bottom and melty top for the perfect Neapolitan results. I'm excited to try out making this sticky toffee pudding recipe next." — MCW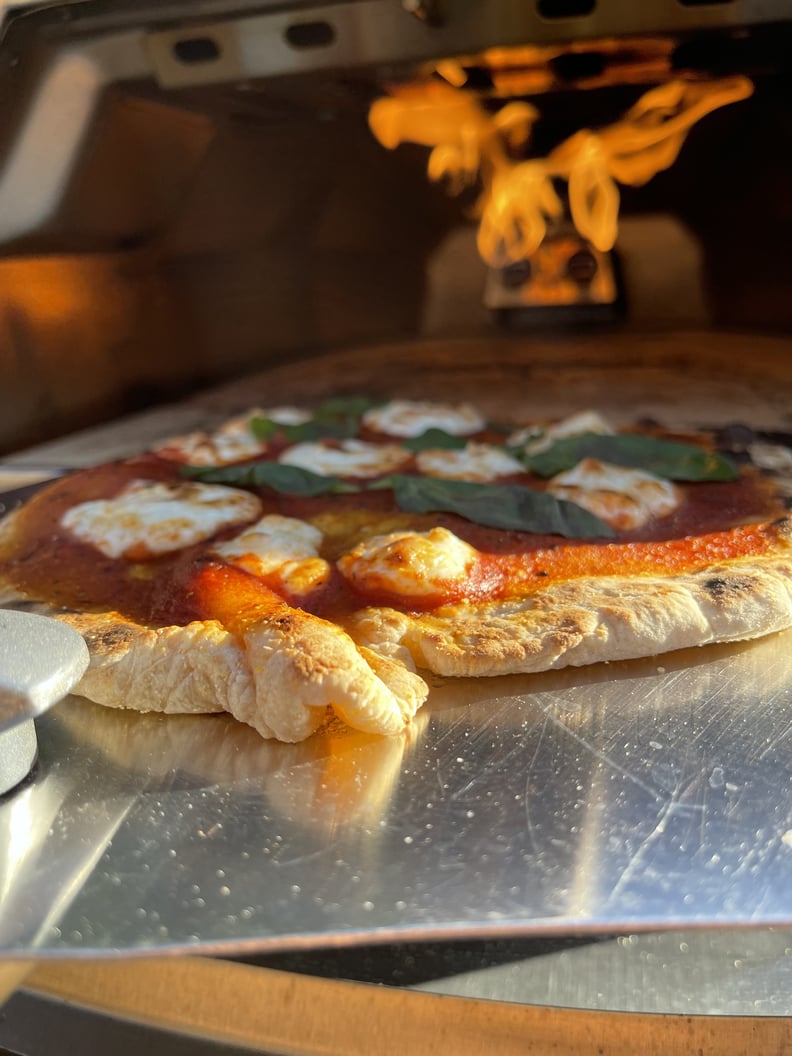 The Family of 4: Ooni Pizza Oven Results
"I'm not in the life stage where whipping up my own dough or prepping pizza sauce from scratch is something I'm remotely interested in. Picking up some premade dough from Trader Joe's (the herbed version is a must), some yummy cheeses (we've experimented with everything from goat cheese to burrata), and whatever toppings I have on hand is more my speed, and with this pizza oven, we're still able to achieve truly delicious pies.
Aside from the culinary appeal, pizza night has become a family ritual we all look forward to — I bust out the aprons, give each kid a portion of toppings to work with, and they become totally engrossed in the process." — AE