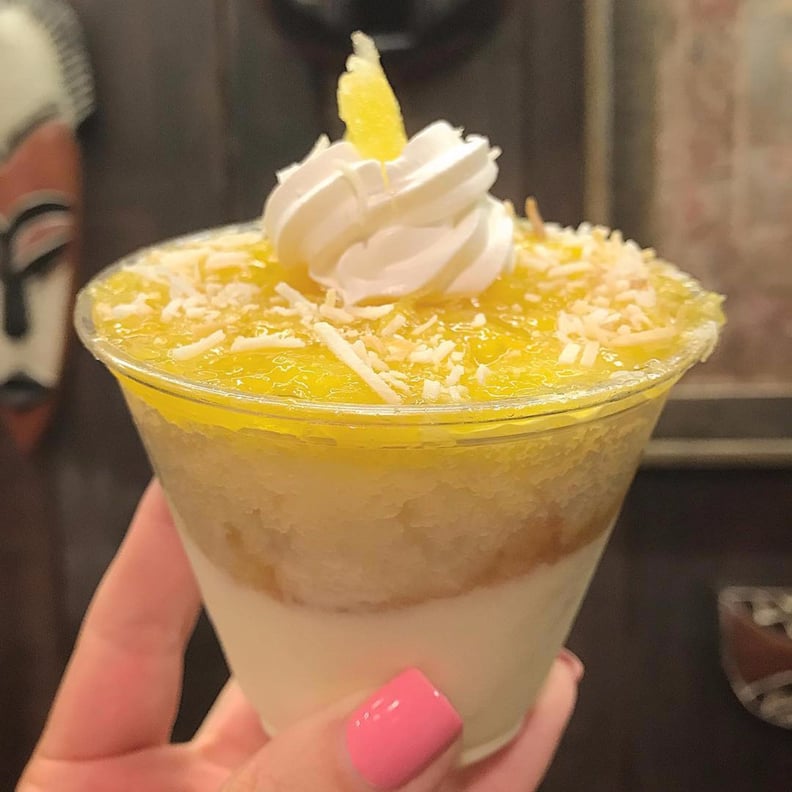 When it comes to foods at the Disney parks, it's pretty much a known fact that pineapple whip is the star of the show. Whether it's soaked in rum, sprinkled with spicy seasoning, or blended into a tasty cocktail, this tangy tropical treat is the most satisfying indulgence after an endless day spent riding your favorite Disney rides. Since the savvy chefs behind the parks know that pineapple whip is such a hit, they decided to find another way to serve it up to famished guests: in parfait form!
This sweet snack is comprised of pineapple whip mousse layered with vanilla cake and pineapple with a dash of whipped cream to finish it off. According to seasoned park-goers, the parfait started off as a limited-edition Moana-themed treat back when the film debuted last year (it was topped with a chocolate heart of Te Fiti pendant!), but Disney decided to keep it around and replaced the chocolate topping with a pineapple chunk. It can be found at Tropical Imports and Bengal Barbecue, both of which are located at Adventureland in Disneyland Park.
So far, the pineapple whip parfait has gotten some pretty rave reviews, which doesn't really come as much of a surprise to us. One Instagram user admitted, "I wasn't expecting to love it and we ended up LOVING it!" while another noted, "I LOVED this treat." While you patiently await your next trip to Disneyland, feel free to pore over the crave-worthy snaps of the pineapple whip parfait ahead.