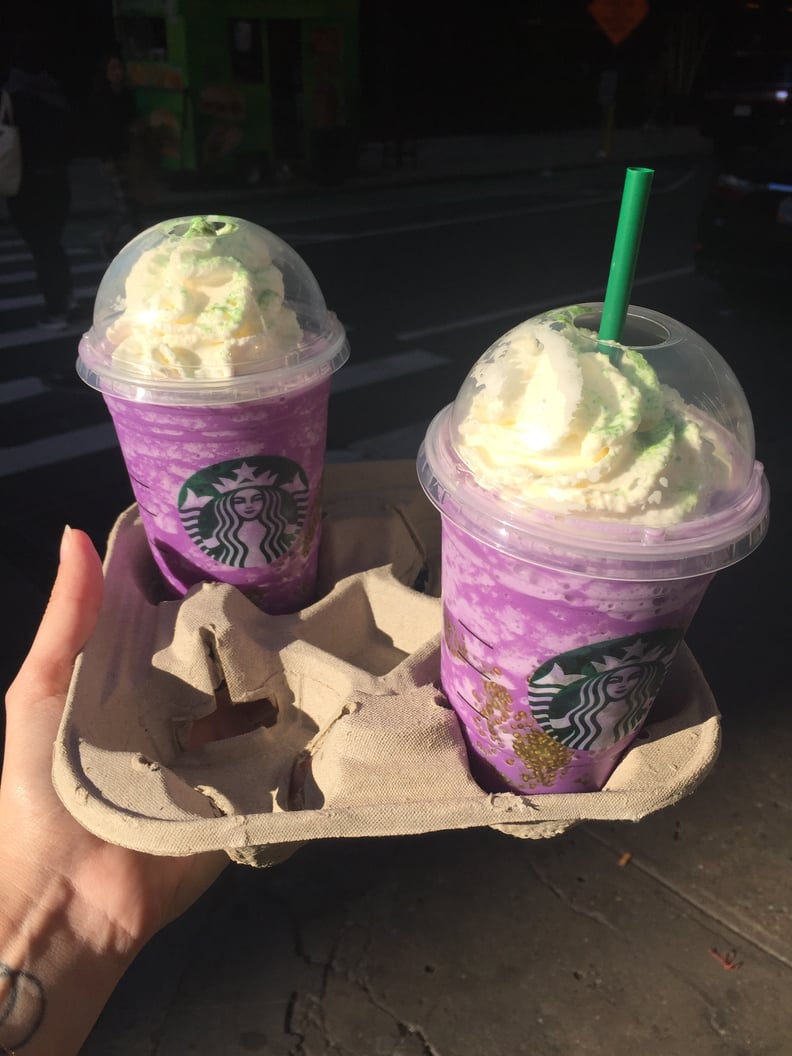 POPSUGAR Photography | Kelsey Garcia
POPSUGAR Photography | Kelsey Garcia
Starbucks is back this year with another eye-catching Halloween Frappuccino, and was there ever really any doubt? Following the craze surrounding last year's Zombie Frappuccino, Starbucks has announced a new Witch's Brew Frappuccino. The bright purple drink consists of toad's breath, bat warts, and lizard scales. Just kidding — the ingredients actually include orange crème, chia seeds, and whipped cream with a dusting of green powder for decoration.
Now, we'll get to the real reason you likely clicked into this story: how does it taste? The Frappuccino primarily elicited comparisons to orange creamsicles, Fruity Pebbles, and even those Flintstones Chewable Vitamins made for kids. We polled a few POPSUGAR editors on their initial reaction to the Frappuccino. Here they are below:
"It's straight orange creamsicle."
"I like it . . . because I like orange creamsicles. It tastes like the Stewart's orange and cream soda."
"It's like they melted a creamsicle and dyed it purple. I like the chia seeds, they add a good texture, but I wouldn't drink an entire thing of it."
"It's not as bad as I would've expected. It does taste a lot like Fruity Pebbles to me."
"It tastes like Fruity Pebbles, but then the orange comes through at the end."
"It reminds me of those Flintstones push pops!"
"Flintstones vitamins! It's not that bad — I like the taste of vitamins."
"It totally tastes like the Fruity Pebbles cereal. I still taste it in my mouth and . . . yep."
"Damn, Starbucks is doing the most."
The Witch's Brew Frappuccino will be available now — but for a limited time — at Starbucks locations throughout the United States, Canada, Mexico, and select locations in the Caribbean.