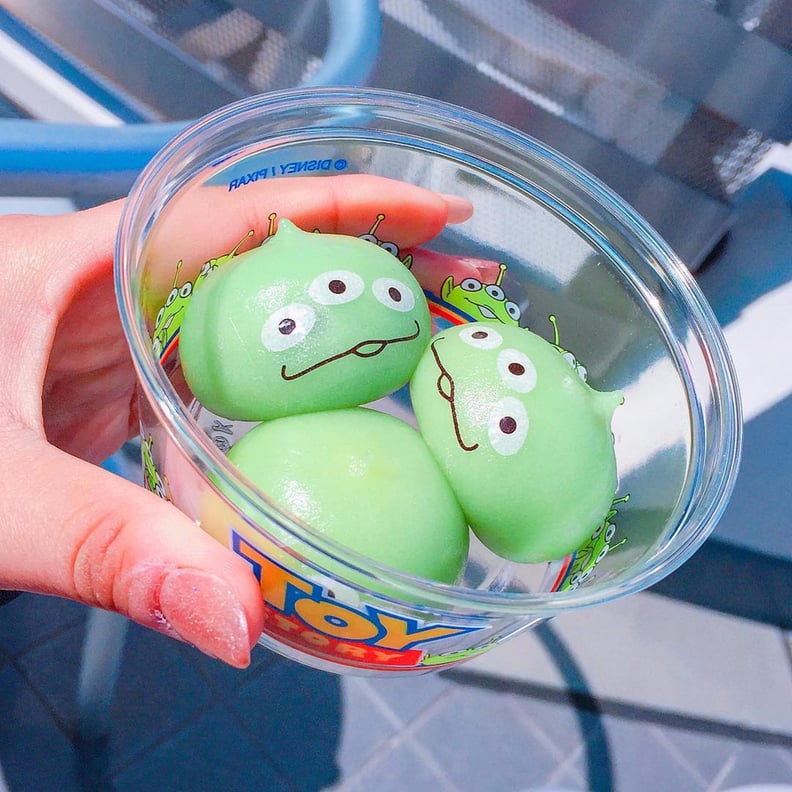 Sorry Buzz Lightyear and Woody, but the Little Green Men are officially our new favorite Toy Story characters. Why the sudden change in fandom, you may ask? Thanks to the genius food masterminds at Tokyo Disney Resort, we now know what those tiny three-eyed aliens look like in the form of an edible mochi dumpling, and they're too freakin' adorable for words.
The Disney theme park in Tokyo has an undeniable knack for making foods with squeal-worthy cuteness, but these bright-green treats are definitely at the top of our bucket lists. If you're unfamiliar with this Japanese dessert, the outside is made of rice pounded into a paste and the inside is typically filled with some sort of cream (or not filled at all). One lucky blogger who's had the pleasure of snacking on these cuties explained how the ones at Tokyo Disney are filled with either chocolate, custard, or strawberry cream, which is sometimes swapped for a cherry flavor, depending on the time of year.
You can bet if we ever plan a trip to Japan in the future, these photogenic desserts will be our first meal (and yes, a whole meal, not just a snack). Catch a glimpse at the Instagram-worthy Disney dessert, and you'll definitely be transported back to your childhood days of watching Toy Story on repeat.