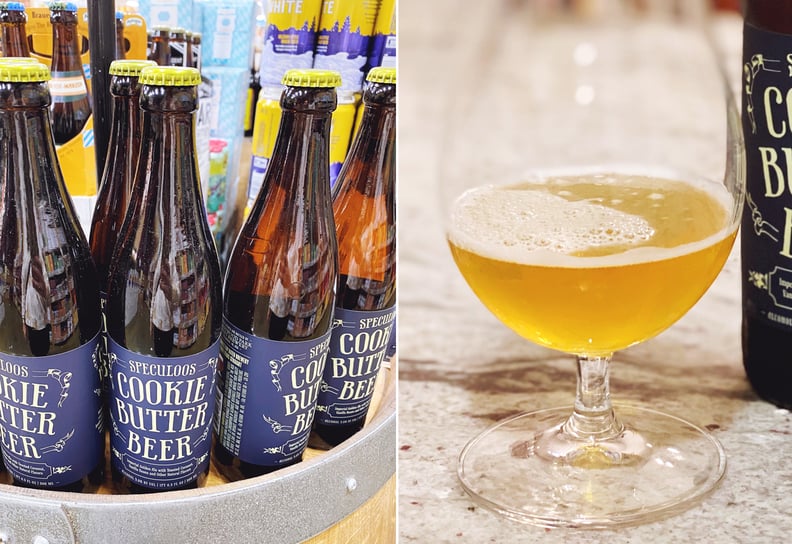 POPSUGAR Photography | Tara Block
POPSUGAR Photography | Tara Block
When I spotted the new seasonal dessert beers at Trader Joe's, they were in my cart faster than you can say "pumpkin spice latte." First, I tried the Campanology Coffee Peanut-Butter Cup Porter, and YUM. A rich, nutty treat that warmed my coffee-loving soul. But what really got me excited was the Speculoos Cookie Butter Beer, an imperial golden ale inspired by the delicious TJ's dessert spread.
Brewed and bottled by Hardywood Park Craft Brewery in Richmond, VA, this $6 beer has 9.5-percent ABV — so it'll get ya buzzed! — and according to the label is made with whole vanilla beans, milk sugar, and toasted coconut.
While the coffee peanut-butter cup porter was rich and heavy, this full-bodied ale is light and refreshing, and yet still packing a boozy, flavorful punch. One of my friends (a cookie-butter aficionado) described the scent as a vanilla Christmas candle. You get hints of cinnamon vanilla (like snickerdoodles), gingerbread, and maybe even Irish cream in both the scent and the taste. Since the speculoos cookies have a similar flavor profile, the beer is definitely reminiscent of cookie butter. My husband found it a little too artificial tasting (orange and floral notes like "potpourri," in his words), but I really enjoyed it. It's not an overwhelming flavor, and while it's sweet, it's still a golden ale, so it's not cloying. Honestly, it tasted like Christmas to me, like the festive flavors and scents you'd experience during the holidays. It's delightful on its own as an after-dinner drink, but it would also pair well with speculoos cookies, cookie butter spread on a treat of your choosing, or desserts made with cookie butter.
If you love cookie butter, seasonal beers, and festive flavors, I'd give the Trader Joe's Speculoos Cookie Butter Beer a try!
Prices and products may vary by Trader Joe's location.